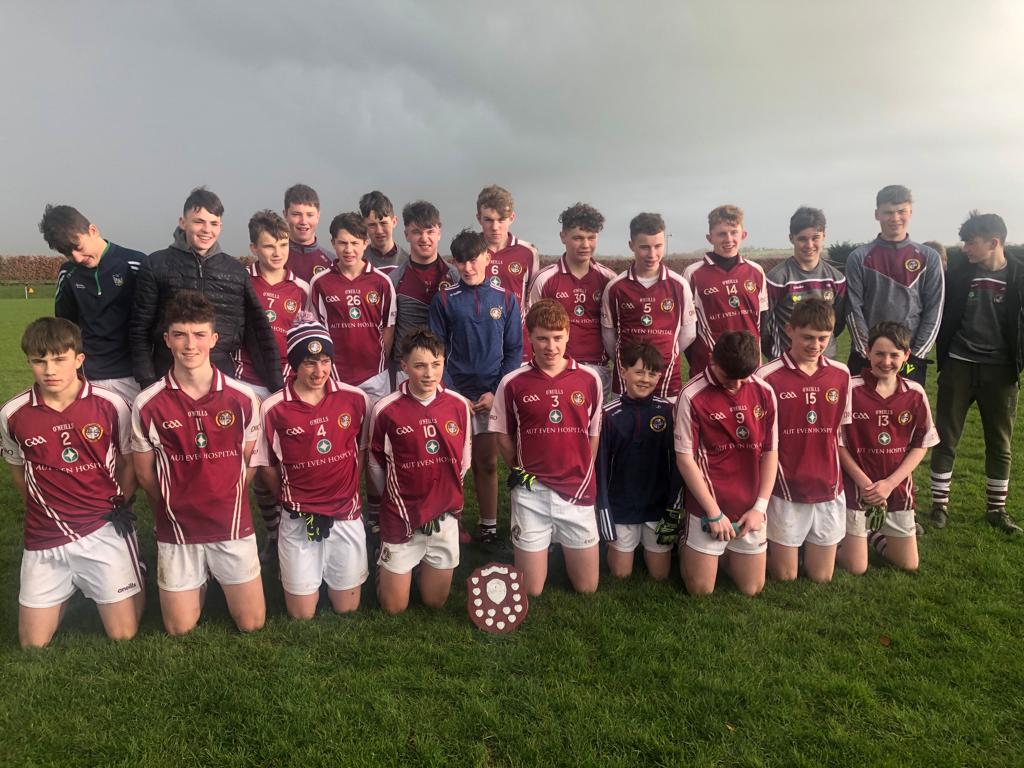 Dicksboro 2-10 2-6 O'Loughlin Gaels
Dicksboro U15 team completed the Hurling and Football 2019 double beating O Loughlin Gaels in Jekinstown this morning in the Duggan Steel U15 Football County Final. The final score 2-10 to 2-06.
O'Loughlin Gaels started the game quicker and scored a goal after only minutes play where Kevin Waldron sent the green flag waving . David Mulrooney cancelled that goal out with one of his own almost immediately with a very cool finish.
Both sides traded scores with Boros Mikey Raggett free kicking ability from the ground a feature of the game.
half time. Dicksboro 1-05 O'Loughlin Gaels 1-02.
In the second half, boro worked an excellent goal which started with Goal Keeper Matt Kelleher which was worked down the field by Fionn McGarry and finished by Mikey Raggett. This was followed immediately by a point from Sean Keanan.
The St John's outfit fought back with a goal of their own through Kevin Waldron and came within 2 points of the winners as the game went into last 10 minutes.
Cillan Hackett and impact sub Billy Fitzpatrick kicked points to insure the win at the death.
Well done to both teams on a very sporting game played in good conditions.
Dicksboro
Matt Kelleher, Sean Cullen, Mick Carroll (capt), Tom McPhilips, Conor Kavanagh, Fionn McGarry, Peter Conroy, Sean Keanan (0-02), Sean Knox, Cillian Hackett (0-02), Mikey Raggett (1-04), David Mulrooney(1-00), Harry Shine, Declan O Farrell (0-01), Sam Tynan, Subs: Michael Clarke, Billy Fitzpatrick (0-01), Charlie Miller, Denis Dalton, Jamie McGrath, Joey Dalton, Luke Bourke, Tom O Neill, Kevin Moore, Johnny Keane
O'Loughlin Gael's: O Balsys, T O'Meara, H O'Grady, F Lawlor, CJ Poyntz, R Galwey (0-1), M Holohan, F Hogan, G Kelly (0-1), J Aylmer (0-1), J Sinnott, H Maher, E Bennett, K Waldron (2-2), A Sheridan (0-1).
Subs R Sweeney, O McKenna, J Hynes, H Roberts, A Maher, L Quigley, B Wall