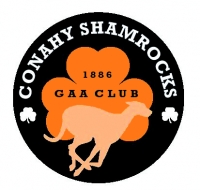 My name is Ceirin and I play for Conahy Shamrocks. I play U11 in half forward. I have made so many friends since I joined the Club. We have great fun and learn loads of new skills. Our coaches are great and give up so much time to train us. They keep it interesting and fun. We usually train twice a week and play as many matches as we can. We are doing challenges now at home since we cant train together. We did the dustbin challenge and the ball wall challenge. I love looking at all the videos coming through.
Last year we won The Kevin Bergin Tournament – The Club run it every year and it was the first time we had won in a good few years. Everyone was so excited including the parents.
Conahy won the Junior All Ireland Final in January for the second time and it was a great day. Id say the whole of Conahy was in Dublin that day. It was so exciting to watch your team win such an important game for the 2nd time. I wasn't born the first time they won it ! The team went to the 3 schools in the parish with the Cup after it (I go to the Gaelscoil so I missed out) but the lads all said it was brilliant and there was great excitement in the whole parish.
The Club do loads of things around the parish, I know they are helping older people now that cant go out and get shopping etc, its very important in a country parish for everyone to help out and the Club are doing a great job.
My grandad and great Grandad both played for Conahy and so did my Uncle. Its great for me to keep on the tradition and wear the jersey.
C'mon Conahy