"Inter-C
ounty Development Squads Hurling Day This Saturday 24
th
July"
Our U14 /U15/U16/U17 Age levels, are looking forward to an Inter-County "Development Squads Hurling day" this Saturday 24th July.
The next "U13 Regional Club Squad Coaching session" takes place Saturday 7th August.
Please read each Development Squads Time /Venue/Details carefully.
Players please note :  
(1) Strict Covid 19 guidelines/protocols to be adhered to.
(2) Wash hands on entering /exiting the ground.
(3) Bring own water bottler with your name on it.
(4) Ensure your parent/guardian completes your Health questionnaire. (See below).
(7) Bring your Helmet, and a spare hurl with your name on it.
Parents/Guardians Please note :
(1) One Parent/Guardian is allowed attend.
(2) Everybody is asked to adhere strictly to the Covid 19 Guidelines.
(3) Wash hands on entering and exiting the venue.
(4) Social Distance of 2 Metres to be maintained.
(5) Complete you and your youth players Foireann Health Questionnaire.
(6) Instructional video on setting up your player profile on the Kilkenny Development Squads are available. Click HERE.
(7) Once THE PROFILE is created by you, your player will be assigned to the relevant Development Squad Team.
(8) The Health Questionnaire should be submitted for yourself and your player before each and every session/game.
Thank you,
Kilkenny GAA Development Squads Committee.

U17 Kilkenny Development Squad 2021
Any issues Contact Squad Leader : Liam Dowling (086) 0605869
Players to wear Kilkenny togs and stockings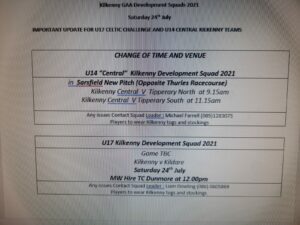 U16 Kilkenny Development Squad

s

2021

In Erins Own GAA, Castlecomer Games start : 11.00am Sharp

Kilkenny " Amber" v Galway "A"

Kilkenny "Black" v Galway "B"

Any issues contact Squad Leader  : Pat O'Grady (086) 2745690

Players to wear Kilkenny togs and stockings

Players to arrive 10.10am.
U15

"

South

"

 Kilkenny Development Squad 2021

in Erins Own GAA, Castlecomer  Game Start 2.00pm

Kilkenny South Vs Galway Region 3

Any issues contact Squad Leader :  Pat Hoban (086) 2418304

Players to wear Kilkenny togs and stockings

Players to arrive 1.10pm
U15
"
Central
"
Kilkenny
Development Squad 2021
in Erins Own  GAA, Castlecomer    Game Start 12.30pm
                                        Kilkenny Central  Vs Galway Region 1
                                  Any issues contact Squad Leader  :  Liam Smith (086) 2206442
        Players to wear Kilkenny togs and stockings
                                                                          Players to arrive 11.40am
Begley, Alex Thomastown
Bergin, Sean James Stephens
Coverdale, Darragh Danesfort
Deely, Sean James Stephens
Donovan-Cook, Ryan John Lockes
Egan, Paidi Graigue Ballycallan
Fitzgerald, Charlie Bennetsbridge
Harrison, Ruari James Stephens
Hoyne, Conor Clara
Kinsella, Steven Graiguenamanagh
Langton, David Young Irelands
Lauhoff, Ed James Stephens
Lynch, Michael John Lockes
Manogue, Noah James Stephens
McDermott, Edward James Stephens
McGrath, Sean Graigue Ballycallan
Moore, Brian Dicksboro
Murphy, Evan Dicksboro
O'Sullivan, Billy James Stephens
Phelan, Cian Young Irelands
Stynes, Michael Dicksboro
 

U15

"

North

"

Kilkenny Development Squad 2021

           in Erins Own  GAA, Castlecomer    Game Start 12.30pm

                           Kilkenny North   Vs Galway Region 2

Any issues contact Squad Leader Simon Walton (087) 8594854 by Thursday at the latest

                                Players to wear Kilkenny togs and stockings

                                       Players to arrive 11.40am
 Michael Lambert    O'Loughlin/Gaels
Aaron Neilis            St. Patricks
Rory Garrett            Fenians
Michael Glennon   St. Patricks
Jack Johnson          O'Loughlin/Gaels
Jamie Thornton      Lisdowney
Conor Brophy       Erin's Own
Michael Ahearne    Emeralds
Jerry Henderson.     Fenians
Keelan Brennan       Tullaroan
Bill Coogan            Tullaroan
Christian Connick  St. Patricks
Greg Kelly            O'Loughlin/Gaels
Jake Dooley         Conahy Shamrocks
Mark Bergin        St. Patricks
Michael Keane    St. Martin's
Harry Lawlor         Cloneen
Ruarc Sweeney     O'Loughlins
Coleman Maloney  Galmoy
Eoghan O'Brien      O'Loughlin/Gaels
Jack Comerford      Erin's Own
Billy Grogan            Lisdowney
U14
"
South
"
Kilkenny Pre-Development Squad 2021
In Dr. Morris Park, Thurles
Kilkenny South V Tipperary North at 9.15am
Kilkenny South V Waterford 2 at 11.15am
Any issues contact Squad Leader : Dave Williams (086) 2805954
                                            Players to wear Kilkenny togs and stockings
                                                                Players to arrive 8.40am
 

U14

"

Central

"

Kilkenny  Pre- Development Squad 2021

                                          in Annacarthy GAA

Kilkenny Central  V  Tipperary South at 1.30pm

Kilkenny Central  V Clare 2 at 2.30pm

                               Any issues contact  Squad Leader – Michael Farrell (085)1283075

                                                  Players to wear Kilkenny togs and stockings

                                                           Players to arrive 12.45pm

Donnchadh Hennessy Dicksboro

Patrick Lacey  Dicksboro

Luke Kerwick  Dicksboro

Anthony Clifford Dicksboro

Louis Raggett  Dicksboro

Ciaran Coone Thomastown

Cian Doherty Thomastown

Conor Barcoe Thomastown

Robbie Lynch Graigueballycallan

Philip Corrigan Clara

Luke Lawlor Clara

David Barcoe Clara

Joe Power Clara

Calum Murphy Danesfort

Fionn Mahoney Danesfort

Danny Carey John Lockes

Thomas Langton Young Irelands

Cian O' Shea Graignamanagh

Owen O'Brien Graignamanagh

Billy McDermot James Stephens

James Kelly James Stephens

Tuan Hyland James Stephens
Daragh Power James Stephens

Alex O'Farrell Bennettsbridge
 

 

U14

"

North

"

Kilkenny  Pre- Development Squad 2021

                        in Dr. Morris Park, Thurles, Co. Tipperary

Kilkenny North V  Tipperary Mid at 9.15am

Kilkenny North V Waterford 1 at 11.15am

                                      Any issues contact  Squad Leader – Liam Lacey (087) 7549781

                                             Players to wear Kilkenny togs and stockings

                                                          Players to arrive 8.40am