The Kilkenny team to face Wexford in Saturday's Leinster S/F has been named.   The game has a throw-in time of 4.30pm in Croke Park and is live to view on Sky Tv, local and national radio.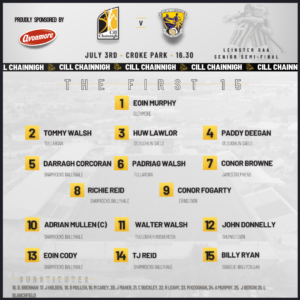 A limited number of tickets for tomorrow's Leinster Semi-Finals in Croke Park are now available on line. Click HERE to access on-line application.
Those attending the games in Croke Park are asked to note the important COVID-19 protocols in place. An attendance of 8,000 has been agreed for these games as it is being treated as a TEST EVENT. Supporters are asked to play their part to ensure that attendances at games this summer continues to increase.