Dicksboro claim U13 Football title in Thriller at St Johns' Park
DUGGAN STEEL UNDER 13 ROINN A FOOTBALL CHAMPIONSHIP FINAL
VENUE:  ST John's Park
REF:  Conor Everard
02/04/22
O' Loughlins Gaels 3:05 v 5:06 Dicksboro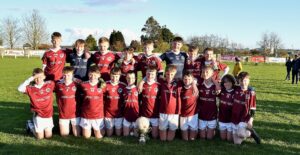 Dicksboro come out on top after an exciting finish to what was a brilliant final from start to finish.
Early exchanges were very even with Dicksboro looking like they had the physical advantage but O' Loughlin Gaels were moving well and playing some very clever football.  After 20 mins of play it was very even on the pitch with the difference being the early goal the 'Boro boys had got with the score now 1:01 v 0:02.  There was some great battles over the field early on and this became a big feature as the game developed. Adam Quigley at full forward for the hosts was proving a handful and was slotting over some lovely scores while Tiernan O' Brien at wing forward for the 'Boro was proving to be as dangerous getting his own point but carrying the ball extremely well and never being wasteful.  O' Loughlin Gaels finished the first half very strong and were awarded a penalty after Ben Fahy had a great goal chance only to be saved on the goal line by fullback Jack Treacy, in the chaos that followed immediately ref Conor Everard raised his arms and awarded the hosts the penalty. Up stood Ben Fahy and he blasted the ball past the excellent  Oisin Treacy in the Dicksboro goal.  Half time had arrived and O' Loughlin Gaels were leading on a scoreline of 1:05 v 1:02.
The second half started with a Dicksboro point after Joe Dowling finished a great move aagain started by the industrious Tiernan O' Brien.  Dicksboro were now well on top on the pitch but were finding scores hard to come by.  While O' Loughlins had been defending for the majority of the restart they got a great opportunity when a long ball was played into the full forward line and Ben Fahy found himself  1 v 1 with the Dicksboro goal man and he calmly rounded the keeper and slotted to the net, O' Loughlin Gaels back on top 2:05 v 1:03. The Dicksboro boys continued to fight hard with Sean Kavanagh, Joe Dowling and Tiernan O Brien all well in the game now.  With a further two points added by Tiernan O Brien and sub Michael Brennan they were keeping the pressure on the hosts.  One more move up the field again finished with a goal for O Loughlins when Conor Manogue scored what was surely going to be the goal that crowned O Loughlin Gaels as Champions on the day. Dicksboro now needed a miracle as time was nearly up and guess what, with the relentless pressure they were putting on the 'Loughlins backs they pulled it off.  Two goals scored by the Dicksboro full forward line to finish the game all square and extra time was on its way.
Extra time was all Dicksboro. A stylish finish for a point by Joe Dowling opened the scoring for Dicksboro and he followed up this with a goal only for midfielder Robert Lacey to secure the win with a goal of his own.  Final score, O' Loughlin Gaels  3:05 v 5:06 Dicksboro.
Well done to Dicksboro in what was a top class, exciting game of football that was played by two excellent teams. Commiserations to O' Loughlin Gaels who were unlucky not to win it in normal time.
O' Loughlin Gaels: Dan O Brien, Gavin Ryan, Lucas Duggan, JJ Cahill, Emmet Cooney, Ryan Farrell, Ronan Treacy, Harry Egan, Ben Fahy, Andrew Holohan, Samuel Briers, Shane Comerford, Adam Quigley, Conor Manogue, Cathal Bennett, Felix Fwamba, Christopher Hayes, Diarmuid Kealy, Souleymane Toure.
Dicksboro: Oisin Treacy, Charlie Byrne, Jack Treacy, Sam Pender, Sean Kavanagh, Donal O Neill, James Kavanagh, Robert Lacey, Tiernan O Brien, Joe Dowling, Sean Norton, Jack Delaney, Rhys Kerwick, Noah Orr, Samuel Flemming, Senan Dempsey, Michael Brennan.
KILKENNY HONDA CENTRE ROINN B HURLING LEAGUE
James Stephens v The Rower Inistioge
29/03/22
REF: Kieran Canavan
James stephens  1:09 v  Rower Inistioge  1:12 . This was a well contested game of hurling, 2 very spirited teams.  James stephens led at half time courtesy of a long range goal from Bill McDermott .The rower started the second half the better and worked some lovely scores. James stephens came back into the game and it was nip and tuck all through the second half until the The Rower Inistioge got a vital goal, it was a great stop from the Stephens young goalkeeper Andy Brennan but the rebound was finished to the net.  The Rower Inistioge winning by 3 points in a very evenly fought battle.
KILKENNY HONDA CENTRE MINOR ROINN A HURLING LEAGUE
28/03/22
REF: Eoin Hayes
Bennettsbridge  1:11 v 3:16 Clara
Round 1 of the Kilkenny Honda Centre minor hurling league is off and running and it is great to be back in ''the field'' at it again.
The game started frantically with both teams contesting well for the ball. After 6 mins of play the first score of the match came after  some good work by Clara wing forward Harry Boyle when he found Tommy Delaney in space in front of goal and Tommy finishing the move with a point. Following on from this in the next attack David Barcoe took on the Bennettsbridge fullback line which saw a shot come back off the crossbar only to be finished to the back of the net by the alert Ned Langton.  Score now 1:1 v 0:0 and Clara going well.   In the next phase of the game the 'Bridge boys got going with Joe Hughes and James Hughes getting on some good ball and driving their team forward. A great point from Paddy Walsh and a pointed free from his midfield partner , James Hughes , had Bennttsbridge back in the game.  For the rest of the first half Clara seemed to be getting their scores a little easier but Bennettsbrdge stayed in the game chipping away at the score board . There was  some great scores to finish the half, Ned Langton , Sean Carrigan, David Barcoe all pointing  from play with Conor Hoyne contributing from placed balls.  Joe  Power too getting in on the action when he finished to the back of the Bennettsbridge net.  Bennttsbridge were working hard and resulted in a number of pointed frees from Jack Campion and Paddy Walsh.  The final score of the half came from Paddy Walsh , a monster of a point from distance for the Bennettsbridge midfielder.
Half time it was Bennettsbridge 0:07 v 2:07 Clara,  Clara in the driving seat leading by 2 goals and maybe their physicality helping them too.
Clara started the second half quickly with a point from play but Bennettsbridge answered straight away with a point of their own.  This was as close as the score was to be for the rest of the game. Clara wing forward Harry Boyle, who hard work hard up to this point, suddenly hit form and hit 3 spectacular  points from play and Clara began to pull away. When the very dangerous Tommy Dealaney  scored his goal he brought the score to 3:17 v 0:09 in favour of Clara. This did not deter the young men from Bennetsbridge who finished the game with the rest of the scores. Centreback Joe Hughes pointing  from a '65.  Midfielder James Hughes moving to full forward caught a great long ball in and taking on the Clara fullback line got fouled and won a 21 yard to blast to the back of the net himself. Bennettsbridge were now relentless and putting the Clara backs under severe pressure .  One more pointed free for Bennttsbridge brought  the final score to 3:17 v 1:11.
Bennettsbridge panel : Adam Barden, Paul Mahon, Eoin O Connor, Luke Dobbyn, Joe Hughes, Oran Lavery, Paddy Walsh, James Hughes, Luke McBride, Jack Campion, Charlie Fitzgerald, Alex O Farrell, Adam Cullen, Paddy Cash, Liam Keogh, Jude O Dwyer, Jack Dooley, Scot Hennessy, Jacob O Dwyer, Tadhg Ryan, Ronan Dwan, Tony Dobbyn, Felix Bellingham.
Clara panel: Cian Kelly, Alex McDonald, Ben Crow, James Cody, Phillip Carrigan, Zack Lawlor, Ben Murphy, Conor Hoyne, Luke Lawlor, Harry Boyle, Sean Carrigan, Ned Langton, Tommy Delaney, David Barcoe, Joe Power, John Bergin, Tom Boyle, Sean Byrne, Eoin Corr, Dillon Cummins, Conor Galvin, Bill Kealy, Hugh Kelly, Tom Murphy, Ori Phelan, Daniel Ryan
Kilkenny Honda Centre Minor Roinn B Hurling League Round 1:
28-3-2022
Galmoy/Windgap 2-18                              Graignamanagh   0-13
The Galmoy/Windgap minor hurlers made a winning start to their League campaign with a good win over Graignamanagh in Windgap on Monday March 28th.Graignamanagh were short a number of first choice players while Galmoy/Windgap were without Eoin O Shea,Niall Drennan and Colman Moloney.Two first half goals from Ronan O Brien and Jack O Shea set the home side up for a 2-12 to 0-3 lead at half time. Graignamanagh put in a much stronger performance after the break and indeed, they outscored the hosts in the second half 0-10 to 0-6. All in all, this was a good workmanlike performance from Galmoy/Windgap with John Dermody,Jack O Shea,Evan Doyle,Conor Doyle and Cian O Rourke leading the way. For Graignamanagh,midfielder Nicky Ryan was very good while Gavin Kielthy gave most support.Next outing for Galmoy/Windgap will be an away game v Rower Inistioge on Monday  April 4th.
Galmoy/Windgap:Fionn Lonergan, John Dermody,Conor Darcy, Alex Culleton ,George Culleton,Cian O Rourke,P J Delaney,Evan Doyle(0-1),Ronan O Brien(1-2),Jack O Shea(1-3),Michael Freaney(0-1),James Purcell(0-4,0-3frees), Conor Doyle (0-6),Noah O Shea, Shane Lomax.
Sub used: Edmond Power,Sam Moloney,John Power(0-1) and Tom Power
Graignamanagh:Bill O Shea,Padraig Phelan,Devin Kielthy,Stephen Cosgrave, Sean O Grady ,Gavin Kielthy, Martin Barron,Nicky Ryan(0-10,0-5frees),Conor Byrne,Conor Murphy,Cian O Shea,Jack Connolly(0-1), Conor Hoolan(0-2),Colin Hamilton, Colin Bolger.
Subs used: Zack Barron,Rory Cleary and James Morgan.
Referee: Eddie Crowley(Mooncoin)
KILKENNY HONDA CENTRE MINOR ROINN B HURLING LEAGUE
Mullinavat  v John Lockes
REF: John Kennedy
28/03/22
Mullinavat Team
Ross Conway 2. Jamie Walshe 3. Eoin Dempsey 4. Jamie Dempsey 5. Louis Madigan 6. Patrick Walshe 7. Stephen O'Shea 8. Jamie Davis 9.  Dylan Dungan 10. Luke O'Donovan 11. Cormac McEvoy 12. Mickey Phelan 13. Sean O'Keeffe 14. Conor Power 15. Michael Catt 18. Ciaran Holden
John Lockes
Patrick Gibbs 2. Paul Hanrahan 3. Luca Harris 4. Eoin Byrne 5. Patrick Kerwick 6. Gavin Bambrick 7. Michael Lynch 8. Shay Jackman 9. Tomas Roche 10. Ryan Roche 11. Ryan Donovan Cooke 12. Josh Adriano 13. Harry Madigan 14. Kevan Lynch 15. Killian Butler 16. Conor Murphy 17. James Hickey 18. Tomas Godden 19. James Weekes 20. Lee Greene
Mullinavat opened the game with a point from Cormac McEvoy.. John Lockes no.9's Tomas Roche rattled the back of the net. John Lockes drove on with a point from Harry Madigan.  John Lockes went on with Tomas Roche getting the next 6 points between frees and points from play. Conor Power and Cormac McEvoy both got a point each from frees. John Lockes Ryan Donovan Cooke got 2 points from play and Killian Butler got 1 point. Mullinavat had no answers for John Lockes and Tomas Roche struck again with another point. Cormac McEvoy got another point from play. At half time John Lockes were 1-11 to Mullinavat's 4 points.
At the beginning of the second half Conor Power got a lovely point and he also got the next point from play. John Lockes found their pace again with Tomas Roche getting 2 points, one from play and a point from a free. He got 2 more points from play.  Not from the want of trying Mullinavat finally found the back of the net with Cormac McEvoy scoring. Tomas Roche got the next 2 scores for John Lockes with a goal and a point. John Lockes finished the game with another goal from there sub. James Hickey and Conor Power got the final point of the game for Mullinavat.
John Lockes were the strongest on the night with the final score 3-15 to Mullinavat's 1-7.
Kilkenny Honda Centre Minor Roinn B Hurling League Group A Round 1
St. Patricks Ballyragget vs The Harps Durrow
Venue: St Patricks GAA
Time: 7pm
Referee: Sean McMahon
Half- time score: The Harps 3-14 St Patricks 0-8
Full- time Score: The Harps 6-17 St Patricks 2-18
St Patricks: Oisin Troy, Ruairi Farrell, Michael Glennon, Niall Kavanagh, Harry Culleton, Christian Connick, Thomas Love, Christopher Delaney, Conor Phelan, Mark Doheny, Aaron Nealis, TarasBiletsky, Shay Smith, Sean Brennan, Josh Dowling, Charlie Culleton, John Purcell, Shane Culleton, Conor Rocliffe, Tadhg Phelan.
A much-anticipated return to the league Monday evening as St Patricks of Ballyragget welcomed The Harps of Durrow.
Both teams eager to start off well in the league but it was the Harps that proved the better side. A glorious evening…sun was beaming, and the winds were calm… perfect conditions for hurling, as a large crowd of supporters gathered to celebrate the return of the hurling season after a long cold restricted winter.
From the starting whistle The Harps were determined, they dominated from the off and St. Patricks must have felt blindsided and stunned. Three goals for the Harps before half time was an indication of Durrows abilities and momentum…topped with 14 points and St Patricks struggled to grasp Durrow dominance.
Half -time score: The Harps 3-14 St. Patricks 0-8
St. Patricks made some changes for the second half, but spectators felt the game had lost its spark and that The Harps would never concede that 15-point half time lead.
And they didn't.
Two spectacular goals from St. Patricks and some unanswered points made the score line look more favourable, but The Harps responded with three more goals of their own. All credit to St Patricks, who never gave up, were by no means dejected and didn't roll over but they simply had no answer for Durrows dominance.
Both sides played well, St. Patricks have a few things to work on, but lessons were learnt, and I have no doubt they will return stronger and more determined, as defeats like this in the past has only proved to spur them on more.
Well done to The Harps who were outstanding, and we look forward to seeing what the rest of the season brings for them. If Monday nights performance is any indication, then the league will be a good one for them.
DUGGAN STEEL U15 ROINN B HURLING LEAGUE
 VENUE: Pairc na Ratha
01/04/22
 REF: Eddie Crowley
 Glenmore 3:14 v 1:09 Shamrocks Balyhale
On Friday April 1st in Glenmore, Ballyhale came down to take on Glenmore in the first round of the u15 Roinn B league under the control of referee Eddie Crowley. After a rather tentative start from both sides James Reid hit the first point for Glenmore. This was quickly followed by three points for Ballyhale, two from Michael Barron and a 65 from Aidan Grummell. A free by Jason Cody and another Reid point levelled it up before Barron pointed a free to push Ballyhale clear. Reid then got his third score with another from Fionn Murphy and a reply from Rian Shefflin tied the game at 5 each with 20 minutes gone. There then followed some great hurling with neither side giving an inch until Jason Cody won a ball on the 50 turned and headed for goal only to be fouled on the 30 meter line. He stood up to the free and drove it to the net and then added a point in the next play. After another bout of stalemate a long ball into the Ballyhale goalmouth was finished to the net by Oisín Mullally to leave Glenmore leading 2-06 to 0-05 at half time.
The second half began the same as the first with a Reid point followed by one from Barron. Glenmore then took over with 5 in a row from Jack Dollard, Reid and 3 from Cody. Rian Shefflin then goaled for the Shamrocks but Fionn Murphy hit back with a green flag to cancel it out immediately.
There was an exchange of points from Grummell, Reid, Grummell again, Cody and the last one from Barron to see Glenmore winners by 3-14 to 1-09 in a good entertaining contest.
Glenmore :D. Fitzgerald, M. Cody, C. Hennessy, M. Griffin,R. Halligan, J. Dollard, D. Connolly, J. Reid, L. Vereker, A. Talbot, J. Cody, C. Walsh, F. Murphy, Ó. Mullally, S. Grant. Subs:T. Ryan, H. Beirne, C. Mackey.
Ballyhale :L. Good read, S. O'Mahony, K. Ryan, B. Ryan, J. Ryan, D. Kolodziej, C. Coogan, T. Walsh, C. Walsh, A. Grummell, M. Barron, R. McMahon, C. Lennon, R. Shefflin, D. Grant. Subs:S. Rooney, J. Fitzpatrick, L. Cummins, C. Holohan.
DUGGAN STEEL UNDER 15 ROINN B HURLING LEAGUE
VENUE: PAIRC LACHTAIN
REF: Peter Burke
1/4/22
 St Lachtain's 1:09 v 4:12 Graignamanagh
St Lachtains got off to a great start. It was 1-2  to no score after 10 minutes.
After that it was all Graignamanagh.  Sean O Grady hitting two goals for the visitors leaving the half time score at 1-5 v 2-9 in favour of Graignamanagh.
Graignamanagh again took charge after the restart and although St Lachtains battled away the visitors found their scores a little easier and rallied to a convincing win in the opening round of the Roinn B hurling league.
Graignamanagh: 1-Rory Murphy 2-Rory Cleary 3-Padraig Phelan 4-Cillian Murphy 5-Cody O' Neill 6-Owen O' Brien 7-Cillian Redmond 8-Cian O' Shea  1-5 (1-2 frees) 9-Jack Connolly  0-3 10-Conor Hoolan  0-2 11-Sean O' Grady  2-2 12-Jamie Kennedy replaced by Harry Delaney 13-Tom Breen replaced by Luke O Brien 14-James Morgan replaced by Hugo Tierney 15-Daithi Hoare  replaced by Padraig Hayden 16-Padraig Hayden 17-Hugo Tierney  1-0 18-Luke O' Brien 19-Harry Delaney.
Freshford: M Murphy, J Dalton, L Landers, C Dowling, J Denife, M Bergin, D Ryan, M Campion, T Bolger, C McGree, C Donnelly, C Kavanagh, C Colclough, B Darcy, J Flynn, M Hickey, C Dalton, P McCarthy, J Walsh.