Duggan Steel Under-13 Roinn A Football League Final
17/03/22
John Locke Park
John Lockes  3:04 V 5:10 James Stephens
On a glorious St Patricks morning in Callan John Lockes hosted James Stephens for the final of the Duggan Steel  Roinn A League Final.
With the wind on their backs James Stephens opened the scoring with a pointed free after 3 mins.  John Lockes responded well from the kickout and began to put pressure on the James Stephen backs winning a couple of frees back to back and moving the ball well up the field.  On 6 mins came the opportunity that the Callan boys wanted to get that great start when John Lockes #14 , Adam Byrne, shot for goal only for Shay Blanchfield in the Village goal to make the save.  After this James Stephens got on top for the rest of the first half and everything  seemed to go their way.   The halftime score was 1:0 v 3:07 with the city boys in front and playing really well albeit aided by a very strong wind.
The 2nd half was a much more even affair with John Lockes outscoring James Stephens by a point , 2:4 v 2:3.  John Lockes tried to claw back the deficit with some lovely football throughout this half, unfortunately for them the impressive display from worthy winners  James Stephens in the first half half was enough for the city boys to hold out.
Some great displays on both sides.  For John Lockes Max Edwards in goal did well, in the backs Ruadhan Doran, Oisin O Neill and Sean Corcoran did extremely well.  Leading the attack for John Lockes was the very impressive Glen O Sullivan.
For the winners  Jayden Maher,  William Moriarty , Oliver Phelan, Henry Maher, Ryan Walsh and Ruairi Power all showed their talents throughout the game.
PANELS:
John Lockes
Max Edwards,  Jack Dermody, Ruadhan Doran, Sean Henriques, Paric Tobin, Oisin O Neill, Sean Corcoran, Padraig Croke,  Glen O Sullivan, Michael Jackman,  Ollie Molloy, Liam Corcoran,  Joe Nolan, Adam Byrne, Ryan Kennedy, Eoin Cassin, Sean Morrisey, Hamish Carey, Peter Lawlor, Danny Power, Aron Murphy.
James Stephens
Shay Blanchfield, Ethan Hogan Eyre, Aj Mackey,  Mikey Dorney,  Darragh McDermott,  Jayden Maher, William Moriarty, Oliver Phelan, Henry Phelan, Mikey Phelan, Brian Walsh, Eoin McDermott,  Liam O Brien, Ruairi Power, Hugh Power, Ryan Walsh.
DUGGAN STEEL U13 Roinn B Football League Final
PILTOWN 2:05 V 2:09 KILMACOW
 22nd of March 2022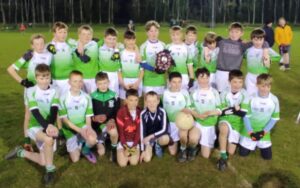 On March 22nd, 2022, Kilmacow took on the challenge of facing a physical Piltown side in the Rionn B League Final. The match took place on a grand soft spring evening in the Piltown GAA Club & Sports Complex. The tension was in the air as both teams would battle it out to become U13 league champions.
Piltown Team: Shay Commins, Shane Downey, Ben Coffey, Evan Walsh, Jack O'Driscoll, Dylan Walsh, Sean O'Driscoil, Fionn Dignam, Liam Shanahan, Willian Walsh, Harry Farrell, Daire O'Brien, Eddie Alyward, Brendan Twohig, Jeffory O'Shea, Jack Farrell, Ronan Knox, Joseph Barry, Aidan Barry, James Cleary, Jack Kearns and Tom Gahan
Kilmacow team: Ben Byrne, Ben Carroll Synott, Jamie Cass, Joe Doyle, Liam Egan, Zak Fenton, Rory Foot, Flinn Gillespie, Dean Hennessy, Sean McDonald, Joe Murphy, Sam Murphy, Danny Murray, Tom Nolan, Danny O'Brien Walsh, Eoin O'Callaghan, Denis O'Hanlon, David Phelan, Patrick Quinlan, Michael Reddy and Eoin Sutton
The stakes were high. Both teams needed a good and fast start to the game. Kilmacow started off with an early goal by Patrick Quinlan. Spectacular play by Kilmacow to work the ball up the field for what was a fantastic well worked team goal. Piltown came back with a fast response and tapped over 2 very good points in quick succession to reduce the deficit. Jamie Cass gave Kilmacow some breathing space when he scored a goal to but kilmacow in a more comfortable lead. There was then some outstanding passages of play from both teams. Piltown were very physical and running straight down the middle, which helped them score a goal. Jack Farrell had a fantastic chance when his shot struck the crossbar and went over. The game was very even there was nothing in it with some fantastic scores and hard-hit tackles. The half time score was Kilmacow 2:04 and Piltown 1:03
Piltown must have had very special Jaffa cakes because as soon as they came out, they had a spectacular start with a goal by Harry Farrell that put them back in the game. The second half was a very tight affair with very little between the two teams. The men of the Iverk drew level with 15 minutes to go. Some heroic defending from Danny O'Brien, Tom Nolan and Sean McDonald held back an extraordinarily strong piltown attack to keep Kilmacow's dreams alive. Some Fantastic saves from Piltowns goalkeeper Ronan Knox
Duggan Steel Under-13 Football Roinn C League
Railyard                               5-9
Conahy Shamrocks          3-5
A strong and skillful Railyard got the better of a brave Conahy Shamrocks side after an excellent game of football in the Duggan Steel Roinn C League, played in Ballinabranna on Monday last, March 7th. Despite the cold and windy conditions, great credit must go to both teams for producing some excellent football with the quality of score taking in particular being very impressive.
Railyard had the better of the exchanges in the opening half and led by 3-4 to 1-2 at the half-time break. Goals from Kalem Buggy, Jack Carroll and Rian Brennan were the key scores in the half for the Railyard boys, while Finn Sherman was the goal scorer in reply for Conahy, though they were unfortunate that some other scoring chances did not go the right side of the posts.
The second half continued in the same vein as the first, with Railyard again having the better of the scoring exchanges. A second goal from Jack Carroll, along with a goal from John Joe Buggy, ensured that they kept the noses in front. However, Conahy remained competitive all the way, with Padraig Quinn and Billy Rowe both raising a green flag during the second half. But Railyard's greater strength and size, and no little skill, saw them emerge deserved winners by 5-9 to 3-5.
TEAMS & SCORERS
Railyard: Shane O'Dowd, Jack Kelly, Charlie Kelly, Liam Lawlor, Oran McCongley, Alex Daly, Cillian Brennan, Kalem Buggy (1-1), Eoin Maher (0-1), Conal O'Dowd (0-1), Jack Carroll (2-4), Ryan Lawlor, Michael Bradish (0-1), Rian Brennan (1-0), John Joe Buggy (1-1), Iloy Comerford, Dara Carroll, Evan O'Neill.
Conahy Shamrocks: Joe Boland, Camryn Kenehan, Tadhg Hennessy, James Byrne, Bobby Dooley, Rory Rhatigan, Jack Gamble, Billy Rowe (1-3), Rory Sherman (0-1), Padraig Quinn (1-0), Finn Sherman (1-0), Ceirin Murphy, Jack Buggy, Neil Webster (0-1), Richie Rowe, Padraig Murphy, Diarmuid Quinn, Ben Byrne.
Duggan Steel  U-13 Football League Roinn B Semi Final : 13-3-22
Galmoy/Windgap 1-5                       Piltown 1-5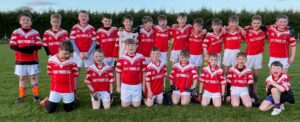 An equalising point in injury time by Jules Seagrave, gave the Galmoy/Windgap U-13 Footballers  a share of the spoils in this entertaining clash in Piltown on Sunday evening March 13th. Piltown lead 1-2 to 0-2 at half time, the Piltown goal being an own goal, following a mix up in the visitors defence. With ten minutes remaining in the game, Piltown still lead by four points but a strong Galmoy/Windgap finish saw parity achieved in the end.Their goal was a well worked move from the half way line with Jack Egan giving the final pass to Tadhg Kennedy who netted.The levelling point from Jules Seagrave proved to be the last kick of an intriguing game. Aidan Doyle and Shane Doyle performed well at the back ,both clearing a number of balls off the line. David Nolan worked well stopping a lot of Piltown attacks with M J Corcoran in support. Aidan O Shea and Mikey Saunders picked off their scores well. For Piltown, Ronan Knox was excellent on goal withTom Gahan covering a huge amount of ground from the left half back position. Dylan Walsh worked tirelessly at midfield as well as kicking some good frees. Harry Farrell was a thorn in attack for the opposition, while Joe Barry kicked a lovely point from a difficult angle.
Galmoy/Windgap: Aidan Doyle,David Nolan,Darragh Enright(0-1), Shane Doyle , M J Corcoran ,Jack Egan,Darragh Holohan ,Conor Power,Aidan O Shea(0-2),Jules Seagrave(0-1), Mikey Saunders(0-1), Joe Moloney Noah Murphy, Tadhg Kennedy(1-0), Rory Quigley.
Subs:  Patrick Delaney  for  Darragh Holohan 31 mins and Alex Doherty for Rory Quigley 50 mins.
Piltown: Ronan Knox,Brendan Twohig,Shane Downey,Eddie Aylward,Jeffrey O Shea,Evan Walsh,Tom Gahan,Dylan Walsh(0-4,0-3frees),Jack O Driscoll,Daire O Brien,Sean O Driscoll(1-0),Shay Cummins,Willie Walsh,Harry Farrell,Joe Barry(0-1).
Referee: Willie Kearney (Dunnamaggin)
Duggan Steel  U-13 Football League Roinn B : 27-2-22
Galmoy/Windgap 4-7                  Thomastown 0-4
Galmoy/Windgap U-13 Footballers travelled down to Thomastown on Sunday 27th to face the home side in the Duggan Steel  U-13 League. Playing with the benefit of a strong wind in the first half ,Galmoy/Windgap raced into a 2-6 to 0-0 half time lead,thanks to some good shooting from Mikey Saunders,Conor Power and Aidan O Shea. When Thomastown had favour of the elements after the break, they found the hard working qualities of their opponents most difficult to overcome and were unable to reduce that substantial lead, despite the best efforts of Eoghan Lynch and Danny O Neill. With good defensive performances from Darragh Enright,Jack Egan,David Nolan and M J Corcoran, Galmoy/Windgap held firm. Having received a walkover from Clara , this win puts Galmoy/Windgap at the top of their three team group and they now await news of their next opponents.
Galmoy/Windgap:Oisín Delaney,David Nolan,Darragh Enright(1-0),Aidan Doyle,Joe Moloney,Jack Egan,M J Corcoran,Conor Power(1-3),Aidan O Shea(0-2),Patrick Delaney, Mikey Saunders(1-2),Shane Doyle(1-0),Noah Murphy, Will Moloney, Rory Quigley.
Subs: (All used) Gerard Delaney, Cathal Barron,and John Kelliher
Thomastown:Tommy Grace,Tommy Madigan,Tom Lawler,Conor Muldoon,Eoin Ryan,Eoghan Lynch,Conor Murphy,Nathan O Hara,John Clifford,Sean Collins,Danny O Neill,Ryan Carroll,Danny Gainne,Harry Thomas,Conor Scanlon.
Referee: Patrick O Reilly
Duggan Steel U-13 Football League Roinn B Semi Final Replay:
17-3-22
Piltown 5-6                            Galmoy/Windgap 1-0                    
On a sunny St Patrick's morning in Windgap, the Piltown U-13 Footballers proved too strong for Galmoy/Windgap in the replay of the Roinn B League semi final. Piltown lead 2-2 to 0-0 at half time, the first Piltown goal coming from a 20 metre  free kick by Dylan Walsh following a foul on Eddie Aylward in the 5th minute. Galmoy/Windgap goalkeeper Aidan Doyle made some important saves in the opening half. In the 29th minute, he saved a shot from Joe Barry, but the alert Harry Farrell followed up with a ground shot to the net. Jack Egan and Aidan O Shea had tried hard for the hosts in that first half, but found the Piltown rearguard difficult to penetrate. Piltown began strongly after the break with points from Shay Cummins and Sean O Driscoll. Jack Egan had moved to centre forward and was unlucky not to goal in the 36th minute. In the 38th minute, after being fouled en route to goal, Aidan O Shea converted a penalty to the Piltown net to give his side some hope. But despite the best efforts of Mikey Saunders and Conor Power, it was Piltown who pushed on with further goals from Harry Farrell and Shay Cummins. Having picked up an ankle injury earlier, Dara Enright slipped into goal for the final quarter where he denied Piltown with some impressive saves, while Aidan Doyle did well outfield. All in all though, Piltown deserved to advance to the final where they will take on Kilmacow on Sunday 20th.
Galmoy/Windgap: Aidan Doyle, Shane Doyle, Conor Power,Shane Norris, David Nolan, Jack Egan,Darragh Holohan ,Darragh Enright,Aidan O Shea(1-0 Penalty), Rory Quigley, Mikey Saunders, Jules Seagrave,Will Moloney, Joe Moloney Noah Murphy.
Subs(All used): John Kelleher,Tadhg Enright,A J Power and Adam Power
Piltown: Ronan Knox,Brendan Twohig,Shane Downey,Ben Coffey ,Jeffrey O Shea,Evan Walsh,Tom Gahan,Dylan Walsh(1-2,frees),Jack O Driscoll,Daire O Brien,Sean O Driscoll(0-2),Shay Cummins(2-0),Eddie Aylward ,Harry Farrell(2-1),Joe Barry(0-1).
Referee: Willie Kearney (Dunnamaggin)
Duggan Steel Under 13 Roinn C  Football
 6/3/22
Tullaroan 5:05 v St Patricks 0:06
 Tullaroan had their first U13 football league game on Sunday morning, 6th march V St Patricks in Tullaroan, having received walk overs the previous two weeks. Tullaroan settled quickly with a goal from Cillian Pollard within 5mins. This was followed by another goal on 8mins from the boot of Cian Maher (45). St Patricks then settled into the game hitting a purple patch and were rewarded with 2 points (1free). They had a penalty saved brilliantly by Tullaroan keeper Lory Hogan. St Patricks kept the pressure on resulting in another penalty and opted to take a point. Tullaroan 2-0 St Patricks 0-3. Then, just before half time, Cian Maher slotted home a goal to give the homeside a 6 point advantage at the break.
St Patricks started the second half strong and registered the first 2 points of the half (1free) before James Purcell made a darting 50 meter solo out of defence before offloading a sweet hand pass to Ryan Maher, who kicked Tullaroansfirst point of the match. This was quickly followed by a pointed free from Cian Maher, Tullaroan 3-2 St Patricks 0-5. Then came the score of the game, a promising attack by St Patricks was halted by the Tullaroan defence who then started a counter attack, which involed 6 players 5 hand passes 1 kick and a green flag courtesy of the boot of Cillian Pollard, a wonderful team score. St Patricks refused to lie down however and kicked another fantastic score from play.This would proveto be their last score. Tullaroan tightened their grip on the remaining minutes of the game and points from Ryan and Cian Maher along with David Holland and a goal from Ciabhan Maher would see Tullaroan run out victorious on a score of Tullaroan 5-5 St Patricks 0-6.