St Lachtains & Tullaroan set for Roinn C Final
DUGGAN STEEL U13 ROINN C FOOTBALL CHAMPIONSHIP SEMI FINAL
VENUE: Tullaroan
REF: Stephen Delaney
08/04/22
Tullaroan 1:10 v 2:03 Conahy Shamrocks
Tullaroan had home advantage when they took on Conahy Shamrocks in the U13 Roinn C county semi final. D Holland got Tullaroan up and running with a fine point, however the lead was short lived when Conahys full forward scored a great goal. Another point from D Holland was followed by 3 pointed frees from the boot of Cian Maher to put Tullaroan back in front. Tullaroan having wasted some good scoring chances then conceded another goal on the stroke of half-time to leave the scores at half time Tullaroan 0-5 Conahy 2-0. Conahy roared into the second half kicking 3 unanswered points to push 4 clear. With their backs to the wall the Tullaroan boys showed true character and never dropped their heads. 3 pointed frees from Cian Maher had them right back in contention, then a wonderful fisted goal by David Holland had Tullaroan in the driving seat. Another point by Cian Maher this time from play put Tullaroan 3 points up into the dying mins of the game. The victory was sealed when D Holland landed his 3rd point of the game. In defence Tullaroan had great performances from Daragh Hogan and Ciabhan Maher in midfield Ethan Russell and Ryan Maher put in big performances while in attack David Holland was excellent with Cillian Pollard and Cian Maher doing well. Team L Hogan B Leahy E Delaney R Byrne J Purcell E Russell Ciabhan Maher Ethan Russell R Maher K Egan R Buckley D Holland C Pollard Cian Maher K Maher. Sub R Bibby. Scores Cian Maher 0-7(6F) D Holland 1-3. Tullaroan now play Freshford in the county final.
DUGGAN STEEL U13 ROINN C FOOTBALL CHAMPIONSHIP SEMI FINAL
VENUE: James Park
REF: Andy Stafeckis
08/04/22
Dicksboro 3:03 v 4:03 St Lachtains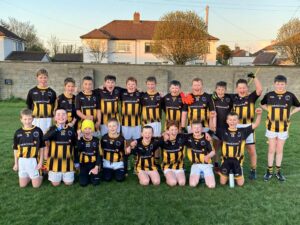 Boro boys narrowly miss out against a strong St Lachtains outfit in the U13 Roinn C Football Semi Final at James Park this evening.
It was a game of two half's as St Lachtains went into a strong lead with 4 goals in the first half playing with a strong breeze. Two well taken goals by Boro forwards Reece O'Neill & Conor Hughes complimented by 2 frees from full forward Finn Butler. Half time score was 2-2 to 4-2 to the visitors.
The Boro introduced 4 subs at half time and this proved to be a decisive move as the Boro scored a goal within minutes of the restart through Conor Hughes' 2nd of the day. This was followed by well taken point from Andrew Browne and the Boro boys had all the momentum at this point.
Heavy pressure was sustained well by a gallant St Lachtains defence but with 3 mins to go a penalty was awarded to the Boro, up stepped Dara Kavanagh and rifled the ball to the top left corner, rattling off the inside of the post & out! The Boro were denied a late equaliser.
Freshford held on for a deserved win. 3-3 to 4-3.  Well done all and best of luck to St Lachtains in the Co. Final. A great entertaining contest.
Dicksboro:
Rhys Duggan, Paddy Duggan, Canice Power, Shane Keys, Billy Wyse, Fionn Conlon, Cian Ormond, Tadhg Maher, Rohan Galvin, Reece O'Neill (1-0), Joe Osborne, Andrew Browne (0-1), Jacob Thekkekara, Finn Butler (0-2, 2f) Conor Hughes (2-0), Max Egan, Danny Hayes, Harry Butler, Michael Ormond, Dara Kavanagh, Ciaran Treacy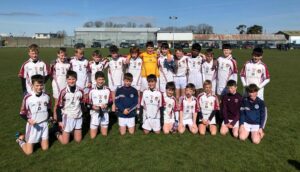 DUGGAN STEEL U13 ROINN C FOOTBALL CHAMPIONSHIP
QUARTER FINAL
VENUE: Tom Walsh Park
REF: Ollie O Neill
04/04/22
Blacks & Whites 2:05 v 2:09 Conahy Shamrocks
Conahy Shamrocks come out on top after an exciting encounter in this U13 football quarter final.
First score of the night came to the visitors when Billy Rowe pointed from a placed ball. Not to be outdone by his midfield counterpart,  Noah Langrell pointed a free of his own to reply when B&Ws Eoin Kealy was fouled.  Damien Delaney added a point for the home side before Luke Kelly added an early goal leaving the B&Ws well on top early on and leading by 1:02 v 0:01.  Conahy had a few early goal chance's but no luck thanks to some brilliant defending by fullback Bill Barron and goal keeper Larry Doyle. The home side were giving up too many opportunities and Conahy make them pay the price when Padraic Quinn found himself some space at the back post and netted to bring his team back into the game. Conahy added two points from frees by the excellent Billy Rowe who kicked both frees from the ground in style.  Conahy added another point from full forward Neil Webster to pull further ahead.  Just before half time B&Ws full forward Callum Savage added a point of his own to leave the home side trailing by two points.
The second half started with B&Ws goalie Larry Doyle pulling off another great reaction save to keep Conahy within touching distance.  Billy Rowe pointed from a free again to stretch the lead once more, 1:06 v 1:03. On 7 mins of the second half Callum Savage got a chance in front of the Conahy Shamrocks goal and finished in great fashion with a first time finish to bring things level.  Callum was going well now and creating a few problems in the Conahy Shamrocks full back line. Callum again found himself in possession 20 metres from goal and this time electing to shoot for a point to put his side back in front.  Conahy were continuing to put pressure on the B&Ws defence and got themselves another free to draw level. Billy Rowe was now giving an exhibition in free taking to bring his side back level.  B&Ws went ahead again when the energetic Luke Kelly pointed after some great work by himself and his younger brother Ned Og but unfortunately for the home side this was their last score of the game. Conahy added two more points, one came when a free dropped short and resulted in the ball being fisted over the bar while the other came from Billy Rowe from play this time. By the time the last point was scored for Conahy they had added a goal from play when  Billy Rowe blasted to the back of the net.  Full time score Blacks & Whites 2:05 v 2:09 Conahy Shamrocks
Blacks & Whites: Larry Doyle, Leo Pilcher, Bill Barron, Seamus Greene, Dara Nolan, Ross Phelan, Dean Cummins, Damien Delaney, Noah Langrell, Eoin Kealy, Luke Kelly, Ned Og Kelly, Pauric Orpen, Calum Savage, Noah Doyle, Owen Bowe Brennan.
Conahy Shamrocks: Joe Bollard, Padraig Murphy, Tadhg Hennessy, Diarmuid Quinn, Bobby Dooley, Finn Sherman, James Byrne, Billy Rowe, Rory Sherman, Padraic Quinn, Ceirin Murphy, Jack Buggy, Cian Kennedy, Neil Webster, Richie Rowe, Ben Byrne.
DUGGAN STEEL UNDER 13 ROINN FOOTBALL CHAMPIONSHIP
QUARTER FINAL
VENUE: Piltown
REF: Eddie Crowley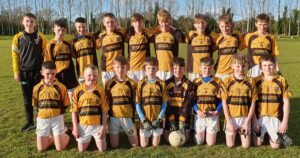 Piltown 6:13 V 2:0 Clara

On a lovely spring evening in Piltown the quarter final of the U13B championship started very quickly with Clara getting a very quick goal. Piltown started to settle into the game with points from Dylan Walsh, Harry Farrell and a goal from Jack Farrell. Clara battled hard but could not contain the runners from Piltown's midfield. Piltown capitalised on some of Clara's kick outs and returned some excellent scores from the inside line. Piltown led 2-6 to 1-0 at half time. The second half Piltown added some more scores even though Clara battled hard and never gave up until the final whistle.
DUGGAN STEEL UNDER 13 ROINN C FOOTBALL CHAMPIONSHIP
QUARTER FINAL
03/04/22
VENUE: Pairc Lachtain
REF: Owen Beehan
St Lachtains 5:04 v 1:04 Glenmore
On a beautiful morning in Freshford the game started at a brisk pace. After good football from both teams St Lactains got a goal and held a two point lead at the break.
After the break St Lactains increased their work rate and found their score's a little easier despite. Glenmore were competing hard all game but despite their brilliant efforts St Lachtains ran out eventual winners and victory was sealed with a late goal from substitute Kieran Boyle which put any hopes of a comeback to bed.
DUGGAN STEEL UNDER 13 ROINN C FOOTBALL CHAMPIONSHIP
VENUE: Tullaroan
REF: Stephen Delaney
27/03/22
Tullaroan 2:04  v 2:02 Railyard GFC
Tullaroan hosted The Railyard in the 1st round of the U13 football championship in what was a repeat of the league final a week earlier. Tullaroan having narrowly lost the league final were determined to overturn the fancied Moneenroe boys and Tullaroan got a perfect start when Cillian Pollard and Cian Maher bagged a goal apiece in the opening 8 mins. Tullaroan with the majority of possession failed to punish The Railyard and when Jack Carroll kicked 2 goals in 5 mins, Railyard were level. Some good work from Tullaroan saw Cian Maher kick 2 points before the break and give Tullaroan a 2 point advantage at half time. The second half would be 'A War Of Attrition' with both sets of backs in excellent form. Cian Maher and Jack Carroll exchanged points in a very low scoring but thoroughly enjoyable 3rd quarter. Ethan Russell scored a magnificent point to put Tullaroan 3 points clear heading into the final few minutes. The Railyard came hunting for the equaliser but Tullaroan defence held strong for a memorable victory. Tullaroan have excellent performances in defence from captain Daragh Hogan his brother Lory on goal and the full back line were solid through out. At midfield Ethan Russell was in top form and got good support from his partner Ryan Maher. Kealen Egan Cillian Pollard and Cian Maher had good performances in attack. Scores for Tullaroan Cian Maher 1-3 Cillian Pollard 1-0 Ethan Russell 0-1. Team L Hogan B Leahy E Delaney K Maher J Purcell D Hogan Ciabhan Maher E Russell R Maher K Egan D Holland R Buckley C Pollard Cian Maher D Doyle. Sub N Leahy J Holmes R Bibby