Tullaroan finish strong to overcome a skillful St Lachtains team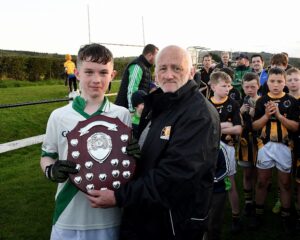 DUGGAN STEEL UNDER 13 ROINN C FOOTBALL CHAMPIONSHIP FINAL
VENUE: Pairc Lachtain
REF: Eamon Mansfield
15/04/22
St Lachtains 0:08 v 2:09 Tullaroan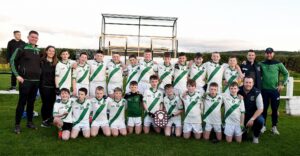 Pairc Lachtain was the venue as St Lachtains and Tullaroan locked horns for the final of the roinn c football championship.
Both teams took time to settle with early chances going wide before Tullaroan midfielder Ryan Maher registering the first score of the game to go 1 point ahead.  St Lachtains followed quickly when hard working Jamie Kavanagh won a free and Cian Dalton pointed to level the score. St Lachtains had a few early goal chances but the Tullaroan full back line and young Lory Hogan in the goal had started well and dealt with those accordingly. St Lachtains took the lead then when Patrick O Connor pointed from a tight angle after 12 mins of play. St Lachtains wing forward Jack Marnell was now getting into gear and winning plenty of possession , causing Tullaroan all sorts of problems but in was Tullaroan who got the next score when Cian Maher  got a point from just outside the '21 to level things again. Jack Marnell put St Lachtains 2 points up with a score from play and he was the quickest to react when a '45 had dropped short and came back out to him, he found space and slotted the ball over the bar. Tullaroan answered perfectly when full forward Cian Maher pointed from distance. Cian quickly followed up this with a pointed free and sides were all square again in what was turning into a cracker of a final.  Things were looking like it was all square going into half time when Jamie Kavanagh and Ben Leahy went for a 50/50 ball in the corner in which young Kavanagh came out on top and when charging down on the Tullaroan goal was fouled to win his side a free.  Up steps Jack Marnell and he pointed to put the Freshford side one up going in at the break. St Lachtains 0:05 v 0:04 Tullaroan at half time.
After the restart the ever willing Jamie Kavanagh was on the attack again and was brought down just meters from the Tullaroan goal, yes said referee Eamon Mansfield and the penalty was given.  Again Jack Marnell stood over the placed ball and must have fancied his chances for the games opening goal. Lory Hogan in the Tullaroan goal had written his own script for this and when the ball was struck and heading for the net just under the crossbar he somehow got a hand to it and tipped it over the bar. Yes St Lachtains went two points up but it was one of those moments in a game that just lifts a team. Tullaroan went up the field immediately and nearly took the lead when Keilan Egan scored a goal only for it to be ruled out for a square ball.  They did get the next score when Cian Maher pointed from a free to bring it back to a 1 point lead. With St Lachtains back on the attack again and the forwards working well, throwing the ball around with great confidence, Cian Dalton found the target not only once but twice to put three between the teams. With 16 mins played in the second half the game was about to turn in favour of Tullaroan when centre back Ethan Russell got on a ball in the Freshford square and blasted through a crowd and into the goal to bring things all square. Now the excitement was at fever pitch and the crowd was well involved. St Lachtains were now going in wave after wave up the pitch and putting the Tullaroan backs under savage pressure. Jamie Kavanagh in the St Lachtains full forward was a thorn in the side of the Champions defence all match and if it was not for the brilliance of a young Lory Hogan in the Tullaroan goal he might have had a hat trick. Cian Maher again pointed from play to go one point up. Tullaroan added two more points quickly, one from a body of players and it was hard to see who got it and one from David Holland. St Lachtains goalie Jamie Walsh pulled off a cracker of a save to keep his side in it with mins to go. Tullaroan finished the game with two more scores, a point from midfielder Ryan Maher and a bullet of a goal from the dangerous Cian Maher. This brought the final score to St Lachtains 0:08 v 2:09 Tullaroan, Tullaroan winning a great final that had two very good teams and both had great support on the night.
St Lachtains: Jamie Walsh, Hugo Carroll, Sam Looby, Ben O Gorman, Nathan Walsh, Paddy McCarthy, Aaron Walsh, Charlie Kavanagh, Michael Hickey, Cian Dalton, David Ryan, Jack Marnell, Patrick O Connor, Patrick Brennan, Jamie Kavanagh, Sean Eardley, Lochlann McCarthy, Jack Geraghty, Max O Neill.
Tullaroan: Lory Hogan, Ben Leahy, Daire Hogan, Rory Byrne, Eamon Delaney, Ethan Russell, Ciabhan Maher, Ryan Maher, James Purcell, Keilan Egan, Rory Buckley, David Holland, Kaelem Maher, Cian Maher, Cillian Pollard, Ruairi Bibby, Daniel Doyle, Sean Gillespie, James Holmes, Neil Leahy, John Marshell.