St Martins, Tullogher Rosbercon and Railyard all claim Minor success
Kilkenny Citroen Centre Minor Roinn A Football Championship Final 2022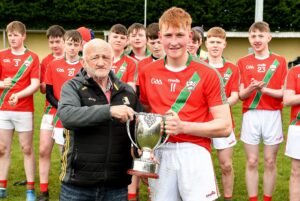 The minor A football final between St Martins and Dicksboro took place Sunday 13th March in Muckalee. The hosts got off to a flying start with Seán Hunt helping himself to a goal and three points inside the first 10 mins. Billy Fitzpatrick kept the scoreboard ticking over for the city side. St Martins finished the half the strongest with a goal from Micheál Keane and a well taken point from Colin Hayes to leave the score at halftime St Martins 2-5 Dicksboro 0-6.
The halftime team talk sparked the Boro to life. Billy Fitzpatrick brought them flying back into the game with a smart finish to the back of the net and he followed that up with 3 points from placed balls. Brian Moores pace was a constant threat to the Saints defence and helped himself to a brace of points. The Boro reduced  the gap to just 2 points but the cool heads of Matthew Bolger and Peter Downey ably assisted by some last ditch blocks by Tadgh Power and Thomas Shore allowed the home teams attack to flourish once again. The Saints ability to get goals just as the Boro were getting a foothold in the game was the difference. Goals from Seán Hunt James O Neill and Donal Kealy in the final 10 mins saw St Martins lift their first minor A football title since 2005 on a final scorline of St Martins 5-8 Dicksboro 1-11.
St Martins Team
Luke Cahill Thomas Shore Peter Downey
Tadgh Power Aaron Farrell Matthew Bolger
Jack Dooley Michéal Keane 1.0 Colin Hayes 0.2 Ewan Buggy Séan Hunt 2.4 Cormac Quirke
Donal Kealy 1.1 James O Neill 1.1 Michéal Ruane.
Subs Adam Morrissey (inj) Jack Coogan
Patrick Coughlan Thomas Daly
Aaron Dowling Daniel Tallis Evan O Shea
Oscar Broderick Christopher Kealy.
Dicksboro Team
Kyro Merham Enda Kavanagh Evan Murphy 0-1
James Cleere Harry Cummins David Fitzpatrick 0-1 Ruairi McEvoy Billy Fitzpatrick 1-6
Tom McPhilips 0-1 James Brennan Smith
Brian Moore 0-2 Tom O Neill Mark McPhilips
Killian Dollard Joey Dalton
Subs
Sean Keogh Ryan Butler Christy Murphy
Charlie O Neill Davy Sheppard Mikey Stynes
Patrick Lacey Louis Raggett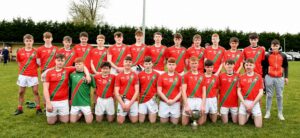 KILKENNY CITROEN CENTRE
MINOR ROINN B FOOTBALL CHAMPIONSHIP FINAL
Graignamanagh V Tullogher Rosbercon
VENUE: Muckalee
REF: Sean McMahon
DATE: 23/03/22
On a cool dry night in Muckalee conditions were ideal and facilties top class as both Graignamanagh and Tullogher Rosbercon were set to do battle for the title of County Champions of the Roinn B grade in Kilkenny.
After the throw in Tullogher  Rosbercon settled well and began throwing the ball around with confidence.  An early attack broke down in the Graig fullback line, after 3mins of play, they were awarded a '45'.  Up stood Jamie Lyng to take the resulting spot kick and both he and the Tullogher Rosbercon contingent were as surprised as anybody to find the ball had somehow found it's way to the back of the Graignamanagh net.  A great start for the Tullogher Rosbercon boys but Graig didn't panic and answered in the right way when a great passage of play was finished when Colin Bolger received a ball from Sean Hamilton and he slotted it over to register a first score on the night for Graig.  Tulogher Rosbercon followed quickly with a score from wing forward Andrew Murphy to bring the score to 1:01 v 0:01. Scores were hard to come by for the next number of mins on the pitch but the game had turned into a real physical battle.  Tullogher seemed to be winning  a few balls around midfield now but were meeting a green & white wall on the Graig half back line who were tackling very hard and forcing the Tullogher Rosbercon  boys into fouling.
After 14 mins a great pass into the Tullogher Rosbercon full forward  from midfield found Niall Mooney in space and charging down on goal only for Ivan Bolger to foul him and Sean McMahon awarding a certain penalty.  Up steps Jamie Lyng and he slots the ball passed Killian Redmond in the Graig goal.  Again Graignamanagh responed well and took the game to Tullogher Rosbercon and were rewared with a great reaction score from Conor Byrne when a free kick had drop short 25 mtrs from the Tullogher Rosbercon goal. Graignamanagh then began to win a few balls in the middle of the park but couldn't  turn possessions into scores and missed a few needed scores. With about 22 mins played Graignamanagh got the bit of luck they needed when  Zack Barron found the back of the net after some great battling in front of goal, Graig were well back in this game now and only trailing by the minimum, 2:01 v 1:03. The remainder of this half was all Tullogher Rosbercon and maybe the winning of the game too.  They scored 2:03 in the remainder of the half with midfielder Marty Murphy having a big say in both goals supplying JJ Ryan and Jamie Lyng who both finished in style.
Half time had arrived with the score at 4:04 v 1:03 and Tullogher Rosbercon were going well, their physicality around midfield was a big factor finishing the half.
The second half started very well for Graignamanagh who were now carrying the ball very well and playing with plenty of grit. Up steps Sean Hamilton with a pointed free to register the first score of the second half and a score Graig fully deserved after their opening few mins of the second half. . Graig followed this with a point from play from Sean Hamilton after a sweeping move up the field involving number of the Graig players. Tullogher Rosbercon were very quiet now and it all seemed to be one way traffic in favour of Graig at this stage.  Conor Byrne in midfield for Graignamanagh was really getting on top and was getting on loads of ball and carrying it well.  One of his brilliant runs ended with Cian O Shea having a shot on goal but it was blocked and out for a '45'.  Eventually the goal did come for Graig from the penalty spot, Sean Hamilton blasting the ball to the net.  Score now at 4:04 v 2:05 and Graignamanagh still hanging in there.
From the kickout Tullogher Rosbercon win the possession , carry the ball forward and the result is pointed free kick from the excellent Jamie Lyng.  The next few scores were crucial and Tullogher Rosbercon knew this all too well.  With 2 goals within a min they had this game put to bed.  First up was Sean Ryan to finish after finding some space in front of goal and then the richly deserving Jamie Lyng found the back of the net.  Tullogher Rosbercon followed with another 3 points from play, Marty Murphy, Jamie Lyng and Finn Kelly pointing from a tight angle.  The last score of the game came from a pointed free from Sean Hamilton to leave Tullogher Rosbercon deserving County Champions on  scoreline of 6:08  to 2:06.
Graignamanagh battled hard throughout and had some top class performances on the night, Conor Byrne, Nicky Ryan, Gavin Kielthy, Devon Kielthy and Sean Hamilton all doing well.
Tullogher Rosbercon too had a lot of top performance's on the night, Aidan Lawlor, David Kennedy, JJ Ryan, Marty Murphy,  Andrew Murphy, Niall Mooney all gave top displays while Jamie Lyng was outstanding.
Tullogher Rosbercon: Barry Furlong, John Murphy, Aidan Lawlor, Fionn Connolly, Ryan Murphy, David Kennedy, Finn Kelly, JJ Ryan, Marty Murphy, Jack Handrick, Jamie Lyng, Andrew Murphy, Dean Kinsella, Niall Moloney, Sean Ryan, Fergal O'Shea, Evan Fitzgerald ,Joe Malone, Adam Arthurs, Liam Murphy.
Graignamanagh: Killian Redmond, Jack Brown, Ivan Bolger, Owen O'Brien, Nicky Ryan, Gavin Kielthy Devon Kielthy, Conor Murphy, Conor Byrne, Cian O'Shea, Colin Hamilton, Zack Barron, Colin Bolger, Sean Hamilton, Srephen Cosgrave, Conor Hoolan, Jack Connolly, James Morgan, Sean O' Grady, Padraig Phelan, Seanan Kelly, Tom Breen, Steven Kinsella(inj).
Kilkenny Citroen Centre Minor Roinn C Championship
County Final
 Railyard 1-10 Emeralds 0-7
13/3/22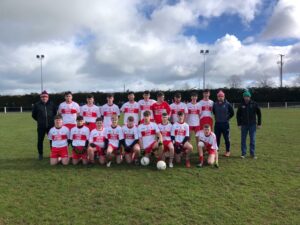 Emeralds started well with 2 frees from Callum Lawlor opening their score. Railyard scored their first pint after 7minutes with a free taken by Frankie Ward. Emeralds were struggling to clear their lines with a couple of more frees from Frankie Ward and a pint from play from Conor Coogan. After the 18th minute Railyard got a crucial score with a goal from Shane Holden from play which put daylight between the teams and at half time with the score been 1-4 to 0-3.
In the second half Railyard were quick off the mark and after a couple of pints from frees from Frankie Ward, a pint from play from Railyard Captain Adam Buggy and a great long range pint from Frankie Ward Railyard were well in control.
A credit to Emeralds they came back with a pint from play followed by 3 frees all from Callum Lawlor narrowing the score difference. Emeralds were back in game but unfortunately had a few chances and drove a few wides. Railyard rallied in last few minutes with the game finishing 1-10 to 0-7
Emeralds
Simon Zhang,Conor Kavanagh ,Cormac Burke ,Cian Hickey ,Conor Gibbons ,Oisin Deegan ,Darragh Hickey,Oisin Quinlan,Rory Hyde(Captain),Jimmy Cleere ,Callum Lawlor (0-7),Craig Barnaville ,Nathan Barnaville ,Diarmuid Burke ,Cillian Deegan,Subs: Richard Costello, Dara Sweetman , Philip campion , Bill Cussen, Daithi Cussen, Jack power, Daniel Tobin.
Railyard:
Mikie Maher, James O Neill, Jake Dinnegan, Jack O Neill, Padraig Murphy, Conor Farnan, Harry Lawlor, Adam Buggy (captain), Chris Phelan, Shane Holden, Frankie Ward, Dara Dunne, Kyle Cadbury, Dan Farrell, Conor Coogan, Subs: Sean Murphy, Alex Kerr, Peter Ward.
Kilkenny Citroen Centre Minor B Football Championship
Semi Final
Graignamanagh  4:11 V 0:09 Glenmore
This semi final is a credit to both teams who fought very hard throughout the 60 plus mins in the beautiful setting of Dr Tierney Park, Graignamanagh.
A very early score in the first min of play by Graigs'  Sean Hamilton was answered very quickly by the sweet left foot of Cathal Sheehan from Glenmore to keep the sides level in the early exchanges.  While Glenmore missed a goal chance at one end Sean Hamilton was moving well in at full forward for Graig and after some great work from Devon Kielty carrying the ball forward Sean Hamilton got an early chance in front of goal and set the tone for the rest of this encounter by blasting the ball to the net.  Credit has to be given to both sets of forwards for the rest of the first half who took their scores well.  Cathal Sheehan scored from placed balls with the ever so accurate left boot and got on the scoreboard from play too. Oisin Mullally , from corner forward,  got a lovely point from a tight angle keeping Glenmore in touch with Graignamanagh .  Graig themselves had some great scores in the opening half, Cian O Shea at wing forward was both scorer and provider.  The young man gave an excellent display throughout.  At the end of the opening half Glenmore were right there on a scoreline of 1:07 V 0:06.
The second half started with a fortuitous goal by Conor Byrne for Graig after some great teamwork out the field and they never looked back after this. Graig got the next few scores with points from Nicky Ryan, Colin Hamilton and a free from Sean Hamilton. Glenmore did respond with a great score from the excellent number 6 Darragh Vereker and another free from Cathal Sheehan but unfortunately for them the Graig boys got two more goals finishing very strong and marching on to a County Final V Tullogher Rosbercon.
TEAMS
Graignamanagh
Cillian Redmond,  Jack Brown, Ivan Bolger, Owen O Brien, Nicky Ryan, Gavin Kielthy, Devon Kielthy, Conor Murphy, Conor Byrne, Zack Barron, Colin Hamilton, Cian O Shea, Stephen Cosgreave, Sean Hamilton, Colin Bolger, Tom Breen, Jack Connolly, Conor Hoolan, Senan Kelly, James Morgan, Sean o Grady, Padraig Phelan.
Glenmore
Patrick O Connor, Christopher Hennessy, David Walsh, Sean Atkins, Shane Duhig, Darragh Vereker, Rowen Halligan, Padraic Cody, Jack Dollard, David Fitzgerald, Cathal Sheehan, Jason Cody, Oisin Mullally, James Reid, Mark Cody, Rory Atkins, Stephen Grant, Aaron Talbot, Luke Vereker
Kilkenny Citroen Centre Minor Roinn B Football County Semi-Final
Tullogher/Rosbercon V Clara
Saturday 19/03/20222 at 5pm at Tullogher
Final Score:   Tullogher/Rosbercon          2-10 
                        Clara                                       3-05
Tullogher/Rosbercon started strong creating a number of opportunities, but failed to convert any of them into scores. However, Jamie Lyng converted a 30m free on 7 minutes to open the scoring.
Clara started to settle down and play well and were rewarded with two Rory Glynn points from play, one on 8 minutes and the other on 9 ½ minutes of play.  This was then followed by a 14th minute goal that was shot to the net, by Rory Glynn, after rebounding off the Tullogher/Rosbercon goalkeeper.
Tullogher/Rosbercon struck back on the 18th minute with a goal from a tight angle by Jack Handrick.  The Clara dangerman, Rory Glynn, popped up again on the 26th minute with a point from play.  Clara were dominating proceedings and after an excellent passage of play Rory Glynn blasted the ball to the back of the net for Clara's second goal.
All was not lost for Tullogher/Rosberon as they scored two points from play just before half time.  One from Jamie Lyng and one from Marty Murphy.
The half time score was:
Tullogher/Rosbercon              1-03
Clara                                       2-03
Play was even at the start of the second half with Jamie Lyng scoring a point from a free for Tullogher/Rosbercon, while Conor Hoyne responded with a nice point from play for Clara, all within the first 5 minutes of the second half.
This was followed by a goal for Clara by Ned Langton on the 13th minute to put Clara 6 points ahead and looking as if they were going to sail to victory.
However, Tullogher/Rosbercon dug deep and fought back with three unanswered points.  One from play by Andrew Murphy on the 14th minute and two Jamie Lyng frees, one on the 18th minute and one on the 22nd minute.  Clara did not give up and Ned Langton scored a point from a free to open up the gap to four points.
From here on in, Tullogher/Rosbercon started to dominate in all areas of the field and were rewarded for their efforts with a goal scored by Sean Ryan from a goal-mouth scramble on the 24th minute.  This put Tullogher/Rosbercon within one point of Clara with 6 minutes to go.
Clara were not to score again and Tullogher/Rosbercon finished out the game with three unanswered points, one each from play by Jamie Lyng& Sean Ryan and the final point from a free by Jamie Lyng.
Final score:
Tullogher/Rosbercon              2-10
Clara                                       3-05
This win putsTullogher/Rosbercon through to the Roinn B Minor county final, where Graiguenamanagh will be their opponents.