James Stephens, Thomastown & Mullinavat all claim success at Feile 2022 in Kilkenny
On Sunday 10th April Kilkenny was a hive of activity across 13 locations as the Paddy Grace Feile took centre stage. 34 teams participated to make up 11 different groups in 3 divisions in what was a feast of hurling.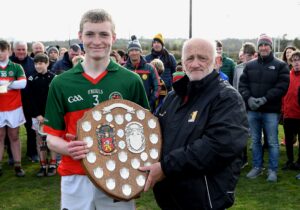 DIVISION 1 FINAL
James Stephens 2:10 v 0:03 Dunnamaggin
VENUE: MW Hire, Dunmore          REF: John Kennedy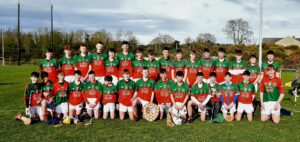 James Stephens were going well all day and stepped up the performance in the final to come out victorious against a very gallant Dunnamaggin team who gave it everything they had in the final. A very well balanced ''Village'' side found their scores from different sources throughout the final to amount to an impressive tally in this short format game.
The Division 1 Semi Finals also took place in MW Hire which saw James Stephens come out on top of Young Irelands and Dunnamaggin winning against Clara.
Young IreLands 0:01 v 2:11 James Stephens
Clara 0:03 v 1:03 Dunnamaggin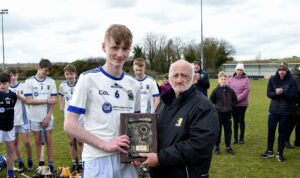 DIVISION 2 FINAL
Thomastown 3:06 v 1:07 Glenmore
VENUE: MW Hire, Dunmore         REF: Sean McMahon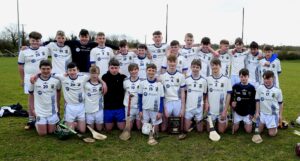 This was a game that ebbed and flowed from start to finish. Thomastown racing out of the starting blocks to go 1:03 v 0:00 before Glenmore registering their first score of the game. Glenmore did get going then and this made for a cracking final but maybe the slower start than Thomastown left them too much to do. Glenmore did get back within the strike of a ball of the ''champions'' but  Thomastowns ability to get goals all day once again proving the difference.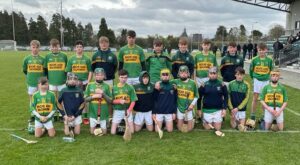 The Division 2 Semi Finals took place in Gowran which saw Glenmore defeating Graigue Ballycallan and Thomastown coming out on top over Lisdowney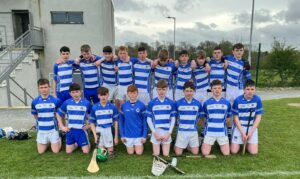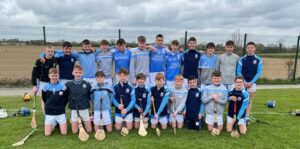 Graigue Ballycallan 3:04 v 4:07 Glenmore
Lisdowney 0:01 v 2:05 Thomastown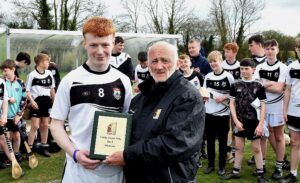 DIVISION 3 FINAL
Mullinavat 3:08 v  1:05 Kilmacow
VENUE: MW Hire, Dunmore                  REF: Andy Stafeckis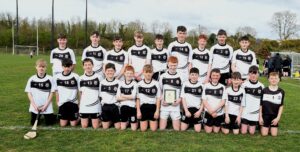 After the earlier meeting of the sides in the group stages where Kilmacow came out on top after a 14 point win Mullinavat had a big score to settle and indeed a big score to overturn.
As the final started both teams settled well with both sets of forwards picking off a few nice points but at half time Kilmacow were 4 points ahead after a bullet of a shot found the back of the Mullinavat net.  After the restart both teams traded points and then Mullinavat took charge, holding Kilmacow scoreless for the remainder of the final and adding an impressive 3:04 themselves to win in style.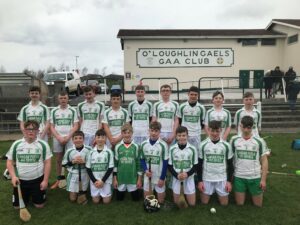 The Division 3 Semi Finals took place in St John's Park where Mullinavat defeated Conahy Shamrocks and after a cracker of a game that went to extra time Kilmacow defeated St Lachtains.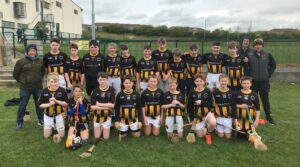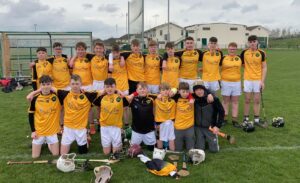 St Lachtains 2:03 v 1:08 Kilmacow
Mullinavat 4:01 v 2:03 Conahy Shamrocks
A massive thanks to everybody who made the day a success.
To the club officials and mentors , the player's and their parents/guardians , well done on all your efforts.
Thanks to the referees' who continue to do a great job.
Finally a massive thanks to all the Clubs for the use of their grounds on the day