KILKENNY HONDA CENTRE MINOR HURLING  LEAGUES
KILKENNY HONDA CENTRE MINOR ROINN A HURLING LEAGUE
VENUE: Piltown
REF: Maurice Flynn
 02/05/22
 Piltown 0:14 v 1:17 Clara
Piltown looking to bounce back against their only lose of the league the week previous but came up against a well drilled, well balanced and tough Clara team. The away team started the brightest going 3 points to no score up very early on. Piltown eventually settled down and got the scoreboard moving. The only goal of the game came from a delightful delivery from a Clara line ball into their corner forward and placed neatly into the bottom corner of Piltowns net. They added to that advantage and went in 7 points up at half time with the home team struggling to get a foothold in the game.
Second half started like the first ended with Clara dominance. Piltown changed their team round at half time and quickly those changes were starting to make a difference. Clara were strong in there half back line and midfield but with the home teams changes Piltown were battling hard and throwing everything at the away team on all fronts. Piltown had a lot of the possession in the second half but with some poor shots at goals couldn't eat too much into Clara's lead. Piltown never really threatened the goal which will disappoint them considering they have had goal chances in each of their league games to date, except for a half penalty shout in the first half which fell on deaf ears. Clara were strong in key areas of the field and mangered the game well when they got ahead and never really looked like giving up that lead. Piltown will be disappointed especially conceeding 10 points from place balls in contrast only 4 points for the home team. It was a fine league match played in very good conditions and with some strong but fair tackles on both sides which lead to a fine game of hurling.
Full time: Piltown 0.14- Clara 1.17
DUGGAN STEEL U15 HURLING LEAGUES
DUGGAN STEEL U15 ROINNC HURLING LEAGUE
VENUE: Tom Walsh Park
REF: Patrick O Reilly
04/05/22
Blacks & Whites 0:13 v 1:10 Slieverue
Blacks & Whites played host to Slieverue in the u15 hurling league in Tom Walsh Park.
Blacks & Whites were quick off the mark and when Callum Savage got fouled just outside the '21 Eddie Doyle pointed from the free for the opening score of the game.  Slieverue answered in style with three unanswered points to go 0:03 v 0:01 up, midfielder Jack Knox and Ryan Connell at centre forward pointing from play and Pat Kennedy pointed a free from distance.  Eddie Doyle pointed from a free again while Slieverue responded exactly the same as earlier on with another three points,  Jack Knox getting two more from play and one from a free. The play at this stage was very even with the difference being the outstanding performance of Jack Knox in the middle of the park for Slieverue.  One more score from Blacks & Whites man Tomas Ryan from a tight angle brought the half time score to 0:03 v 0:06 in favour of Slievrue.
Slieverue opened their second half account first when after some great work in their forwards they were awarded a free and Jack Knox pointed . Blacks & Whites got the next two scores with another free from Doyle and another point from Tomas Ryan who was now well in the game.  Slieverue were still putting great pressure on the Blacks &  Whites defence who were fouling and referee Patrick O Reilly was not letting them away with it. Two more pointed frees from the excellent  Jack Knox put 4 points in and we had a great encounter in front of us.  Blacks & Whites hit a purple patch then and totally dominated the next 20 mins of the game. They scored the next 8 points in the game, one from Tomas Ryan from play who was now at full forward and causing all sorts of problems, a '65 from Shane Phelan and 6 more points from Eddie Doyle including a monster of a free from the sideline just outside his own '65.  Blacks & Whites now in flying form but Slieverue were still battling hard and a positional switch which saw Ryan Connell move to full forward was just the ticket that the visitors needed.  Ryan hit a point from play to bring it back to a goal just the difference and just before the final whistle a long ball played into him resulted in him scoring a bullet of a goal past Charlie Orpen in the B&W's goal. The score level now and the ref whistled for full time and both teams taking a share of the points and probably a fair result.
Blacks & Whites: Charlie Orpen, Jack Doyle, Daniel Wade, Jack Duff, Richard Doyle, Shane Phelan, Noah Langrell, Ross Phelan, Alex Langrell, Tomas Ryan, Eddie Doyle, Liam Ryan, Callum Savage, Luke Kelly, Larry Doyle, Eoin Kealy, Damien Delaney.
Slieverue: Tadhg Doherty, Caiden Delahunty, Craig McGovern, William Haberlin, Jamie Dowling, Pat Kennedy, Corey O Brien, Jack Knox, Niall Cullen, Brendan Dolan, Ryan Connell, Brian Phelan, Ruben Costello, Callum Moore, Alex Murphy, Luke McGrath, Liam Smith, Joey Neary
DUGGAN STEEL U15 ROINN B HURLING LEAGUE
VENUE: Windgap
REF: John Kennedy
04/05/22
Galmoy/Windgap 3-8               v  1:14   Rower Inistioge
A strong second half display salvaged a share of the points for Galmoy/Windgap in this U-15 League tie against Rower Inistioge at Windgap on Wednesday May 4th. The visitors had opened up a seven point lead at the end of the first half when they lead 1-7 to 0-3.They opened with points from Jimmy Hennessy and Conor Downey before we had the first goal of the game. Following a saved penalty in the 18th minute, Conor Downey was quickest to react when he tapped the sliotar home to the Galmoy/Windgap net. Three points from centre forward Ned Spelman contributed handsomely to that lead. Galmoy/Windgap got on the scoreboard in the fifth minute when Aidan O Shea won a free which P J Delaney pointed. Their two remaining points of the half also came from placed balls by Delaney. The Rower made a good start to the new half with a pair of points from Tadhg Walsh and one from Conor Downey to lead 1-10 to 0-3 by the 40th minute. Over the course of the next ten minutes, Galmoy/Windgap put in a huge shift and managed to reduce the gap to the minimum. A foul on John Power saw P J Delaney open the host's second half account. A free from distance by Padraig Egan was well gathered by Alex Culleton and sent to the net in the 43rd minute. A minute later they had another major when Ryan Whelan got a touch on a dropping ball to leave it 1-10 to 2-4 at the three quarter stage. They were now in full flow and two quick intelligent passes by Aidan O Shea to P J Delaney saw two  more white flags flying. Oisín Roche arrested the flow with a Rower point only to see P J Delaney convert another placed ball at the other end.
The hosts edged in front when Aidan O Shea goaled in the 51st minute after good approach work by Alex Culleton to lead 3-7 to 1-11.This goal seemed to spring the visitors into action once more and constant pressure yielded three frees in quick succession which Tadhg Walsh pointed to leave the visitors ahead as we approached the dying moments. With one last effort, GalmoyWindgap won a 59th minute free about 60 metres from goal. In fairness to P J Delaney, he showed great coolness to send the sliotar between the posts and garner a share of the spoils for his side.
Galmoy/Windgap: Sam Moloney ,Edmond Power, Tom Power, Peter Ryan, Jack O Dwyer, Fionn Lonergan, Jack Egan, Aidan O Shea(1-0), Padraig Egan(0-1f), Ryan Whelan(1-0), P J Delaney(0-7,0-5frees), John Power, Darragh Enright, Alex Culleton(1-0),Alyn Hearne.
Subs: Conor Power,Tadhg Kennedy,Jack Culleton, Darragh Holohan & Shane Doyle.
Rower Inistioge:Sean Doyle,Michael Murphy,Paul Kirwan,Jimie Doyle,Oisín Smithwick,Darragh Murphy,James Gilsenan,Tadhg Walsh(0-6,0-4frees),Jack Roche,Odhrán McGorry,Ned Spelman(0-3),Eoghan Byrne,Jimmy Hennessy(0-1),Conor Downey(1-3),Oisín Roche(0-1).
Subs: Padraig Byrne,Conor Ryan & Conor Boyle
DUGGAN STEEL U15 ROINN B HURLING LEAGUE
VENUE: Dr Tierney Park
REF: John Walsh
04/05/22
Graignamanagh 0:05 v 1:10 Lisdowney
This game finished 1 – 10 to 5 points in favour of the visitors on a sunny afternoon in Graiguenamanagh, Lisdowney dominated this game from start to finish. Some early misses from Graiguenamanagh set the tone for the home side who could only manage 5 points, all from frees from Sean O Grady and Cian O Shea.
Robert Mcevoy and Matthew Grogan were the danger men for the visitors who managed to score 7 points between them before Tadgh Bergin killed the game off as a contest on the 50th minute with a well taken goal. Graiguenamanaghs defence battled hard all afternoon but they could not breakdown a very organised Lisdowney defence who were in control all afternoon.
DUGGAN STEEL U15 ROINN B HURLING LEAGUE
VENUE: Mullinavat
REF: Eoin Hayes
04/05/22
Mullinavat 4:15 v 0:04 Naomh Brid
Both Mullinavat and Naomh Brid played the second round of the U15 Roinn C League on Wednesday May 4th in Mullinavat.
Naomh Brid were very unlucky to come up against a very in form home side who were dominant throughout from start to finish.
Mullinavat were teak tough in defence and found their scores a lot easier to come by with goals in both halves supported by a big points tally on the night.
Mullinavat: Patrick Aylward, Ben Cantwell, Seamus Rohan, Stephen O Shea, Michael Catt, Louis Madigan, Luke O Donovan, Jack Power, Aaron Aylward, Adam Fitzpatrick, Eoin Aylward (16) , Leo Alyward, Eoin Aylward (12), Edward Bolger, Conor Conway, Cian Kelly, Olly Madigan, Shay Maher, Conor Kinsella, Sean O Keeffe
Naomh Brid: Ciaran Bambrick, Daniel Brennan, Jack Connolly, Adam Dowling, Tommy Dunne, Fionn Forde, Robbie Honeyball, James Kavanagh, Oisin McNally, Cillian O Brien, Thomas O Donovan, Ruarc O Neill, Kyle Rea, Conor Twomey, Noah Walsh
DUGGAN STEEL U15 ROINN B HURLING LEAGUE
VENUE: Pairc Lachtain
REF: Owen Beehan
04/-5/22
St Lachtains 2:04 v 10:17 Tullogher Rosbercon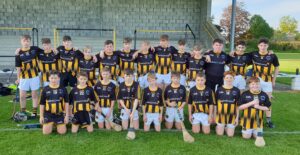 On a lovely evening in Freshford. Tough game for the home side with Tullougher taking an early lead with a goal in the first minute. St Lachtains replied with a goal in the 5th minute. From then on it was all one way traffic with Tullougher Rosbercon out  scoring St Lachtains leaving the half time score 4 -8 v 2-4. The second half continued in the same manner with a very strong performance from the visitors who ran out convincing winners on the night.
DUGGAN STEEL U15 ROINN A HURLING LEAGUE
Venue: Ballyragget
Referee: Ger O Grady
Half-time score: Dunamaggin 2-5 St. Patricks 1-2
Full time score Dunamaggin 3-10 St. Patricks 1-16
Team:
Dunamaggin: Daniel Hayes Darwish, Cathal Rossiter, Pierce Costello, Darragh Lyons, David Moore, Conor Lawton, Jake Butler, Ciaran Hickey, Thomas Deegan, Noah Cahill, Jamie Tallon, Liam Davis, Aaron Mc Cormack, Conor Aylward, Brian Hickey, Stephen Walsh, Edward Moylan, Ian Mc Donald, Cormac Holden, Hugh Healy, Nick Healy, Jake O Neill. James Moore, Hugh O Sullivan
Mentors: Andrew Hickey, Tom McCormack, Niall McCormack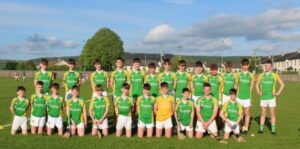 St. Patricks: Tadhg Phelan, Patrick Morrissey, Conor Rocliffe, Tadhg Butler, Kieran Bergin, Charlie Culleton, Shay Smith, Cian Stapleton, Mark Doheny, Cormac Diver, Josh Dowling, Evan Coogan, Evan Nealis, Marc Hogan, Andrew Lawless, Eoin Healy, Eoin Coyle Twomey, Daniel Roberts Will Ryan, Alex Leonard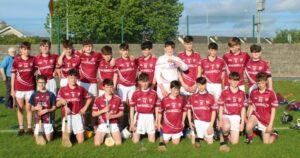 St. Patricks were hosts to Dunamaggin last Wednesday night in the latest round of the Roinn A league. Both teams had one defeat behind them and were eager to prove themselves while getting some points on the board. It would be fair to say that Dunamaggin were favourites travelling north to Ballyragget. St. Patricks wanted to prove their entitlement to Roinn A status.
Dunamaggin opened the scoring with a point followed swiftly with a return from St. Patricks. They game seemed level skill wise but there was a determination in Dunamaggin that made you feel that they could take charge at any moment. Several incredible saves from St. Patricks goalkeeper prevented Dunamaggin from doing so and in turn St. Patricks scored a goal of their own after 10 mins leaving Dunnamaggin wondering if this was going to be as easy as they thought. Undeterred they clawed back the deficit by dropping over points as ease and after being awarded a free from the 21-yard line, took advantage and stuck in the back of the St. Patricks net. A second goal just before half time gave Dunamaggin a seven-point lead going in at half time.
Half-time score: Dunnamaggin 2-6 St. Patricks 1-2
Whatever St. Patricksmanagement said at half time, it worked. A change in gear and and shift in confidence and attitude meant St. Patricks came back with a new mentality and they knew they had it in them to put it up to this strong Dunamaggin side. Tipping over three points unanswered swiftly after the return of play narrowed the margin almost immediately. At this stage, a neutral spectator would not of predicted a winner. Dunnamaggin managed a third goal early in the second half, but St. Patricks stayed determined and calmly dropped over points and it looked like Dunamaggin did not expect the turn around. St. Patricks grit and attitude were commendable, and their style of play and passes were exceptional which took Dunamaggin by surprise and in the dying seconds the sides were level.
If you were a neutral spectator, you would have enjoyed this match and would have felt a draw was the fairest result. The weather was sunny, the evening long – a perfect evening to watch these two sides play some exceptional hurling. A league point each for these teams, Dunamaggin might feel hard done by, but St. Patricks must be thrilled with their performance. Onwards and upwards now for both sides.
DUGGAN STEEL U13 HURLING LEAGUES
DUGGAN STEEL U13 HURLING LEAGUE
VENUE: Urlingford
REF: John Guinan
29/04/22
St. Patricks travelled to Urlingford for the Duggan Steel Under-13 Roinn C Hurling League Group A Round 2 clash with Emeralds on Friday 29thApril last.
A sizable contingent of supporters turned out to cheer on both teams on what was a beautiful, still evening for hurling.
Emeralds opened the scoring with a 1st minute point by Cillian Deegan and from there on took control of the game. St. Patrick's centre back put over a lovely point in the 11th minute to get their first score. Emeralds responded immediately with a point by Charlie Moriarty and pushed on from there to finish the first half with 4-9 to St. Patrick's (0-2).
The second half was again dominated by the Emeralds and although St. Patricks fought valiantly and were unlucky not to add another couple of scores, the Emeralds ran out winners by 8-14 to 0-2.
Emeralds: Ronan O'Shea, Tommy Walsh, Richard Costello, Colin Byrne, Shay Queally, Darragh Cleere, Jack Renehan, Cillian Deegan (0-4, 0-1f), Dara Sweetman (0-1), Padraig Kavanagh (1-0), Philip Campion (3-1), Jack Power (2-1), Seán Wall (0-2), Aaron Phelan (1-3), Charlie Moriarty (1-2).
Subs:DaithiCussen, Kyle Patton, Fionn O'Connor, Lorcan Bolger, Aidan Evans, Adam Hogan, Will Walsh, Seán Tierney
DUGGAN STEEL U13 ROINN B HURLING LEAGUE
VENUE: Galmoy
REF: Owen Beehan
06/05/22
Galmoy/Windgap 9:07  v  2:08 Mount Leinster Rangers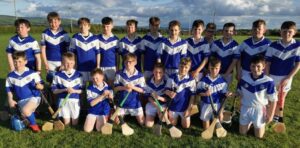 Galmoy/Windgap U-13s had a convincing win over Mount Leinster Rangers  in Round 3 of  the Roinn B league  in Galmoy  on Friday night last May 6th.  Mount Leinster were first to register, when full  forward Jack Ivers  struck a ground shot to the net but top scorer Jack Egan soon replied  with a goal and a point. Further points flowed from Tadhg Kennedy, David Nolan (2) and Egan(2) to stretch the lead of the home side. Best performer for Mount Leinster ,centre back Adam Joyce, kept his side in touch with three pointed frees. Galmoy/Windgap finished strongly with impressive goals from Jack Egan and Aidan O Shea. Their fourth goal was a move which began in defence when Darragh Enright cleared to Tadhg Kennedy who sent a perfectly floated delivery to Jack Egan who then rattled the net to leave the hosts in control at the break 4-6 to 1-3.With Conor Power, Aidan Doyle and M J Corcoran clearing well in defence, the Galmoy/Windgap forwards had ample supply of the sliotar. This trend continued immediately after the break when Jack Egan waltzed through twice in succession to raise two more green flags and put this game to bed. Try as they might,  Mount Leinster could not get back into this game, despite the best efforts of Adam Joyce, Darragh Coleman and Eoin Condron. Joyce and Condron did tack on points but by the 40th minute, the hosts lead 7-6 to 1-6. In the 48th minute midfielder Eoin Condron did pull back a goal for the visitors when he blocked an attempted clearance by Conor Power,gathered the sliotar and shot to the corner of the net. That was as good as it got though as further goals from Rory Quigley and Tadhg Enright rounded off an impressive performance from Galmoy/Windgap who must now travel to play Dunnamaggin away on Friday next May 13th.
Galmoy/Windgap:George Culleton,Darragh Holohan, Conor Power , Aidan Doyle, M J Corcoran, Darragh Enright , Noah Murphy , Aidan O Shea(1-1), Jules Seagrave ,David Nolan(0-2),Jack Egan(6-3),Shane Doyle , Rory Quigley(1-0) ,Tadhg Kennedy(0-1free), Gerard Delaney.
Subs: Danny O Dwyer for Rory Quigley 31 mins, Cathal Barron for Gerard Delaney 31 mins, Tadhg Enright(1-0) for Jack Egan 40 mins , Patrick Delaney for David Nolan 40 mins and Alex Doherty for Shane Doyle 40 mins.
Mount Leinster Rangers:Keane Murphy,Evan Savage Kelly,P J Doyle,Sean O Brien,James Dalton,Adam Joyce(0-6,0-5frees),James Flood,Darragh Coleman(0-1),Eoin Condron(1-1),Jake Fitzpatrick,Shane Jordan,Dara Coady,Darragh O Brien,Jack Ivers(1-0),Joey White.
Subs: Sean Dalton for Darragh O Brien 22mins,Pierce Doyle for Evan Savage Kelly 25 mins,Darragh O Brien for Keane Murphy 34 mins,Evan Savage Kelly for Sean O Brien 42 mins, Jimmy Kavanagh for Dara Coady 40 mins