Juvenile Hurling in full swing as we get close to Exam Break for Minor & U15 League Competitions
KILKENNY HONDA CENTRE MINOR HURLING LEAGUES
KILKENNY HONDA CENTRE MINOR ROINN A HURLING LEAGUE
VENUE: St Johns Park
REF: Eamon Larkin
09/05/22
O Loughlin Gaels 4:11 v 4:12 Young Irelands
A last puck of the game free awarded to the winners was the ultimate decider at the end of an enthralling game of hurling between these two sides.  Moments earlier it looked like the game was saved when the Gaels recorded an equalising goal through Fionn Lawlor. But the following puckout yielded a free to the winners after referee Eamon Larkin adjudged a foul was committed leading to that final winning score through the accurate free taking of Ben Phelan.
Greg Kelly showed immediate intent on the throw in winning the ball and showing great speed, skill and accuracy to convert the games first point. Young Ireland responded with two through Ben & Cian Phelan before Kelly hit a second soon after to keep the scores level. A good delivery through Ruarc Sweeney allowed Fionn Lawlor to pounce for the games first goal and struck it sweetly to the net. Both teams traded scores again before Gowran's Thomas Langton capitalised on a defensive error to hit the net just before the break and square things up at 1-5 each.
The second half continued with both teams trading. The lively Ben Phelan of Gowran hit first before Tadhg Crowley and Darragh Powell edged the Gaels in front. Ten minutes of madness then as the game took a few twists. The Gaels dominance was highlighted by a great goal through Ruarc Sweeney. This was quickly nullified by a second Langton goal after a clearance was intercepted. Lawlor did hit a point back soon after but two goals in quick succession through the powerful running of Cian Phelan put the winners ahead by 4 against the run of play.  A good delivery to the attack earned a free which was duly converted by Lawlor. But four unanswered points through Langton, both Phelans plus a fine individual point by corner back James Brennan, gave the winners a seven point advantage with less than 10minutes remaining. Ruaidhrí Galwey was working hard now and converted his own long range free to reduce the deficit. Another big ball from Galwey delivered into the corner saw Lawlor, Sweeney, and O'Brien find Kelly who was hauled down in the square. Kelly stepped up to the task and found the right corner of the net from the penalty. Three points the deficit now and the Gaels were working hard to get this game back with time running out Galwey delivered the perfect ball, met and collected by Lawlor who turned and struck at pace from a tight angle to find the equaliser. It seemed the game was to be saved but with one more twist the Gowran lads earned the points and were the happier going home.
Team O'Loughlin Gaels:  M Lambert, L Hanrahan, H Roberts, L Quigley, R Galwey (0-1, F), E Bennett, J Bolger, G Kelly (1- 4, 1-0 pen), A Maher (0-1), T Crowley (0-1), R Sweeney (1-0), F Lawlor (2-3, 0-1f), D Powell (0-1), E O'Brien. D Briers, J Owens
Young Ireland's: T Brennan,A Corbet, D Langton, S Brennan (0-1), J Conlon, B Brennan, S Simpson, J Byrne, L Phelan, B Phelan (0-8, 5f), E O'Neill (0-1), C Phelan 2-2 (0-1 f), T Langton (2-0), M Keating
KILKENNY HONDA CENTRE ROINN A HURLING LEAGUE
VENUE: Larchfield
REF: Conor Everard
09/05/22
James Stephens 4:28 v 0:13 Piltown
A big crowd turned out in Larchfield to watch local side James Stephens play hosts to Piltown in the Kilkenny Honda Centre Hurling League.
Piltown started the game with the breeze at their backs and contributed well throughout the open half with a decent tally of 8 points at half-time but the home side were working well against the wind and went in at half time 4 points up.
The second half started very well for the home side and with two quick goals from Jacob Breslin set the tone for the rest of the half. Piltown did threaten the ''Village'' goal and only for some great saves they might have found a way back into the game. As the game went on the home side got stronger and continued to put up a big score and run out worthy winners albeit the scoreline does flatter them a little.
DUGGAN STEEL U15 HURLING LEAGUES
Duggan Steel Under-15 Hurling Roinn C League
Venue: Jenkinstown
REF: Sean McMahon
11/05/22
Conahy Shamrocks                0-11
Burren Rangers                      2-3
Conahy Shamrocks and Burren Rangers played a close and tough encounter in  the Duggan Steel Roinn C League in Jenkinstown on Wednesday last, May 11th. With little between the sides all through, it was Conahy who managed to finish the stronger against their Carlow visitors to take the two league points on offer.
Jack Rhatigan opened the scoring for Conahy with a good point from play, but soon after
James Bergin responded with a similar score for Burren Rangers. The major score of the half came following this, when Burren Rangers' Lorcan Cassin was quickest to react to a breaking ball to flick it to the Conahy net. As the half progressed, Conahy settled better and were able to add to the points tally with scores from Jack Rhatigan (two frees, one from play), Patrick Kennedy and Daniel Mooney. However, following on from an earlier point from play from Aaron Dowling, Martin Carroll pointed a free with the last action of the half to level the score at the half-time break (1-3 to 0-6).
Rory Sherman got Conahy off the mark with a well taken point to give Conahy the lead early in the second half. But, once again, Burren Rangers showed some fine opportunism when the Conahy defence failed to clear, and Aaron Dowling was on hand to flash the ball to the net. However, this would be Burren Rangers' last score of the game, as Conahy managed to show the better composure in winning possession, if not getting the amount of scores they would have liked. Jack Rhatigan was to the fore for Conahy, scoring three more points (two from frees), with Daniel Mooney also scoring his second point of the game. Though Burren Rangers tried frantically to grab a late score, Conahy held them at bay and so held on for a marginally deserved win.
TEAMS
Burren Rangers: Robbie Ward, Tiarnan Whelan, Ruairí McCaffrey, Sam Meyler, Billy Flynn, Martin Carroll (0-1), Ben Sinnott, Dylan Ruane, Michael Shanahan, James Hogan, OdhranBreslin, Daniel Haskins, Aaron Dowling (1-1), Lorcan Cassin (1-0), James Bergin (0-1), Matthew O'Brien, Cian O'Connor, Kieran Donald.
Conahy Shamrocks: Tommy Mulhall, Rory Dunne, Charlie Carroll, Finn Sherman, Darragh Horgan, John Kennedy, Tadhg Hennessy, Patrick Kennedy (0-1), Daniel Mooney (0-2), Rory Rhatigan, Jack Rhatigan (0-7), Evan Staunton, Rory Sherman (0-1), Adam Morrissey, Brian Phelan, Neil Webster, Bobby Dooley.
DUGGAN STEEL U15 ROINN A HURLING LEAGUE
VENUE: James Park
REF: Richard Holland
11/05/22
Dicksboro 2-16 v Mooncoin 1-11
Dicksboro won the toss and elected to play against a strong wind in James Park on Wednesday 11th May 2022. The Boro went into a 0-4 v 0-1 lead through some good scores from Eoin Moore, Sam O'Shea and Patrick Lacey, midway through the first half Mooncoin scored a fine goal from centre forward Robbie Doherty who ran in from the right wing to bury a ball into the far corner of the goal. With 10 minutes to go to half time the score was Boro 0-6 v Mooncoin 1-3 when Patrick Lacey collected a pass on the 21 yard line and drove towards the Mooncoin goal and dispatched a fine shot passed the Mooncoin goalie Jake O'Doherty. The Boro continued to hurl well against the strong breeze for the rest of the half with Donnacha Hennessy in fine form at centre back and Louis Ragget also having a fine game at centre field and Robbie Doherty was a constant threat at centre forward for Mooncoin.
Half time score Dicksboro 1-9 v Mooncoin 1-5.
Straight from the throw in Mooncoin registered a point to bring the lead back to 3 points. Mooncoin then got another score from a free to bring it to 2 points. Dicksboro found their feet after about 5 minutes in and rattled off a couple of score to go 1-11 v 1-7 ahead. It was ding dong battle then for the next 15 minutes with scores hard to come by and with 10 mins to go Dicksboro struck for a crucial goal to give them a 6 point advantage going into the final few minutes. Anthony Clifford was on hand to drill a ball off the ground that came back into play from a long ball in from midfleld.
There were some fine performances on both sides with those mentioned already above and also Ben Henderson in defence for the Boro and Dan Carroll flying it at left half forward. Mooncoin had some excellent performers on the night including Robbie Doherty as mentioned already and Sean Kearns in defence, Billy Delahunty in midfield and Ben Brennan at no 13.
DUGGAN STEEL U15 ROINN B HURLING LEAGUE
VENUE: Windgap
REF: John Kennedy
04/05/22
Galmoy/Windgap 3-8 v Rower Inistioge  1-14
A strong second half display salvaged a share of the points for Galmoy/Windgap in this U-15 League tie against Rower Inistioge at Windgap on Wednesday May 4th. The visitors had opened up a seven point lead at the end of the first half when they lead 1-7 to 0-3.They opened with points from Jimmy Hennessy and Conor Downey before Galmoy/Windgap had the first goal of the game. Following a saved penalty in the 18th minute, Conor Downey was quickest to react when he tapped the sliotar home to the Galmoy/Windgap net. Three points from centre forward Ned Spelman contributed handsomely to that lead. Galmoy/Windgap got on the scoreboard in the fifth minute when Aidan O Shea won a free which P J Delaney pointed. Their two remaining points of the half also came from placed balls by Delaney. The Rower made a good start to the new half with a pair of points from Tadhg Walsh and one from Conor Downey to lead 1-10 to 0-3 by the 40th minute. Over the course of the next ten minutes, Galmoy/Windgap put in a huge shift and managed to reduce the gap to the minimum. A foul on John Power saw P J Delaney open the host's second half account. A free from distance by Padraig Egan was well gathered by Alex Culleton and sent to the net in the 43rd minute. A minute later they had another major when Ryan Whelan got a touch on a dropping ball to leave it 1-10 to 2-4 at the three quarter stage. They were now in full flow and two quick intelligent passes by Aidan O Shea to P J Delaney saw two more white flags flying. Oisín Roche arrested the flow with a Rower point only to see P J Delaney convert another placed ball at the other end.
The hosts edged in front when Aidan O Shea goaled in the 51st minute after good approach work by Alex Culleton to lead 3-7 to 1-11.This goal seemed to spring the visitors into action once more and constant pressure yielded three frees in quick succession which Tadhg Walsh pointed to leave the visitors ahead as we approached the dying moments. With one last effort, GalmoyWindgap won a 59th minute free about 60 meters from goal. In fairness to P J Delaney, he showed great coolness to send the sliotar between the posts and garner a share of the spoils for his side.
Galmoy/Windgap: Sam Moloney ,Edmond Power, Tom Power, Peter Ryan, Jack O Dwyer, Fionn Lonergan, Jack Egan, Aidan O Shea(1-0), Padraig Egan(0-1f), Ryan Whelan(1-0), P J Delaney(0-7,0-5frees), John Power, Darragh Enright, Alex Culleton(1-0),Alyn Hearne.
Subs: Conor Power,Tadhg Kennedy,Jack Culleton, Darragh Holohan & Shane Doyle.
Rower Inistioge:Sean Doyle,Michael Murphy,Paul Kirwan,Jimie Doyle,Oisín Smithwick,Darragh Murphy,James Gilsenan,Tadhg Walsh(0-6,0-4frees),Jack Roche,Odhrán McGorry,Ned Spelman(0-3),Eoghan Byrne,Jimmy Hennessy(0-1),Conor Downey(1-3),Oisín Roche(0-1).
Subs: Padraig Byrne,Conor Ryan & Conor Boyle
DUGGAN STEEL U15 ROINN C HURLING LEAGUE
VENUE: Mullinavat
REF: Willie Kearney
11/05/22
Mullinavat 2:15 v  2:12 Carlow Town/Setanta
Both Mullinavat and Carlow Town played round 4 of the U15 RoinnC League on Wednesday May 11th in Mullinavat.
Mullinavat played with the advantage of a very strong breeze in the first half and the first sore came from a free from Louis Madigan. Mullinavat were on top leading into the second half with a half time score of 2 – 10 to Carlow Town 0 – 4.  The breeze showed favour to Carlow Town in the second half with Mullinavat only scoring 5 pts (2 from frees) and Carlow Town scoring  2 – 8 (3 frees). This however was not enough for Carlow Town/Setanta  and Mullinavat held on to win the game by 3 points.
Both teams move onto the 4th round.
The final score of the game was Mullinavat 2 – 15Carlow Town 0 – 4
Mullinavat: Patrick Aylward, Ben Cantwell, Seamus Rohan, Michael Catt, Louis Madigan, Jack Power, Aaron Aylward, Adam Fitzpatrick, Eoin Aylward (16), Leo Alyward, Eoin Aylward (9), Edward Bolger, Conor Conway, Cian Kelly, Olly Madigan, Shay Maher, Conor Kinsella, Jim Cantwell, Donnacha Corcoran
Carlow Town: Seamus Bible, Eoghan Brennan, Kyle Broderick, Conor Buggy, Luke Campion, Robbie Carbery, Alex Donnelly Finn, Shane Gurhy, Peter Lynch, Shane McCarthy, Seanie McMahon, Ray McNamara, Lorcan O Connor, Finlay Racklyeft, Eoin Ryan, Liam Ryan, Ronan Ryan, Dmitriy Shablin, Se Stafford, Ronan Sullivan, Aaron Walsh Myles, Harry Delaney, Patrick Rice, Elliot Rice, Ross Moran
DUGGAN STEEL U15 ROINN A HURLING LEAGUE
VENUE: Gowran
REF: Eoin Hayes
11/05/22
Young Irelands 3-13 v Piltown 1- 12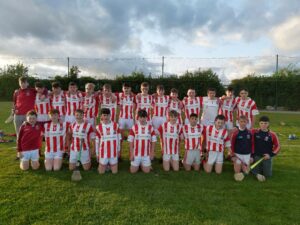 On Wednesday evening Young Irelands welcomed Southerners Piltown to Gowran to contest the U15 league.
A nail-biting game ensued with superb scoring, skill and determination on show.
Young Irelands took an early lead with a goal in opening minutes but Piltown's Bobby Norris and D.J. Knox soon had points on the board.
The pace was fast and the tackling was dogged, a strong wind blowing left to right made conditions difficult for the home side but Billy O'Keeffe managed to break free and added another goal for Young Irelands.
Sam Garbutt retaliated and the Piltown forward drove the ball into the corner of the Gowran net. It was the only goal Josef Walsh conceded; he was stalwart in the goal and pulled off many an epic save over the course of the game.
Half time score was
Young Irelands 2-6
Piltown 1-7
Thomas Langton and Aidan Keating, wind at their back in the second half notched up 7 points between them in the second half, while Thomas Langton found the back of the net in the 50th minute to give Young Irelands a comfortable lead.
DJ Knox and Sam Garbutt never relinquished in their attack while Sean Tennyson in goal was admirable in the Piltown goal.
DUGGAN STEEL U15 ROINN A HURLING LEAGUE
VENUE: St Johns Park
REF: David Hughes
11/05/22
O'Loughlin Gaels 1:16 to 0:18 St. Martins
This was a thoroughly enjoyable game to watch which remained even from start to finish. Both sets of forwards were dangerous and some of the scoring on either side was immense. For the Gaels great leadership was shown up front by Jeff Tyrrell with Cian Byrne and Conor Holohan combining for some lovely scores, in particular for Conor's goal. Daniel McCormack was solid in goals sweeping well behind his back line and offering extra support there. Credit to the St Martin's no 15 who gave an exhibition of free taking when scores from play were hard to come by. In a tight game the home side winning by the minimum.
Conor Holohan (1-4)
Cian Byrne(0-4)
Diarmuid Considine(0-1)
Jeff Tyrrell(0-5)
Matthew Briers (0-1)
O Loughlin Gaels
Dan McCormack, Conor McDonald, David Magee, Andrew Comerford, Esosa Dowling, Conor Farrell, Rian Delaney, Adam Maher, Matthew Briers, Charlie Roberts, Jeff Tyrrell, Harry Nolan, Diarmuid Considine, Conor Holohan, Cian Byrne
DUGGAN STEEL U13 HURLING LEAGUES
DUGGAN STEEL U13 ROINN A HURLING LEAGUE
VENUE: Inistioge
REF: Ollie O Neill
13/05/22
Rower Inistioge 3:08 v 5:13 O Loughlin Gaels
On a glorious evening in Inistioge city side O Loughlin Gaels came to town to take on the Rower Inistioge in the u13 League.
The game was very quick to get going when O Loughlins full forward, Conor Minogue , got the opening score of the night with a point from play.  The Rower Inistioge were very quick to reply when Oisin Roche pointed a free after some great work by Sam Kelly won the free. Sam Kelly was again in the action straight away with a point from play to put the home side in front in a very entertaining opening few mins of the game.  O Loughlin Gaels hit a purple patch with Conor Minogue running riot in the full forward line, he was unlucky when a great run ended in a point when the ball blazed over the bar but he put that right seconds later when he found the back of the net for the games opening goal. The visitors went on to score another point through Minogue, his pace was blistering and causing all sorts of problems to the home side. Ryan Farrell at midfield for OLG was getting on plenty of ball too. From the early exchanges it was exciting to see the battle unfold between OLG full back, Kyrell Mtinsi, and RI full forward Sam Kelly. This was looking like the duel of the game and didn't disappoint  throughout. The first half finished with more scores for Conor Minogue, Ryan Farrell and Andrew Holohan for OLG but home side finished the first half very well with a goal from Tadhg Walsh who was now at midfield plus the excellent Sean Doyle pointed as did Oisin Roche from a free. The free coming when Sam Kelly was fouled heading goalward bound and looking dangerous. Half –time 1:05 v 3:07
The second half was a much more even affair,  with OLG outscoring the home side by just a point. It took 6 mins of the second half to register the opening score , a point from OLG centre forward Andrew Holohan, but it has to be highlighted the quality of defending and goalkeeping by the RI side before this. When OLG sub broke through to take a shot meters from the RI goal it took an incredible hook from Joey Nolan to stop that but OLG gathered the ball quickly and shot immediately to bring out an outstanding save from Ryan Jackman in the goal. This was a great lift to the homeside who were playing with a renewed energy. Another point from Sam Kelly and a goal from Tadhg Walsh had them ticking over nicely. The vistors too were keeping the scoreboard ticking over with Ryan Farrell at midfield proving provider too as well as scorer. Two more goals, a lucky goal from distance and a great finish from Ben Fahy kept that healthy cushion between the teams for them. The Rower Inistioge side moved Sam Kelly from full forward to midfield and this worked very well for the remainder of the game and he got on plenty of ball but every time a ball went in to the OLG full back line Kyrell Mtinsi was mopping up in style in a top top performance all day long.  The home side finished the stronger with two more points from Oisin Roche and another goal from Tadhg Walsh but the first half performance from the Visitors was enough to secure a well deserved victory and was capped off with a point from Harry Egan just before the final whistle. Full Time 3:09 v 5:12
Rower Inistioge: Ryan Jackman, Donnacha Lee O Rourke, Eamon Walsh, Kevin Mackey, Liam Gavin, Tadhg Walsh, Joey Nolan, Eoin Stephenson, Sean Doyle, Liam McCorry, Oisin Roche, James Galvin, Sean Byrne, Sam Kelly, Sean Clifford, Cormac Delaney, Sean Egan, Kieran Kavanagh, Tommy Kavanagh, Jack Kelly, Oisin McGrath, Sean O Keeffe, Oisin Walsh, Kyle Fitzpatrick, Jack O Keeffe.
O Loughlin Gaels:  Dan O Brien, Gavain Ryan, Kyrell Mtinsi, Lucas Duggan, Christopher Hayes, JJ Cahill, Shane Comerford, Ryan Farrell, Ronan Treacy, Samuel Briers, Andrew Holohan, Harry Egan, Cathal Bennett, Conor Manogue, Ben Fahy
DUGGAN STEEL U13 ROINN B HURLING LEAGUE
VENUE:  Hugginstown
REF: Barry Hearn
13/05/22
Carrickshock 9:17 v 0:06 Mount Leinster Rangers
Table toppers Carrickshock started this game in formidable fashion with early goals from Liam O'Grady and Cian Franks. Jack Donnelly, Sam Mansfield and Cian Franks all added scores to leave the Shocks leading by 8-09 to 0-02 after the first half.
Changes in the second half for both teams and Mt. Leinster Rangers added some nice points to bring their tally to 6 points. Eoin O'Connell, Cian Franks, Tom Duggan , David Blanchfield, Liam O'Grady and Jack Donnelly all added more scores for Carrickshock. The final score in Hugginstown was Carrickshock 9-17 Mt. Leinster Rangers 0-06.
DUGGAN STEEL U13 ROINN C HURLING LEAGUE
VENUE: Cloneen
REF: Sean McMahon
13/05/22
CLONEEN 3:05 V 4:06 Naomh Eoin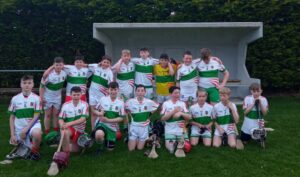 On Friday evening we had Cloneen take on Naomh Eóin of Myshall. The game got off to a quick start on the score board with a Naomh Eóin scoring a point in the 1st minute and this was followed by a goal in the second minute.
Cloneen took till the 4th minute to get on the score board with a goal by Jack Carroll. Both teams missed a few chances for points over the next few minutes but drove them wide until the 8th minute when Evan O Neill scored a point from play for Cloneen.
Naomh Eóin scored a second goal in the 10th minute by a ball that dropped in front of goal that couldn't be cleared and ended up in the Cloneen goal.
In the 12th minute John Joe Buggy scored a point from play for Cloneen and a minute later Jack Carroll had another point for Cloneen.
Naomh Eóin next scored in the 16th& 17th mins with 2 good points from play
Cloneen got back on top in the play and scored a great goal from John Joe Buggy on 19 minutes and followed by a point with Jack Carroll.
John Joe had another goal in the back of the net on the 27 minute mark but 2 minutes later Naomh Eóin had another goal and a point to finish the first half on the score line of Cloneen 3-4 Naomh Eóin 3-3.
The second half was a tougher battle with very little open play but Naomh Eóin got a point in the 35th minute and a goal in the 41st. Scores were hard to come by and plenty of wides on both sides it took until the 51 minute mark before we had another score with a point from Naomh Eóin.
Cloneen took until the 53rd minute to score in the second half with a point from Jack Carroll. Naomh Eóin now pointed straight away but this was to be their last score of the game.
Cloneen now got a great point from play from Eóin Maher at 55mins on the clock. While both sides had chances the last score came for Cloneen in the 59th minute with a point.
This game could have gone either way but ended on the scoreboard of Cloneen 3-7
Naomh Eóin 4-6.
DUGGAN STEEL U13 ROINN C HURLING LEAGUE
VENUE: Dr Tierney Park
REF: Anthony Barcoe
13/05/22
Graiguenamanagh 5-13     Naomh Brid  1-1
Graignamanagh played host to Carlow side Naomh Brid on a calm & balmy Friday evening.
The home side made a good start with Hugo Tierney & Tommy Dowling each registering a number of points.
After 15 minutes Naomh Brid began to settle into the game with Dara Tunstead putting over a point and a couple of minutes later Conor McDonald scored the first goal of the game.
Graignamanagh continued on the point scoring theme with Garry Kelly, Cian Dowling & Sam Antonessa getting on the scoreboard.
Some fine goalkeeping from the Carlow Keeper Finnan Nolan meant the home side didn't get to raise the green flag in the first half with the half time score 0-10 to 1-1 in Graigs favour.
The second half started with Conor Foley getting the first of his 2 goals on the night.
Dan Bolger & Luke O' Brien contributed a goal and a point respectively from the half back line
Naomh Brid, without players on the bench, began to tire as the second half progressed whereas Graig were able to bring in fresh legs to keep the momentum going.
The game finished with a strong win for Graignamagh in what was a good tempered encounter.
DUGGAN STEEL U13 ROINN A HURLING LEAGUE
VENUE: John Locke Park
REF: Stephen Delaney
13/05/22
John Lockes 5:19 v 0:03 Naas
John Lockes U13 squad continued on the winning streak last week, with a convincing victory in the Roinn A league.  Friday night saw the Roinn A game in Callan against Naas, with the Lockes boys winning comfortably on a score line of 5-19 to 0-3. To Naas' credit, they never gave up and battled hard to the very end showing great heart but unfortunately for them they came up against a very inform Callan side.
DUGGAN STEEL U13 ROINN C HURLING LEAGUE
VENUE:  Slieverue
REF: Raymond Byrne
13/05/22
Slieverue 6:02 v 3:06 Lisdowney
Slieverue and Lisdowney met in the under 13 league in slieverue friday evening
Slieverue started the better of the 2 sides in the first half scoring a few goals early on
Lisdowney kept themselves in the game scoring a goal and two points before the break going in 4-2 to 1-2
The second half was much more evenly matched with Lisdowney coming out faster and scoring some great scores and showing great skill level
They got themselves to within 2 points coming to the closing stages but Slieverue struck another goal to finish off an exciting game with a scoreline of 6-2 to 3-6
DUGGAN STEEL U13 RIONN A HURLING LEAGUE
VENUE: Piltown
REF: Maurice Flynn
13/05/22

Piltown 3:15 v 2:11 Danesfort
On a beautiful sunny Friday evening in Piltown, both teams served up a very exciting U13A league encounter. Danesfort got off to a brilliant start, scoring 1-1 inside the first 5 minutes but Piltown recovered well with 2 long range frees from Shane Downey and 4 inside frees from Jack Farrell. Danesfort also tagged on frees for the rest of the first half leaving Danesfort 4 points up at half time. Piltown 0-6 and Danesfort 1-7.
Piltown started the second half like Danesfort started the first scoring 1-1 inside the first 5 minutes with the goal coming from Harry Farrell. Daire O'Brien and Jack Farrell both added points from play before Ben Coffey latched onto a super save from the Danesfort keeper to get a second Piltown goal. Piltown made some adjustments in defence before Danesfort replied with a second goal to stay in the game. Two minutes later Jack Farrell scored a third goal for Piltown from a 21 yard free. At this stage it was anyones game but Piltown defence stayed strong with the Driscoll brothers and Shane Downey rising to the challenge. Shane Downey scored another 2 long range frees to leave the final score Piltown 3-13 to Danesforts 2-11.
DUGGAN STEEL U13 ROINN C HURLING LEAGUE
VENUE: Ballyragget
REF: Ger O Grady
13/05/22
St Patricks 0:07 v 3:10 Glenmore
Glenmore took the lead and led comfortably for the entire game but at the same time it never felt comfortable.
Early goal from Glenmore settled any nerves and some nice play had Glenmore in the driving seat at half time.
Unfortunately for St Patrick's their forwards never really got going and really didn't create any goal scoring chances.
The second half progressed much as the first and though Glenmore held on ,it was the goals that separated the teams.
Final score was 3-10 to 0-07 Glenmore win
Tournament Hurling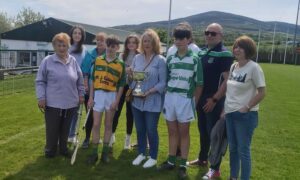 U13 Billy Hoare Memorial Cup Final
Referee – Anthony Barcoe
Graignamanagh 1-08         Bennettsbridge 1-04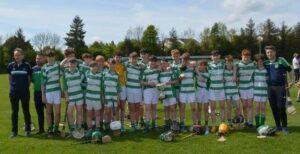 April 2021 marked the passing of Billy Hoare, a stalwart of the Graignamanagh GAA Club. To commemorate the many years of service that Billy had given the club it was felt appropriate that a Tournament be played for a Memorial Cup in his name. This U13 Tournament commenced in October but the covid pandemic & other fixtures meant the final was carried over to 2022.
Sunday May 8th saw the final contested by Graignamanagh and Bennettsbridge in a sun soaked Dr Tierney Park.
The home side made the better start with Sean O' Grady registering a point and centre back Padraig Phelan also putting over a long range point. Sean O' Grady continued to add to his scoring tally throughout the 1st half with a goal & 2 points. Bennettsbridge were playing well but struggling to register a score with the Graig Full Back Rory Cleary in particular clearing a lot of ball. By half-time the scoreboard read 1-4 to 0-0.
The 2nd half started looking like it would be a continuation of the first with another Sean O' Grady point but gradually Bennettsbridge started to impose their will on the game and began to claw back the Graig lead with Scott Hennessy scoring 1-1 and Eoin Walpole registering 3 points.During this 20 minute spell Graignamanagh only registered 2 points which included a ball doubled on &over the bar by Hugo Tierney. With 5 minutes to play the gap between the sides was down to 3 points when Padraig Phelan cleared a goalward heading ball off the line. Padraic Hayden put over a point to give the home side a bit of breathing space and the game finished 1-8 to 1-4 in the home sides favour.
Graignamanagh Captain Sean O' Grady was presented the Billy Hoare Cup by Billys daughter Fran