Duggan Steel u13 Hurling Leagues
DUGGAN STEEL U 13 ROINN C HURLING LEAGUE
VENUE:  Urlingford
REF: John Guinan
13/05/22
Emeralds 3:05 v 1:07 Blacks & Whites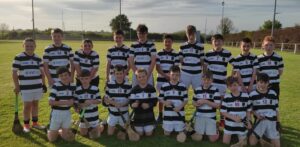 Emeralds hosted Blacks & Whites for their Duggan Steel Under-13 Roinn C Hurling League Group A Round 4 clash on Friday 13thMay.The warm still summer's evening provided an ideal backdrop in what turned out to be a thrilling encounter.
Blacks & Whites having won the toss elected to play into the car park goal. Emeralds opened the scoring with a lovely point in the second minute by Aaron Phelan. Following some good team play which led to a point by Cillian Deegan, Aaron Phelan struck again having rattled the net and by the 4th minute Emeralds were leading 1-2 to 0-0. Blacks & Whites got their first point from a placed ball expertly slotted over the black spot by centre forward, Ross Phelan. Ross raised the white flag again with a magnificent point from some distance out 3 minutes later. After 10 minutes without a score Jack Power pointed for the Emeralds and Blacks & Whites finished their first half with a point by Jack Duff in the 29th minute. The half time score was Emeralds 1-3 Blacks & Whites 0-3.
After the interval Blacks & Whites came out on fire and within 7 minutes Ross Phelan had scored 1-2(f) leaving them 2 points clear. Now it was game on! Emeralds fought back and Dara Sweetman found the net having collected a pass from the ever-hardworking Aaron Phelan in the 41st minute. Ross Phelan responded for Blacks & Whites displaying his expert marksmanship once again from placed balls by pointing two frees to leave the sides level by the 14th minute with Emeralds 2-3 to Blacks & Whites 1-6.
What followed was a brilliant display of skill by both sides, the Emeralds eventually making a breakthrough with a Philip Campion goal followed by points from Cillian Deegan and Darragh Cleere. Ross Phelan pointed for Blacks & Whites and both teams battled it out until John Guinan blew the final whistle on a very entertaining game by two well matched teams. The Emeralds finished with 4 points to spare over their rivals with the final score being 3-5 to 1-7.
Emeralds: Ronan O'Shea, Tommy Walsh, Richard Costello, Jack Lyng, Shay Queally, Darragh Cleere (0-1f), Jack Renehan, Cillian Deegan (0-2, 0-1f), Dara Sweetman (1-0), Padraig Kavanagh, Philip Campion(1-0), Jack Power (0-1), Seán Wall, Aaron Phelan (1-1), Kyle Patton.
Subs:Daithi Cussen, Will Walsh, Lorcan Bolger for Kyle Patton (48mins), Mark Boland (for Sean Wall 52 mins) Aidan Evans, Adam Hogan, Seán Tierney, Fionn O'Connor
Blacks & Whites:Pauric Orpen, Daire Nolan, Bill Barron, Dean Cummins, Eoin Kealy, Noah Langrell, Larry Doyle, Damian Delaney, Jack Duff (0-1), Ned Óg Kelly, Ross Phelan (1-6, 0-4f), Callum Savage, Luke Kelly, Leo Pitcher, Seamus Greene
Subs: Kieran O'Neill, Charlie Gardiner, Owen Bove Brennan
DUGGAN STEEL U13 ROINN A HURLING LEAGUE
VENUE: Gowran
REF: Patrick O Reilly
17/05/22
Young Irelands 3:08 v 2:10 Piltown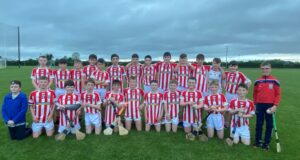 Well done to Young Irelands Under 13 boys who had their fourth hurling match in the Duggan Steel Under 13- Roinn A Hurling League on Tuesday 17th May 2022 against Piltown in Gowran.   Gowran were quick to put their mark on the score board with a point from a free from Conor Carroll to open the game and a quick flick of a ball into the net by Daniel O Neill put Gowran in the lead 1-1 to Nil in the opening minutes.  Piltown were quick to react with a point by Daire O Brien and a ground strike from Ben Claffey couldn't be stopped by Young Irelands goalie Dylan Brennan to find the back of the net.  Both Conor Carroll and Jack Farrell exchanged points from placed balls.  Half time score Young Irelands 1-2, Piltown 1-3.  Piltown came out on top in the third quarter and with less than fifteen minutes on the clock, they lead by 8 points Piltown 2-9, Young Irelands 1-4.  The Young Ireland boys fought hard and showed great determination and skill to win by a point.  Great display of hurling from both sides.  Full Time score Young Irelands 3-8, Piltown 2-10.  Scorers from Young Irelands were Conor Carroll 1-5 (2 frees), Daniel Slye 1-0, Darragh Carroll 0-1.  Sam McAviney 0-1, Tomas Carroll 0-1, Daniel O Neill 1-0.  Scorers from Piltown were Daire O Brien 0-1, Ben Claffey 1-0, Jack Farrell 0-8 (frees), Dylan Walsh 0-1, Harry Farrell 1-0.  Best in the backs for Piltown were Shane Downey, Sean Driscoll and Tom Gahan.  The Under 13 Young Ireland boys will play a match against Danesfort next week.
DUGGAN STEEL U13 ROINN C HURLING LEAGUE
VENUE:  Dr Tierney Park
REF: John Walsh
20/05/22
Graignamanagh 6:06 v 4:05 Glenmore
A sunny Friday evening saw Graignamanagh play host to Glenmore U13s.
Graignamanagh were the quicker of the two sides to get on the scoreboard with Hugo Tierney putting over 2 points.  Glenmore's Sean Croke showed he could do the same with 2 points from play. The remaining first half was a tit for tat encounter with both sides evenly matched with Gary Kelly registering a goal for the Graig boys with Fionn Murphy doing the same for Glenmore. Davy Vereker & Mark Griffin both pointed frees for Glenmore to see Padraig Hayden & Tommy Dowling do the same for Graignamanagh. By half time the home side led by the narrowest of margins 1-5 to Glenmore's 1-4.
Glenmore appeared to make the better start of the 2nd half with both teams having made a number of positional changes. A number of Glenmore scores made it look like they would pull away. However  12  minutes into the 2nd half, Graignamanagh enjoyed their own purple patch where they registered 3 goals to give them a clear lead. Glenmore never gave up and put Graignamanagh under huge pressure in for the last 10 minutes as the home side defended their lead.
The 2-1 difference between the teams on the conclusion of the game didn't reflect what was a closely contested and entertaining encounter.
DUGGAN STEEL U13 ROINN C HURLING LEAGUE
VENUE:  Dr Tierney Park
REF: John Walsh
20/05/22
Graignamanagh 6:06 v 4:05 Glenmore
A very competitive first half were Graig held the lead throughout they were fractionally the better team.
Into the second half and the game came alive when Glenmore went five points up and missed a goal chance to really turn the screw. Up came #9 for Graig and led his team with a late drive to secure victory.
On a night when the visitors thought they could have given more Graig ran out eventual winners  and the supporters would have to be impressed with leadership shown on the field by graigs forwards towards the end.
6-6 to 4-5 graig deserved winners.