KILKENNY HONDA CENTRE MINOR LEAGUES
KILKENNY HONDA CENTRE MINOR ROINN A HURLING LEAGUE
VENUE: Palmerstown
REF: Sean Cleere
25/04/22
Dicksboro 2:11 v 1:08 Erins Owen
Palmerstown hosted a highly enjoyable and highly competitive minor league game between Dicksboro GAA and Erins Own. The game started at a blistering pace with both teams exchanging points throughout the opening quarter. A well earned goal by the Dicksboro full forward gave the home side a brief cushion but this was quickly taken away by a well taken goal from the Comer men. Half time saw both sides well in the game, mostly due to excellent defending and discipline in the tackle from both teams. The second half started in a similar fashion to the first with both sides enjoying equal spells of possession. Erins Own were beginning to take control of the game throughout the second half but a penalty awarded to the home side and converted by the Dicksboro centre forward gave the Boro men the lift they needed. Erins Own again finished very strongly but the home side were just slightly more efficient in their shooting and converting of scores allowing them to hold out for a 2-11 to 1-8 win. All in all this was a very close and tough game played by two well balanced sides.
KILKENNY HONDA CENTRE MINOR ROINN B HURLING LEAGUE
VENUE:  Mooncoin
REF: Raymond Byrne
25/04/22
Mooncoin 3:13 v 2:10 Barrow Rangers
Mooncoin and Barrow Rangers played in Mooncoin this evening, the first half was a close affair until barrow rangers got a penalty on the stroke of half time which they converted to lead 1:07 to 7 points at half time. The second half Mooncoin had a slight breeze with them and got a goal and a few points to take the lead. There was very little between the 2 team's for first 15 minutes of second half until Mooncoin got 2 goals in 2 minutes to take a good lead. Barrow Rangers replied with a super goal to close the margin but Mooncoin held on to win by 3:13 to 2:10 in a very enjoyable encounter.
KILKENNY HONDA CENTRE MINOR ROINN HURLING LEAGUE
VENUE: Piltown
REF: Eoin Hayes
25/2/22
Piltown 3:12 v 3:17 Naas
Piltown started there 4th round of U17 Roinn A league unbeaten and confidence high but they would be well tested by the Kildale outfit. The visitors started very well and threatened upfront by the movement and well taken scores. Piltown got to grips and a goal each from Niall O'Brien and Andrew Phelan got Piltown motoring and battling well. Naas didn't ease up and kept the pressure on Piltown at all times. Well taken points from 11 & 14 from Nass with a goal from there corner foward left very little in it at half time with Piltown ahead by 3 points after a fast hard hitting first half.
First 15 minutes of the second half was one way traffic with Naas scoring 10 unanswered points to leave 7 in it after 45 minutes gone. Piltown started to find their feet with a long range point from Eoin Hogan the home team started to get abit of momentum. The last 10 minutes the home team piled on the pressure scoring 1-4 to no score and the young Piltown team were showing good fighting spirit but they couldn't peg back the damage from the earlier quarter of the second half and ran out of time with Naas winning by 5 points in the end, 3.12 to 3.17. Naas will prove a good challenge for teams from now on as they have their contingent back from Kildare u17 squad. Piltown showed good battling performance and worked hard against a strong Naas team but a bit of extra physicality and scoring power came good for Naas in the end.
KILKENNY HONDA CENTRE MINOR ROINN B HURLING LEAGUE
VENUE: Muckalee
REF: Gay Rafter
25/04/22
St Martins 1:19 v 0:11 Kilmacow
On a sunny evening in Muckalee the home side came away with the win. The first half was a cagey affair with the hard working Micheal Keane driving the Saints forward at every opportunity. David Williams was a constant threat for Kilmacow and it took some serious defending from Matty Bolger and Ewan Buggy et al to keep the away sides attack quiet. St Martins went into the break four points up on a scoreline of 0:11 to 0:7 with some well taken points from Aaron Farrell, Jack Coogan, James O Neill and Micheal Keane. David Williams notched up six from frees and one from play.
The men in red and green started the second half very well with scores from Paddy Coughlan, James O Neill, Donal Kealy and a great goal and point from corner forward Adam Morrissey. Micheal Keane continued his dominant display into the 2nd half and contributed five points from placed balls. Kilmacow to their credit never faded and gave it their all until the final whistle with Calum Regan,  David Sheridan and Oisin Conway always a threat to the home sides defense with Sheridan bringing the best out of Luke Cahill in the St Martins goal with a blistering effort.
The game finished up St Martins 1:19
Kilmacow 0:11
St Martins: Luke Cahill Jack Dooley Ewan Buggy Peter Downey Tom Shore Matty Bolger
Colin Hayes Micheal Keane Cormac Quirke
Jack Coogan Paddy Coughlan Aaron Farrell Thomas Daly James O Neill Adam Morrissey
Donal Kealy Tadgh Power Evan O Shea Aaron Dowling Daniel Tallis Jake Dowling Christopher Kealy
Kilmacow: Sean Hearne Gearoid Foot Lorcan Suffin Jack Doyle Eoin Murray Shane Morrissey Rian McDonald Tom Reddy Calum Regan David Sheridan David Williams Kevin Phelan Harry Morrissey Caoilin Kelly Ben Doyle Oisin Conway Aaron Cass Eoin Aylward.
Kilkenny Honda Centre Minor Roinn B Hurling League
St. Patricks Ballyragget vs James Stephens
Venue: St Patricks GAA
Referee: Peter Burke
Half- time score: James Stephens 0-7 St Patricks 4-8
Full- time Score: James Stephens 1-14 St Patrick 8-14
St Patricks: Oisin Troy, Ruairi Farrell, Michael Glennon, Niall Kavanagh, Harry Culleton, Christian Connick, Thomas Love, Christopher Delaney, Conor Phelan, Mark Doheny, Aaron Nealis, Taras Biletsky, Shay Smith, Sean Brennan, Charlie Culleton, John Purcell, Shane Culleton, Conor Rocliffe, Tadhg Phelan, Kieran Bergin.
Ballyragget was the venue for the next round of league matches in Group A Roinn B as James Stephens came to take on St. Patricks. Ballyragget opened the scoring with a point, but this was swiftly followed by a goal by Shane Culleton after 7 mins. All credit to James Stephens they did not panic or drop their heads but responded with a point to settle their nerves. St. Patricks had the momentum though and they ran with it, they scored another point, James Stephens got their second point before Shane Culleton again, grabbed the high ball from the air and buried it into the back of the net. Two goals within 15 minutes. Both sides traded points for the rest of the half, but it was evident that James Stephens were going to struggle to recover form those two goals. A third goal by Oisin Troy after 25 mins and then another just on the whistle of half- time meant that St Patricks were leading by thirteen points at half time.
Half- time score: St. Patricks 4-8 James Stephens 0-7
The second half continued to go in St. Patrick's favour. James Stephens did open the second half with a goal, trying to gain some of St. Patricks momentum in the hope of making a comeback but it was not to be. St. Patricks continued to break through their back line and in for goals and James Stephens were punished each time. Four more goals later in relative quick succession meant James Stephens were never going to extinguish St. Patricks dominance. Some lovely long-range points scored by both sides continued but you could feel this was always going to be St. Patricks night and the eight goals were always going to be hard to beat.
Final score: James Stephens 1-14 to St. Patricks 8-14
KILKENNY HONDA CENTRE MINOR ROINN A HURLING LEAGUE
VENUE: Tullogher
REF: Gavin Quilty
25/04/22
Final Score:   Tullogher/Rosbercon          0-08 
                        Young Irelands                   0-11
Young Irelands got off the mark quickly this evening with a point from the left wing on the 1st minutes of the game.  This was followed by a point from number 10 from play on the 2nd minute and a further point form number 10 from a free on the fourth minute.
Young Irelands continued their scoring dominance with a point on the 7th from the full forward and another free from number 10 on the 10th minute.
Tullogher Rosbercon continued to try and get on the score board with some near misses and continued to hold Young Irelands scoreless until the 20th minute, where the final score of the half was a point from play by Young Irelands number 12 on the 20th minute.
Both teams exchanged changes and fought hard, but there were to be no more scores in the first half.
The half time score was:
Tullogher/Rosbercon              0-00
Barrow Rangers                     0-06
The second half was a bit more competitive with Tullogher Rosbercon getting their first score on the 4th minute of the second half with a point from play by Finn Kelly. This was followed a minute later with another score from play from Ryan Murphy. Young Irelands responded with a point from a free on the 6th minute by number 10.
From here Tullogher Rosbercon's Sean Ryan scored two points from frees on the 12th & 13th minutes. Then there was an exchange of points between the teams with Young Irelands  number 15 scoring a free on the 15th minute, Tullogher Rosbercon's Sean Ryan socring on the 17th and James Cummins, who came on at the start of the second half, scoring a point from play on the 18th minute. Tullogher Rosbercon's Andrew Murphy scored from play on the 19th and Dean Kinsella scored what was to be Tullogher Rosbercon's last score of the game on the 20th minute.
At this point the score was 0-8 each, but Young Irelands pushed on to score three more points to finish out the game eventual winners.
Final score:
Tullogher/Rosbercon              0-08
Barrow Rangers                     0-11
DUGGAN STEEL U15 LEAGUES
DUGGAN STEEL U15 ROINN B HURLING LEAGUE
VENUE: Inistioge
REF: Patrick O Reilly
20/04/22
Rower Inistioge 2:12 V 3:19 Glenmore
On a beautiful balmy evening down by the River Nore, Glenmore had the first point from Rory Atkins with the Rower-Inistioge replying with a point from PJ Mackey and another from a free from Jack Roche.
Glenmore then struck for a goal from Oisín Mullally followed by two points each from Fionn Murphy and Jason Cody and a single reply of a pointed free from Roche.   Oisín then scored a point and Roche with a free and Mackey from play scored for the Rower-Inistioge.  Cody from a free and James Reid from play added two points to Glenmore's tally with a free from Roche the only response.  In the last 5 minutes, Glenmore hit another purple patch with 2 points from Jack Dollard, a 65 and open play and a goal and pointed free from Mullally to leave the score at half-time 2-11 to 0-6 in the visitors favour.
A pointed free from Cody at the start of the 2nd half was followed by a quickfire 1-01 from Mackey.   An exchange of points from a Cody free, a Roche free, a Cody point from play, a Mackey point from play and a point from Luke Vereker who was now at full forward gave the supporters great entertainment as the home side got more and more into the game.   They then scored a goal from Oisín Roche and a pointed free from Jack Roche to really unsettle Glenmore.  Jack Dollard then started dominating at centre back and with 3 points from Cody steadied the ship with 2 replies from Mackey from play and Roche with his seventh free.  As in the first half, Glenmore finished strongly, with 1-01 from Cody rounding off the scoring to leave it 3-19  to 2-12 at the full-time whistle.
Overall a very good game of hurling with great passages of play and point scoring and two teams who fought right to the very end.
Rower-Inistioge:  S. Doyle, J. Gilsenan, P. Kirwan, M. Murphy, J. Doyle, D. Murphy, O. Smithwick, N. Spelman, J. Roche, E. Byrne, PJ Mackey, T. Walsh, O. Roche, C. Downey, O. Mc Gorry.
Glenmore:  D. Fitzgerald, R. Doherty, C. Hennessy, M. Cody, R. Halligan, J. Dollard, D. Connolly, J. Reid, L. Vereker, A. Talbot, J. Cody, R. Atkins, F. Murphy, O. Mullally, S. Grant.
Subs: R. Heffernan, C. Walsh, H. Beirne, M. Griffin, C. Doherty, S. Harney, C. Mackey.
DUGGAN STEEL U13 LEAGUES
( St Martins U13 Hurlers in Cover Photo)
DUGGAN STEEL U13 ROINN C HURLING LEAGUE
VENUE: Cloneen
REF: Sean McMahon
29/04/22
Cloneen 5:07 v 3:05 Graignamanagh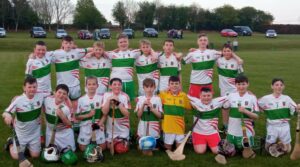 Graiguenamanagh got off to a great start with a goal in the first minute and this was followed by a point from a free in the 4th minute.
It took Cloneen along time to get off the mark but eventually they did in 14th minute with a goal and this was followed by another Cloneen goal in the 15th minute by Evan O Neill.
Cloneen were now well on top, Jack Carroll scored another goal in the 17th minute. Graigue responded now and in the 19th min scored their second goal of the half. Jack Carroll then scored 2points for Cloneen in the 20th and 21st min. This was followed by a goal by Ryan Keogh in the 22nd min for Cloneen and just before half time Cloneen scored another point leaving the score at half time 4-4 to 2-1.
The second half got off to more of the same with a goal for Cloneen in the 34th min. Graiguenamanagh were now more on top in the play and got a point in the 37th min followed by a goal in the 38th min and then another point in the 39th min.
Cloneen settled things and scored a point in the 42nd minute by Jack Carroll.
Jack Carroll pointed from a free in the 48th min and scored another from play in the 50th minute. The last Cloneen point came in the 52 min and then Graigue got a point on 55 mins having missed 2 chances from 2 65s.The last point of the game came from a 65 in the 59th min for Graigue and a very enjoyable game ended on the scoreline of
Cloneen 5-7
Graiguenamanagh 3-5.
DUGGAN STEEL U13 ROINN B HURLING LEAGUE
VENUE: Canon Kearns Park
REF: John Mulhall
290422
Erin's Own 2:04 v 11:10 Carrickshock.
'Carrickshock started their Under 13 Roinn B match against Erin's Own without father and son Neil and Liam O'Grady. One coach and one player down but soon after the starting whistle Erin's own were a goal down. The brilliant Sam Mansfield hit his first of 5 goals on the night. Referee John Mulhall was kept busy jotting as the scores kept coming. Cian Franks, Jack Donnelly and Aden Farrell all added to the tally as Carrickshock ended the first half with 5-8 to Erin's Own 2-2. The second half saw mostly one way action as Tom Duggan,  Cian Franks and Jack Donnelly added yet more goals. Erin's Own battle bravely throoughout and were strong around the middle third. Carrickshock ran out convincing winners on the night with 11-10 to Erin's Own's 2-4. Carrickshock currently sit in first place in Roinn B.'
Duggan Steel U-13 Roinn B Hurling League 
29-4-2022
Galmoy/Windgap 3-8                    Graigue Ballycallan  2-4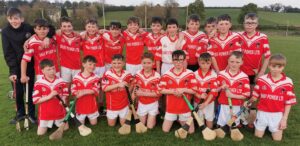 Galmoy/Windgap U-13s recorded their second win in the Roinn B league  against Graigue Ballycallan in Kilmanagh  on Friday April 29th. Graigue were first to register when corner forward Harry Brennan pointed, but  Aidan O Shea soon replied before taking possession of a Conor Power pass and striking to the net from midfield. Gerard Delaney added another from the left hand side in the 8th minute. In the 17th minute, Graigue full forward Conor Egan took a pass from Billy Ronan before blasting to the visitors' net. Aidan O Shea struck over a 65  before the hosts registered their second goal. This time Billy Ronan let  fly on  a ground shot to the corner of the net to give the home side a 2-1 to 1-3 lead after 25 minutes. Graigue Ballycallan goalkeeper James O Connor brought off two good saves from Tadhg Kennedy late in the first half ,the latter one resulting in a 65, which Kennedy converted. Billy Ronan posted  a reply from a placed ball before Aidan O Shea struck his second goal with a sizzler from 45 metres. That left the visitors in front 2-4 to 2-2 at the break. Jack Egan had moved to midfield in a swop with Conor Power just before the break and it was a great burst forward by Egan to rattle the home net which really decided this game. That score left six points between the sides and, try as they might, Graigue Ballycallan could not get back into this game. Their remaining two points both came from placed balls while the winners exerted their control on proceedings .Darragh Enright was good at full back while Noah Murphy brought off at least four good blocks throughout. Up front, Tadhg Kennedy and Aidan O Shea lead the way. For Graigue Ballycallan, David Walton tried hard at midfield while Bill Guiry and Will Cody defended well.
Galmoy/Windgap:George Culleton,David Nolan,Darragh Enright,Aidan Doyle,M J Corcoran ,Jack Egan(1-0),Noah Murphy,Aidan O Shea(2-4,0-3 frees),Conor Power,Danny O Dwyer, Tadhg Kennedy(0-3,0-2frees), Jules Seagrave,Rory Quigley, Joe Moloney, Gerard Delaney(0-1).
Subs:Tadhg Enright for Joe Moloney(inj.) 31 mins , Patrick Delaney for Gerard Delaney 53 mins,Will Moloney for Rory Quigley 53 mins John Kelleher for Danny O Dwyer 57 mins
Graigue Ballycallan: James O Connor,John Hoyne,Bill Guiry,Harry Butler,Darragh Burke,Will Cody,Martin Wall,Tadhg Kenna,David Walton(0-1free),Dara Barut,Billy Ronan(1-2,0-2frees),Charlie Teehan,Sean O Dea,Conor Egan(1-0),Harry Brennan(0-1).
Subs: Tommy Butler for Conor Egan 52 mins,Dean Smith for Harry Brennan 54 mins and Leo Clarke for Sean O Dea 56 mins.
Referee: Kieran Canavan(John Lockes)
DUGGAN STEEL  U13 ROINN C HURLING LEAGUE
VENUE: Pairc na Ratha
REF: John Walsh
27/04/22
Glenmore 2:09 v 2:09 Burren Rangers
The game started very well for Glenmore and they raced into the lead . Goals from Seamus Harney and Fionn Murphy helped Glenmore into the lead in the first half. As the game edged to halftime Burren Rangers came back in last five minutes as Glenmore tired and needed the whistle. Some entertaining hurling as both teams had strong centres to there teams.
As the second half progressed Burren Rangers gradually found there feet. An own goal from Joey Kirby Glenmore set up nervous finish to the match .
It was a game that Glenmore would be disappointed to lose and Burren put over bad wides so on reflection draw is a fair result.
DUGGAN STEEL U13 ROINN C HURLING LEAGUE
VENUE: Slieverue
REF: Eddie Crowley
29/04/22
Slieverue 9:06 v 3:06 Naomh Moling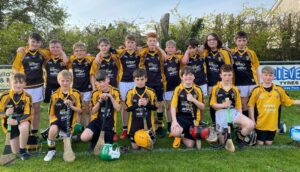 Naomh moling travelled to slieverue friday evening in the under 13
hurling league
Slieverue got into a commanding lead in the first half with sam barrett and liam Smith in particular proving to hard to stop up front getting some great scores
Great credit has to go to naomh moling for there effort to get back into the game in the second half but found slieverue s defence hard to break down
slieverue won in the end with a scoreline of
9-6 (33) to 3-6(15)