KILKENNY HONDA CENTRE MINOR HURLING LEAGUES
KILKENNY HONDA CENTRE MINOR ROINN B HURLING LEAGUE
VENUE:  Inistoige
REF: Anthony Barcoe
18/04/22
Rower Inistioge 0:11 v 1:20 St Martins
St Martins went on the attack straight from the throw in and pointed through the excellent Sean Hunt within seconds of the start. James o Neill followed this up with another to get the visitors off to a flyer of a start. Pj Mackey did put the home side on the scoreboard in a blistering opening 5 mins.  Sean Hunt got another from a free to stretch the lead to two again before James O Neill got a cracker of a goal to set the platform for an excellent St Martins performance.
Pj Mackey had a great opportunity to goal himself only for a brilliant hook by Ewan Buggy at fullback to deny him the score. Up the other end of the field James O Neill was on fire and popped over another point to bring the score to 0:01 v 1:04 with St Martins totally dominant in the opening stages. James O Neill was running riot on the wing and the very impressive Sean Hunt was pulling the strings at his ease at centre forward. St Martins quickly followed up with more points from Jack Coogan and a monster strike from centre back Mathew Bolger before Sean Hunt added two more from placed balls. It was all about the St Martins attack play at this stage but their backs were going well too, young Thomas Shore at wing back was very solid and dealing with his patch very well.
The home side had a few half chances and it was both corner forwards Tom O Callaghan and Pj Mackey who were looking the most likely to produce something. Sean Hunt pointed from play again and it seemed he had the freedom of the pitch as nobody could get near him. The locals got a point from a free 25 yards out but St Martins answered immediately with an excellent score from hard working forward Adam Morrissey. Cian Murphy took the resulting puckout quickly and as it broke on his half forward line , midfielder Donal O Brien lifted the ball and straight from the hurl put the ball over the bar for a top quality point.  The Rower Inistioge were getting some rewards now around the middle third from an earlier switch which saw Tom O Callaghan move from the corner to centre forward. St Martins Sean Hunt added two more before the break , one from a free and one from play with Pj Mackey pointing in between those scores for The Rower Inistioge to bring the half time score to 0:04 v 1:12.
The second half was more of an even contest with the winners only outscoring the home side by a single point. The Rower Inistioge started better in the open few mins with a great point from Donal O Brien and then immediately after that Tom O Callaghan had a great opportunity of a goal only for Ewan Buggy to pull off another top class tackle to deny him again. St Martins introduced Paddy Coughlan at half time and he had an immediate impact at wing forward, putting over a point himself and winning a free foe Sean Hunt to score in the early exchanges. From here on in it fair to say The Rower Inistioge were an even match for St Martins. Cian Murphy pulled off another great save and was playing well in goal and the hosts were putting over a few scores now from frees and from play. Jack Roche was at corner forward now and doing well, winning some good ball and getting his few scores from frees. For St Martins at this stage Michael Keane was hurling well at midfield and he needed to be as his side were under pressure. The Rower Inistioge centreback, Joesph Mulholland, made a brilliant run from his half mid way through the half, had a quick one two with Donal O Brien and brought out a top drawer save from Luke Cahill in the St Martins goal who tipped the ball over the bar. Sean Hunt who had spent the majority of the first 20 mins of the second half at full forward came back out to centre forward to finish the game and he quickly got his side going again. Overall St Martins dominant display in the first half was more than enough with their teak tough backs and the fire power they had while going forward more than enough to come out on top.
St Martins finished deserving winners but huge credit to the home side who came out fighting in the second half and finished well.
Rower Inistioge:  Cian Murphy, Darragh Murphy, Peter Mackey, Mathew Hennessy, Adam Clifford, Joesph Mulholland, Eoin Murphy, Donal O Brien, Cathal Langton, Ewan Gilsenan, John Joe Lawless, Callum McGrath, Tom O Callaghan, Jack Roche, Pj Mackey.
St Martins: Luke Cahill, Peter Downey, Ewan Buggy, Daniel Tallis, Thomas Shore, Mathew Bolger, Colin Hates, Cormac Quirke, Michael Keane, James O Neill, Sean Hunt, Aaron Farrell, Jack Coogan, Christopher Kealy, Adam Morrissey, Paddy Coughlan, Thomas Daly, Jack Dooley, Evan O Shea, Donal Kealy, Michael Ruane.
Kilkenny Honda Centre Minor Roinn B Hurling League
VENUE: Pairc Sheamuis Stiophan
REF: Colin Tobin
19/04/22
Galmoy/Windgap 2-21 v  James Stephens   3-14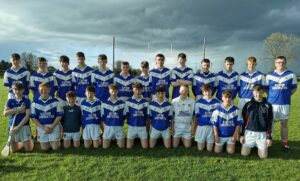 The Galmoy/Windgap minor hurlers recorded their fourth victory  of the League campaign with this win against James Stephens at The Kells Road on Tuesday April 19th.It was the first time this year that Galmoy/Windgap were at full strength and they laid the foundation for victory with an impressive first half showing.  In the third minute of the game, Conor Doyle easily rounded his marker and struck the first goal of the game for the visitors.Within a minute, Joe Cleary did likewise at the other end losing his opponent before batting home from close range. Alan Larkin had also begun  impressively for the home side.The Galmoy/Windgap half back line proved the launchpad for their first half dominance with both Colman Moloney and Niall Drennan also travelling upfield to score impressive points. Along with some valuable contributions up front from James Purcell ,Noah O Shea and Conor Doyle, the combined side lead 1-11 to 1-5 at the interval. A second Conor Doyle goal, in the 32nd minute, after a Noah O Shea pass saw Galmoy/Windgap stretch in to a nine point lead. By the 50th minute they lead 2-17 to 1-9, but James Stephens put in a strong last 15 minutes to reduce the lead substantially. Following three pointed frees by Alan Larkin, full forward Joe Cleary rounded his marker to strike a good goal in the 53rd minute. A further goal in the 58th minute from Andy Murphy following a Rory Holland pass, left just four points between the sides, but Galmoy/Windgap held out to take the league points. Others who did well  for Galmoy/Windgap included ,Jack O Shea,Evan Doyle,Ronan O Brien and Cian O Rourke. For James Stephens,goalkeeper Billy Sullivan was very impressive throughout with some classy saves, while Jack Noonan,Joe Greene and Darragh Lawlor also contributed well.
Galmoy/Windgap:Eoin O Shea, Evan Doyle,Darragh Doyle, John Dermody,Niall Drennan(0-1) ,Colman Moloney(0-1),George Culleton,Cian O Rourke,Ronan O Brien,Jack O Shea(0-1),Michael Freaney,James Purcell(0-7,0-4frees), Shane Lomax,Noah O Shea(0-2), Conor Doyle (2-7,0-3frees).
Sub used: Conor Darcy for Shane Lomax 31 mins,John Power(0-2) for George Culleton 42 mins, Fionn Lonergan for Michael Freaney 51 mins and Alex Culleton for John Dermody 51 mins.
James Stephens:Billy Sullivan,Theo Petrani,Darragh Lawlor,Jamie Peters,Colm Byrne,Rory Harrison(0-1free),Matthew Kavanagh,Liam Rea,Jack Noonan,Rory Holland(0-1),Joe Greene,Andy Murphy(1-4),Alan Larkin(0-7,0-5frees),Joe Cleary(2-1),Colm McPartland.
KILKENNY HONDA CENTRE MINOR ROINN B HURLING LEAGUE
VENUE: Graignamanagh
REF: John Walsh
18/04/22
Graignamanagh 1-17  3-13 Mount Leinster Rangers

After a slow start, Graignamanagh and Mount Leinster Rangers provided an entertaining game in this Roinn B League fixture played at Dr Tierney Park on Monday evening last.
Two early frees from Pauric Kavanagh got Rangers up on the scoreboard but these were countered by a point from Conor Hoolan to get Graig up and running. The rest of the first half belonged to MLR as they showed a level of determination and drive that was missing from the Graig effort. A goal each from Luke Joyce and Pauric Kavanagh along with a pointed 65 by Michael Joyce gave MLR a 2-03 to 0-02 lead midway through the first half. The remainder of the first half went to the Rangers also, as they added a third goal after 22 mins along with points from Tiernan Byrne and Pauric Joyce. Late in the half, Graig added points through Conor Byrne and Sean Hamilton to leave the half time score at Graig 0-04 MLR 3-06
The second half was a much livelier affair as Graig stepped up their efforts and played with a level of determination that had been missing throughout the first half. An early point from Cian O'Shea along with four pointed frees from Sean Hamilton gave Graig a foothold in the game.  Rangers managed to keep the scoreboard ticking over with points from Jack Cummins, Tim Brennan and Pauric Kavanagh. However, Graig continued to close the gap on their opponents as Sean Hamilton put over a further seven well taken points, along with two more from Cian O Shea. Right at the death Hamilton goaled a long distance free to close the gap on Rangers to just two points.
Final score Graignamanagh 1-17  3-13 Mount Leinster Rangers
KILKENNY HONDA CENTRE MINOR ROINN B HURLING LEAGUE
VENUE: Paulstown
REF: Colin Tobin
18/04/22
Barrow Rangers 3:11 v 2:14 John Lockes
The match threw in at 7pm, with the home side taking the early lead with a point from play.  John Lockes looked to strike back and levelled within a minute, before Barrow Rangers rose the green flag in the fourth minute with a precise shot from outside the square.  The home side continued with their quick start, and had a second goal on 8 minutes.  John Lockes keeper did well to stop a shot, but the ball broke loose in front of goal and was put into the net by an alert Barrow Rangers forward.  John Lockes had plenty of possession but sent over  a number of wides but their pressure finally paid with a goal on 16 minutes.  Both sides traded wides and few scores until play was halted with a collision in the middle of the park, with Patrick Purcell of Barrow Rangers clashing heads with his opponent.  The half time whistle finally sounded with Rangers holding a three point lead.
Half time Barrow Rangers 2-04  John Lockes 1-04
John Lockes made a much stronger start, with their centre forward and full forward dominant in and around midfield, gathering up a lot of the home team puck outs and clearances.  John Lockes brought the game level 8 minutes into the half, before taking a three point lead in a 3-minute spell.  Both sides traded points until John Lockes got the rub of the green when a short free struck the keepers hurl but spun into the net.  Barrow Rangers responded with a goal of their own to bring the game to another tie, with 5 minutes left.  Both sides brought replacements on from the bench.  The teams traded points again, with John Lockes getting in front by a point at a time, only for the home team to reply.  It came down to the last puck of the ball, deep in injury time,  when Cathal Purcell drove over another long range free to tie the game that neither team deserved to lose.
Final Score Barrow Rangers 3-11 John Lockes 1-14
DUGGAN STEEL U13 HURLING LEAGUES
DUGGAN STEEL U13 HURLING LEAGUE 13 a side
VENUE: Piltown
Ref: Eddie Crowley
21/04/22
Piltown 1:05 v 7:07 John Lockes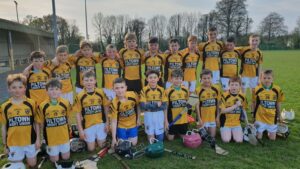 In the first round of the league a very young Piltown played host to John Lockes of Callan.
John Lockes started very well getting their scores a little easier than the home side but the home side were battling very well and some great play all over the field. The Callan side finished the first half to lead by 3:04 v 1:01.
The second half saw both sides introduce a lot of subs. John Lockes continued to find some great scores to continue leading but the Piltown boys put together some lovely passages of play to knock over some lovely scores.
Although Piltown came back stronger in the second half the Callan boys got some great goals and ran out eventual winners.
DUGGAN STEEL U13 ROINN A HURLING LEAGUE
VENUE: James Park
REF: Eoin Hayes
22/04/22
Dicksboro 3:13 v 1:04 O' Loughlin Gaels
The first half saw O Loughlin Gaels  playing with the wind on this sunny but cool April evening. It was a tight 1st half and O Loughlin Gaels were very unlucky to go into the break behind. The team worked ferociously hard, putting in massive effort. Half Time Score OLG: 0-4(4) Dicksboro: 2-3(9) The second half saw Dicksboro get off to a flying start with an early goal but the boys fought hard and got their reward with a great goal and were very close to getting a second but for a fine save. With the team beginning to tire and the advantage of the strong breeze, Dicksboro tacked on some late points to secure victory. These lads will have learned a lot from this 1st match of the season against a strong Dicksboro side. The season is only warming up, lots more to come! Full Time Score OLG: 1-4(7) Dicksboro: 3-13(22)
O'Loughlin Gaels Team Dan O'Brien, Diarmuid Kealy, Andrew Holohan, Gavin Ryan, Lucas Duggan, Ronan Treacy (0-1) Ryan Farrell, Samuel Briers, Ben Fahey(1-0) Kyrell Mtinsi, Felix Fwamba, Cathal Bennett, Conor McCormack, Conor Manogue(0-3) Souley , Oisin Murphy, Arthur Browne, Shay Molloy, Iarlaith O'Reilly
DUGGAN STEEL U13 ROINN A HURLING LEAGUE
VENUE: John Locke Park
REF: Conor Everard
22/04/22
John Lockes 2:05 v 1:04 Barrow Rangers
John Lockes continued the winning streak this week making it 2 wins from 2 for the club u13s, with a closely contested opening league game against Barrow Rangers on Friday night.
The Paulstown outfit were quickest out of the blocks in the first 20 minutes, with some wayward shooting from both teams. The midfield pairing of Jack Bolger and Cathal Fox, and centre back Jake Barcoe, seemed to control the play for most of the first half for Barrow Rangers.
It wasn't until the 22nd minute before the first score was registered, a goal by Barrow Rangers. The Lockes duly responded and settled themselves with two pointed frees by Eoghan Cassin. A further point for each team left the half time score 1-1 to 3pts.
A second half reshuffle of the Callan midfield and forwards, saw Liam Corcoran's shot from the under the stand, make its way to the net! Goal for Callan.
Barrow Rangers continued to battle and never let the Lockes build up any sort of momentum. Midway through the second half the Lockes won possession at midfield and working the ball through the lines, created an opportunity for midfielder Adam Byrne, who cracked home a splendid goal. The Callan boys never looked back and Sean Morrissey popped over a closing point to leave the final score 2-5 to 1-4.
DUGGAN STEEL U13 ROINN A HURLING LEAGUE
VENUE: Gowran
REF: Patrick O Reilly
22/04/22
Young Irelands 5:06 v 0:04 Rower Inistioge
This was a typical game of ''A Game of two halves''.
The first half was a very evenly fought battle and even though the visitors trailed on the scoreboard they might have had the majority of the ball.
The opening score came to the Rower Inistioge when the talented Sean Doyle pointed to put his side one up. This was followed by a very lucky goal from Young Irelands #10 to put the home side in front.  The Rower Inistioge answered excellently when the second of their midfelders , Sam Kelly, got a very very good score off his left side to bring the score back to one point. Again the Gowran boys went up the field and got a goal for themselves which left the score at 2:00 v 0:02. Both sides had a lot of wides too at this stage as both sides were taking their time to settle. The rest of the first half was similar to the opening few mins as for every point the Rower Inistioge got the home side got a goal to leave the half time score 4:00 v 0:04. A big difference on the scoreboard but both teams were contributing well.
With the wind at their backs Young Irelands now pulled away in the second half and added some very good scores to run out winners, one monster score coming from their centre back was the pick of the bunch. The Rower Inistioge battled hard throughout and would definitely have been a lot closer on the scoreboard if ''Lady Luck'' had paid them a visit on the night.
Duggan Steel U-13 Roinn B Hurling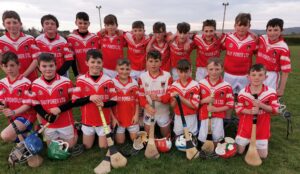 Galmoy/Windgap 7-8         V           Erin's Own  0-5
Galmoy/Windgap U-13s made a successful start to their Roinn B season with this league win against Erin's Own in Galmoy  on Friday April 22nd. Erin's Own were first to register when impressive midfielder John Brennan pointed, but points from Conor Power, Aidan O Shea and Jules Seagrave settled the home side. In the 8th minute, Aidan O Shea unleashed a 30 metre shot to the Comer net which was followed by a similar score from Tadhg Kennedy in the 13th minute after he received a low delivery from O Shea. John Brennan replied for the visitors in the 14th minute, but by half time Galmoy/Windgap had forged into a 2-7 to 0-2 lead. Within 30 seconds of the restart, Will Moloney struck home from close range to increase the lead. Erin's Own did try very hard but met great resistance in the Galmoy/Windgap defence where Darragh Enright and Jack Egan were very strong .Aidan Doyle and Noah Murphy also defended very well while goalkeeper George Culleton brought off some fine saves late in the game. Josh Lawlor pointed three second half frees to keep the visitors in touch, while Kaden Bolster, Billy Byrne and Jack Holden tried their best  also. But further goals from Tadhg Kennedy and Conor Power stretched the hosts' lead. Aidan O Shea at midfield was excellent all through delivering many clever low balls for his forwards.
Galmoy/Windgap:George Culleton,David Nolan,Darragh Enright,Aidan Doyle,Shane Doyle,Jack Egan,Noah Murphy,Aidan O Shea(2-3,0-1free),Conor Power(1-2),Danny O Dwyer,Joe Moloney(1-0),Jules Seagrave(0-1),Will Moloney(1-0),Tadhg Kennedy(2-2),Gerard Delaney.
Subs: Alex Doherty for Danny O Dwyer , Patrick Delaney for Will Moloney and Cathal Barron for Gerard Delaney all at  48 mins
Erin's Own:Leon Phelan,Odhrán McGonigley,Billy Byrne,Cormac Lacey,Rory Bollard,Kaden Bolster,Noah Murtagh,Josh Lawlor(0-3 frees),John Brennan(0-2),Joseph Brennan,Jack Holden,Max Brennan,Michael Mayo,Robin Downey,Liam Lacey.
Subs: Charlie Comerford and Ciarán Meally.
Referee: Peter Burke(Emeralds)
DUGGAN STEEL U13 ROINN C HURLING LEAGUE
VENUE: Glenmore
REF: Gavin Quilty
22/04/22
Glenmore 9:12 v 1:06 Naomh Eoin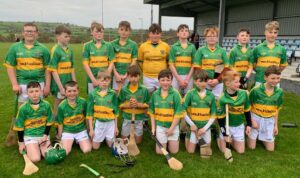 Glenmore won the toss and opted to play with the wind which was advantage. Some great balls into the full forward and the handling was superb resulted in goals for Glenmore.
The first half was dominated by the better team and at  half time Glenmore led 4-9 to 0-01.
Fortunately Naomh Eoin had the wind in second half but never took advantage and the  backs kept them out.
In the end they got a score of 1-6.
The second half had some good passes ,some great forward play in patches but it was all about Glenmore as they were the stronger side and ran out eventual winners.
Final score Glenmore 9-12 Naomh Eoin 1-6.
DUGGAN STEEL U13 ROINN C HURLING LEAGUE
VENUE: Glenmore
REF: Gavin Quilty
22/04/22
Glenmore 9:12 v 1:06 Naomh Eoin
Glenmore won the toss and opted to play with the wind which was advantage. Some great balls into the full forward and the handling was superb resulted in goals for Glenmore.
The first half was dominated by the better team and at  half time Glenmore led 4-9 to 0-01.
Fortunately Naomh Eoin had the wind in second half but never took advantage and the  backs kept them out.
In the end they got a score of 1-6.
The second half had some good passes ,some great forward play in patches but it was all about Glenmore as they were the stronger side and ran out eventual winners.
Final score Glenmore 9-12 Naomh Eoin 1-6.
DUGGAN STEEL U15 HURLING LEAGUES
DUGGAN STEEL U15 Roinn B Hurling League
Tullogher/Rosbercon V Barrow Rangers
Wednesday 20/04/20222 at 7pm at Tullogher
Final Score:   Tullogher/Rosbercon          4-18 
                        Barrow Rangers                  0-08
Tullogher/Rosbercon got off to a great start in this game with a goal from Sean Hanrahan in the first minute of the game.  Barrow Rangers responded with a point from their centre forward, on the 2nd minute.  For the next 6 minutes there was an array of points scored by both teams, with Tullogher/Rosbercon leading 1-05 to 0-04 on the 8th minute.
From here Sean Hanrahan scored his second goal of the evening on the 9th minute, followed by his hat trick goal on the 13th minute.
Unfortunately Barrow Rangers were not to score again in this half, with Tullogher/Rosbercon scoring 4 more points from play on the 16th, 21st 22nd & 26th minutes.
The half time score was:
Tullogher/Rosbercon              3-09
Barrow Rangers                     0-04
As with the first half, Tullogher/Rosbercon started the second half strongly again with a goal from Michael Sydney on the 3rd minute followed almost immediately with a point from Dean Kinsella. Tullogher scored again on the 4th minute, with another point from a free on the 6th minute.  Barrow Rangers responded with a point from their centre forward on the 8th minute.
James Cummins responded with two points on the 12th & 13th minutes for Tullogher/Rosbercon before Barrow Rangers centre back scored from play on the 17th minute.
James Cummins scored another two points for Tullogher/Rosbercon on the 15th & 18th minutes with Barrow Rangers responding with a point from their number 12 on the 23rd minute and their final point of the game on from a free on the 26th minute.
From here Tullogher went on to score two more points before the end of the game.  One from a free by James Cummins and the final point of the game for Tullogher/Rosbercon by Michael Sydney.
Final score:
Tullogher/Rosbercon              4-18
Barrow Rangers                     0-08
DUGGAN STEEL U15 ROINN C HURLING LEAGUE
VENUE: MULLINAVAT
REF: Paschal Connolly
20/04/22
Mullinavat 2:09 v 2:07 Bagenalstown Gaels
Both Mullinavat and Bagenalstown played their first round of the U15 Roinn C League on Wednesday April 20th in Mullinavat.
This was a very close game throughout and both teams were made work very hard. Mullinavats goalkeeper Patrick Aylward kept Mullinavat in the game in the first half where the score was Mullinavat 2pts and Bagenalstown 4pts at half time.
The second half was a higher scoring half for both teams and Mullinavat edged winners by 2pts with the final score Mullinavat 2-9 to Bagenalstown 2-7
Both teams move onto the 2nd round of the league.
Mullinavat: Patrick Aylward, Ben Cantwell, Seamus Rohan, Stephen O Shea, Michael Catt, Louis Madigan, Luke O Donovan, Jack Power, Aaron Aylward, Adam Fitzpatrick, Eoin Aylward (10) , Leo Alyward, Eoin Aylward (16), Edward Bolger, Jim Cantwell, Conor Conway, Cian Kelly, Olly Madigan, Shay Maher,
Bagenalstown: Kyle Clarke, Frank Cushen, Alan Wall, Paddy O Neill, Jake McAssey, David Reddy, Sam Griffith, Luke McGrath, Johh Lissis, Kelan O Sullivan, Rory O Brien, James Brennan, Jack Farrell, Dean O Sullivan, James Cushen, Adam Walsh, Paul Carroll, Filip Kasmarkiewiez, Niall Power, Daniel Whelan, Rory Donohoe, Conor Beck, Aodhan Hickey, Mikey Fenelon, Kyle Lyons, Eric Williams, T.J. Ahmed, Oran Doyle, Danny Travers, Sean Darcy, Matthew Stratton, Kieran Curran, Conor O Neill.
DUGGAN STEEL U15 ROINN C HURLING LEAGUE
VENUE: Bennettsbridge
REF: Willie Kearney
20/04/22
Bennettsbridge 4:12 v 0:07 Ballinkillen
With a perfect evening for hurling it was great to welcome Ballinkillen   of Carlow to play our u15s in the first game of the Rionn C league in Bennettsbridge GAA pitch
With two young teams lining out on both sides it was the bridge boys who settled fast and a few early points from play and never  let the lead go for the rest of the game
Some great movement and fast passing lead to 2 quick goals for Bennettsbridge who lead well at half time. Not giving up Ballinkillen had to take there points  from well outside as the full back line for the bridge were given any space or look at the goal
Some super points from Ballinkillen from play shows they have the skill and accuracy and will trouble some teams in this group
2 more goals and points from the bridge forwards in the second half saw them run out comfortable winners in the end of a great start to the league
With zero cards been shown in the game was a testament to both teams in a fair strong game and for the referee for allowing hurling to be played in a fair manner
We want to thank Ballinkillen for coming and playing in our league and wish them all the best in the rest of the League
Duggan Steel U-15 Hurling League Roinn B
VENUE: Pairc na Seamrog
REF: John Minogue
20/04/22
Ballyhale Shamrocks 4-13                 Galmoy/Windgap 0-10
Three unanswered goals in the first six minutes set up Ballyhale Shamrocks for a good win over Galmoy/Windgap in this U-15 League tie in Ballyhale on Wednesday evening 20th April. Sean Rooney shot the first two majors, before a 60 metre free by Michael Barron also went to the visitors' net. Galmoy/Windgap did steady the ship and hit three quick points from Padraig Egan, John Power and P J Delaney. The home side were in dominant form however, and went on to strike some good points, six in all, to lead 3-6 to 0-4 at the interval. They continued in this vein after the break and lead 3-12 to 0-5 at the three quarter stage, with Aidan Grummel and Michael Barron leading the scoring. Conor Power was introduced for the visitors in the 41st minute and when he took up position in the goal , it released Darragh Enright for a stint up front. Galmoy/Windgap never gave up though and they were rewarded with points from Aidan O Shea, P J Delaney, substitute Tadhg Kennedy, as well as two pointed frees by John Power. Midfielder Cathal Coogan put the icing on the cake for the hosts when his 50th minute free went all the way to the net.
Ballyhale Shamrocks:Theodore Drennan,Sean O Mahony,Killian Ryan,Conn O Neill,Cian Walsh,David Kolodziej,James Ryan, Cathal Coogan(1-0 free),Tommy Walsh,Charlie Lennon(0-3,0-1free),Rian Shefflin,Luke Cummins,Sean Rooney(2-0),Aidan Grummel(0-3),Michael Barron(1-7,0-5frees)
Subs: Donnach Grant  & Jamie Murphy.
Galmoy/Windgap:Darragh Enright,Mikey Saunders,Tom Power,Alyn Hearne,Alex Culleton,Fionn Lonergan, Edmond Power Padraig Egan(0-1 free), John Power(0-5,0-3frees) , Jack Egan, P J Delaney(0-2),Aidan O Shea(0-1),Ryan Whelan, Jack O Dwyer,Sam Moloney
Subs: Conor Power(41 mins), Peter Ryan (43 mins), Tadhg Kennedy(0-1)(45 mins),Joe Moloney(54 mins) & Shane Doyle(54 mins).