The Kilkenny team that will face Wexford in the 5th round of the Leinster SHC has been named.  See graphic below.   The game has a throw in time of 6pm in UPMC Nowlan Park.  The Leinster Club Final between Clara (Kilkenny) and Borris in Ossory –  Kilcotton will take place at 3.45pm in UPMC Nowlan Park. This game will be live on Sky Sports and local radio.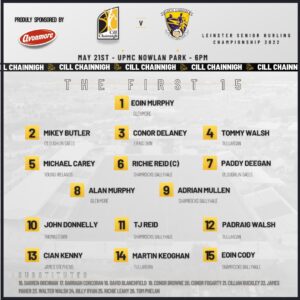 LEINSTER S.H.C. – RD 5 – 21.5.2022 – UPMC NOWLAN PARK
Kilkenny v Wexford @ 6.00pm – Click HERE to purchase
GENERAL
Ardan De Gras & Ardan Breathnach
Adult/Student: €20.00
Juvenile: €5.00
Senior Citizen: €15.00 SENIOR CITIZEN  TICKETS ONLY AVAILABLE TO PURCHASE ONLINE
SENIOR CITIZEN TICKETS NOT AVAILABLE IN CENTRA & SUPERVALU STORES.
(Senior Citizen must enter the Stadium via Stile No: 13 & 21 (Ardan De Gras) Stiles 30 & 33 (Ardan Breathnach) and produce appropriate ID to show they were entitled to have purchased the reduced price Ticket)
ARDAN O CEARBHAILL
Adults/Students/Senior Citizens: €20.00
Juveniles: €5.00
TERRACE
Adult/Student/Senior Citizen: €10.00
Juvenile:€5.00
Wheelchair Tickets:-
The Wheelchair Ticket are free of charge and the Assistant's ticket is €20.
Terms & Conditions
No Rebate on full price Tickets Purchased
Tickets must be purchased in advance
No Ticket Sales at the Venue on Match Day
Match Day Parking
We remind all supporters attending Saturday's game that UPMC Nowlan Park is located in a residential area, please respect that and use designated car parks such as O'Loughlin Gaels, McDonagh Junction and City Centre car parks.
County Hall carpark (access of Maudlin Street) will be left open until 11:00pm on Saturday 21/05/2022 and barrier will be up from 6:00pm that evening
Parking available at O'Loughlin Gaels GAA Club R95 RX63 adjacent to Nowlan Park . Facilities open and showing 1996 All-Ireland Hurling Final at 3pm…to get everyone in the mood. Always a great day at St. Johns Park with lots of match banter.
All are welcome   ⬛🟧     🟪🟨