The Kilkenny team to face Dublin in the fourth round of the Leinster Championship has been named.  Brian Cody and his selectors make just one change to the starting fifteen. The game has a throw-in time of 7pm in Parnell Park, Dublin and will be live on Sky TV and local radio.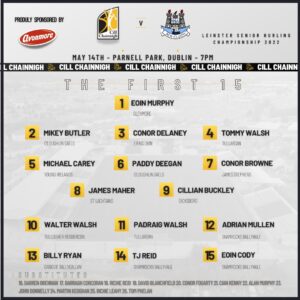 LEINSTER S.H.C. – RD 4 – 14.5.2022 – Parnell Park
Dublin v Kilkenny @ 7.00pm
Click HERE to purchase
GENERAL
STAND
Adult/Student: €20.00
Juvenile: €5.00
Senior Citizen: €15.00 SENIOR CITIZEN  TICKETS ONLY AVAILABLE TO PURCHASE ONLINE
SENIOR CITIZEN TICKETS NOT AVAILABLE IN CENTRA & SUPERVALU STORES.
(Senior Citizen must enter the Stadium via Stile No: 9 and produce appropriate ID to show they were entitled to have purchased the reduced price Ticket)
TERRACE
Adult/Student/Senior Citizen: €10.00
Juvenile:€5.00
Wheelchair Tickets:-
The Wheelchair Ticket are free of charge and the Assistant's ticket is €20.
Terms & Conditions
No Rebate on full price Tickets Purchased
Tickets must be purchased in advance
No Ticket Sales at the Venue on Match Day