KILKENNY HONDA CENTRE MINOR A HURLING LEAGUE
VENUE: Bennettsbridge
REF: Colin Tobin
19/07/22
Bennettsbridge 1-12 v  O Loughlins 3-15
Goals win games and that was the case when Bennettsbridge welcomed  O Loughlin's Gaels for round 11 of the Minor A league encounter.
With a strong breeze in the first half it was the visiting team who dominated the midfield took the early lead with some superb points from play with their accurate passing and forwards shooting from all angles. The O Loughlin's goal in the first half was again the result of the link up play from midfield to the full forward who's shot took a hard bounce in the square and deceived the Bridge keeper leading to the opening goal of the game.
Not to be outdone and some great running from Timmy Kelly from a roving forward position seen the Bridge right back into the game with a well taken goal, but it was the visitors holding the advantage at half time by 2 points.
The second half was much the same with the O Loughlin's midfield pushing more forward and linking with their forwards and putting huge pressure on the Bridge full back line, it was a one on one save from the Alex o Farrell in the goal kept the Bridge in the game but only for a short period of time.
Relentless pressure and some tiring defenders and from midfield the Bridge, led to 2 goals from unmarked O Loughlin's forwards that the keeper could not keep out.
With no goal treat from coming from the Bridge in the second half they had to rely on scores from play and the ever accurate James Hughes from frees to just keep in the game but they never looked like getting enough scores to reduce the deficit and O Loughlin's ran out the deserved winners on the night.
Kilkenny Honda Centre Minor Hurling Roinn C League
Burren Rangers                                 4-18
Conahy Shamrocks                          2-12
A strong and skilful Burren Rangers side got the better of a young Conahy Shamrocks side in the Kilkenny Honda Centre Roinn C League, played in Jenkinstown on Monday last, July 4th. The Carlow men were dominant throughout, despite the honest effort shown by the home side who battled hard against their more physically stronger opponents.
Burren Rangers established their superiority early on with early goals from Shane Duffy and Billy Nolan. Though Conahy responded well in spite of this setback, with excellent points from Darragh Hennessy, Daniel Mooney and Jack Rhatigan, and indeed managed to restore parity as the half time break approached with a well taken goal from Daniel Mooney. Burren Rangers did manage to take the lead once again with good points from Darragh Byrne, Billy Nolan and Oisin Lyons to lead 1-11 to 1-9.
Burren Rangers, with the benefit of the wind at the backs for the second half, were able to slowly but surely increase their lead as the half progressed. Their strong spine to their team, with Evan Corr, Daniel Bolger, Jake Nolan, Darragh Byrne and Billy Nolan were particularly to the fore for the Carlow men. However, Conahy worked tirelessly throughout the half to keep in touch, in particular John Kennedy, Sean Dunne and Darragh Hennessy. With the scores at 3-16 to 2-12 as the final minutes approached, a final scoring burst of 1-2 by Burren Rangers eventually put paid to any faint hopes that Conahy had. In all, this was a most entertaining game, and great credit should go to both teams for the high level of skill on show.
TEAMS
Burren Rangers: Jimmie Carroll, Oisin Doyle, Cian O'Byrne, Johnny Maher, Evan Corr, Lorcan Kinsella, Daniel Bolger, Jake Nolan, Oisin Lyons, Darragh Byrne, Cathal Gorman, Shane Duffy, Billy Nolan, Dara Connolly, Eoin Doyle, Adam Tobin, Tadhg Hutton, Aidan Brophy.
Conahy Shamrocks: Tommy Mulhall, Rory Dunne, Conor Hennessy, Killian Lacey, Jake Dooley, John Kennedy, Darragh Horgan, Sean Dunne, Ben Duggan, Andrew O'Connor, Darragh Hennessy, Jack Rhatigan, Adam Morrissey, Daniel Mooney, Patrick Kennedy, Brian Phelan.
Kilkenny Honda Centre Minor Roinn B Hurling League Round 9:           19-7-2022
The Harps  6-19                                 Galmoy/Windgap 3-19
Six first half goals set up the Harps minors for a good win over Galmoy/Windgap in this Roinn B League tie played in Galmoy  on Tuesday July 19th. Five of those goals came from their full forward line, who had the edge over the home defence with centre forward Eoghan Murphy rowing in with the fifth. Fielding five players who  were members of the Laois Minor Squad who defeated both Kilkenny and Wexford, the visitors lined out without a further two county minors in Mark Downey and Justin Duggan. The remaining five, Bobby Murphy, Ciaran Flynn, Liam Kirby, Eoghan Murphy and Will Duggan all had a big influence on the outcome here. Following early strikes from Darragh Townsend and Liam Kirby ,Galmoy/Windgap recovered well to draw level after 13 minutes,0-8 to 2-2. Five of those eight points came off the stick of James Purcell, along with a brace from Conor Doyle and Ronan O Brien. The Harps did most of the damage in the second quarter with four more green flags to lead 6-7 to 0-14 at the half time break.
The second half was a well fought affair with the Galmoy/Windgap defence tightening up thanks to some fine defending by Darragh Doyle, Fionn Lonergan and Niall Drennan. Up front, James Purcell continued to knock over some nice points, while Conor Doyle, now placed at full forward, became a central figure hitting two goals from play and one from a 20 metre free to reduce the margin. By the 47th minute, the deficit was back to a manageable five points, 6-13 to 3-17. However, a flurry of points from Eoghan Murphy and Hugh Whelan extended the visitors'  lead and they were convincing winners in the end. All in all a well contested encounter with some fine scores from both sides.
The Harps: Ethan Lafferty,Aaron Mahon,Shane Shortall,Ned Duggan,Neil Stanley,Ciarán Flynn(Capt.),Cormac Dunne,Will Duggan(0-2),Bobby Murphy(0-2),Hugh Whelan(0-5,0-1free),Eoghan Murphy(1-5,0-1free),Lochlan Curran,Ross Deegan(2-1),Liam Kirby(1-4,0-2 frees),Darragh Townsend(2-0)
Subs Used: Eoin Delaney  and Conor O Brien.
Galmoy/Windgap:Eoin O Shea, George Culleton,Darragh Doyle, John Dermody(Capt.), Niall Drennan(0-1)  , Colman Moloney , Fionn Lonergan ,Cian O Rourke,Ronan O Brien(0-3), Jack O Shea(0-1), Michael  Freaney, James Purcell(0-12,0-2 frees) , Conor Doyle (3-2,1-0 free), Noah O Shea, Conor Darcy
Sub used:  Shane Lomax for Michael Freaney 51 mins, Alex Culleton for Conor Darcy 51 mins,Michael Freaney for Colman Moloney inj. 59 mins.
Referee: Peter Burke(Emeralds)
KILKENNY HONDA CENTRE ROINN B MINOR HURLING LEAGUE
VENUE: John Locke Park
REF: Willie Kearney
19/07/22
John Lockes 4-16 Fenians 1-10
A strong opening half by John Lockes against a strong wind proved the difference in their final league match against Fenians.
The John Lockes full forward line helped themselves to 4-4 during this period, with Harry Madigan and Ollie O'Donovan scoring 2 goals each and Zak O'Halloran creating some great chances.
Tomas Roche at 11 was strong throughout. Ryan Roche at midfield and Michael Lynch at 6 battled hard all game against top Fenians players.
Fenians were the better team in the opening exchanges of the 2nd half, but John Lockes took a foothold after 15 mins and finished the stronger, with substitute Robert Jackman helping himself to 3 good points and Harry, Ollie and Zak chipping in with points as well. After a slow start to the 2nd half, Ryan Roche stormed into the game scoring 1-1, with Tomás Roche adding 5 points.
Kilkenny Honda Centre Minor Roinn B Hurling League Group A
St. Patricks vs Mount Leinster Rangers Tuesday 19th July
Venue: St. Patricks GAA Grounds
Half- time score: Mount Leinster Rangers 0-7 St. Patricks 0-7
Full time score: Mount Leinster Rangers 1-10 St. Patricks 1-13
Referee: Sean McMahon
A 24-hour delay due to the homecoming of our senior hurlers meant that the last round of the league was pushed to Tuesday evening instead of the customary Monday night for Minor league matches. The heatwave was also postponed as the evening drew breezy and chilly as Mount Leinster made their way to Ballyragget. The last league match for both teams and as it stood Mount Leinster were set to finish second and the St Patricks men third. Mount Leinster having won five of their seven matches, St. Patricks had won four of their seven.
It was 7 mins before there was an opening score with an unlucky shot hitting the post twice by St Patricks and a few wides by Mount Leinster but eventually St. Patricks opened the scoring with a point. They scored a second before the Mount Leinster men took the reins and scored a point from play followed by a third from the Ballyragget side and then three further points from Mount Leinster meant that after 20 mins the sides remained level. A slow-paced match with a lot of stops and starts meant there was not much happening between starts and being able to get a point seem quite difficult by both sides. By the end of the first half, it stood at 7 points each.
It was Mount Leinster who opened the scoring in the second half, but the pace stayed the same. Both sides giving everything they had and battling it out ferociously for even a point, but the sides stay pretty level the whole through, though from a spectator standpoint St. Patricks seemed the stronger side. It was not until the 24th minute of the second half that any bit of drama happened when Mount Leinster Rangers produced a stunning goal that really nobody was expecting. It put them in the lead for a short while, only for St. Patricks to reciprocate with a goal of their own 5 minutes later. As the match stopped and started at snail's pace with several injury stoppages and frees given, St. Patricks finished off the match with a free and a three-point advantage. Final score St. Patricks 1-13 Mount Leinster Rangers 1-10
A hard battle by two very level sides- very little separating them through out the match. In the end, they now had both won five of their eight league matches but Mount Leinster Rangers remain second in the league and St. Patricks miss out remaining third, both on ten points but scoring difference separating the sides.
Kilkenny Honda Centre Minor Roinn B Hurling League
St. Patricks vs St. Martins
Date: 11/07/2022
Venue: St. Patricks GAA grounds
Referee: Peter Burke
Half time Score: St. Patricks 2-8 St. Martins 3-13
Full time score: St. Patricks 4-16 St. Martins 4-21
The heatwave eased Monday evening for a thoroughly enjoyable cool evening as St. Martins travelled to Ballyragget for the next round of their league campaign.
A must win for St. Patricks who currently sit third in the table. St. Martins having played seven matches, had yet to lose one. Both sides wanted to prove their abilities and were willing to work hard to do so.
St. Patricks opened the scoring with a point from play. St. Martins settled with two points followed by a third from a free. By the fifth minute St. Patricks drove forward and scored a spectacular goal narrowing St. Martins lead. It was easy to say from the opening five minutes that this was going to be tight match. It was already hard hitting, fast paced with shoulders and knocks, both stepping up to a entertaining standard of hurling. A spectators delight.
Points back and forth between the two sides for the next five minutes until some great play from St. Martins and a tight strike from the corner angle ended in a goal. St. Patricks responded almost immediately with a fast goal of their own that no one seen coming and two minutes later St. Martins dropped a long ball over the head of St. Patricks goalkeeper and into the back of the net. A rollercoaster of play from both sides.
Three goals scored within five minutes was a great indication of how this match was going to play out. Though St. Martins were clearly a stronger side, it was evident that St. Patricks were going to give it everything they had. St. Martins almost got another goal chance near the end of the first half but were denied when a free was given instead to the Ballyragget men. Points were hard earnedby both sides for the remainder of the side with the half time score leaving eightbetween the sides. St. Patrick 2-8 St. Martins 3- 13
The second half was a replica of the first half. Hard hitting, fast paced, tough hurling. Both sides fought and worked hard and gave it everything! St. Patricks again opened the scoring with a beautiful goal after five mins, followed swiftly by a point immediately narrowing St. Martins lead in half. St. Martins took their points when given the opportunity and never looked in danger of dropping their control of the match. It was not long before they had regained their comfortable lead again. St. Patricks continued to drop over points and win some frees and with less than ten minutes to go, scored a spectacular goal to narrow the lead again. A red cardfor St. Martins number 6 might have given St. Patricks an advantage but St. Martins held on tight and just before the full-time whistle scored their fourth goal and followed it up by two more points and left five points the margin at full timemark.
Full time score: St. Martins 4-21 St. Patricks 4-16
Duggan Steel U-15 Hurling League Roinn B Round 8:                    20-7-2022
St Lachtains 4-12                   Galmoy/Windgap 2-9           
A strong finish saw St Lachtains take the points in this U-15 clash at Galmoy on Wednesday July 20th. Indeed, the visitors also made a very good start to the game, as they lead 0-6 to 0-0 after just eight minutes of play, with team Captain Cian Donnelly striking five of those points. Galmoy/Windgap eventually got going thanks to a brace of points from P J Delaney and one from Ryan Whelan. In the 18th minute a long delivery for St Lachtains by Michael Bergin was finished to the home net by centre forward Martin Campion to give his side a 1-6 to 0-3 lead. Five minutes later P J Delaney finished off a good run in from the left with a decent goal. In the 25th minute Delaney was felled in the square when advancing on goal and Fionn Lonergan made no mistake with the resultant penalty to level the game 2-4 to 1-7.Disaster struck on the stroke of half time for the hosts, when a long free in by Cian Donnelly dropped in to the square with Bobby Darcy reacting quickest to finish to the net and give St Lachtains the edge at half time 2-7 to 2-4.
Charlie Kavanagh stretched that lead with a quick point after the break but his side didn't trouble the scorekeeper for a full 15 minutes more. In the interim, Galmoy/Windgap made in roads on the St Lachtains'  lead with a pointed free each from P J Delaney and Fionn Lonergan. Jack Egan had been switched up to the full forward line and he made a big second half impression. He rowed in with a 37th minute point, while P J Delaney levelled the game in the 39th minute, 2-8 apiece. It was Cian Donnelly from a 70 metre free who ignited the charge for the visitors again in the 45th minute.We then went six minutes without a score before a speculative shot from Bobby Darcy hopped off the hard ground into the roof of the net. Darcy followed up in the 54th minute with a sizzling low shot and it was now game, set and match despite the best efforts of Alex Culleton, Conor Power and Aidan O Shea for Galmoy/Windgap in addition to the scorers.
St Lachtains:Michael Murphy, Jack Dalton,Tadhg Bolger,Michael Hickey,David Ryan,Liam Kenny Landers,Jamie Denieffe,Colin McGree,Michael Bergin,Bobby Darcy(3-1),Martin Campion(1-2),Charlie Kavanagh(0-1),Cian Donnelly(Capt.)(0-8,0-6frees),James Flynn.
Subs :Jack Marnell for James Flynn 34 mins,Paddy McCarthy for Bobby Darcy 56 mins and Tristan O Kane for Charlie Kavanagh 59  mins
Galmoy/Windgap: Sam Moloney , Darragh Enright, Alex Culleton, Conor Power Edmond Power, Fionn Lonergan(Capt.)(1-1 frees) , Jack Egan(0-2), Jack O Dwyer, Aidan O Shea,Mikey Saunders, P J Delaney(1-5,0-3frees), Ryan Whelan(0-1), Shane Doyle,Joe Moloney .
Referee: Peter Burke (Emeralds)
DUGGAN STEEL ROINN B HURLING LEAGUE
VENUE: Pairc na Ratha
REF: John Walsh
20/07/22
Glenmore 3:11 v 2:14 Graignamanagh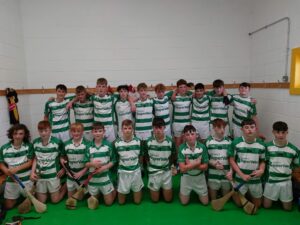 On a lovely Summer's evening, thankfully cooler after the searing afternoon heat, Glenmore hosted Graiguenamanagh in Parc ná Rátha in the U15 Roinn B League.
Both sides started brightly with Graigue's Number 10 Conor Hoolan first off the mark with a point from the wing followed by a sixty-five from mid-fielder Cian O'Shea.  Glenmore immediately replied with a Free from Jason Cody and James Reid from play.   Graigue's next attack yielded another 65 which O'Shea converted and then added another point from play.   Against the run of play, Cody goaled for Glenmore to push them a point ahead with 15 minutes gone.  From the puck out the ball was worked up the field to Sean O'Grady who crashed it to the back of the Glenmore net and O'Shea scored another Free to push them 3 ahead.  Jack Dollard, the only Glenmore back holding his own fired over a point before the visitors hit a real purple patch.  First Jack Connolly got a point and then O'Grady who gave the Glenmore fullback line a torrid time struck for a second goal and added 2 more points for good measure.  Cody intervened with a point from play before O'Grady had the last say with a point to leave the half time score to 2-09 to 1-04 for Graigue after an entertaining half-hour of hurling.
Glenmore had the first score of the second-half, a point from Cody but Graigue hit back with 2 beauties from half-back Senan Kelly and mid-fielder O'Shea.  After some missed chances and dogged defending from both sides, Cody went on a scoring run of a goal and three points without reply to leave 3 between the sides – Game On!   O'Shea stopped the momentum briefly with another point before Cody replied with a Free and then after a few minutes of stalemate, the ball ended up bobbling around in the Graigue goal-mouth after failing to be cleared and was scrambled over the line with Aaron Talbot getting the final touch – Draw Match !   Glenmore were now on top but started going for Goals – their only reward was 2 65's converted by Reid.  Graigue held on and O'Shea knocked over 2 points to level it up again with time almost up.   With the last attack of the game, Glenmore had the ball in the net again but John Walsh adjudged it to be a square ball and blew the final whistle on the free out to end a great, tough, physical game with a draw probably being the fairest result.
Full Time:            Glenmore                            3.11
Graiguenamanagh           2.14
Teams (Glenmore)          C. Walsh, M. Cody, C. Hennessy, R. Heffernan, R. Halligan, J. Dollard (0-1), D. Connolly, J. Reid (0-3 – 2 65's), O. Mullally, A. Talbot (1.0), J. Cody (2-07 – 3 Frees), R Atkins, H. Beirne,
Fitzgerald, C. Doherty.  Subs:  S. Harney and C. Mackey
Graiguenamanagh           R. Murphy, C O'Neill, P. Phelan, R. Cleary, O. O'Brien, J. Brown, S. Kelly (0-1), K. Redmond, C. O'Shea (0-8 – 2 Frees, 2 65's), C. Hoolan (0-1), J. Connolly (0-1), J. Kennedy, F. Stafford,
O'Grady (2-03), D. Hoare.   Subs:  K. Murphy, P. Hayden, T. Breen, H, Antonesa, L. O'Brien and H. Tierney.
DUGGAN STEEL U15 ROINN B HURLING LEAGUE
VENUE: Dr Tierny Park
REF: John Minogue
13/07/22
Graignamanagh 5:11 v 0:08 Rower Inistioge
Graignamanagh played host to near neighbours and great rivals The Rower Inistioge for this u15 clash in the picturesque setting of Dr Tierney Park.
It was the visitors who started faster and registered two early scores to settle the nerves as they went two points up. Graig forward Sean O Grady then opened the scoring for the home side with a goal and they never looked back really from there with a lot a damage done in the first half. Through Jack Roche who registered 2 points and Ned Spellman & PJ Mackey each getting one they had 4 points at half time but the home side had put together 3:05 and this proved the big difference, Sean O Grady and Jack Connolly adding two more goals.
The visitors stayed in the game throughout but the home side added two more goals in the second half through Daithi Hoare and Killian Redmond to see out a well earned victory for the home side. Jack Roche did well for The Rower Inistioge finishing with 4 points but the home side finished with 6 different scores on the night including 5 points from the impressive Cian O Shea and 2:05 from the equally impressive Sean O Grady.
DUGGAN STEEL U15 ROINN C HURLING LEAGUE
VENUE: Mullinavat
REF: Richard Dowling
Mullinavat V Tullaroan -_July 20th 2022
Mullinavat played Tullaroan in round 7of the U15 Roinn C League on Wednesday July 20th in Mullinavat.
Thankfully for both teams it was a cooler evening compared to previous evenings. The opening point of the game came from Mullinavat's Jack Power where Mullinavat dominated the first half with a half time score of 3  -13 to Tullaroan 4pts.
The second half played out similar to the first half with Tullaroan's first sore coming 15 minutes into the second half, although Mullinavat stayed on top, Tullaroan produced more scores in the second half but this was not enough for a much stronger Mullinavat side.
The final score was Mullinavat 5 -21 to Tullaroan 1 – 12
Both teams move onto the 8th round.
Mullinavat: Patrick Aylward, Ben Cantwell, Seamus Rohan, Stephen O Shea, Michael Catt, Louis Madigan (1-12 (7 frees)), Jack Power (1-2), Aaron Aylward, Adam Fitzpatrick (2-4), Eoin Aylward, Edward Bolger, Luke O Donovan (1-0), Cian Kelly(3pts), Olly Madigan, Shay Maher, Jim Cantwell, Donnacha Corcoran, Cathal Aylward, Odhran Woods
Tullaroan: Noah Braben, Dylan Breen, Rory Buckley, Eamon Delaney, Jack Hennessy, Daire Hogan, David Holland, Thomas Holmes, Ben Leahy, Johnny Leahy, Ciabhan Maher, Cian Maher, Ryan Maher, Cillian Murphy, Michael O Mahony, Ruari O Shea, Cillian Pollard, Cathal Russell, Ethan Russell.
DUGGAN STEEL U15 ROINN C HURLING LEAGUE
VENUE: Tullaroan
REF: Vivienne Holmes
13/07/22
Kilmacow 4-17 Tullaroan 1-6
On a sunny Wednesday night Tullaroan welcomed kilmacow for round 6 of the hurling league. Kilmacow came out stronger scoring a goal from a free after 3 minutes followed quickly by a goal from play. It took Tullaroan almost 20 minutes to settle & register their first score. At half time kilmacow led by 3-9 to 0-03. Tullaroan rallied in the second half despite being short some of their regular players. Kilmacow however were the stronger side and ran out comfortable winners.