The Kilkenny Footballers had an action packed weekend playing the All-Ireland Junior semi-final on Friday in Abbottstown and claiming a 3-11 to 2-9 victory over London.   This win set the cats up with a spot in the All-Ireland Final against the other victorious semi-finalists, New York.   The final was the precursor to the Kerry/Dublin game in Croke park on Sunday.
The Cats put in an incredibly solid performance and were in control for large parts of the game.   The final few minutes saw Kilkenny claim two goals which secured the All-Ireland title for Christ Walsh's men on a 3-12 to 1-9 scoreline.   Well done to Christy, his backroom team and the panel.
Click here for a match report courtesy of Robert Cribbin, Kilkenny People
Click here for images courtesy of Sportsfile.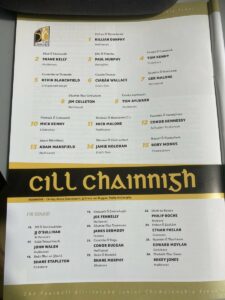 Additional panel members are:
Liam Dunphy (Lisdowney)
Thomas Roche (Railyard)
David Griffin (Thomastown)
David O'Carroll (Lisdowney)
Ciaran Cooney (Railyard)
Jack Kavanagh (Emeralds)
Vincent O'Grady ( O'Loughlin Gaels)
Kieran Whelan (Railyard)
Danny Monks (Thomastown)
Ciaran Farnan (Railyard)