MW Hire Dunmore playing host to some cracking finals
DUGGAN STEEL U15 ROINN A LEAGUE FINAL
VENUE: MW Hire Dunmore
REF: Eoin Hayes
10/08/22
Dicksboro 3:23 v 2:14 Erins Own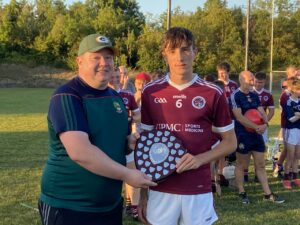 On what was a scorching evening for this League Final both teams must get great credit for giving it everything under a very warm Sun.
The first half was a very even and extremely competitive as Erins Own kicked off proceedings. Lightening full forward Jake Connery had 1:01 on the scoreboard just seconds after Eoin Hayes had thrown in the ball. The goal was excellently taken as he gathered the ball out in front of his man, turned and had one thing on his mind and finished passed Ciaran Power in the 'Boro goal to give the Comer boys the perfect start. Both sides traded scores through Anthony Clifford for the 'Boro and Kevin Buggy for Comer before the city boys added 4 in a row to go one up with maybe Anthony Ragget getting the pick of them with an impressive point from near the sideline. Thomas Treacy had started well and was looking very dangerous at #15 for the Boro and was on the scoresheet early too. The sides were level for the last time at 1:04 v 0:07 when Anthony Clifford found the net after some great worked from team mate Patrick Lacey to create the chance. Erins Own continued to bring the fight to Dicksboro through some excellent play from Tristan Daly, Bobby Brennan and in particular Robert Coogan at midfield was excellent. Up front Kevin Buggy and Jake Connery were continuing to find scores. Dicksboro just seemed to be a little more balanced all over the field and just stayed doing the right things, winning plenty of ball and taking their scores when on. At half time Dicksboro were up by three on a score of 1:11 v 1:08.
Erins Own did get the first two points of the second half with a screamer of a point from Bobby Brennan from a huge distance followed by a free from Kevin Buggy which he had won himself to bring the them within one point of the winners but that is as close as they got as Dicksboro who had other plans in mind. A brilliant old fashioned corner forwards goal from Thomas Treacy got his team going when he followed the play in and as the ball came out he buried the ball to the Comer goal first time from the ground, wind in their sails and Comer needed to respond quickly but it was Dicksboro who got three unanswered points and set the platform for their win. Kevin Buggy did reply with a free when he was again brought down ,followed by a Jake Connery point but the Dicksboro boys went on a rampage then scoring from all sources. Louis Ragget, Bill O Shea, Eoin Moore, Anthony Clifford ,Thomas Treacy and Patrick Lacey all adding points while Patrick Lacey got a well deserved goal.  Jake Connery who had gone a little quiet at the start of the second half roared back into action adding a further 1:01 and won a free which Kevin Buggy pointed. Overall Dicksboro were derserving winners with a very impressive full forward line scoring 2:08 from play but Erins Own did add greatly and both teams are now primed for Championship hurling.
Final score was Dicksboro 3:23 v 2:14 Erins Own
DUGGAN STEEL U15 ROINN C LEAGUE FINAL
VENUE: MW Hire Dunmore
REF: Conor Everard
09/08/22
Bagenalstown Gaels 3:04 v 4:12 Mount Leinster Rangers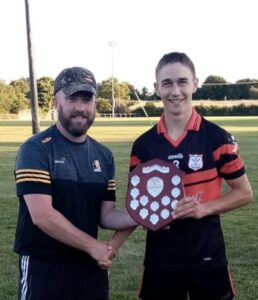 MW Hire Dunmore again played host to a League Final when the Roinn C decider matched novel pairing Bagenalstown Gaels and Mount Leinster Rangers to see who claimed top spot.
The scoring started quickly when MLR captain Ruairi Murphy pointed from midfield in what was the start of an excellent performance throughout from him. A few wides from both sides followed as both teams struggled to settle but a great finish from James Brennan running in at goal from a tight angle was enough to kick start the game and put Bagenalstown Gaels in front. Conor Beck , starting at #12, added two more points quickly for BG and he was soon assigned a new marker with Dean O Sullivan moving out from cornerback to try put the shackles on him. MLR responded well with 3 points from Ruairi Murphy, one from a placed ball and two crackers from distance to keep his side ticking over and bring the deficit back to one point. Both full forward lines were getting plenty of ball at this stage but were failing to do anything with it or ask anything of the goalkeepers but maybe this was down to some brilliant defending, in particular Eoin Hayes and Harry Griffith were doing well for MLR but so to was Alan Wall, Dean o Sulliavan and Sam Griffith for BG. The final score of the half came when BG midfielder John Lillis pointed from a free from 30 mtrs out to bring the half time score to 0:04 v 1:03 in favour of Bagenalstown Gaels.
The second half was a totally different encounter with plenty of scores and  both teams a lot more composed on the ball, especially when scoring chances came about. BG did open the scoring , luckily, when a long range free somehow found its way to the back of the net. This did more to help MLR than anyone and seemed to light a fire under them. Darragh Coleman, wearing #21 and now at corner forward, took the game by the scruff for MLR and was very positive with ball in hand. His first attempt at running at the BG backs yielded him a free when he was pulled down on route to goal, free pointed by Ruairi Murphy. His next attempt was more successful , he gathered the ball close to the end line and cleverly beat the BG keeper with a flick on the ball to the roof of the net. GAME ON!!! Ruairi Murphy and Kyle Nolan added two more points from play for MLR and John Lillis added one from a free to keep the sides level at 1:07 v 2:03.  This was the last time the sides were level as MLR found top gear adding a further 3:05 in the remainder of the game, Aidan Kelly, Eoin Doyle and Darragh Coleman with his second adding the goals. Kyle Nolan added two of the points, one off each side with one being a cracking point over his right shoulder and the very impressive Ruairi Murphy adding the other three. BG sub Paul Carroll did get a goal in the dying stages of the game but the damage was done at this stage and Mount Leinster Rangers ran out deserving winners on a score of 4:12 v 3:04.
DUGGAN STEEL U15 ROINN C (13 A SIDE) LEAGUE FINAL
VENUE: MW Hire Dunmore
REF: Richard Holland
28/07/22
Danesfort 2:08 v 3:17 Young Irelands
MW Hire Dunmore hosted Danesfort and Young Irelands for this U15 league final, it was set up to be a classic as Danesfort had beaten Young Irelands by the minimum just 7 days previously in the last round of the league. This however was a very different encounter as apart from Danesfort opening the scoring it was a very convincing win for a very strong Young Irelands team.
Darragh McCabe opened the scoring with a free in the early stages to put Danesfort 1 point up. Young Irelands then registered 1:04 without reply to set the tone for the match. Kieran Carter levelled firstly and Ben Drennan got 3 points with a goal sandwiched in the middle by the very impressive Aidan Keating. Young Irelands going very well now but the young Danesfort side never dropped the heads and battled well getting two points on the trot, a point from corner forward Niall Dwan and a score worthy of any final from centre back Darragh McCabe.  The Gowran men responded well with a pointed free from Aidan Keating before Darragh Mcabe added another from distance for Danesfort. Kieran Carter put the ball over the bar just before half time to bring the score to 1:06 v 0:04 at the break. Young Irelands well on top at this stage with Kealan Barcoe, Aidan Keating and Kieran Carter performing well in the opening half. Darragh McCabe and Jethro Duffin leading the charge for Danesfort.
Oisin Barry opened the scoring quickly after the restart for Danesfort to bring the difference back to two points with a goal but this unfortunately was the nearest they got to Young Irelands for the rest of the game.  Young Irelands went on a scoring spree with points from Aidan Keating, Kealan Barcoe & Kieran Carter and goals from Ben Drennan  and Aidan Keating  to put too big a gap between the teams for any hope of a Danesfort comeback but the young boys in black & amber still didn't give up. They got a goal through Oisin Barry again and put over a few more points to finish the game the stronger team in the last quarter. Lorcan Mahony registered a well deserved point as he put in an exceptional second half while Darragh McCabe scored what might have been the score of the game with a point from a sideline ball. Kieran Carter again with the final score of the half with a point for Young Irelands.
The final score was 3:17 v 2:08 to Young Irelands who were by far the stronger team on the night.
KILKENNY HONDA CENTRE ROINN C MINOR LEAGUE FINAL
VENUE: MW Hire Dunmore
REF: Peter Burke
05/08/22
Tullaroan 4:07 v 5:10 Burren Rangers
Peter Burke from Emeralds took charge last Friday in MW Hire as Tullaroan and Burren Rangers from Carlow played out a close and exciting Roinn C league final.
Tullaroan were first to strike with two goals on the scoreboard early to rattle Burren Rangers, Ciallan Brennan pounced first and Cathal Russell quickly followed when he caught a high ball and finished well.  With Ciallan Brennan at #11 for Tullaroan getting on plenty of ball early he was causing problems for Burren Rangers and only for some wasteful shooting from the north Kilkenny side they would have had a healthy lead built up in the first half. Burren Rangers too were very wasteful in the opening half with a large number of wides themselves and struggling to settle into the game. Firstly they dropped Evan Corr in as an extra defender and this seemed to get a handle on Ciallan Brennans influence in the game and cut out the space the Tullaroan forwards had created, secondly they started hitting the target. With 2:02 scored in two mins Burren Rangers had now arrived and we were on for a cracking encounter, the pacey Shane Duffy netting first after a great run and Daniel Bolger following up immediately with another goal. Charlie Cleere with two frees and a point from play from Ciallan Brennan kept Tullaroan ticking over but Burren Rangers had now raced into a 3 point lead with points from Jake Nolan, Shane Duffy and Billy Nolan but seconds left on the clock before half time the ball reached Ciallan Brennan who was now at fullforward for Tullaroan and he goaled to leave it all square at half time on a scoreline of Tullaroan 3:03 v 2:06 Burren Rangers.
The second half had a bit more quality in terms of shooting with both sides less wasteful. Burren Rangers put some cracking scores over the bar with Jake Nolan adding two and both Billy Nolan & Daniel Bolger adding one each all from play. On the other hand Tullaroan registered one point from play in the second half through Ciallan Brennan and the rest of their points were from Charlie Cleere frees, the lack of scoring chances for Tullaroan has to be down to the brilliant defending of Burren Rangers, Evan Corr in a sweeping role in particular was exceptional in the second half. The big difference between both teams at the final whistle was that old cliché '' goals win games''. Ciallan Brennan did add another for Tullaroan when his 21 yard free was saved and rebounded out to him to blast to the net but Burren Rangers added three goals in the closing stages , Evan Corr, Daniel Bolger and Shane Duffy all getting one each.
Burren Rangers  probably derserved their win in this final with a very well balanced team with some brilliant individual performances, once they got going they looked very comfortable on the ball and their movement with and without the ball was excellent. Dropping Evan Corr in as seeper was one big thing that worked well for them and their very dangerous full forward line did plenty of damage when they got they got going, finishing with a total of 3:05 from play.
KILKENNY HONDA CENTRE MINOR ROINN A
VENUE: Palmerstown
REF: Richard Holland
25/07/22
Dicksboro 2:13 v 4:15 Clara
Palmerstown played host to a highly competitive and physical league fixture between Dicksboro and Clara GAA this past Monday night in the Roinn A league. A top four finish was a possibility for both sides which further added to the intensity of the game. The visitors started at a blistering pace registering 1-2 on the scoreboard in the opening minutes. It took the home side a little longer to settle with both their midfielders putting points on the board. Clara continued to look threatening in the first twenty minutes of the opening half and they would eventually put the ball in the Dicksboro net twice more before half time. Dicksboro began to chip away at the Clara lead throughout the half with some well taken scores but the visitors made it to the break with a three goal cushion.
The second half started with a similar pace to the first with both sets of midfielders exchanging scores. Clara were well served by their half back line with some excellent examples of fielding from the puck outs. Dicksboro introduced some substitutes which certainly aided their efforts in trying to catch Clara but the Clara team were well set up and organised in defence which meant they never let their lead slip. Some great saves off the goal line from Clara lifted their spirits and pushed them on once again to hit the Boro net for a fourth time.  All in all Dicksboro showed great spirit and resilience throughout the game but the hunger and the fight of the Clara men proved too much for the city side with Clara finishing on top with a score line of 4-15 to 2-13.
DUGGAN STEEL U15 ROINN B HURLING LEAGUE
VENUE: Pairc na Ratha
REF: Eddie Crowley
03/08/22
Glenmore 5:11 v 7:10 Tullogher Rosbercon
On a bright but windy summer's evening, Glenmore welcomed near neighbours Tullogher-Rosbercon to Parc Ná Ratha for a U15 League Match under the watchful eye of Referee Eddie Crowley.
Playing against the breeze Tullogher got off to the better start with a point from Dean Kinsella.  Sean Hanrahan then collected a ball on the wing, rounded his man, headed for goal and crashed it to the back of the Glenmore net.  A few minutes later, he repeated the trick to give Tullogher an early lead of 2-01 to no score.  Glenmore settled and got 4 points in a row from Oisin Mullally, Fionn Murphy, Jason Cody and James Reid with a Free from 90 metres.   Hanrahan added a point before Mullally got in for a Glenmore Goal.   This only seemed to spur on Tullogher who hit back with 2 more Goals from Kinsella and Hanrahan.  A point by Cody from a free was answered by 2 from play from Kinsella and James Cummins to leave it 4-04 to 1-05 to Tullogher with 5 minutes left to play in the opening half.  Glenmore then went on a scoring spree with a Mullally Goal and another monster point from Reid.  Cody sneaked in for a Goal before Reid went on a solo run up the field and struck a fierce shot to the back of the Tullogher net.  Surprisingly, Glenmore were 4-06 to 4-04 in front at half time, despite being totally out played for most of the Half.
Tullogher's Keelan Ryan opened the second-half with a well taken Goal, Reid replied with another long-range free and from play along with a Cody free to restore the 2-point lead.   Hanrahan who was now in at full forward, then took over again and caused havoc in the Glenmore fullback line with 2 goals and a point in quick succession.  Cummins and Kinsella added 2 points from play with a Reid point from a free being the only reply from Glenmore.  Michael Sidney then got in on the act with a 3 point scoring blitz to leave them 7-10 to 4-10 ahead with time almost up.  Glenmore finished strongly with a Goal from Cody and a point from Mullally which could have gone under instead of over the crossbar, leaving the final score 7-10 to 5-11 to Tullogher-Rosbercon.
Overall the visitors played better as a team, while Glenmore had  strong individuals who almost got them over the line in an entertaining, high scoring contest.
Teams:
Glenmore:                          D. Fitzgerald, M. Cody, C. Hennessy, M. Griffin, S. Harney, J. Reid (1-05 -3 frees) , D. Connolly, J. Cody (2-03 – 2 Frees), L. Vereker, R. Atkins, R. Halligan, A. Talbot, C. Walsh,
Mullally (2-02), F. Murphy 0-01).          Subs:  C. Mackey, H. Beirne, S. Grant.
Tullogher-Rosbercon:    D. Reddy, M. O'Sullivan, E. Fitzgerald, S. Ryan, P.J. Murphy, N. Cummins, S. Walsh, S. Hanrahan (5-02), D. Kinsella (1-03), J. Cummins (0-02), K. Ryan (1-00), L. Murphy,
Sidney (0-03).
DUGGAN STEEL U15 ROINN B HURLING LEAGUE
VENUE: Dr Tierney Park
REF: Anthony Barcoe
27/07/22
Graignamanagh 6:19 v 1:07 Galmoy/Wingap
On a dry pleasant evening Galmoy/Windgap made the long journey to Graiguenamanagh for round 9 of the league. The visitors were under pressure from the very start as Graig started with an early goal from Sean O Grady, followed by points from Conor Holohan and Cian O Shea. PJ Delaney opened the scoring for the visitors with a well taking point after 10 minutes, but a goal each from Sean O Grady and Cian O Shea killed this contest off early. Galmoy/ Windgap worked hard and never gave up with PJ Delaney and Fionn Lonergan adding scores to leave the game 3 11 to 5 points at half time.
The second half started like the first with further goals from Jack Connolly, Cillan Murphy and Padraig Hayden. Both sets of backs worked hard all afternoon but it was the home side who controllerd the game from start to finish with a final score of 6 19 to 1 7. A goal from Fionn Lonergan capped a good performance for the Centre back.
DUGGAN STEEL U15 ROINN B HURLING LEAGUE
VENUE: Dr Tierney Park
REF: Anthony Barcoe
10/08/22
Graignamanagh 2:11 v 1:11 Barrow Rangers
On a warm summer evening Barrow Rangers made the short journey to Graiguenamanagh for the final round of the league. This was a very tight match from start to finish with Graiguenamagh getting the score board up and running with a well taking point from a free by Cian o Shea. After 10 minutes it was 2 points a piece, both Barrow Rangers points coming from an impressive Shane Mcdonald. The game was point for point until the 19th minute when Jack Connolly, Graigs full forward, scored a superb goal followed with a point from an impressive Eoin O Brien.
Half time saw the sides finish 1 6 to 7 points in favour of the home side.
The second half started with some good scores for Griag from Jack Connolly and Conor Holohan before Barrow Rangers levelled things again with scores from Thomas Carpenter and a fine goal from PJ Mchugh who cut graigs defence wide open with a great run. It would be the home side that would finish the stronger and graig ran out eventual Winners to a score of 2 11 to 1 11.
This was a good test for both sides heading into the championship next Month.