KILKENNY VEHICLE CENTRE MINOR A FOOTBALL CHAMPIONSHIP FINAL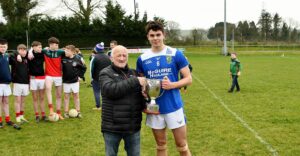 VENUE: Muckalee
REF: Sean McMahon
05/03/23
St Martins 1:03 v 1:10 Thomastown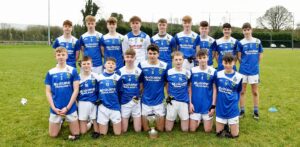 Thomastown and St Martins served up an entertaining Rionn A football county final on Sunday morning in Muckalee.  Thomastown showed intent from the start and raced into an early lead with points from Alex Begley and Conor Barcoe.  They continued to put the hosts under pressure and eventually got in for a goal with Colm Treacy finishing from close range after a well worked move.  St Martins found scores hard to come by in the first half and couldn't convert the chances that they did create.  Half time score St Martins 0-00 Thomastown 1-06.
As expected the northern side refocused after the break and started to get a better foothold in the game resulting in Micheal Ruane firing over 2 well taken frees.  St Martins then fielded a kickout and after some good passes Micheal Keane blasted the ball to the back of the net.  St Martins were on top at this stage but couldn't make it count on the scoreboard and could not reel in Thomastown who never panicked and got some good points in the second half through Alex Begley, Colm Treacy and Conor Barcoe to run out comfortable winners.  Final Score St Martins 1-03 Thomastown 1-10
Teams:
St Martins: Luke Cahill, Tadgh Power, Tom Shore, Daniel Tallis, Patrick Coughlan, Matthew Bolger, Jack Coogan, Micheal Keane, Colin Hayes, Jake Dowling, Euan Buggy, Jack Dooley, Adam Morrissey, James O'Neill, Aaron Farrell.   Subs used: Michael Ruane, Luke McDonald
Thomastown: Cillian McElwee, Ben Nevin, Ciaran Coone, Cian Doherty, Tadgh McMahon, Tyler Nolan, Darragh Dack, Enna O'Keefe, Cian Farrell, Conor Barcoe, Sean Denieffe, Alex Begley, Oisin Farrell, Colm Treacy, Roman Connolly
KILKENNY VEHICLE CENTRE MINOR B FOOTBALL CHAMPIONSHIP FINAL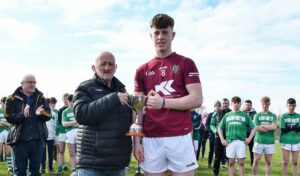 VENUE: Urlingford
REF: Owen Behan
05/03/23
Emeralds 2:04 v 4:05 St Patricks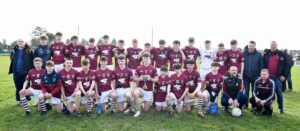 Urlingford was the venue for the Roinn B Football County final with an early start of 10am last Sunday morning. St. Patricks started off strong with a goal in the opening minutes. Emeralds still trying to find their feet went for a point shortly after but unfortunately went wide. A kickout from Michael Glennon landed down to Harry Culleton but his aim at goal was saved and put over the bar instead. Emeralds won the ball back and played it back up field only to be fouled on their way in to score. Stepping up to take the free was Callum Lawlor but unfortunately it fell short and was caught and cleared by St. Patricks goalkeeper Tadhg Phelan. Emeralds regrouped and finally got their first score on the board after 10 mins- scored by No. 11 Oisin Quinlan. Emeralds Jimmy Cleere was fouled shortly after so another free scored by Callum Lawlor put the score at 1-1 to 0-2. Minutes later Emeralds were awarded a penalty – Jimmy Cleere again the man to step up. A great kick but not strong enough for 15-year-old Tadhg Phelan who saved it. Emeralds didn't lose heart though and after a few wides from both sides they scored a goal of their own in the 20th minute and very little separated the sides for the remainder of the first half. Score at half time St. Patricks 1-4 v Emeralds 1-3
The second half started strong for Emeralds as they levelled the score after 2 minutes. Emeralds seemed to take over the game winning the ball back from St. Patricks time and time again. A lucky ball played up field by St. Patricks landed in the hands of captain Mark Bergin who whipped it into the back of the Emeralds net changing the dynamic of the game to St. Patricks favour. Emeralds made some substitutions but in the 17th minute of the half Mark Bergin scored his second goal leaving a 7-point lead for the Ballyragget men. Emeralds couldn't really recover, and the St. Patricks side dominated for the rest of the game. Another goal from Christian Connick in the 24th minute put the game to bed. Emeralds responded with a goal themselves in the 26th minute but by then it was too late. The final whistle blew making the Ballyragget men Roinn B football champions for 2023. Final Score St. Patricks 4-5 Emeralds 2-4
Emeralds: Daniel Tobin, Bill Cussin, Cormac Burke, Richard Costello, Darragh Hickey, Simon Zhang, Craig Barnaville, Oisin Deegan, Dylan Ivers, Conor Kavanagh, Oisin Quinlan, Jimmy Cleere, Cian Hickey, Diarmuid Burke, Callum Lawlor, Callum Broderick, Paddy Cussen, Nathan Barnaville, Conor Holohan, Conor Gibbons, Jack Power, Cormac Joyce
St Patricks: Tadhg Phelan, Charlie Culleton, Michael Glennon, Conor Rocliffe, Kieran Bergin, Christopher Delaney, Harry Culleton, Mark Bergin, Mark Doheny, Aaron Nealis, Oisin Troy, Mark Hogan, Josh Dowling, Christian Connick, Patrick Morrissey, Evan Nealis, Cormac Diver, Evan Coogan, Will Ryan, Richard Lynch, James Cash, Shay Smith, Andrew Lawless, Tadhg Butler, Eoin Coyle Twomey.