The 2023 Hurlers Co-Op Draw was launched at the April County Board meeting in UPMC Nowlan Park this past Tuesday evening.  As the draw enters it's 41st year, special guest, Brian Cody, addressed the meeting about the value of the draw to our clubs and county over the past 40 years.  Draw Coordinator Gerri Hickey also addressed the meeting and offered her support to all the clubs.
The 2023 prize fund is €125,000, which includes three cars and two holidays.  The first of the 5 draws will take place on the 13th June.  The draw tickets are now with the clubs and will be on sale over the coming weeks.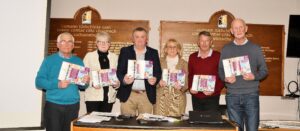 Pictured at the Launch of the 2023 Hurler's Co-Op Draw in UPMC Nowlan Park: Barry Hickey (Treasurer), Mary Morgan (PRO), PJ Kenny (Chairman), Gerri Hickey (Draw Coordinator), Seamus Reade (Secretary), Brian Cody.