Kilkenny Vehicle Centre Minor Hurling  & Duggan Steel U15 Hurling well under way
Kilkenny Vehicle Centre Minor A Hurling League Round 2
St. Patricks Ballyragget vs Dicksboro
Venue: St. Patricks GAA grounds Ballyragget
Referee: Sean McMahon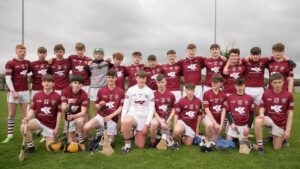 Teams: St. Patricks: Tadhg Phelan, Harry Culleton, Michael Glennon, Charlie Culleton, Conor Rocliffe, Christopher Delaney, Kieran Bergin, Mark Doheny, Josh Dowling, Aaron Nealis, Mark Bergin, Marc Hogan, Patrick Morrissey, Oisin Troy, Cormac Diver, Shay Smith, Ruairi Farrell, Evan Nealis, Evan Coogan, Will Ryan, Andrew Lawless, James Cash, Richard Lynch.
Dicksboro: Ciarán Power, Luke Kerwick, Enda Kavanagh, Ben Hogan, Fearghus O Connor, James Cleere, Charlie O Neill, Bill O Shea, Ryan Gorman, Louis Raggett, Anthony Clifford, James Brennan Smyth, James Kenny, Josh Quirke Duggan, Thomas Treacy, David Sheppard, Charlie Ryan, Samuel John O Shea, Sean Keogh, Mathew Fleming, Robert Henderson.
Monday evening saw the meeting of Dicksboro and St Patricks in Round 2 of the Minor A hurling league. St. Patricks were riding high after their previous win in round one to Mooncoin whereas Dicksboro were out to prove they were better than their defeat to St Martins the previous week. Dicksboro got the opening score, but it didn't take long for St. Patricks to respond. As Dicksboro continued to gain points from play, a free from St. Patricks Mark Doheny and another from play put the sides level at 3 points each after 8 mins and it was a trend set for the rest of the match. A couple of frees taken by Dicksboro's Anthony Clifford gave them an advantage as St Patricks struggled for 5 mins to take their scores in a fast-paced game and Dicksboro gained a 3-point lead. Excellent vision by Kieran Bergin saw his pass to a free Aaron Nealis end Ballyragget's drought and it was not long before the gap narrowed. Dicksboro chance at goal saw the ball hit off the top bar and was excellently cleared by goalie Tadhg Phelan. St. Patricks confidence grew and so did their dominance. Half time whistle saw them ahead by 2 points St. Patricks 0-12 Dicksboro 0-10. The second half started off strong for Dicksboro, opening the scoring yet again and brought the sides level within the opening 6 mins. An excellent chance at goal by Oisin Troy was stopped on the line by brave 'boro goalie Ciaran Power. A second chance 5 mins later lead to a scramble in front of goal, a couple of excellent blocks but inevitably a strike by Shay Smith ended up in the back of the net for St. Patricks. Halfway through the second half and only the goal separating the sides 1-13 to 0-13. Dicksboro threw everything at St. Patricks after that. A point from play and a free for Anthony Clifford left one point between the sides again. A 65 for Dicksboro dropped short for an attempt at goal but was cleared by Mark Doheny and a few minutes later Dicksboro had a second goal chance that went wide. A free for Mark Doheny in the dying minutes gave St. Patricks a two-point advantage and it was these two points that separated the sides at full time. St. Patrick 1-15 Dicksboro 0-16. Periods of dominance from both sides meant picking a winner at any stage throughout, quite difficult in what was a very fast paced highly skilled entertaining encounter.
KILKENNY VEHICLE CENTRE MINOR B HURLING LEAGUE
VENUE: Hugginstown
REF: Colin Tobin
03/04/23
Carrickshock 1:12 v 1:19 Barrow Rangers
Carrickshock hosted Barrow Rangers in this Minor B Group A fixture on Monday 3rd April. Carrickshock drew first blood with a Mark Askins point after 2 minutes. It didn't take Barrow Rangers long to respond with Niall Carpenter raising the first of his 6 white flags after 3 minutes on the clock. Barrow Rangers, through Niall Carpenter, knocked over another 3 unanswered points. Adam Franks then pulled off a dramatic save in goal for Carrickshock to leave only 4 between them. Conor Farrell took a few well pointed frees to further reduce the deficit. Barrow Rangers found another gear and scored a goal on 27 minutes along with another few Shane McDonald points to leave it 1-12 to 0-5 at the break in favour of the Paulstown based team.
Carrickshock responded well in the second half with Conor Farrell and Mikey Rohan on target for the home team. Paddy Wade and Shane McDonald looked dangerous for Barrow Rangers and increased their lead with some well taken points. A high ball into the Barrow Rangers box from Conor Farrell saw Jake Power scoop the ball into the path of an incoming Sean O'Toole who kicked the ball into the back of the net. Too little too late for a full comeback with Barrow Rangers leaving with the points after winning by a scoreline of 1-19 to 1-12.
KILKENNY VEHICLE CENTRE MINOR ROINN B HURLING LEAGUE
VENUE: Urlingford
REF: Paddy Bowden
03/04/23
Emeralds 0:18 v 0:11 The Harps
Emeralds welcomed The Harps to Urlingford for round 2 of the Minor B hurling league on Monday evening. Playing with the breeze behind them the Emeralds got off to a strong start with a point from Cian Hickey within 2 minutes. This was followed up with a string of points from Callum Lawlor and Oisín Quinlan to put the Emeralds in a commanding 7 point lead. A well taken point from Jay Brophy got The Harps on the scoreboard in the 20th minute before the Emeralds expanded their lead with points from Oisín Quinlan, Craig Barnville and Cormac Burke. The Harps closed out the scoring in the first half with a point from Eoin Delaney to leave the Emeralds leading 0-13 to 0-3.
Emeralds opened the second half scoring with a point from Oisín Quinlan. The Harps took advantage of the breeze to put pressure on the Emeralds defence scoring 3 unanswered points and were unlucky not to reduce the deficit further when a goal bound shot struck the crossbar. Further stout defending was required from the Emeralds to snuff out a second goal scoring opportunity before Oisín Quinlan and Cillian Burke extended the Emeralds lead with points mid-way through the second half. Both teams traded scores in the last 10 minutes with the Emeralds taking the 2 points on offer by a winning score of 0-18 to 0-11.
Emeralds:
Diarmuid Burke, Bill Cussen, Simon Zang, Daniel Tobin, Conor Kavanagh, Oisín Deegan, Conor Gibbons, Graig Barnaville, Cormac Burke, Oisín Quinlan, Callum Lawlor, Cian Hickey, Callum Broderick, Dylan Ivors, Paddy Cussen.
Substitutes:  Cillian Burke, Conor Houlihan, Mikey Manton, Cathal O'Dwyer, Natahan Barnaville, Cormac Joyce,
The Harps
Eoin Holland, Cillian Bowe, Ned Duggan, Sean Ó Cinnéide, Evan Stanley, Aaron Mahon, Tony Mahony, Jimmy Whyte, Eoin Delaney, Ross Deegan, Hugh Whelan, Liam Townsend, Jay Brophy, Shane Shortail, John O'Brien
KILKENNY VEHICLE CENRE MINOR B HURLING LEAGUE
VENUE: Tullogher
REF: John Walsh
03/04/23
Tullogher Rosbercon 0-17 v 1:06 Graigue Ballycallan
 Tullogher Rosbercon and Graigue Ballycallan faced off in round 2 of the Minor B hurling league and it was Tullogher Rosbercon who made the brighter start aided with a fresh breeze with the opening 3 points of the game with a converted free by Andrew Murphy followed by 2 good points from play again from Dean Kinsella. GBC opened their account in the 7th minute with a point from Simon East. Two further points from Dean Kinsella and another converted free from Andrew Murphy saw the Tullogher boys lead by 0-06 to 0-01 after 15 minutes. GBC began to get to grips with the Tullogher forwards and began to distribute good quality ball into their forwards and 4 consecutive points from Robbie Tector, Ben Young, Cormac Neary and Tector again saw the Ballycallan boys only trailing by 1 point after 25 minutes. Tullogher finished the half the stronger with 3 unanswered scores from Liam Murphy, Niall Cummins and a free from Dean Kinsella. Tullogher Rosbercon led at the break on a scoreline of 0-09 to 0-05. Tullogher made a strong start to the second half with two points in as many minutes from Andrew Murphy. GBC responded with a well worked score from Ben Young. Another converted free from Murphy in the 39th minute had pushed the Tullogher boys into a 6 point lead. The next 10 minutes saw scores dry up with both defences getting the upper hand and both teams were guilty of some wayward shooting and indiscipline. Sean Hanrahan ended the drought with a great point out on the left wing in the 50th minute after great work from David Kennedy. Two further pointed frees from Andrew Murphy had Tullogher well in control with 5 minutes remaining. GBC were awarded a free from about 50m out in the 57th minute. Cormac Neary stepped up and his shot deceived the Tullogher goalkeeper Darren Reddy and ended up in the top of the net. Tullogher responded with 2 further points from Dean Kinsella and Ciaran Cummins in stoppage time to see the game out for a deserved victory.
Teams:  Tullogher Rosbercon: D Reddy, M O'Sullivan, J Murphy, E Fitzgerald, S Ryan, D Kennedy, J O'Connor, C Cummins (0-01), N Cummins (0-01), L Murphy (0-01), A Murphy (0-07, 6 frees), J Cummins (0-01), S Hanrahan (0-01), D Kinsella (0-05, 1 free), J Malone. Subs: K Ryan, M Sidney Graigue Ballycallan: S McGrath, O Hoyne, M Tynan, R Lynch, R Lynch, C Hoyne, P Egan, S Cody, T Butler, F McCluskey, R Tector (0-02), B Young (0-02), Sean East (0-01), Aidan Ging, C Neary (1-1, 1-0 free), K Lynch. Subs: Martin Brennan, Reggie Carthy, Cian Ronan. Referee: John Walsh (Rower Inistioge)
KILKENNY VEHICLE CENTRE MINOR ROINN B HURLING LEAGUE
VENUE: Danesfort 
REF: Stephen Delaney
10/04/23
 Danesfort 3:17 v 2:11 Shamrocks Ballyhale
Danesfort hosted Ballyhale Shamrocks for round 3 of the Kilkenny Vehicle Centre Minor B Hurling League at 18:30 on the 10th April, referee for the game was Stephen Delaney.
Ballyhale Shamrocks started with the aid of a strong breeze and went into a commanding lead, with a score line of Ballyhale Shamrocks 1-7 to Danesfort 1-0.
Danesfort managed to claw their way back and at the half time interval it was Ballyhale Shamrocks 1-7 to Danesforts 1-6. With the aid of the wind in the second half Danesfort eventually managed to get on top and lead most of the second half against a very dogged Ballyhale team.
Final score was Danesfort 3-17 to 2-11 Ballyhale Shamrocks
KILKENNY VEHICLE CENTRE MINOR C HURLING LEAGUE
VENUE: Pairc Lachtain
REF: Richie Holland
03/04/23
St Lachtains 3:17 v 0:05 Conahy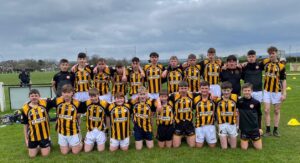 St Lachtains team
Michael Murphy Jack Dalton Eoin Dalton Tadhg Bolger Conor Dowling Luke Phelan David Ryan Conor Dalton goal and 1 point Marty Campion 2 points Bobby Darcy Cian Donnelly 11 points Mikey Tiernan 1 point Trystian Keane Sean Counihan Colin Mcgree 2 goals and 1 point
Subs
Liam Kenny Landers
Charlie Kavanagh 1 point
Cian O'Connor
Jamie Walsh
Tristan O'Kane
Patrick Brennan
James Flynn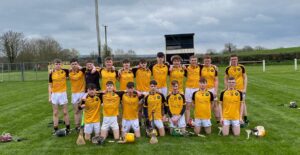 Conahy Shamrocks
Tommy Mulhall Tadgh Hennessy Conor Hennessy Killian Lacey Rory Rhatigan Jack Rhatigan 2 points from frees Finn Sherman Darragh Horgan Jake Dooley Joe Boland Daniel Mooney 1 point Ben Duggan point from free Adam Morrissey Evan Staunton Daithi O Rinn
Subs
Camryn Kenehan
Brian Phelan
Billy Rowe 1 point
Niall Webster
Good tough game in Pairc Lachtain on a crisp evening with St Lachtains vs Conahy and Richie Holland reffing.
Half time score 1-6 to 2 points to Lachtains.
St Lachtains had a good second half and closed out the game 3-17 to 5 points.
DUGGAN STEEL U15 ROINN A HURLING LEAGUE
VENUE: Danesfort
REF: Paschal Connolly
05/04/23
Danesfort 2:15 v 3:12 Thomastown
Thomastown and Danesfort had a great encounter in the 2nd round of the U-15 Duggan Steel hurling League in Danesfort on Wednesday evening 5th April.   In what was a thrilling match both teams matched each other on the pitch and on the score board and all finished even after 60 minutes of entertaining hurling.
Danesfort were first out of the blocks with a long range point followed by two well taken points by Thomastown.  CillianMcElwee then netted a goal for Thomastown. Both sides exchanged points and McElwee was denied another goal chance by a superb save from the Danesfort goalie.
Danesfort went on the attack and found the net with a cracker of a goal and then a point in quick succession. Thomastown followed with Richard Forristal also finding the net. Both teams were exchanging point for point when McElwee dominating the full forward line found the net again to give Thomastown the lead. Danesfort followed with four unanswered points and both sides were all square at half time Thomastown3-4 Danesfort 1-10.
The second half started at a thrilling pace and both side exchanged points. Danesfort scored five in quick succession (goal and 2 points) and were in a commanding position. Thomastown suddenly finding themselves trailing by 4 points were quickly back in contention with Ben Nevin narrowed the gap to two.   Danesfort went ahead again with another point to lead by 3 and looked like winners only for Thomastown to keep in touch and claim a draw with  Ben Nevin pointing from a free in the last seconds of the  to draw the game. A great evening of hurling and sets both teams up for an exciting summer of hurling.
Final score Thomastown 3-12 Danesfort 2-15.
Scores for Thomastown CillianMacElwee2-2, Richard Forristal 1-1, Ben Nevin 0-04 ( 3 F's 1,65)
Danny O'Neill 0-02, John Blanchfield 0-1, Tom Channellor  0-01, Mikey O'Brien 0-01
DUGGAN STEEL U15 ROINN B HURLING LEAGUE
VENUE: Piltown
REF: Richard Dowling
29/03/23
Piltown 0:12 v 1:09 Conahy Shamrocks
On a wet damp Wednesday evening in Piltown both teams served up a very exciting first league game encounter. The first quarter was fairly equal with points at either end. Piltown shaded the opening quarter with frees from Cathal O'Brien and Jack Farrell from play. Conahy then scored a well moved goal to push them ahead by 2 points on the 20 minute mark. Piltown backs Shane Downey, Blake Wheeler and Conor Quinn stepped up a gear to prevent any second goal before half time. Piltown tagged on another few frees and a John Doyle point from play before half time to leave the score at 0-07 to 1-05 going into the break.
Second half started with both teams battling hard to win the wet ball on heavy ground. Some fine fielding from Jack Driscoll and defending from Archie Farrell who dropped back into a central defensive role kept the supply of balls into the Piltown forwards. John Doyle and Cathal O'Brien got a few more scores but Conahy were not giving up. With the high pressure from the Conahy forwards they went into a lead in the final minutes of the game. Piltown's defence kept fighting and it paid off as Jack Farrell got into space to level the game. Ronan O'Shea was excellent in goal, Shane Downey and Archie Farrell defended till the very end, Conor Quinn was excellent and up front John, Cathal and Jack posed the biggest treat.
Nobody deserved to lose this encounter, it was very exciting game especially in the heavy conditions. Well done to both teams.
Team:
1. Ronan O'Shea
2. Alex Walsh
3. Shane Downey
4. Shay Cummins
5. Blake Wheeler
6. Conor Quinn
7. Evan Walsh
8. Archie Farrell
9. Jack Driscoll
10. Cathal O'Brien 0-08 (0-06 Frees)
11. Dylan Walsh
12. Eddie Alyward
13. Ben Coffey
14. John Doyle 0-02
15. Jack Farrell 0-02
16. Geoffrey O'Shea
17. Charlie Connolly
18. Conor Gleeson
DUGGAN STEEL U15 ROINN B HURLING LEAGUE
VENUE: Muckalee
REF: Sean McMahon
12/04/23
St Martins 4:07 v 2:10 Piltown
On a cold windy Wednesday evening in Muckalee Piltown started the game with the wind. Cathal O'Brien got Piltown up and running with 2 early points from play and added 3 more points from frees. Alex Walsh, Evan Walsh and Archie Farrell defended well to keep the ball fed into the Piltown forwards by winning their own matchups. A mix up in the Piltown defence aided by the wind gave Muckalee an easy goal. Piltown missed some chances and should have increased their lead before half time with the wind at their backs.
HT Piltown 0-09 Muckalee 1-02.
The second half aided by the wind Muckalee pushed forward to earn some free scoring opportunities. All frees scored from the placed balls and then Muckalee scored 2 goals to go into the lead by a point. Piltown drove forward with Archie Farrell and Conor Quinn fighting hard to win the hard battles provided Cathal O'Brien with the chance to score 2 goals. Cathal hit the net with both opportunities. This brought the game back level again. At this stage the game was in the balance. Muckalee got the ball back into their full forward line again and slipped in for another goal in the dying minutes of the game. Well done Muckalee. For Piltown the defensive errors proved costly.
For Piltown Archie Farrell was outstanding at centre back, Alex Walsh and Evan Walsh were excellent, Cathal O'Brien was dangerous and kept the scoreboard ticking and Conor Quinn worked hard on the midfield battle.
Team: Piltown
1. Ronan O'Shea
2. Alex Walsh
3. Shane Downey
4. Shay Cummins
5. Blake Wheeler
6. Archie Farrell 0-01 (Free)
7. Evan Walsh
8. Conor Quinn
9. Jack O'Driscoll 0-01
10. Sean O'Driscoll
11. Cathal O'Brien 2-08 (0-05 Frees)
12. Dylan Walsh
13. Ben Coffey
14. John Doyle
15. Daire O'Brien
16. Jack Farrell
17. Geoffrey O'Shea
18. Charlie Connolly
19. Conor Gleeson
20. Eddie Alyward
21. Fionn Dignam
22. Brendan Twohig
23. Caleb McDonagh