KILKENNY VEHICLE CENTRE MINOR ROINN B HURLING LEAGUE
VENUE: Dr Tierney Park
REF: John Minogue
17/04/23
Graiguenamanagh 1:11 v 0:14 Galmoy/Wingap
It was round 4 of the Minor B group B game with Graiguenamanagh entertaining Galmoy/Windgap in what would be a tight match from start to finish.
This game came down to a battle of free taking with Cian O'Shea from Graiguenamanagh scoring a total of 11 points, with Galmoy/Windgaps pair of Niall Drennan and Eoin O'Shea combining a total of 8, all 3 putting in great performance.
It was all level after 7 minutes 2 points a piece before the visitors took control with 3 unanswered points. At 14 minutes the visitors lead 7 points to 3 before Graig hit 1-3 without reply starting with a well taken goal by Conor Hoolhan after the ball came off the post.  At half time Graig lead 1 -8 to 10 points.
The second half proved to be a low scoring affair, but highly entertaining as the two sides went toe to toe not giving much away. Both defences worked hard especially the influential centre backs of Gavin Kielty for Graig and Niall Drennan for Galmoy/Windgap. The game swung back over, with scores upfront hard to come by, eventually finishing in a draw 1 11 to 14 points. Both sides could have won the game in the end, but neither side wanted to lose. A point a piece so for these two competitive sides before they move onto round 5.
KILKENNY VEHICLE CENTRE MINOR C HURLING LEAGUE
VENUE: Mullinavat
REF: Maurice Flynn 
17/04/23
Mullinavat 1:18 v 2:11 Tullaroan
Mullinavat
Ross Conway 2. Leo Aylward 3. Jamie Dempsey 4. Michael Catt 5. Stephen O'Shea 6. Jamie Walshe 7. Louis Madigan 8. Ben Cantwell 9. Ciaran Holden 10. Jamie Davis 11. Luke O'Donovan 12. Sean O'Keeffe
Subs: 13. Adam Fitzpatrick
Eoin Aylward
Patrick Aylward
Conor Conway
Seamus Rohan
Olly Madigan
Donnacha Corcoran
Tulloroan
Thomas Holmes 2. Ben Leahy 3. Richard Delaney 4. Eamon Delaney 5. Daire Hogan 6. Bill Coogan 7. Michael O'Mahoney 8. Cathal Russell 9. Johnny Leahy 10. Charlie Bibby 12. Ethan Russell 13. David Holland
It was a slow start for both sides Mullinavat drove two wides from Michael Catt and Louis Madigan in the opening few minutes and Tulloroan' s No.10 Charlie Bibby drove a wide. It was Tulloroan's Cathal Russell got the opening point of the game. Mullinavat's Jamie Davis got two great points from play. Tulloroan won a free on the 45 yard line which Cathal Russell put over the the bar. No.10 Jamie Davis replied by getting a point from a pass from Louis Madigan. At this stage of the first half it was Mullinavat 3 points to Tulloroan's 2 points. It was an evenly matched game. Ethan Russell and Cathal Russell added 2 more points for the visitors. Mullinavat won a free on the 45 yard line and Jamie Davis converted it to a point. He added 2 more points for the home side. Cathal Russell put over a 45 yard for Tulloroan and Jamie Davis converted another free for Mullinavat. Leo Aylward gave a great pass into the hand of Jamie Davis who put it over the bar. Tulloroan players went on the run and Ben Leahy found the back of the Mullinavat net. Mullinavat's Ben Cantwell replied with a lovely point from play. Tulloroan won 2 more frees on the 45 yard line which Cathal Russell put over the bar. Mullinavat won a 21 yard free which their freetaker Jamie Davis put over the bar and the last point of the first half was put over by No.8 Ben Cantwell Mullinavat. Leaving sides at half-time Mullinavat 11 points to Tulloroan's 1-7.
The second half started like the first half with a free going wide for the visitors. They redeemed themselves by converting 2 frees over the bar. Jamie Davis put over a free over for the homeside. Mullinavat made a few changes No. 20 Donnadha Corcoran came on for No.3 Jamie Dempsey, No.13 Adam Fitzpatrick came on for No.12 Sean O'Keeffe and No.17 Conor Conway came on for No.11 Luke O'Donovan. Tulloroan got a 65 yard free and it narrowly went wide. Adam Fitzpatrick got a point from a tight angle. Cathal Russell for Tulloroan got a lovely pass from Bill Coogan and he went on a struck the back of the Mullinavat net. At this point the score was 2-9 to Mullinavat's 13 points. Adam Fitzpatrick got a great ball in from Louis Madigan and he hit it on his left side into the back of the net. Tulloroan got 2 more points one from Bill Coogan converting a free and Johnny Leahy from play. Mullinavat got a penalty when Adam Fitzpatrick was dragged down on his way for goal. Jamie Davis stepped up to take it but the Tulloroan goal keeper Thomas Holmes made a great save when the ball was cleared Jamie caught it and put it over the bar. The last 3 points were from frees converted by Jamie Davis Mullinavat. The backs on both teams worked very hard as did the midfielders. The final score was Tulloroan 2-11 to Mullinavat's 1-18.
DUGGAN STEEL U15 ROINN A HURLING LEAGUE
VENUE: Pairc na Seamrog
REF: Eoin Hayes
19/04/23
Shamrocks Ballyhale 3:09 v 3:18 O' Loughlin Gaels
Shamrocks under 15  played O'Loughlins in Ballyhale 19th April. Its was a sunny evening in Ballyhale with a cool breeze blowing across the field.  Shamrocks started off the first half strong with some lovely play in the middle of the field by Michael Barron scoring some good points and setting up Jake Mullen for a goal in the first 10 minutes of the first half followed by some good play by Conor Holohan and Cathal Coogan and Sean Rooney on the full forward line causing problems for O'Loughlins back line with Luke Cummins playing on the half forward line scoring a couple of points from play and setting up Jake Mullen and Dunnacht Grant for some lovely points.  At half time it was Shamrocks leading by 1 point Shamrocks 3-06 O'Loughlins 2-08. The second have O'Loughlins were a different tream coming out strong putting a lot of pressure on the Shamrocks full back line of Brian Ryan, Killian Ryan and Sean O'Mahony and the half back line of James Ryan and David Kolodzies. The Shamrocks goalkeeper Theo Drennan had to pull off some great saves before too much pressure coming from O'Loughlins that O'Loughlins scored a great goal and after about 15 minutes in the second half the town side were winning.  Shamrocks only scoring 3 points in the second half with O'Loughlins scoring some great points from play the Shamrocks backs had a lot of work to do . O'Loughlins scoring 1-10 in the second half Shamrocks had no answer for the town side. It was a very exciting second half with both spectators showing it that it made the game more exciting.  It finished Shamrocks 3-09 O'Loughlins 3-18
DUGGAN STEEL U15 ROINN A HURLING LEAGUE
VENUE: Thomastown
19/04/23
Thomastown  5:11 v 4:14 Rower Inistioge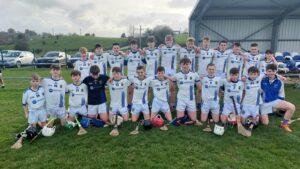 On a cool spring evening in Grennan, Thomastown neighbouring parishes of the Rower Inistioge and Thomastown faced each other in the 3rdround of the U-15 Duggan Steel hurling League on Wednesday evening19th April.   In a game where Thomastown were leading up to last minute of the match it all finished even after a determined Rower Inistioge kept plugging at the score line to pull out a draw with a goal to the nett on the 59th minute. A high scoring game that entertained the crowd gathered with both teams showing great skill and accuracy.
Final score Thomastown 5 – 11  Rower/Inistioge 1 -14
Thomastown were first on the score board with a point from Cillian McElwee followed by another point from Ben Nevin . Rower Inistioge notched up 2 quick points only for Thomastown to find the   net at 4mins with a goal from Cillian McElwee. Rower/Inistioge followed suit with two more points and a well taken goal at 7mins. Thomastown then went on a scoring spree with goals and points from Ben Nevin (1-4), Mickey O Brien (1-0)  and Cillian McEwee (1-1). Rower/Inistioge did their best to stay in touch but at half time Thomastown had a commanding lead .
Half time Thomastown 4 -08 Rower/Inistioge 2-08
Thomastown started the second half as they finished the first with an early goal to the back of the nett by John Blanchfield and looked well in control of the game but the Rower Inistioge boys were not going to go down without a fight and true to form the next 20mins saw the Rower Inistioge having a purple patch and scored 1 goal and 8 points to put the game within 2 points. Ben Nevin steady the ship to give Thomastown a cushion of 3points and looked like winners only for the Rower/Inistioge to find the nett on the 59th minute to draw the game. An exciting evening of hurling and both teams coming away with confidence and a promise of more to come over the summer.
Final score Thomastown 5-11Rower Inistioge 4-14.
Scores for ThomastownCillianMacElwee2-3,  Ben Nevin 1-08 ( 3 F's 1,65), John Blanchfield1-0, Mikey O'Brien 1-0
DUGGAN STEEL U15 ROINN B HURLING LEAGUE
VENUE: Paulstown
REF: Anthony Barcoe
19/04/23
Barrow Rangers 2:15 v 3:12 Tullaroan
Barrow Rangers welcomed Tullaroan to Paulstown for Round 3 of the U15 Roinn B league on Wednesday evening. Barrow Rangers got out of the traps with some pace in the early stages of the match, with Tadgh O'Connor notching up 2 well worked points in a row, followed by a great point from the right wing by Daniel Lawler. Tullaroan were certainly under pressure at this stage and were finding it hard to get the ball up to their forward line, with most balls delivered being well intercepted by the Barrow Rangers half back line. The scoring continued for Barrow Rangers, with Jack Bolger, Sam Medlar , Jack Keating and Cathal Fanning all getting on the scoreboard. Tullaoran did their best to keep plugging away in the first half and were rewarded with well taken points from Ethan Russell and Ciabhán Maher. The first half finished 1-11 to 0-04 in favour of Barrow Rangers.
Barrow Rangers appeared to take their foot off the gas in the early stages of the second half, and Tullaroan took full advantage of this by notching up 2 goals early in the second half courtesy of Ciabhán Maher and Ethan Russell. Barrow Rangers were certainly struggling throughout the second half and Tullaroan kept applying the pressure with further points from Dylan Breen, Ethan Russell, Lory Hogan and a goal from Michéal O'Mahony. A well taken goal from Tom Carpenter and points from Pauraic Hanlon, Josh Hughes and Jack Keating steadied the ship for Barrow Rangers, but Tullaroan responded in kind with further points from Ethan Russell. The final score of the game went to Barrow Rangers following a point by Jack McShane from a placed ball.
The game finished Barrow Rangers 2-15 Tullaroan 3-12 (Draw)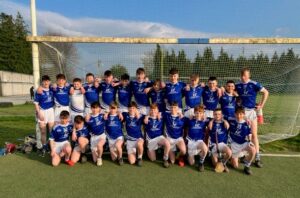 Barrow Rangers: Harry McEvoy, Andrew Donohue, Tom Carpenter (1-01), Sean Cuddihy, Josh Hughes, Daniel Lawler, Sam Murphy, Jack Keating, James Prendergast, Matthew Mahon, Jack Bolger (0-01), Cathal Fanning, Jack McShane (0-01(f)), Tadgh O'Connor, Cathal Fox, Jayden Dermody, Odhran Prendergast, Sam Medlar, Cian O'Reilly, Dylan Kelly, Cillian Culleton, Brian O'Callaghan, Pauric Hanlon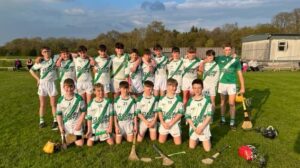 Tullaroan: Ryan Maher, Dylan Breen, Rory Buckley, Conor Cuddy, Eamon Delaney, Keilan Egan, Daire Hogan, Lory Hogan, David Holland, James Holmes, Ben Leahy, Ciabhán Maher, Cian Maher, Kaelem Maher, Rian Maher, Cillian Murphy, Michéal O'Mahony, Ethan Russell
DUGGAN STEEL U15 ROINN B HURLING LEAGUE
VENUE: Pairc Lachtain
REF: Richard Holland
19/04/23
St Lachtains 1:04 v 4:12 Emeralds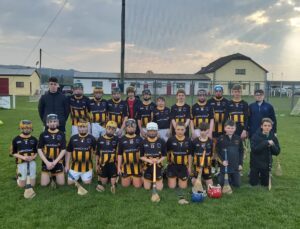 An Injury hit St. Lachtains were no match for emeralds. An excellent first half display by Urlingford who out scored St Lachtains by 3 -09 to a point by half-time. Second half was closer with St Lachtains scoring 1 -03 to 1-01 by the Emeralds.
Final score 4-12 to 1-4 to Emeralds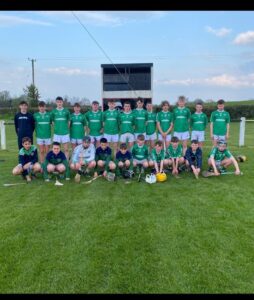 DUGGAN STEEL U15 ROINN B HURLING LEAGUE
VENUE: Piltown
REF: Gavin Quilty
19/04/23
Piltown 1:10 v 1:10 Graignamanagh
On a beautiful evening in Piltown both teams served up a very exciting game that was nip and tuck all the way. Points were traded at both ends before Graignamanagh got behind Piltowns defence to grab the opening goal. Piltown didn't give up and got a few scores from attacking Graig's defence resulting in some free scoring chances. Just before half time Cathal O'Brien hit the net to make the HT score 1-04 to 1-04 all evens.
The second half started with both sides missing some close range frees which meant no team took advantage from placed balls. John Doyle back on the forty, excelled with aerial catches and a point from play. Graig's forwards also started to cause problems for Piltowns defence where they added scores from the half forward line. Two frees from John Doyle and a few points from play from Cathal kept Piltown a point ahead in the dying minutes of the game. Graig pushed forward with a shot on goal and were unlucky not to score a goal as the ball came back from the butt of the post. Graig kept battling and won a free close to the goal. Free tapped over resulting in a draw game 1-10 apiece.
For Piltown Jack Farrell was brilliant in the goal, the full back line was solid, midfield worked hard and John Doyle had an exceptional second half performance at centre forward. The full team showed fight to stay in the game and never give up.
Piltown Team
1. Jack Farrell 2. Alex Walsh 3. Shane Downey 4. Ronan O'Shea 5. Dylan Walsh 6. Conor Quinn 7. Evan Walsh 8. Blake Wheeler 9. Caleb McDonagh 10. Shay Cummins11. Cathal O'Brien 1-07 (0-04 Frees) 12. Jack O'Driscoll 13. Liam Shannon 14. John Doyle 0-03 (0-02 Frees) 15. Daire O'Brien 16. Sean O'Driscoll 17. Geoffrey O'Shea 18. Ben Coffey 19. Charlie Connolly 20. Conor Gleeson 21. Eddie Alyward 22. Fionn Dignam 23. Breandan Twohig
DUGGAN STEEL U15 ROINN A HURLING LEAGUE
VENUE: Ballyragget
REF: Ger O Grady
19/04/23
St Patricks 2:16 v 1:10 Mullinavat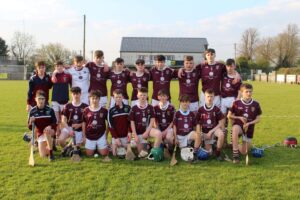 Wednesday night saw the clash of St. Patricks and Mullinavat in the third round of the roinn A league. The opening score came from Mullinavat from a free after 5 mins. St Patricks responded with two points from play and a third from 65 meant that after 10 mins they were 2 points up. Mullinavat got a spate of frees scoring 2 and a third dropping short. The turn around came in 15th minute when a ball broke free to an unmarked Evan Coogan for St. Patricks who struck it into the back of the Mullinavat net, followed up by a point, gave St. Patricks a five point lead. Mullinavat had a goal chance that went over the bar instead. In the 28th minute their luck changed when the ball fell loose and was struck into the back of the St. Patricks net. Two frees later narrowed St. Patricks lead to one just before half time. St. Patricks 1-6 Mullinavat 1-5 .The second half was made up mainly of frees for both sides. Mullinavat levelled the score almost immediately from a free. A missed goal chance for St. Patricks gave Evan Coogan another point from play and a free from Kieran Bergin gave St. Patricks the lead again. Mullinavat got a goal disallowed when the ball had gone wide before the strike for goal. St. Patricks had a two point lead half way through the second half when a another free from Kieran Bergin dropped short and a tustle in front of goal led to St. Patricks second goal. It changed the dynamic of the game and St. Patricks took charge. A beautiful score from Kieran Bergin in the dying seconds finished the game with a victory for St. Patricks 2-16 to Mullinavat 1-10.