Kilkenny Vehicle Centre Minor Hurling  Leagues
KILKENNY VEHICLE CENTRE ROINN A HURLING LEAGUE
VENUE: Ballyraggett
REF: Sean McMahon
24/04/23
St Patricks 2:15 v 5:18 James Stephens
Teams: James Stephens: Padraig Joyce Tuan Hyland, Dara Behan, Conor Millea, Conor Heffernan, James Bergin, Liam Rea, Conor McEvoy, Mathew Kavanagh, Darragh Power, Ruairí Harrison, Ryan Burke, Allen Larkon, Jacob Breslin, Zac Scanlon, Ben Blanchfeld, Colm Byrne, Charlie Greene, Ronan Hanrahan, Ruairí Holland, Mathew Kiely, James Long, Cameron MacFarlane, Sam Mackey, Theo Petrani, Ruairí Walsh, James Kavanagh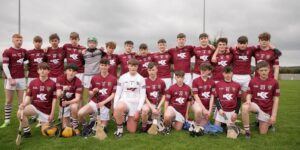 St Patricks: Tadhg Phelan, Charlie Culleton, Michael Glennon, Conor Rocliffe, Kieran Bergin, Ruairí Farrell, Christopher Delaney, Harry Culleton, Mark Bergin, Mark Doheny, Aaron Nealis, Oisin Troy, Mark Hogan, Josh Dowling, Christian Connick, Patrick Morrissey, Evan Nealis, Cormac Diver, Evan Coogan, Will Ryan, Richard Lynch, James Cash, Shay Smith, Andrew Lawless, Tadhg Butler, Eoin Healy
Monday evening saw the round 5 of the Minor A hurling league with the clash of James Stephens and St. Patricks. The tone of the match was set almost straight away with an opening goal from James Stephens with only four minutes gone. St. Patricks responded with a point. Within minutes a second goal from James Stephens shocked St. Pats and within ten minutes they had a third. Points scored from both teams throughout the remaining half concluded with a fourth goal for James Stephens with 3 minutes to half time. Half time score 4-10 to 0-9. It was evident that the village men were the stronger side and though St. Patricks were determined and played well, their goal chances just could not meet their target with two very good chances going wide! Regrouped St. Patricks gave it everything in the second half and were very unlucky with several more goal chances. James Stephens got their fifth goal before St. Patricks luck changed and thanks to Mark Bergin buried the ball into the back of James Stephens net halfway through the second half. Little consolation at this stage but St. Patricks still gave it everything they had. St. Pats scored another goal with 10 minutes to go. Final score; James Stephens 5-18 St. Patricks 2-15 James Stephens were undoubtedly the better side- fitter faster stronger but to credit St. Patricks they gave it everything. A good display of Roinn A hurling from both sides.
KILKENNY VEHICLE CENTRE ROINN B HURLING LEAGUE
Venue: John Locke Park
REF: Conor Everard
24/04/23
John Lockes 3:14 v 1:12 Shamrocks Ballyhale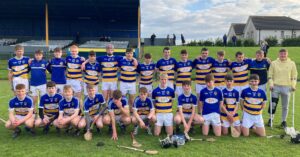 A bright opening and a strong finish to the match saw John Lockes of Callan maintain their unbeaten start to the Roinn B league campaign.
The Lockes had 1-2 on the scoreboard after 5 mins thanks to 2 points from Luke Power and Ollie O'Donovan and a well taken goal from Ryan Donovan Cooke. They finished the game scoring 1-4 in the last 5 mins, 1-2 from Ryan and 2 points from Michael Lynch.  Shamrocks battled all game and got back to within 4 points thanks to some hard graft from John Fitzpatrick and super finishing by Jake Mullen who helped himself to 1-5 from play.  In fact the game could have been even closer but for a great penalty save from Patrick Gibbs in the first half and another brilliant save from Patrick in the 2nd half.
Zak O'Halloran, Robert Jackman, Harry Madigan, David Peppard and Danny Carey, were all to the fore for the Lockes, winning great ball and setting up some great scores , including a brilliant pass from Zak to Ryan for his and JLs second goal after 28 mins, leaving half time score JL 2-4 Shamrock's 0-5.
Shamrocks were the stronger team for a lot of the 2nd half, but a strong finish from the Lockes saw them over the line.
Scorers: Ryan Donovan Cooke 3-4 (1pt free), Ollie O'Donovan 4pts, Robbie Jackman 3 pts (1 f), Michael Lynch 2 pts
Kilkenny Vehicle Centre Minor B Hurling League Group A Round 5 
Emeralds V Carrickshock
DATE: 24/04/2023
VENUE: Urlingford
REF: Stephen Delaney
Emeralds: 3:16 V 0:06 Carrickshock
Carrickshock were away to the Emeralds in Urlingford in group A of the Minor B Hurling League on Monday evening. The Emeralds came into the game full of confidence with four victories from their four games to date, but, it was Carrickshock that got on the scoreboard first with Adam Franks on target from a placed ball in the 3rd minute. Callum Lawlor opened the Emeralds account with a well taken point before Adam Franks slotted the ball over the bar for his first from play putting Carrickshock back in front. Callum Lawlor was in the thick of it again moments later picking up a nice ball in midfield and laying it off to Dylan Ivors who drew the sides level with his first score in the 7th minute.  Dylan Ivors was on target a few minutes later with a great strike from way out on the left hand side-line. When Carrickshock conceded a free just outside the 21 yard line Callum Lawlor had only one thing on his mind as he stood over the ball and duly put the Emeralds 1-04 to 0-02 ahead on 10 minutes. The Emeralds were well in command now and converted a great team score when Daniel Tobin won the ball on the half backline and picked out Oisín Deegan in mid-field who gave a quick hand pass to Craig Barnaville who in turn found Oisín Quinlan in space out right and he made no mistake in slotting the ball over the bar.  Calum Lawlor extended the lead with his second point of the day moments later.  Emeralds scored their second goal when Oisín Quinlan broke through a number of defenders near the end line before picking out Cian Hickey in space who hit the net. Cian Hickey tacked on another point almost immediately before Adam Franks pulled a point back for the visitors from a placed ball on 24 minutes.  Callum Lawlor closed out the first half scoring with a free from distance leaving Emeralds leading 2-07 to 0-03 at the break.
Both teams traded wides at the start of the second half before Darragh Hickey picked off a score from midfield followed quickly by a Callum Lawlor point from a difficult angle on the right side-line. Cian Hickey extended his tally to 1-02 with a point following some nice interplay with Oisín Quinlan.  Adam Franks pulled a point back for Carrickshock from a placed ball on the 36th minute as Carrickshock continued to battle hard.  Michael Rohan made a number of driving runs forward from centre back and picked out team mates in good positions. Unfortunately, the Carrickshock men were unable to convert and were unlucky with a number of wides. Points from Callum Lawlor and Daniel Tobin extended the Emeralds lead to 2-15 to 0-04 mid-way through the second half.  Michael Rohan continued to drive forward and was rewarded when he picked out Matthew Murphy in space who pointed from distance. Cian Hickey traded points with Adam Franks before Carrickshock were denied a goal by a good save from Diarmuid Burke in the Emeralds goal. The ball immediately travelled down the other end of the pitch where Sonny Tobin raised the green flag for the final score of the game to give the Emeralds the victory by a score of 3-16 to 0-06.  The result sees Emeralds at the top of the league table on maximum points.
Emeralds
Diarmuid Burke, Conor Gibbons, Simon Zhang, Daniel Tobin, Cormac Burke, Darragh Hickey, Conor Kavanagh, Oisín Deegan, Craig Barnaville, Oisín Quinlan, Callum Lawlor, Dylan Ivors, Callum Broderick, Jimmy Cleere, Cian Hickey
Substitutes: Sonny Tobin, Conor Houlihan, Cathal O'Dwyer, Killian Burke, Cillian Deegan
Carrickshock
Dara O'Neill, Seamus Murphy, William Hogg, Christopher Aylward, Matthew Murphy, Michael Rohan, John Somers, Mark Askins, Jack Walshe-Raggett, Adam Franks, Oisín Drea, James Conway, Cian Franks, Conor Duggan, Sean O'Toole
Substitutes: Finn Conway, Matthew Cahill
KILKENNY VEHICLE CENTRE ROINN B HURLING LEAGUE
VENUE: Danesfort
REF: Vivienne Holmes
24/04/23
Danesfort 2:10 1:18 Graignamanagh
Danesfort hosted Graignamanagh for round 5 of the Kilkenny Vehicle Centre Minor B Hurling League at 19:00 on the 24th April, referee for the game was Vivienne Holmes.
Graignamanagh started the game very strong and went into a lead of 0-4 to 0-0 after 10 minute. Against a very strong Graignamanagh midfield and half back line, Danesfort gained momentum in the first half, slightly ahead at the halftime whistle Danesfort 2-5 to Graignamanagh 0-9.
After the interval Graignamanagh returned to the pitch with determination and completely dominated the second half and finished out the game winning by 5 points.
Final score was Graignamanagh 1-18 Danesfort 2-10