Busy week as Duggan Steel U13 Hurling Leagues now up and running
KILKENNY VEHICLE CENTRE MINOR ROINN C LEAGUE
VENUE: Jenkinstown
REF: John Guinan
24/04/23
Conahy Shamrocks 0:08 v 3:19 Tullaroan
Tullaroan proved too strong for Conahy Shamrocks as the two sides faced off in the Kilkenny Vehicle Centre Under-17 Hurling Roinn C League in Jenkinstown. Tullaroan's better physical strength and size was an evident difference between the sides all through, and try as Conahy might, they could not physically match the Tullaroan side for pace and power.
The sides were even in the opening stages with Ciallin Brennan and Cathal Russell finding the range for Tullaroan, while Daniel Mooney and Eoin Dunne did similarly for Conahy. However, Charlie Bibby soon broke through to score Tullaroan's first goal, and they soon opened a good lead. Tullaroan were very accurate throughout the opening half, and Ciallin Brennan was particularly so from play and frees.
Tullaroan led by 1-10 to 0-4 at the interval and the second half continued in the same vein as the first. Goals from Ciallin Brennan and Ethan Russell ensured Tullaroan went home with the two league points. Conahy tried hard, but no one could deny that the winners were deserving after their performance.
TEAMS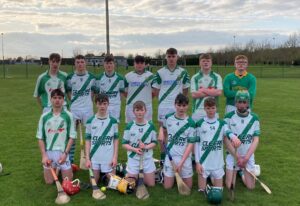 Tullaroan: Thomas Holmes, Richard Delaney, Eamon Delaney, Johnny Leahy, Bill Coogan, Daire Hogan, Dylan Breen, Cathal Russell, Charlie Bibby, Ben Leahy, Ciallin Brennan, Ethan Russell, Cillian Murphy.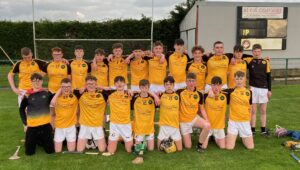 Conahy Shamrocks: Tommy Mulhall, Tadhg Hennessy, Conor Hennessy, Patrick Kennedy, Jack Rhatigan, Killian Lacey, Daniel Mooney, Andrew O'Connor, Ben Duggan, Eoin Dunne, David Ring, Evan Staunton, Jake Dooley, Finn Sherman, Rory Rhatigan, Joe Boland, Michael Lawler, Camryn Kenehan, Neil Webster.
DUGGAN STEEL U15 ROINN B HURLING LEAGUE
VENUE: Dr Tierney Park
REF: John Walsh
03/05/23
Graignamanagh 4:16 v 2:03 Kilmacow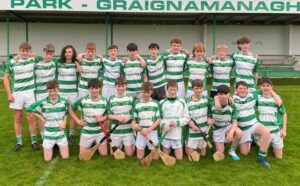 The home team started the game playing into the Highview end with the benefit of what little wind there was on the night. Kilmacow were under pressure from the start with keeper Eoin Sutton making a good save. However, 5 minutes in & Graig full forward Rory Murphy struck with a goal to register the first score of the game. In the following 3 minutes 2 points were added to the score tally for Graigs Sean O' Grady & Padraig Hayden. Kilmacow were really struggling to get the ball out of their  own half & Rory Murphy notched up a 2nd goal on the 10min mark. Kilmacow steadied the ship and began to open the supply line to their inside forwards. This resulted in a goal for full forward Daire Casey Power quickly followed by a nice point by corner forward Liam Eagan. Graignamanagh responded with 2 points from centre forward Sean O' Grady. The Kilmacow full forward again demonstrated his goal scoring prowess with his 2nd of the evening despite the Graig full back line doing their best to contain him. The home side moved to counter this scoring threat by moving Jamie Kennedy back to play sweeper but shortly afterwards Casey Power, the main scoring source for Kilmacow was forced to withdraw injured. The 1st half finished with a Sean O' Grady point from a 45 Half time score Graig 2-06 Kilmacow 2-01 The match recommenced very much like the 1st half with Graignamanagh holding all the procession. The first score of the half was a Sean O' Grady point from a free to Graig. The Graignamanagh boys now sensing that scores were available began to take their chances. This resulted in a sweet point from strong running Harry Delaney in midfield and centre back Rory Cleary putting over a point from his own half followed by a Jamie Kennedy point from the wing. The best worked score of the game came next with Rory Murphy getting his hat trick goal with the ball having been worked up through the lines by the Graig lads. Padraic Hayden registered 2 points and Sean O' Grady registered a point from a free with O' Grady also getting a goal having received the ball from a Jamie Kennedy hand pass lifted straight from the Cian Lynch playbook. It was scores all round for Graigs halfback line with direct running Cillian Murphy registering the home teams 5th goal and Cody O' Neill capped a fine game with a point from him. With the game winding down Graig emptied the bench and substitute Tommy Dowling put over a beauty of a point from out in the wing. Kilmacow registered the last scores of the game with a brace of points from 2 converted frees put over by Jack Doyle and Rian McDonald. A strong win for Graignamanagh who will be delighted to have had 9 players registering scores.  Kilmacow will rue losing their full forward & main source of scores and will know they probably didn't do themselves justice on the night. Final score Graignamanagh 5-16 Kilmacow 2-03.
DUGGAN STEEL U15 ROINN B HURLING LEAGUE
VENUE: Tullaroan
REF: PeterBurke
03/05/23
Tullaroan 4:08 v 0:09 St Lachtains
 Tullaroan: Ryan Maher, James Purcell, Daire Hogan, Conor Cuddy, Rian Maher, Rory Buckley, Eamon Delaney, Dylan Breen (0-05 2 frees), Micheal O'Mahony (0-01), Ciabhan Maher (1 free), Ethan Russell, Lory Hogan (2-0), Ben Leahy, Cian Maher(2-0), Cillian Murphy(0-01) subs Richard O'Shea, David Holland, James Holmes, Keilan Egan, Cillian Pollard, Neil Leahy, Kaelem Maher, Rory Byrne
St Lachtains: Jamie Walsh, Nathan Walsh, Michael Hickey, Aidan Dowling, Cian O'Connor, Charlie Kavanagh, Hugo Carroll, David Ryan, James Flynn, Cian Dalton, Bobby Darcy (0-05 2 frees), Jack Marnell (0-02), Jamie Kavanagh (0-02), Paddy Mc Carthy, James Bolger sub Patrick O'Connor
Wednesday evening saw round 4 of the U15 Roinn B league local derby between St Lachtains and Tullaroan in Tullaroan. This was always going to be close contest between 2 evenly matched teams however as the saying goes "goals win games" and that was what was the difference between the sides in the end.
Freshford got off to the better start with a point from a tight angle from Jamie Kavanagh after 5 mins. Freshford scored again with a point from Jack Marnell 2 minutes later. Bobby Darcy was next to score with a good point 11 minutes into the half. Tullaroan were wasteful of chances and had 7 wides before getting their first score from a free pointed by Ciabhan Maher after 22 minutes.
Two minutes later Bobby Darcy pointed a free for Freshford which was to be their last score of the half. Tullaroan were next to score with a good point from Dylan Breen who also put over a free at the end of the first half to put the minimum between the sides at half time. While the first half was low scoring it brought some good hurling and a great tussle between Jamie Kavanagh and Conor Cuddy two of the youngest players on the field.
HT St Lachtains 0-04 Tullaroan 0-03
St Lachtains started the half with a quick point from Bobby Darcy which was followed a minute later with one from Tullaroan's Dylan Breen. Jamie Kavanagh scored the next point for the visitors with the puck out going back to Dylan Breen who pointed again for Tullaroan. Micheal O'Mahony from mid field won the next ball and scored a lovely point 5 minutes into the second half to bring the sides level. Within seconds the ball was won by Lory Hogan who buried it in the Freshford goal giving the home side the lead for the first time in the game. With momentum behind them Tullaroan were playing better and 3 minutes later Cian Maher got his first goal. Always dangerous looking Bobby Darcy got the ball next and put it over the bar to reduce the deficit but it was all going Tullaroan's way now. Lory Hogan within 2 minutes found the back of the net again. Bobby Darcy put another free over the bar to keep them in the game. The ball went back up the field and Tullaroan who were searching for goals this half had one disallowed for square ball, however within minutes Cian Maher had a good pass from Lory Hogan and found the net again. That was to be the final goal and the last 8 minutes saw Freshford score a final point from Jack Marnell with Dylan Breen and Cillian Murphy finishing with a point each. St Lachtains were missing players through injury and both teams are young for this age.
The Tullaroan full back line worked well and nothing was going past them tonight. James Purcell, Daire Hogan and Conor Cuddy were consistent all evening with Ryan Maher steady in the goal.
Charlie Kavanagh, Jack Marnell along with Jamie Kavanagh and Bobby Darcy were strong for St Lachtains.
DUGGAN STEEL U15 ROINN B HURLING LEAGUE
VENUE: Mooncoin
REF: Richard Dowling
03/05/23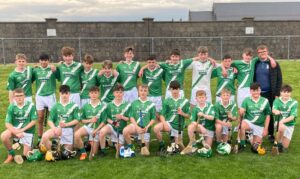 Mooncoin 5:13 v 0:05 Piltown
On a great evening for hurling Mooncoin took full advantage of their home venue
beating Piltown on a score line of Mooncoin 5 14 to Piltown 0 5
Mooncoin played with a strong wind in the first half and led by 3 .7 to 0 .4 at half time.
Mooncoin continued their dominance in the second half running out comfortable winners
Playing well for Mooncoin were Ben Brennan who held the fullback line followed by Finbar Purcell and co in the half back line. Mooncoin midfield of Walsh and Mackey worked tirelessly throughout contributing several scores in the process . In the forward line all six forwards contributed to the score line of whom Darragh Aylward,Liam Mackey ,Anil Ramasawmy and Lucas Delahunty looked dangerous throughout. Piltown to their credit worked tirelessly throughout and on a difficult night showed great character to keep fighting to the final whistle.
DUGGAN STEEL U13 ROINN C HURLING LEAGUE
VENUE: Pairc na Ratha
REF: Gavin Quilty
05/05/23
Glenmore 2:08 v 3:04 Mt Leinster Rangers
This was a hotly contested match right from the throw in with both sides matching each other in the opening exchanges. Glenmore playing at home into a light breeze in the first half. The opening score came courtesy of a fantastic goal by James Vereker, striking to the back of the net after catching a long clearance from Senan Freyne.
Mount Leinster Rangers settled into a stronger rhythm in midfield, after that and two fine pointed scores by James Flood settled them right back into the game. Another response back from Glenmore up the field, with the speedy James Vereker popping over another fine point for Glenmore. Senan Freyne, at centre back made a great catch and pointed a long range score for the home team, who were slightly on top at this stage. However, Mount Leinster Rangers, were here for a match and battled well to work a great goal from their No.16 corner forward. They nearly got another only for a great save by JJ Kehoe in the goal.
Glenmore pushed on and corner forward Tadhg Freyne, was unlucky not to net a goal only to rattle the crossbar, with a fine shot. Glenmore's talisman Verker popped over another point. Glenmore pressing hard as the half closed but Mount Leinster's strong midfielder James Flood again scored a good point from distance. Sam McDonald closed the half for another point for the home team. The half time score sitting at 1-5 to 1-3 to Glenmore, and nothing in the game at all.
The second half opened with a fine goal from the Carlow boys, with skilful flick into the net by Keane Murphy. After a period of good battling, from Sean Croke, Sam McDonald, Callum Walsh, and some great clearances by Joey Kirby from full back, Glenmore picked off another fine score from Vereker again. Glenmore, under a lot of pressure for the opening 15 minutes, with the goalie JJ Kehoe earning his jersey with back to back saves to keep Glenmore alive. The home team settled and after another Verker point, Sean Croke tacked on a fine accurate long range point over the black spot.
James Flood from Mount Leinster Rangers, who played a fantastic game throughout, burst through again from midfield, and despite the best efforts of Glenmore's defence, he finished superbly to the net to put Mount Leinster right back in it.
Glenmore response was immediate, however, and a long range Senan Freyne free , found its way into the net for another Glenmore goal. The Carlow men scored another fine point , just before the final whistle, from man of the match James Flood, to get them within one. But, the final whistle blew and Glenmore earned a tight victory, with the final score line reading 2-8 to 3-4.
A very exciting game, with great heart and skills shown by both teams.
Glenmore
JJ Kehoe, Sean Kelleher, Joe Kirby, Kieran Boyle, Kevin Cody, Senan Freyne (1-1) , Callum Walsh, Sean Croke(0-1), Sam McDonald(0-1), Tadhg Freyne, James Verker(1-5), Christopher Bowen, Conor McNamara, Michael O Connell, Jack Coleman, Richie Mullally, Harry Grant, Jack Harney, Noah Kirby. Alex Phelan, David Grant.
Mount Leinster Rangers
Cillian Doyle, Darragh O Brien, Sean O Brien, Ronan Murphy, Ruari Murphy, James Dalton, Joe Walsh, James Flood(1-4), Dian Foley, Charlie Griffith, Cian Moylan, John Joyce, James Scallan, Keane Murphy(1-0), Jack Ivers (1-0)
DUGGAN STEEL U13 ROINN C HURLING LEAGUE
VENUE: Slieverue
05/05/23
Slieverue 3:07 v 2:05 Naomh Brid
Naomh brid travelled to slieverue friday evening for the 1st round of the under 13 roinn c league
Slieverue got an early goal but failed to build on it as the Carlow team scored 2 goals of their own and took some lovely points to see them go in at the break with a narrow lead.
Slieverue came out a different team in the second half and in particular their full forward line caused the visitors huge problems.
The home team finished off the game strongly with a scoreline of Slieverue 3:07 v 2:05 Naomh Brid.
DUGGAN STEEL U13 ROINN C HURLING LEAGUE
VENUE: Cloneen
REF: Sean McMahon
05/05/23
Cloneen 2:10 v 4:08 Naomh Moling
Friday evening saw Cloneen take on Naomh Moling in Cloneen in the first match of the league for the U13.
It was the visitors that were first to score with a point in the first min and another shortly after before Cloneen got their first in the 9th minute from John Phelan and both teams traded scores each for the rest of the quarter. In the 21st min of the game Ryan lawlor scored a goal for Cloneen and 2 minutes later Sean Brennan was awarded a penalty which Ryan stuck in the back of the net and another point from play shortly after. Just as the first half was coming to a close Naomh Moling scored 2 goals in the 27th and 29th minute before Cloneen closed the half with a point from a Free leaving it at half time Cloneen 2-6 Naomh Moling 2-5.
The second half saw the visitors start with a point and then Cloneen got their own and after that the scores dried up for both sides for a long time until Naomh Moling got a goal in the 47th minute and both teams got a couple of points but in the dying minutes the visitors got another goal which saw it out for them. This was a very enjoyable match on a great evening and one that could have gone either way.
Final score Cloneen 2-10 v 4-08  Naomh Moling