Feile Peil full of fantastic Football as Canon Kearns Park, Castlecomer plays host to our annual qualifiers
The beautiful setting of Canon Kearns GAA pitch, the home of Erin's Own, hosted the Annual football qualifiers this year in Kilkenny.  14 teams from Kilkenny competed across 3 divisions which resulted in approx 280 players taking part to represent their Clubs.
DIV 1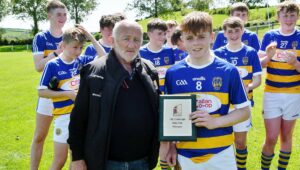 With six teams taking part in division 1, we started with 2 quarter finals where we had the following results
¼ finals
James Stephens 0:02 v 1:06 Dicksboro
Thomastown 2:01 v 1:02 Young Irelands
Two very good games with Thomastown & Young Irelands playing out a real even battle while a stronger Dicksboro side registered a 7 point win over City rivals James Stephens.
Semi finals
Dicksboro 2:07 v 0:02 Thomastown
John Lockes 2:05 v 2:00 O' Loughlin Gaels
After two dominant displays in the semi finals we saw Dicksboro ease past last year's Division 1 winners while an impressive Callan based side do more than enough against a gallant O' Loughlin Gaels side.
Final
Dicksboro 2:02 v 2:04 John Lockes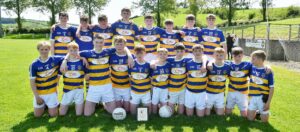 What a final we had here, with some quality passages of play from both sides we witnessed some brilliant skills from both sets of players. John Lockes did eventually hold out in the end but Dicksboro didn't make it easy for the winners as they bombarded the John Lockes goal mouth for the last 5 mins trying to get those much needed scores. John Lockes now go on to represent Kilkenny in the National Feile.
DIV 2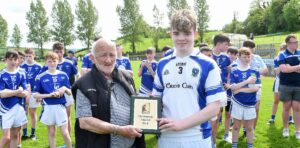 With four teams competing in division 2 we went straight to semi final stage.
Semi finals
Barrow Rangers 1:05 v 1:01 Mooncoin
Erins Own 1:09 v 2:02 St Patricks
Two very close encounters here, a very capable Mooncoin side staying with Barrow Rangers all the way until John McCormack blew the final whistle. Meanwhile in the other semi final two goals for St Patricks put some pressure on the home side to keep Erins Own on their toes until the game was over.
Final
Barrow Rangers 0:02 v 2:07 Erins Own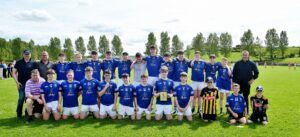 This was a very impressive display from the home side who lead all the way until the end. Their physical strength and score taking ability saw them run out deserved winners and now they move on to represent Kilkenny in the Regional Feile.
DIV 3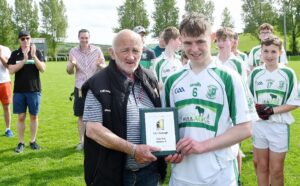 With four teams again in division 3 we had Graignamanagh taking on Railyard and Kilmacow up against Lisdowney in the two semi finals.
Semi finals
Graignamanagh 1:02 v 1:06 Railyard
Kilmacow 3:07 v 2:05 Lisdowney
Once more we had two cracking semi finals. Railyard and Graig played out a physical encounter where scoring chances where few but taken well by both sides. Kilmacow and Lisdowney gave us a scoring treat in a very high scoring game,  games are 15 mins per half. It was a real up and down the field battle where Kilmacow came through to set up a final with Railyard.
Final
Railyard 2:02 v 1:12 Kilmacow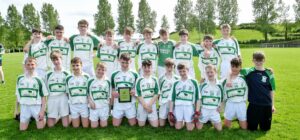 Kilmacow now march on to represent Kilkenny in the Regional Feile after a very impressive display of football, not only in the final but also the semi final too. Their free flowing styleand ability to kick points was a joy to watch.
Many thanks have to be given to all helped to make the day a success. Massive thanks to the players, mentors, Clubs and a special mention to the parents/guardians who taxi the players around the county continuously. Thank you to the referees and officials on the day and a big thank you to the Erins Own Gaa Club for the use of their beautiful grounds and the warm welcome for all.
KILKENNY VEHICLE CENTRE MINOR ROINN B HURLING LEAGUE
VENUE: Dr Tierney Park
REF: Johnny Minogue
27/03/23
Graignamanagh 3:12 v 0:13 Shamrocks Ballyhale
Graignamanagh Gaa Club welcomed Shamrocks Ballyhale to the picturesque Dr Tierney Park for the opening round of the Kilkenny Vehicle Centre Roinn B hurling league.
Straight from the throw in the home side went on the attack through centre forward Cian O Shea but his effort went to the right and wide. From the restart the ball broke in midfield and amongst the body of players surrounding the ball the eagle eyed Johnny Minogue spots an infringement and awards a free to Graig, Cian O Shea converts the free to open the scoring and the home side are moving well in the early stages supported by whatever breeze is available. A quick puckout and the visitors are on the attack, a bit of pressure on the Graig fullback line and this time Ballyhale are awarded the free which Celtic Challenge man John Fitzpatrick converts without any fuss. Ballyhale are quick to add another point from midfielder Michael Kenneally and go in front by the minimum. Graignamanagh then hit an early purple patch and score 1:03 unanswered. First off a point by Sean O Grady for his first of the night after some creative work from Cian O Shea, then the industrious centre back Jack Brown collects the break from the visitors puckout and makes a tremendous run forward to find Tj Caulfield who slots over the bar from close range. Then comes the first big moment of the night, the inform Cian O Shea hits the post high up and the rebound is quickly gathered by Tj Caulfield who makes no mistake and finishes past Theo Drennan in the Ballyhale goal, 1:04 v 0:02. Ballyhale get some momentum going and the next few mins become a very good physical battle with the scoring opportunities limited for both sides. Ballyhale did strike next through a Michael Barron point which was quickly followed by a John Fitzpatrick free, John Fitzpatrick at full forward for Ballyhale and Eddie Doyle at fullback for Graig were having a right good battle at this stage and it would continue for the rest of the half until Fitzpatrick went to centre forward for the second half. Graig responded well again started by a massive free from Cian O Shea, this was followed by two points either side of a Gavin Kielthy goal from Sean O Grady.  Charlie Lennon is next to pounce for the visitors who pops up with a point at the town end. John Fitzpatrick adds two more points, one from a free and one from play, Ballyhale narrowing the gap. Graig add another Cian O Shea free won by Devon Kielthy in midfield before the excellent Sean O Grady added his 5th of the half in a man of the match quality first half performance. John Fitzpatrick stood over another free after a loose pull to add one more before some brilliant work by Jake Mullen saw him add his first point of the day to end the half Graignamanagh 2:09 v 0:09 Shamrocks Ballyhale.
The second half starts with a couple of positional changes for Ballyhale, centre back Sean Shefflin is handed the task of marshalling Sean O Grady while John Fizpatrick and Jake Mullen swap central attacking roles. John Fitzpatrick gets on the end of a pass to open the second half scoring to bring it back to a 5 point game. Colin Bolger finds Sean O'Grady with the puckout who in turn finds Conor Houlihan with a cross field ball, Conor is fouled with heading for goal but the free is pulled wide.  Cian quickly rectifies the situation when he collects a pass 50 yards out and at the end of his run finds the net for Graigs third goal of the night. Again John Fitzpatrick responds for Ballyhale, firstly a point from around midfield with a sweetly struck shot and then from a free to bring it to a 3 point game and put big pressure on the home side. The tactical switch of Shefflin to mark Sean O Grady was working well at this stage and was curtailing Graigs threat of scores from play.  Two more points from placed balls got the scoreboard moving again for Graig before Jake Mullen robbed the ball cleverly from a Graig attempted clearance and pointed from a very tight angle. Graig did point from play eventually in the second half when Cian O Shea got on the end of a clever flick from Gavin Kielty to end the scoring on a night when Graig ran out winners on a score of 3:12 v 0:13.
DUGGAN STEEL U13 ROINN C HURLING LEAGUE
VENUE: Dunnamaggin
REF: John Kennedy
12/05/23
Dunnamaggin 4:13 v 1:03 Carlow Town Hurling Club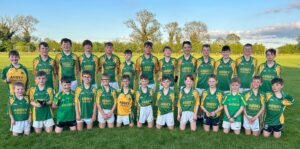 What a great evening for hurling .
Carlow town made their way down to Dunnamaggin in the u13 league.
Carlow got off to a great start & opened the scoring with a great long distance free . Dunnamaggin responded with 2 goals followed by another 4 points, 2 from frees and 2 from play. Carlow were playing very strong down the middle & got another 1-1 but dunnamaggin got the last score in the second half adding another point to their score line.
Score at half time 2-5 to 1-1
Carlow came out strong in the second half & got another 2 pints but Dunnamaggin stepped it up a gear and made some lovely scores in the second half to seal the victory.
Final score Dunnamaggin 4-13 Carlow town 1-3
Scores for Dunnamaggin came from;
Robbie Lyons 2-0
Brandon Carroll 1-0
Sean Mc Loughlin 1-1
Robbie lodge 0-1
Joshua Carroll 0-4
Dan Doherty 0-7