John West Feile Hurling (Region 4)
Venue: Erins Own GAA Club, Castlecomer
Date:  24/06/23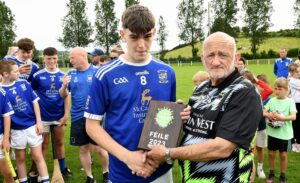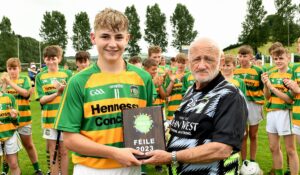 While James Stephens and Barrow Rangers headed west to represent their Clubs and County the beautiful setting and brilliant facilities of Erin's Own Gaa Club in Castlecomer played host to the Regional 4 Feile which was hosted by Kilkenny this year. Eight teams from the southern part of the Country participated in what was an excellent day in 'Comer with the weather playing ball on the day too.
The format for the day was two groups of four teams where each team played three games and then placed either 1st, 2nd, 3rd or 4th in their respective groups with 1st and second going through to ''Cup semi finals'' and 3rd & 4th going through to ''Shield semi finals''.
Group 1                                                   Group 2
Dungarvan (Waterford)                       Mount Leinster Rangers (Carlow)
Bennettsbridge (Kilkenny)                   Ballinteer St John's (Dublin)
Ballinamere/Durrow (Offaly)              St Brendans ( Kerry)
Oulart The Ballagh (Wexford)             Conahy Shamrocks (Kilkenny)
In group 1 throughout the group stages it was very clear early on who were the contenders as a very dominant Oulart The Ballagh side were finding their scores very easy to come by in all games and and finished the group games unbeaten and on maximum points with 6 points.  2nd place was Dungarvan with 4 points, 3rd was Bennettsbridge with 2 points and 4th Ballinamere/Durrow with 0 points.
In group 2 however we had a closer group, Ballinteer St John's of Dublin were the runaway winners of this group on maximum points too but the other 3 teams finished on 2 points each so it was down to the Feile rules to separate these teams into 2nd, 3rd and 4th. (just to note in Club League games within the  County competitions for u13, u15 and minor leagues, where teams finish level on points at the top of the groups, teams will go into a playoff scenario with all teams who finished on the top points. There are no head to head, score difference etc). Group 2 finished as follows 1st Ballinteer St John's, 2nd Conahy Shamrocks, 3rd Mount Leinster Rangers & 4th St Brendans.
Cup Semi Finals
Oulart the Ballagh  v  Conahy Shamrocks
Ballinteer St John's v Dungarvan
Shield Semi Finals
Bennettsbridge   v  St Brendans
Mount Leinster Rangers v Ballinamere/Durrow
Cup Final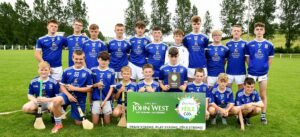 Oulart the Ballagh v Dungarvan
Shield Final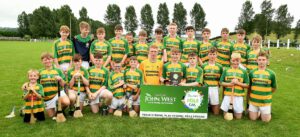 Bennettsbridge v Ballinamere/Durrow
It has to be said we had two cracking finals on the day. Starting first was the shield final and in a brilliant tight encounter the Bennettsbridge side came out on top to claim victory to the delight of all involved. The Cup final was a bruising battle and a rather fortuitous goal from Dungarvan got the over the line to claim victory in a very close fought game.
A huge thanks has to go to all the clubs, teams, players and mentors for putting on a great display of hurling all day. To the parents who continuously drive the players to training and matches ye too have to get a massive thanks. Thank you to the referees on the day who we could not do without. A final thank you has to be given to the Erin's Own Gaa club and their members for the warm welcome and help on the day as they were not found wanting all day, a special mention to the groundsman who had both pitches in top condition.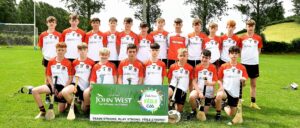 Ballinteer St Johns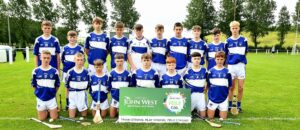 St Brendans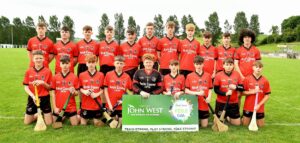 Oulart The Ballagh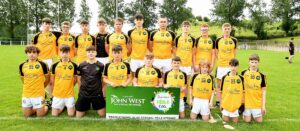 Conahy Shamrocks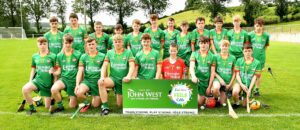 Ballinamere/Durrow