Plenty of games on as we prepare for the business end of the year
Kilkenny Vehicle Centre Minor Hurling League Roinn B Rd 4                       3-7-2023
Galmoy/Windgap 3-18                  Lisdowney   3-9
Having given Lisdowney a head start, whereby they led by eight points after ten minutes of this Minor League Hurling tie in Lisdowney on Monday July 3rd, Galmoy/Windgap clawed themselves back into contention to eventually ease to a nine point victory. There was a strong downfield breeze at play all through this clash with the home side benefitting from the elements early on. Billy Grogan and Jamie Thornton struck early points for the hosts before Thornton shot to prominence with two quick fire goals. Lisdowney had 2-2 and eight wides registered before Galmoy/Windgap opened their account in the 13th minute. Niall Drennan made a good run through the heart of the Lisdowney defence before laying off a pass to Conor Doyle who set up P J Delaney to blast to the net. This was a badly needed score for the visitors. Jamie Thornton was winning an amount of ball on the left wing for the hosts and after 15 minutes, Darragh Doyle was assigned the task of policing the double goalscorer, with Colman Moloney now manning the centre back position. Cian O Rourke and Conor Doyle from a free struck a brace of points for Galmoy/Windgap before they were rocked by Lisdowney's third goal from play. This time it was corner forward James Dooley who tapped the sliotar home after confusion in the visitor's defence. Conor Doyle picked off two points with Seamus Murphy replying to leave Lisdowney six points to the good at the half time break, 3-4 to 1-4.
Cian O Rourke had now moved to midfield with Edmond Power taking up residency on the edge of the square. Backed by the breeze, Galmoy/Windgap made a good start to the new half with Conor Doyle pointing a free and Niall Drennan striking over two good efforts from play. When two Galmoy/Windgap players were blown for overcarrying, Jamie Thornton punished them from placed balls, but Lisdowney were now finding it difficult to keep up the onslaught. In fact Galmoy/Windgap went on to shoot six scores without reply at the end of the third quarter as they began to prise open the home defence. Conor Doyle pointed from play before Eoin O Shea took a pass from Niall Drennan and went on a mazy run through the Lisdowney defence before blasting to the net. The busy John Power added a nice point to level the game Galmoy/Windgap 2-9 Lisdowney 3-6, in the 43rd minute. Colman Moloney and Darragh Doyle were now having a big influence on the half back line and the forwards were taking advantage. In the 44th minute, Niall Drennan won and struck a huge free out of defence which just dipped under the crossbar, and was batted back in to play. Alas for Lisdowney, Edmond Power reacted quickest and tapped home the sixth goal of the game. Niall Drennan then struck over three points in succession from play as the visitors took a grip of proceedings. Matthew Grogan pulled one back for the home side who had now moved excellent full back Cillian Dunphy up in to attack in an attempt to boost the forward division. The last ten minutes belonged to Galmoy/Windgap however, with Conor Doyle (3) and Niall Drennan(4) hitting seven points without reply to seal the points for their side. Others to do well for the visitors were Jack O Dwyer, Alex Culleton and George Culleton. For Lisdowney, Cillian Dunphy was best with M J Banville, Jamie Thornton and James Dooley also trying hard.
Galmoy/Windgap: Tom Power, Jack O Dwyer, Alex Culleton, Padraig Egan, Edmond Power(1-0) ,Darragh Doyle, George Culleton, Colman Moloney, Eoin O Shea(1-0), Aidan O Shea , Niall Drennan (0-8)(Capt.), Conor Doyle(0-8,0-5frees),P J Delaney(1-0)Cian O Rourke (0-1),John Power(0-1):
Sub: Ryan Whelan for Aidan O Shea 52 mins, Peter Ryan for Jack O Dwyer 52 mins, Sam Moloney for John Power 57 mins, Darragh Enright for Edmond Power 57 mins and Joe Moloney for Padraig Egan  57 mins.
Lisdowney: Patrick Murphy, Liam O Gorman, Cillian Dunphy(0-1free),Charlie Kennedy, Patrick Kennedy, Noah Scott, James Walsh, Ciarán McMenamin, M J Banville, James Leahy, Matthew Grogan(0-1), Jamie Thornton(2-3,0-2frees), James Dooley(1-0), Billy Grogan(0-2)(Capt.), Seamus Murphy(0-1).
Referee:  Peter Burke (Emeralds)
KILKENNY VEHICLE CENTRE ROINN B LEAGUE
VENUE: Dr Tierney Park
REF: John Walsh
30/06/23
It was the return of the Minor B hurling league for Graiguenamanagh and Lisdowney in this rescheduled round 6 match at Doctor Tierney Park with 3rd playing 4th in this much anticipated match. Conditions were ideal for hurling in a sunny wind free evening at the scenic venue.
It began with a blistering start from the Home side with Graiguenamanagh coming out of the blocks first with a quick 1 -1 from Stephen Kinsella who up front set the tone for the afternoon. Graig were moving the ball well into the full forward line and punishing the visitors at every opportunity. Further goals from young Kinsella and TJ Caufield would make it a long afternoon for the Lisdowney men, who battled and fought hard for every ball. Jamie Thorton for the visitors brought them back into it with a well taken goal and kept the score board ticking over with a few well taken frees. Lisdowney were causing some problems for the Graig defence when moving the ball quicky through the lines with Robbie Mcevoy and Jamie Thornton leading the line.
Further points from Stephen Kinsella, Conor Murphy and Kian O Shea for Graig would see the home side going in half time with a well-deserved 6 – 7 to 2 – 3 lead.
The second half started similar to the first with the Graig men working the ball well from defence to attack. Graigs defence was standing up well against the visitors with some solid performances all round especially from Devon Kielty and Martin Barron. Further goals from Kian O Shea and Stephen Kinsella ended any thoughts of a come back, but to be fair to Lisdowney the heads never dropped and they battled right to the end. The final score would be 8 – 21 to 3 – 7.
KILKENNY VEHICLE CENTRE ROINNA HURLING LEAGUE
VENUE: Piltown
REF: Eddie Crowley
03/07/23
Piltown 1:15 v 2:23 Erins Own
Game started at a good pace with both free takers getting plenty of practice. Castlecomer fowards seem to be getting the upper hand on the home teams backs but Piltown kept fighting hard getting hooks blocks and tackles in. Oisin Reid in goal made 2 great saves in the half to keep the home side ahead by a point at half time. A devastating 6 minutes from Castlecomer midway through the second half ended the contest scoring 2-4 without reply. Piltown to their credit kept fighting on and got a goal towards the end with a goal from ground strike from DJ Knox. Castlecomer had the edge on the physicality stakes and proved it as they wore down Piltown with the constant movement from the foward.
Full time Piltown 1.15 v Erin's Own 2.22
KILKENNY VEHICLE CENTRE ROINN C HURLING LEAGUE
VENUE: Pairc Lachtain
REF: Ger O Grady
03/07/23
St Lachtains 1:18 v 0:14 Tullaroan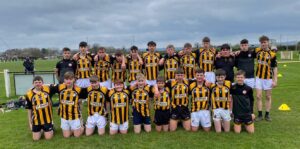 On a blustery windy evening in Páirc Lachtain a very entertaining game ensued between St Lachtain's and tullaroan reffed by Ger  O'Grady.
St Lachtain's had the wind in the first half and scored the first point and Tullaroan replied with a good score promptly. St Lachtain's then got a few good points and Tullaroan replied to have it 5 pts to 4 after about 12 minutes.  St Lachtain's got on a bit of a roll and scored some good points to close out the half 12 points to 5.
In the second half Freshford opened the scoring with a couple of good points. Then Tullaroan rallied and started scoring some good points to eat into the lead.  They pressed hard for a goal but St Lachtain's defence stood strong.
Then St Lachtain's scored a goal to keep some daylight between the teams.
Tullaroan fought hard but Lachtain's finished strong with a couple of nice points to close out the game 1 goal and 18 points to 14 points.
St. Lachtain;'
———————
1 Michael Murphy 2, 3 Eoin Dalton 4 Jamie Denieffe 5 Liam-Kenny Landers 6 Luke  Phelan 7 Jack Dalton 8 Conor Dalton 9 Marty Campion 10 Mikey Tiernan 11 Sean Counihan 12 Trystian Keane 14 Cian Donnelly 15 Colin McGree
Subs
David Ryan, Bobby Darcy on for Trystian Keane, Tadhg Bolger for Jamie Denieffe, Cian O'Connor, Patrick Brennan, James Flynn, Charlie kavanagh (inj)
Tullaroan
————-
1 Thomas Holmes's 2 Eamon Delaney 3 Richard Delaney 5 Daire Hogan 6 Bill Coogan 7 Johnny Leahy 8 Cathal O'Russell 9 Ethan O'Russell 10 Ben Leahy 11 Ruari O'Shea 12 Cillian Murphy 13 Ciallin Brennan 14 Dylan Breen
Kilkenny Vehicle Centre Minor A Hurling League Round 7
St. Patrick's Vs Dunnamaggin
Venue: Ballyraget GAA grounds
Referee: Sean McMahon
Half time score: St. Patrick's 1-5 Dunnamaggin 0-11
Full time score: St. Patrick's 3-9 Dunnamaggin 1-15
The minor hurling league made a welcome return Monday night as Dunnamaggin travelled north to Ballyragget. Both having played 6 rounds so far, Dunnamaggin sat second in the league having only lost one of their 6 games. St. Patrick's sat 7th losing 3 and winning 3 of their fixtures so far. On paper, it would be fair to say that Dunnamaggin were favourites coming into this round.
Dunnamaggin started off strong scoring 3 unanswered points within minutes of the whistle. St. Patrick's struggling to get to grips with the ball. It took 7 mins for the St. Pats men to get a score but when they did it was a superb ball to Oisin Troy that ended up in the back of the Dunnamaggin net, all level. From then, the game settled into a highly entertaining contest. Dunnamaggin went ahead a second time with three more points but a free from Mark Doheny and a second score from play kept St. Pats in it. A few changes half way through the first half were significant for St. Pats and bringing their no. 2 Aaron Nealis from corner back to half forward proved to have a positive impact. Dunnamaggin were clearly a stronger side though and continued to put points over with somewhat ease. St. Patricks kept their cool though and at half time only three points separated the sides. St. Patricks 1-5 Dunnamaggin 0-11
The opening minutes of the second half were all about the pressure St. Patricks were putting the Dunnamaggin defence. The first four attacks Dunnamaggin held tight and won back the ball and came out with it. It was four minutes before there was an opening score for St. Patricks'. Dunnamaggins goal chance was saved by goalie master Tadhg Phelan. Half way through the second half both sides had score three points a piece. The turning point of the game came in the 19th minute when a long ball in from the 65 from Josh Dowling, landed between the Dunnamaggin full back and St. Patrick's full forward, however the Dunamaggin corner back made the decision to go up with both players and the ball passed through to Evan Coogan who calmly dispatched to the back of the net.  Dunnamaggin swift response was a goal chance of their own at the other end of the field but only to be denied by Tadhg Phelan yet again. The sides were level. Two minutes later a ball from Mark Doheny to Evan Coogan led to Ballyraggets second goal of the half expertly passed across goal to Aaron Nealis to Josh Dowling who superbly struck it into the net. St. Patricks were up by three points with 10 mins to go.
Dunnamaggin proved why they were sitting second in the league. They kept their cool and dug deep, winning breaking ball and availing of every opportunity that came their way. A point narrowed the gap but with only 5 minutes left another save from Tadhg Phelan was batted back in past him and into the back of the Ballyragget net. Dunnamggain led by one. A free for St. Patrick's levelled the playing field again and in the dying minutes a point went wide for Dunnamaggin and a 65 for St. Patrick's also going wide meant that the sides were level on the final whistle. Overall a great game, highly entertaining battle from both sides- great to have the league back and such level of skill from both sides was outstanding.
Duggan Steel U-13 Hurling League Roinn B Round 7: 17-6-2023
Galmoy/Windgap 5-7 St Lachtains 2-14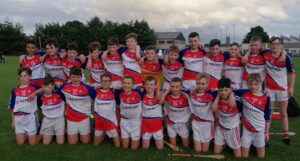 Given, the week that we had, it was appropriate that it took a 65th minute goal to give Galmoy/Windgap a last minute victory over St Lachtain's in Galmoy on Saturday June 17th. Only a few day's after Cillian Buckley's wonderful strike in Croke Park, it was a late late goal from Will Moloney which saw the hosts take the spoils in this final round U-13 League game. St Lachtain's were quickly off the mark in this encounter, when their best player Nathan Walsh, struck three points, two from frees, in the first eight minutes of this game. The only reply from the hosts during this period was a Tadhg Kennedy free. In the tenth minute ,St Lachtain's goalkeeper Max O Neill saved a goalbound shot from Tadhg Kennedy, but the alert Rory Quigley followed up to sweep the sliotar to the Freshford net. Points from Will Moloney and a Kennedy free, after a foul on the skilful Danny O Dwyer, put Galmoy/Windgap ahead 1-3 to 0-3 .A point from Jack Marnell and another Walsh free, reduced it to the minimum by the quarter hour mark. In the 23rd minute Shane Doyle passed a ball to Danny O Dwyer who in turn worked the sliotar across the middle where Tadhg Kennedy pulled a ground shot to the net. The busy Nathan Walsh replied with a neat strike from play before we had another green flag. This time Danny O Dwyer soloed up the right wing before sending an intelligent ball across the face of the goal where Tadhg Kennedy was waiting to strike his second goal of the evening. The final score of the half fell to Nathan Walsh who converted a 20 metre free which he had worked hard to win himself. Galmoy/Windgap 3-3 St Lachtain's 0-7.
The Freshford boys had a more determined look about them after the break and struck first with a point from Jack Marnell. A minute later Will Moloney pulled first time on a long delivery from Conor Power to smash home an inspirational goal. Nathan Walsh replied, but Tadhg Kennedy (free) and the extremely hard working Jules Seagrave both added points to leave Galmoy/Windgap ahead 4-5 to 0-9 at the three quarter mark. St Lachtain's were not going to concede without a fight, and so it proved, as from here to the end ,the visitors put in a huge shift to reach parity and to take the lead. Their first response was a nice point from corner forward Tom Dalton. A minute later, from within a crowded goalmouth ,it was Dalton who struck to the net to give his side a glimmer of hope. The visitors were on a roll now and with Cian Dalton and Michael Hickey pulling the strings from out the field, their forwards took the game to the hosts. They were further rewarded when Patrick O Connor first timed a ground shot for their second goal in the 49th minute. Two Nathan Walsh frees levelled the game 4-6 to 2-12 by the 55th minute. Tension was now at a peak and buoyed on by the large crowd present ,both sides pushed themselves to the limit. Tadhg Kennedy had picked up a foot injury at this stage which limited his contribution as he had to move to the full forward position. He did manage to strike over a free following a foul on the excellent Conor Power in the 57th minute. With the game completely opened up now, the Freshford forwards found more space against a defence which had been extremely tight all night. Quickest to benefit from this new found room was Patrick O Connor. His levelling point was a beauty as he struck over his left shoulder to leave the game in the melting pot.
Due to a number of stoppages throughout the second half, Referee Peter Burke indicated that there would be six minutes of added time, which was a correct decision. In the 61st minute Patrick O'Connor struck over a lovely point which seemed to have sealed victory for his side. As the game powered on however, there proved to be one last effort in the Galmoy/Windgap boys. A long delivery by powerful centre back Conor Power dropped in to the St Lachtain's goal mouth. After what seemed a mad scramble, it was a Will Moloney strike which put Galmoy/Windgap boys ahead in the 65th minute which means that these two teams were destined to face each other once more in a playoff to decide who would advance to the League Final. As well as those already mentioned, the winners had fine displays from David Nolan, Aidan Doyle, Noah Murphy Adam Power and Gerard Delaney. For St Lachtain's. Nathan Walsh was excellent up front with good support from Michael Hickey, Cian Dalton and Hugo Carroll.
Galmoy/Windgap: Cathal Barron, David Nolan, Aidan Doyle, John Kelleher, Adam Power, Conor Power, Noah Murphy, Shane Doyle, Jules Seagrave (0-1),Danny O Dwyer (0-1)Tadhg Kennedy (2-4,0-4frees), Gerard Delaney, A J Power, Rory Quigley (1-0), Will Moloney (2-1)
Sub: George Culleton for A J Power 38 minutes
St Lachtains: Max O'Neill, Patrick Dermody, Hugo Carroll, Luke Dermody, Iarla Carroll, Michael Hickey, Aidan Dowling, Cian Dalton, Paddy McCarthy, Fintan Martin, Nathan Walsh (0-9,0-6frees), Jack Marnell (0-2), Patrick O Connor (1-2), Sean Eardley, Tom Dalton (1-1).
Subs Used: Jack Geraghty.
Referee :Peter Burke (Emeralds)
DUGGAN STEEL U13 ROINN C HURLING LEAGUE
VENUE: Cloneen
REF: Ger O Grady
26/05/23
Cloneen 2:08 v 5:10 Mount Leinster Rangers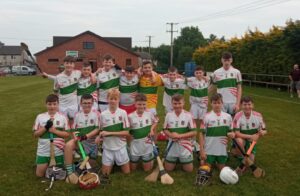 Friday evening the 26th of May had Cloneen U13s take on Mount Leinster rangers at home at 7pm in glorious sunshine but it was the visitors who got off to a glorious start with a goal and a point in the opening 2 minutes and another 2 points followed before Cloneen opened their score sheet with a point from a free. Mlr next scored another 2 goals before Cloneen got a few good points from play and came strong in the last quarter of the first half after what was an awful start leaving the side's at half time 3-7 to 0-7.
The start of the second half was more even after Cloneen scored a point from a free followed by a goal but Mount Leinster went straight up the field and replied with a goal of their own and a point shortly after before Cloneen got a penalty and found the back of the net again but MLR responded with a goal of their own before the finish that saw a very tough and enjoyable match finish on a scoreline of Cloneen 2-8
Mount Leinster rangers 5-10
DUGGAN STEEL U13 ROINN C HURLING LEAGUE
VENUE: Cloneen
REF: John Guinan
29/05/23
Cloneen 1:06 v 1:11 Glenmore
Monday evening the 29th of May we had Cloneen take on Glenmore in the u13 league at 7 in lovely sunshine.
The game started off as a very evenly contest and not until the 6th minute before Glenmore opened the score sheet with a point from play.
Cloneen got a point from a free in the 8th min but a minute later Glenmore let in a high ball and it dropped in the sunshine into the back of the net.
Cloneen got a point back shortly after but Glenmore's number 11 was the danger man and almost every time he got the ball it ended in a point and left the score at half time Cloneen 0-4
Glenmore 1-8.
The second half started the same with scores very hard to come by but Glenmore got 2 points before Cloneen got a goal on the 47th min and the visitors got one more and the homeside scored 2 before the finish of what was a very competitive and enjoyable match.
The final score was Cloneen 1-6 V Glenmore's 1-11
DUGGAN STEEL U13 ROINN C HURLING LEAGUE
VENUE: Cloneen
REF: Paul Huntston
09/06/23
Cloneen 2:09 v 4:08 Naomh Brid
Friday evening in Cloneen had the U13s from Cloneen take on Naomh Bríd in the latest round of the league and it did not disappoint anyone who was there.
Naomh Bríd got off to a great start with a goal in the first minute that dribbled over the line and had another one shortly after but Cloneen found themselves back in the game after they scored 3 points without reply. It was very competitive from here on and at half time the score was
Cloneen 0-5
Naoimh Bríd 2-4.
The second half started as the first did with Naoimh Bríd scoring a point followed by another goal but then Cloneen got a point and a goal of their own to bring them right back into the game. From here on this game was a thriller and every ball was so challenged from both sides. The scores continued to flow from both teams with Cloneen getting another goal before Naoimh Bríd got another aswell and both sides scored a few points also before what was a fantastic underage hurling match came to the end. A mention must also go to the referee Paul Hunston for the way he handled the game and the way he spoke to both teams before and after the game was excellent.
So at the end of what was a most enjoyable evening it all ended Cloneen 2-9
Naoimh Bríd 4-8.
DUGGAN STEEL U13 ROINN C HURLING LEAGUE
VENUE: Cloneen
REF: Paul Huntston
16/07/23
Friday night the 16th of June in Cloneen saw the u13 hurlers take on Tullogher Rosbercon in the league and it was the visitors who got the best start with a goal that found the net after a lot of rucks in the full back line and they got a couple of points before Cloneen got a point of their own. The visitors had another goal on the 15 minute mark and continued to dominate the match with points from play and frees and a 65 leaving it at half time Tullogher Rosbercon 2-8 v Cloneen 0-3.
Cloneen started the second half brighter and got a point from a free followed by a point from play before the visitors got a goal again and later on another.But the home side kept up the fight in the downpouring rain but the deficit was too large and it finished on the scoreline of Tullogher Rosbercon 4-10 v Cloneen 0-7.
DUGGAN STEEL U13 ROINN C HURLING LEAGUE
VENUE: Cloneen
REF: Ger O Grady
23/06/23
Cloneen 2:10 v 4:11 Ballinkillen
Friday night 23rd of June had Cloneen U13s take on Ballinkillen in the latest round of the league in Cloneen.
The visitors were the first on the score board with a point from a free after 6 minutes before Cloneen had the same from a free as well, but the next score was a goal for the visitors from a ball that took ages to be cleared from the square.
From here on there was very little between the sides and Cloneen got a goal of their own and both teams remained tight before Ballinkillen got their second goal so at half time it was Ballinkillen 2-6 v Cloneen 1-5.
The second half started lively for the home side with a goal in the 32nd minute and both teams exchanged points for the next five minutes. At this stage Cloneen failed to score for a ten minute period and Ballinkillen got another goal on the 47min mark but still only 5 points separated them. As the game came to the closing stage the visitors got another goal to seal the victory for them leaving the final score Ballinkillen 4-11 Cloneen 2-10.
DUGGAN STEEL U13 ROINN C HURLING LEAGUE
VENUE: Cloneen
REF: Ger O Grady
Cloneen 0:08 v 1:10 Carlow Town Hurling Club
Friday night the 30th of June Cloneen took on Carlow town in the latest u13 round of the league. Cloneen were first to score with a point from a free in the 4 minute and the visitors were not long behind them with a good point from play in the 6th minute. Carlow town had the advantage of a very strong wind and made good use of it really but there was still very little between both sides and at the break it was Carlow town 0-7 v Cloneen 0-3.
The second half again saw Cloneen first to score with a fine point from play and followed with another from a free before Carlow got a point which was shortly followed by a goal. At this stage they had a good grip on the game but the Cloneen boys got back into it and won a few frees and got another point from play to come back at the visitors but the rain swept in across the pitch for the remainder of the match and it was the visitors who prevailed leaving the final score Cloneen 0-8 v Carlow town 1-10.
Duggan Steel U-13 Hurling League Roinn B Playoff: 30-6-2023
Galmoy/Windgap 4-12 St Lachtain's 4-7 (After Extra Time)
In a tremendously exciting U-13 Roinn B League Playoff in St James's Park on Friday evening June 30th, it took extra time to separate these two evenly matched sides ,both eagerly fighting for a place in the league final. Two weeks previously, it took a late Galmoy/Windgap goal to steal victory over St Lachtain's by just two points. With St Lachtain's back to full strength on Friday night, they were fancied to advance but it was never going to be easy. Ben O Gorman got an early point for the Freshford boys, but Galmoy/Windgap responded with a point each from Tadhg Kennedy and Shane Doyle, before we had the first of eight goals. Shane Doyle worked hard to squeeze the sliotar in to Tadhg Kennedy in the seventh minute. When Kennedy's shot on goal was blocked by Max O Neill , the alert Rory Quigley rushed in to tap to the net. That score saw a quickfire response from St Lachtain's. Having missed the original league fixture, Jamie Kavanagh returned at full forward to leave his mark in style on this clash. In the eight minute, he picked up a loose clearance and blasted to the net. Nathan Walsh pointed a free before Kavanagh struck again, this time rounding his marker and shooting to the net off his left, to put his side ahead 2-2 to 1-2 at the end of the first quarter. Buoyed on by the breeze, St Lachtain's were now enjoying a marked advantage. Danny O Dwyer was moved from half forward to sweeper with great effect to thwart the efforts of the Freshford boys for the remainder of the half. Tadhg Kennedy pointed after a foul on Gerard Delaney before St Lachtain's enjoyed a stroke of good fortune. A high lobbing ball from Jack Geraghty, 40 metres out on the left wing, dipped into the Galmoy/Windgap for a tonic score. Nathan Walsh pushed the difference to six points at the interval, St Lachtain's 3-3 Galmoy/Windgap 1-3.
The Galmoy/Windgap boys had a more determined look about them after the break and struck early with three points from Tadhg Kennedy, two from frees. That second free came as a result of a searing run forward by Noah Murphy in the 36th minute. Shane Doyle picked off his second of the night to reduce the margin to just two points. St Lachtain's arrested the flow when Jack Geraghty got in behind the defence and bravely tapped home, shipping a heavy tackle for his efforts. Galmoy/Windgap had re-arranged their forces for the new half, with Rory Quigley moving out to wing forward from where he pointed in the 47th minute after a Shane Doyle pass. Tadhg Kennedy was having a great tussle all night with St Lachtain's centre back Michael Hickey, who was very strong ,especially in the air. Hugo Carroll and Nathan Walsh were also battling hard for St Lachtain's. At the back, Aidan Doyle came to grips with the challenge of Jamie Kavanagh, so much so that the double goalscorer was moved out to wing forward where he was really up against it in the shape of Noah Murphy, who like his counterpart Aidan Power on the other wing was excellent all through. David Nolan also hit some nice clearances for the combined forces. At centre back, Conor Power was superb all night and made many forays deep into his opponents rearguard with telling effect. With ten minutes remaining Ben O Gorman struck over what proved to be the last point in normal time for the Freshford outfit. Backed by the breeze, Galmoy/Windgap pushed forward .Max O Neill brought off a tremendous save from Tadhg Kennedy. A foul on the hard working Danny O Dwyer saw Kennedy split the posts from a placed ball, a feat he repeated in the 55th minute. With two minutes remaining, the determined Gerard Delaney saw his attempt on goal deflected out for a 65. Tadhg Kennedy settled himself well before striking a probing 65 goalward , which dipped into the top corner of the Freshford net to send this tie to extra time.
Just as in the normal game, St Lachtain's began with the aid of the breeze but despite this advantage, they found scores difficult to come by. In fact, they hit a total of seven wides in that opening ten minutes .It was a low scoring half with Nathan Walsh, who was St Lachtain's best player, raising two white flags in response to a solitary Tadhg Kennedy point, courtesy of a Shane Doyle pass, for Galmoy/Windgap to leave it: St Lachtain's 4-6 GalmoyWindgap 2-11 at half time in extra time. Galmoy/Windgap had now switched M J Corcoran to midfield with Jules Seagrave making the reverse journey, to the benefit of both players. Aidan Doyle deprived Jamie Kavanagh of a hat trick with a great block .Some real good work by Gerard Delaney earned another 65 which Tadhg Kennedy pointed to level up this encounter once more, 2-12 to 4-6.
In the 72nd minute, it was the turn of Galmoy/Windgap to be lucky when a strong shot by M J Corcoran from 50 metres hopped in the square and straight into the Lachtain's net. Nathan Walsh pointed a free to leave just two points in it. With three minutes left in the game, St Lachtain's were awarded a free out of defence after withstanding a strong attack from their opponents. Unfortunately for them, a player retaliated and the free was cancelled. From the resultant throw in, Tadhg Kennedy gathered the sliotar on the 45 ,put his head down and didn't stop until he had blasted to the net to give a hard earned victory and a place in the League Final to Galmoy/Windgap against Mullinavat on Thursday July 6th.
St Lachtain's will be disappointed but they had many many fine players who can be very proud of their efforts on this occasion. Nathan Walsh was excellent up front with good support from Michael Hickey, Max O Neill, Fintan Martin, Jamie Kavanagh, Jack Geraghty and Hugo Carroll.
Galmoy/Windgap: Cathal Barron, M J Corcoran (1-0), Aidan Doyle, David Nolan, Adam Power, Conor Power, Noah Murphy, Shane Doyle (0-2), Jules Seagrave, Danny O'Dwyer, Tadhg Kennedy (2-9,1-6frees), Gerard Delaney, Will Moloney, Rory Quigley(1-1), A J Power.
St Lachtain's: Max O Neill, Patrick Dermody, Aaron Walsh ,Luke Dermody, Fintan Martin, Michael Hickey, Paddy McCarthy, Hugo Carroll, Jack Marnell, Ben O Gorman (0-2) ,Nathan Walsh (0-5,0-2frees), Jack Geraghty (2-0), Patrick O'Connor, Jamie Kavanagh (2-0) Iarla Carroll
Subs Used: Tom Dalton for Iarla Carroll 55mins
Referee : Richard Holland (Emeralds)
Duggan Steel U-13 Hurling League Roinn B  Final :                                            6-7-2023
Galmoy/Windgap 3-11                   Mullinavat  3-10
A 62nd minute point by midfielder Shane Doyle, followed immediately by the final whistle, sent the Galmoy/Windgap supporters into rapturous celebration as a result of this narrow victory over a gallant Mullinavat side in the Duggan Steel U-13 Roinn B League County Final in Dunmore on Thursday night last. Played in difficult conditions with heavy showers and a prevailing wind, both sides deserve enormous credit for serving up a cracking game. Indeed this was a tremendously exciting contest all through, with both sides enjoying periods of superiority and both having to come from behind at certain stages. Cian Kelly, a tall skilful imposing midfielder, lead the way for Mullinavat, finishing with a total of 3-8 and  getting good support from Cathal Aylward, Edward Bolger and Luke Dollard. The Galmoy/Windgap performance was a more even exhibition. Tadhg Kennedy was always to the fore up front finishing with a total of 2-5.Cathal Barron on goal brought off three excellent saves in the first half to keep his side in the game. David Nolan had the game of his life at corner back, with Noah Murphy and Conor Power standing firm on the half back line. Shane Doyle was very impressive at midfield and very sure in his catching, while Gerard Delaney hit two fine points in the second half.
Cian Kelly ,a 65,and Shane Doyle shared opening points as this tussle began. Edward Bolger put Mullinavat ahead in the 6th minute. A minute later, the ball was in the Mullinavat goalmouth for what seemed an age, before Tadhg Kennedy poked home the sliotar to the net for the first goal of the night. Freetakers Tadhg Kennedy, after a foul on Conor Power, and Cian Kelly exchanged pointed frees to leave Galmoy/Windgap ahead 1-2 to 0-3 at the end of the first quarter. Mullinavat had the aid of the breeze at this stage and were winning good ball but hit a few wides as well as being thwarted by Cathal Barron. Callum Walsh did pick off a nice point in the 16th minute. Tadhg Kennedy replied from a free which was won by corner forward A J Power .Straight from the puckout, the tall Cian Kelly fielded the sliotar and split the posts in the 23rd minute. Despite being against the breeze, Galmoy/Windgap made many fine attempts to push forward during this half. Danny O Dwyer on the right wing won a lot of possession and struck an amount of ball goalward. Jules Seagrave was also working hard at midfield. In the 24th minute, Tadhg Kennedy was accidentally tripped as he headed forward and, with four defenders on the Mullinavat goal, Tadhg struck a low firm shot straight to the net from 30 metres. That was Galmoy/Windgap's last score of the half as Mullinavat dominated the closing minutes. They won two frees which were excellently converted by Cian Kelly. The first of those frees was a tremendous strike by Kelly from the right hand side line 60 metres from goal. That left Galmoy/Windgap ahead 2-3 to 0-7 at the interval which, for them, was a comfortable position with the wind to come.
Straight after the break, solid full back Aidan Doyle hit a long clearance straight downfield to Tadhg Kennedy. Kennedy showed great alertness to spot Shane Doyle on the run, laid off the sliotar and Doyle's shot from 30 metres went straight to the Mullinavat net, A tonic score. Good points from Jules Seagrave and Gerard Delaney in the following minutes saw the combined forces go ahead 3-5 to 0-7, what seemed a convincing lead. But Mullinavat had other ideas. With Cathal Aylward clearing well and Cian Kelly trying his utmost, the Vegas boys slowly came back into the contest. A foul on Cian Kelly presented him with a thirty metre free in the 43rd minute and his determined effort went all the way to the opponent's net, to reduce the gap. Another impressive point from the left wing by Gerard Delaney after a good delivery by Kennedy brought a reply from  a free by Kelly to leave it 3-6 to 1-8 at the three quarter mark.
The rain now eased as both sets of supporters shouted on their charges. The free takers exchanged a brace. Galmoy/Windgap put together some lovely passing movements with Noah Murphy, M J Corcoran and Jules Seagrave combining well. The full back line of David Nolan, Aidan Doyle and John Kelleher did very well all night. In the 48th minute, Cian Kelly set sail up the middle of the opposing defence. Despite some wholehearted defending, the Mullinavat midfielder kept going all the way before releasing a stinger to the net. Four minutes later ,it was Kelly again who intercepted a missed pass by two defenders, before stealing in from the left hand side to send a daisycutter to the corner of the net. Now the tables were turned and Mullinavat lead 3-9 to 3-7 with five minutes of normal time remaining.
Some great work by Jules Seagrave and Gerard Delaney saw Shane Doyle gain possession and shoot a good point to reduce it to the minimum. M J Corcoran then won a free out on the right hand side line. A difficult free, but Tadhg Kennedy had no problem in levelling the game from distance. With time almost up, Mullinavat won  a 65 and the sure striking Cian Kelly made no mistake to hit what seemed like the winning score. But play went on, and when Tadhg Kennedy was grounded  30 metres from goal ,he made no mistake from the resultant free. The next Mullinavat puckout was worked up the left wing ,where both Will Moloney and Gerard Delaney battled for the sliotar with a Mullinavat defender. A push on Delaney won a vital free, which was way out on the left. Tadhg Kennedy's shot dropped in the square and some how was flicked out to the waiting Shane Doyle who made no mistake in striking as sweet a strike as he's ever struck.
Despite the conditions this was a really sporting contest between two honest sides who both showed tremendous workrate all through. Bord na nÓg Chairman Willie Dempsey presented the Trophy to Joint Captains  Noah Murphy and Tadhg Kennedy. We now look forward to the Championship, with the draws taking place on Friday 7th.
Galmoy/Windgap: Cathal Barron, David Nolan, Aidan Doyle, John Kelleher, M J Corcoran, Conor Power, Noah Murphy, Shane Doyle (1-3), Jules Seagrave (0-1),Danny O'Dwyer, Tadhg Kennedy (2-5, 1-5frees), Gerard Delaney (0-2), Will Moloney, Rory Quigley, A J Power.
Sub: George Culleton for Will Moloney
Mullinavat: Jamie Fitzpatrick, Jack Kearns, Odhrán Woods, Scott Delahunty, Alfie Aylward, Cathal Aylward, David Walsh, Jim Cantwell, Cian Kelly (3-8, 1-7 frees), Luke Dollard, Edward Bolger(0-1),Robert Frisby, M J Walsh, Eddie Walsh, Callum Walsh(0-1)
Referee : Gay Rafter (Threecastles)
DUGGAN STEEL U15 HURLING LEAGUE
VENUE: Tom Walsh Park
REF: Patrick O Reilly
05/07/23
Blacks & Whites 2:14 v 4:06 Carlow Town/Setanta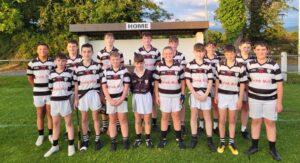 Blacks and Whites U-15 team hosted Carlow Town/Setanta this Wednesday evening in Tom Walsh Park. What ensued was a very enjoyable game of hurling for the many spectators in attendance. The opening minutes were to and fro with both teams trying to settle into their rhythm. They exchanged points early on but a long-range effort that ended up in the goal from CT/Set on the 10 minute is what kick started this game into action.
B&Ws answered back with some great team scores from Tomas Ryan, Ross Phelan and Alex Langrell. CT/Set then managed to net another goal putting them a 2 points in the lead but as the first half entered its final few minutes Alex Langrell broke through the CT/Set defence and slotted away a lovely goal for the Skeough team. A couple of points were exchanged before Patrick O'Reilly blew the half-time whistle with the Skeough men up by a point, 1-7 to 2-3.
The second half started similar to the first, with great pressure and battling shown by both sides. It wasn't long until the Carlow men found the back of the net again, B&Ws showed great character and scored the games next 3 points with some really good interplay from throughout the team. CT/Set were awarded a penalty on the 45 minute mark which was duly slotted away giving them the lead back, shortly afterwards the ball broke loose in the Carlow Town defence and Alex Langrell broke onto it scoring his and Skeoughs second goal. Further points from Ross Phelan, Tomas Ryan and Liam Ryan seen the B&Ws team get a bit of a lead up but CT/Set weren't finished and pushed hard on the attack scoring a flurry of points. The B&Ws back stood strong, standouts were Richard Doyle, Noah Langrell and Jack Doyle.
The final whistle blew on this thoroughly thrilling game with Black's and Whites running out 2 point winners on a scoreline of 2-14 to 4-6. Their ability to score points and keep the scoreboard ticking over proving the difference.
DUGGAN STEEL U15 ROINN A HURLING LEAGUE
VENUE: Danesfort
REF: Conor Everard
05/07/23
Danesfort 3:24 v 1:06 Mullinavat 
On a breezy evening with the grass looking like a Dairy Farmers dream, Danesfort U15,s played their final league match. With the league well and truly out of reach it was important that the lads pulled out a performance that they and the coaches know they were capable of. Mullinavat played with the breeze first, the 1st half was tit for tat until slowly but surely Danesfort got into their stride and went into halftime with a narrow lead. Conor Dillion with some monster frees against the wind being the highlight of the scores. The 2nd half started brightly with an early goal and point. Mullinavat pulled a goal back immediately. To their credit this spurred Danesfort on and they managed to find another gear with a couple of goals and multiple points ending with a comfortable win. All played well but my man of the match went to James Tierney who really stood out in the thick battles of winning the dirty ball for others to shine further up the field.
All and all a good solid performance from the lads.
DUGGAN STEEL U15 ROINN C HURLING LEAGUE
VENUE: Tom Walsh Park
REF: Patrick O Reilly
28/06/23
Blacks & Whites hosted Naomh Brid of Carlow in the U15 Roinn C hurling match. The game started off with intense action as both teams sought to gain an early advantage.
In the opening 3.5 minutes, Blacks & Whites had three missed frees, unable to convert their opportunities into points. However, they finally broke the deadlock on the 4th minute with a fantastic point from Tomás Ryan, showcasing his accuracy and skill.
The defensive trio of Jack Doyle, Larry Doyle, and Bill Barron for Blacks & Whites displayed their prowess by keeping Naomh Brid's attacks at bay, preventing them from capitalizing on early pressure.
Both teams struggled to find their rhythm in the early stages of the match, resulting in missed scoring opportunities. However, on the 12th minute, Ross Phelan managed to extend Blacks & Whites' lead to 2 points with a well-taken score. This came after excellent teamwork from forwards Callum Savage and Damien Delaney, who created the scoring opportunity.
Naomh Brid, determined to get on the scoreboard, launched a promising attack on the 14th minute, appearing on the verge of scoring a goal. However, the Blacks & Whites defense held strong, denying them a crucial goal-scoring opportunity.
On 17 min Callum Savage put over a well worked score to make it 3.  On 18th -19th min the Carlow team hit 2 great points from their no 9 to put them right in the mix.
As the match progressed, both teams continued to battle fiercely, showcasing their skills and determination. The midfield battle intensified, and the pace of the game increased as players fought for possession and dominance.
Blacks & Whites' forwards displayed their attacking prowess, constantly pressuring Naomh Brid's defense and creating scoring chances. The accuracy of their shooting, however, let them down at times, resulting in missed opportunities to extend their lead.
Naomh Brid, on the other hand, showed resilience and determination, refusing to let the scoreline dampen their spirits. Their defense stood firm against the onslaught of Blacks & Whites' attacks, preventing further scores.
The match continued to be tightly contested, with both teams eager to seize control. The spectators were treated to an enthralling display of skill, athleticism, and teamwork from the young hurling talents on the field.
As the final whistle blew, Blacks & Whites emerged victorious, securing a hard-fought win over Naomh Brid. The final score reflected the competitive nature of the match, with Blacks & Whites prevailing by a narrow margin.
Overall, it was an exhilarating encounter between Blacks & Whites and Naomh Brid, showcasing the passion and excitement of U15 Roinn C hurling. The players demonstrated their dedication to the sport, leaving spectators and supporters eagerly anticipating their future matches.
DUGGAN STEEL U15 ROINN B HURLING LEAGUE
VENUE: Piltown
REF; Vivienne Holmes
06/07/23
James Stephens 2:05 v 3:06 Piltown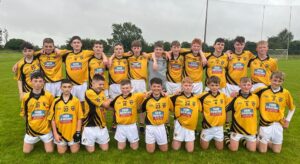 On a wet and windy evening in James Stephens pitch on the Kells road both teams battled through tough slippy conditions. Scores were hard to come by but points from Daire O'Brien, Jack Driscoll and John Doyle kept Piltown in the game against a very strong breeze. Piltown's backs worked hard but conceded 2 goals just before half time.
HT Piltown 0-04 James Stephens 2-03.
The second half started with a point from the Village. Piltown had to make a few switches to assist the attack and it proved positive when John Doyle crashed a ball to the net. Archie pointed from play and then netted Piltown's second goal. Piltown's backs and goalie defended with blocks and goal line saves to prevent the Village from taking the lead again. John Doyle won a defence clearance, went off on a solo and bagged his second goal to seal the win. Difficult conditions for both teams but Piltown did enough to get over the line.
For Piltown Jack Farrell stopped a few rockets during the game, the backs were excellent led by Shane Downey and Archie, Dylan put in a big shift midfield and John Doyle's goals up front turned the game back in Piltown's favour.
The team showed great heart in the second half to recover a 5 point deficit to win by 4.
DUGGAN STEEL U15 ROINN A HURLING LEAGUE
VENUE: Ballyragget
REF: John Dooley
28/06/23
 Half time score: St. Patrick's 1-8 Rower Inistioge 0-16
Full time score: St. Patrick's 3-16 Rower Inistioge 1-28
St. Patricks: Tadhg Phelan, Eoin Healy, Charlie Culleton, James Cash, Jack Cummins, Kieran Bergin, Andrew Lawless, Evan Nealis, Josh Dowling, Tadhg Butler, Cormac Diver, Jack Diver, Adrian Biletsky, Evan Coogan, Eoin Coyle Twomey, Julian Biletsky Alex Leonard, Niall Foley Daniel Roberts
 Rower Inistioge: Connor Boyle Sean Doyle James Doyle, Eamon Walsh, Jim Hennessy, Paul Kirwan, Tadhg Walsh, Ned Spelman, Ben Chapman, Oisin Smithwick O Brien, Pj Mackey, Sam Kelly, Oisin Walsh, Jack Roche, Oisin Roche, Harry Brown, Sean Byrne, Sean Clifford, Oran Drea, Liam Gavin Ryan Jackman, Eoin Stephenson
After a long break for both teams the Roinn A hurling league made a welcome return Wednesday night. The opening score for Ballyragget's Josh Dowling in the opening seconds was swiftly answered by Rower/Inistioge. Rower/Inistioge continued on their scoring spree with St Patrick's chances going wide. By 5 mins Rower/Inistioge was ahead by 4 points. Keeping cool St. Patrick's pointed accurately some lovely points and with only two points separating the sides, it was Josh Dowling's free that was expertly struck into the back of the net, giving Ballyragget the lead. A point from Evan Coogan out on the wing followed by a foul on Evan Coogan lead to another free pointed over by Josh Dowling. Half way through the first half and St. Patrick's were leading by 2. Rower/Inistioge did not despair though and soon got to grips with the game scoring two unanswered points and a free from Jack Roche had them back in front shortly after. They continued to throw over unanswered points and just in the dying minutes were rewarded a penalty. St. Patrick's superb goalie Tadhg Phelan stepped up yet again- not afraid of penalties having saved his fair share throughout the campaign- he yet again saved it expertly. Half-time score St. Patrick's 1-8 Rower/Inistioge 0-16
St. Patricks opened the scoring in the second half but it was to be an uphill battle for them. A free for them after a pull on Charlie Culletons jersey dropped short in front of goal and was swiftly picked up by Evan Coogan and struck lovely into the back of the net, giving St. Patrick's the boost, they needed. Several wides and several frees throughout the game made a winner hard to predict. A second goal from Josh Dowling, (Ballyragget's third) meant that half way through the second half and the scores were level. PJ Mackey and Jack Roche keeping Rower/Inistioge on top. Two points from play, a free and a goal in the 23rd minute helped Rower/Inistioge to run away with the game and St. Patrick's just couldn't keep up. Both Teams played well and a great entertaining game from a spectators point of view but Rower/Inistioge were that little bit stronger on the day and a deserved win for this side. Full time score St. Patrick's 3-16 Rower/Inistioge 1-28
DUGGAN STEEL U15 ROINN A HURLING LEAGUE
VENUE: Thomastown
REF: John Walsh
05/07/23
Thomastown 1:15 v 2:13 St Patricks
On Wednesday evening 5th July, Thomastown played Ballyragget at home in the U-15 Duggan Steel League.   In a game where Ballyragget dominated the first half ( leading at one stage by 11 points ) Thomastown showed their true strength and character and came out after half time with all guns blazing  to level the game in the 53rd minute. With only seven minutes remaining it was neck and neck with both sides hungry for victory. In the end Ballyragget were victorious winning by the slimmest of margins – one point.
Thomastown will take a lot from this game and showed great composure and skill to keep their focus and come within inches of victory. All players stood up and contributed to an overall gutsy town performance.
Scores Ben Nevin, Richard Forristol, Cillian McElwee, Harry Bay
Half time score  Thomastown 0 – 8  Ballyragget 2 – 8
Final score Thomastown 1 -15   Ballyraggaret 2 – 13.