John Lockes second team gives first class performance
DUGGAN STEEL U15 13-A-SIDE FINAL
VENUE: MW Hire TC Dunmore
REF: Gay Rafter
20/07/23
Erin's Own 2:06 v 5:15 John Lockes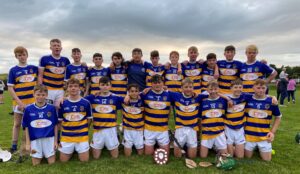 John Lockes got off to a flying start in MW Hire TC Dunmore for this U15 League Final and raced into a 0:07 v 0:00 scoreline against a now 14 man Erin's Own side.  Erin's Own did eventually register a score with a long range free from midfielder James Cahalane from distance to get them going.  John Lockes from the resulting puckout did get the ball into Jack Dawson and the forward shot narrowly wide in what was a great chance in front of goal.  John Lockes were on the attack again very shortly and the very influential Shay O'Donovan pointed a great score from 45 yards out to put 7 points between the teams again.  Just before halftime John Lockes had the bit of luck the Erin's Own boys needed when midfielder Max Edwards made a brilliant run beating a number of players and found Adam Byrne with an inch perfect pass in the inside forward Master Byrne made no mistake when finding the back of the net. Half time score Erin's Own 0:03 v 1:08 John Lockes
Erin's Own started the second half excellently and the move of the very physical and direct Aaron Phelan from centre-back to full-forward at the restart got its rewards when he goaled after two mins of the second half.  John Lockes responded well with another point but two more scores from Erin's Own, first a pointed free from Jack Buggy followed by a point from Aaron Phelan meant the score was 1:05 v 1:09 in favour of John Lockes but Erin's Own had their tails up and were making this a very entertaining game but they were up against a very strong Callan side.  John Lockes didn't panic and kept at it and Eoghan Cassin found the net to ignite the Champions and he quickly followed this with a point.  Erin's Own did find the net again with a top corner finish from Joseph Brennan to leave them trailing 2:06 v 2:11 but now the Lockes' changed up a gear and only for one more pointed free from Erin's Own they would go on to totally take over the remainder of the game. Jack Dawson, Ollie Molloy and Joe Nolan continued to impress on the half-forward line and put over another few points between them while Aaron Murphy pointed in what he surely thought would end with a goal. John Lockes finished the game off completely with a goal each from each of the inside forwards, Adam Byrne first followed by Eoghan Cassin who also added another point in the closing stages and the last score of the day was the goal from Shay O'Donovan.  All in all John Lockes fully deserved their victory with some very well taken scores from their excellent forwards supported by a solid defence lead by Captain Jack Kennedy at fullback. Full time Erins Own 2:06 v 5:15 John Lockes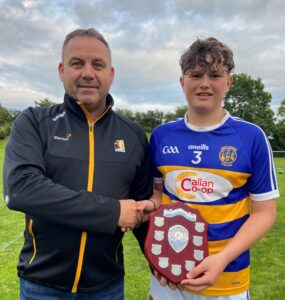 Duggan Steel U15 Roinn B Hurling League Group A Rd 6
Date – 05-07-23 Venue – Dr. Tierney Park
Referee – John Kennedy
Graignamanagh 1-7 Conahy Shamrocks 4-10
A bright calm evening in Graignamanagh saw Conahy make the trip south for this league fixture.
The home side made the more positive start in the first 10 minutes with the majority of the game at this stage being played in the Conahy half.  Frankie Stafford registered a point with a ball played in from a strong running Cillian Murphy.  Conahy registered a couple of wides & dropped some balls short as they worked to clear their lines.  Joe Boland levelled the game with a point from a free. The home side continued to press with a point from Jamie Kennedy.
The game pivoted on the 12th minute when Conahy's Michael Lawler found the back of the net having received the ball following a powerful run from Joe Boland.  This goal seemed to rattle the Graig lads and the visitors visibly grew in confidence.  Graig moved to steady the ship with Padraig Phelan moving from full back to centre back where he made some strong clearances and Jamie Kennedy registered his 2nd point from a free.  However within 2 minutes Conahy's Jack Rhatigan got a goal and quickly followed it up with a point from a free.
Cody O'Neill registered a point for Graig's best score of the half having worked the ball through a number of players. Tommy Dowling got his name on the scoreboard for Graig with a point.  The last 5 minutes of the half were all about Conahy with Jack Rhatigan particularly prominent and getting a point for his efforts.  Joe Boland also tacked on a nice point from a shot out on the wing.  Half time score – Graig 0-05 Conahy Shamrocks 2-04
The 2nd half commenced with Graignamanagh keeper Aaron Foley making a good save to divert the ball out for a 65 that Conahy put wide.  Graig registered the halves first score with a Padraig Phelan point struck from midfield.  Conahy re-established their grip on the game with a Michael Lawler goal.  Graig tried hard to get back into the game but couldn't convert the scoring chances that came their way.  Conahy's Jack Rhatigan added to his scoring tally with a goal and a placed ball point.  Conahy widened the match scorers with points from both Adam Morrissey & Ceirin Murphy.
A second point from Graig's Tommy Dowling & a well earned goal for Rory Murphy brought the game into its final 10 minutes with Rory Cleary & Hugo Tierney working hard for Graig in the middle of the pitch.  This last 10 minute spell saw some good defending from the visiting backs with most notable being Tadgh Hennessy and Darragh Horgan who denied Graig scores in this final period as Conahy tacked on a further brace of points.  Overall, an entertaining match which was more competitive than the final scoreline might suggest.  Conahy were well worth their win with their ability to generate goals probably the main difference between the two sides.  Final score – Graignamanagh 1-07 Conahy Shamrocks 4-10
DUGGAN STEEL U15 ROINN C HURLING LEAGUE 
VENUE: Tom Walsh Park
REF: Shane Foley
 18/07/23
Blacks & Whites 2:10 v 1:11 MT Leinster Rangers
Blacks & Whites hosted Mt Leinster Rangers in TWP on a Tuesday evening clash with perfect weather conditions. Blacks & Whites got off to a dream start with a well taken goal from Alex Langrel after just 30 seconds on the clock.  Adam Joyce responded with 2 converted frees to settle them down.  It was clear from the start that both teams were well matched with points from play hard to come by.  Midway through the first half  B&W led 1.2 – 0.3.  B&W full back Ritchie Doyle was having a huge battle with full forward Noel Jordon but after giving away a couple of what looked like soft frees, got a yellow card in the 16th minute putting him under pressure for the remainder of the match.  In the 17th minute, Ross Phelan converted a 65 shortly followed by a point from play but Adam Joyce followed up with 2 converted frees.  Thomas Ryan pointed a well worked move shortly afterwards only for Adam Joyce to follow up with a point from play himself and end the first half with B&W leading 1-4 to 0.6. B&W defence well on top only conceding 1 point from play.
B&W stormed into the second half with Alex Langrel converting a free in the first minute after Luke Kelly was fouled in the corner.  Thomas Ryan quickly followed up with a point from play to stretch the advantage.  In the 34th minute, Adam Joyce missed a long range free, the ball was pucked out down the left wing to Thomas Ryan who fed a quick ball into the corner forward Damien Delaney who turned his man and headed straight for goal and gave the keeper no chance, raising the green flag. The resulting puck out was won by B&W and Thomas Ryan sent it over the bar to put them up by 7.  It took MLR until the 39th minute in the second half to register their first score as Adam Joyce scored from a free.  Both sides exchanged a few wides in the next few phases of play before Adam Joyce won a free just outside the square. Trailing 8 points, he shot for goal but the ball was blocked and B&W cleared their lines. Shortly after, Jack Duff won a tussle on the wing and was fouled just on the 65, which Ross Phelan stuck over the resulting long range free.  MLR centre back Conor Walsh went on a solo run up through the middle but hit a long range shot agonisingly wide. The resulting puckout was won and sent over the bar from Tom Keough to reduce the deficit.
Ross Phelan added a great point from play in the 52nd minute but it was to be their last score of the game as MLR came thundering back into it.  Adam Joyce converted another free on 52 mins.  Noel Jordon quickly added his first score from play just a moment later.  3 minutes remaining and Adam Joyce slotted over another free to bring them to within 4.  As 30 minutes came up on the board, Adam Joyce sent a long range free into the box and picked up a slight deflection and straight into the back of the net for a grandstand finale. B&W won the puckout and worked the ball well down the wing with Thomas Ryan winning a free but Ross Phelan just narrowly missing the free, but time was up and B&W just edged it by a point in a highly entertaining match.  Best on the day from MLR, Adam Joyce excellent on the fees and general play, Conor Walsh and Tom Keough. Best on the day from B&W, Damien Delaney in corner forward, Thomas Ryan in midfield, Jack Duff at wing back and man of the match at full back, Ritchie Doyle.
B&W
1. Dean Cummins, 2. Daire Nolan, 3. Ritchie Doyle, 4. Larry Doyle, 5. Jack Duff, 6. Noah Langrel, 7. Jack Doyle, 8. Bill Barron, 9. Thomas Ryan 0-3, 10. Luke Kelly,  11.Ross Phelan 0-4 (1 x 65, 1 x free), 12. Liam Ryan, 13. Callum Savage, 14. Alex Langrel 1-2 (2 x free), 15. Damien Delaney 1-0, 16. Owen Brennan, 17. Kieran O Neill, 18. Seamus Greene.
MLR
1.Michael Murphy, 2.Evan Kelly,  3.Conor Hickey,  4.PJ Doyle,  5.Dara Coady,  6.Conor Walsh,  7.Tom Kehoe 0-1,  8.Darragh Coleman,  9.Eoin Condron,  10.James Dalton , 11.Adam Joyce 1-9 (0-8 from frees),  12.Jake Fitzpatrick,  13.Joey White, 14.Noel Jordon 0-1 ,  15.Aaron Doyle,  17.David Cass,  18.Jack Ivers