Iverk Produce Junior C Hurling League Final / First Round of Championship
Mon, 17 July – Venue: MW Hire TC, Dunmore – Mooncoin 2-16 Cloneen 2-10

Despite being reduced to fourteen men for forty of the sixty minutes, Mooncoin recorded a deserved six-point victory over Cloneen, in the Iverk Produce, Junior C Hurling League Final. This game also doubled up as a first round championship encounter, at MW Hire TC, Dunmore on Monday evening last.

Cloneen had made the much better start on an overcast evening and had a six-point lead themselves after 12 minutes play, 2-2 to 0-2, with high balls into their full forward James Delahunty, causing major problems for the Suirsiders defence.  Slowly but surely Mooncoin got a grip on proceedings, reduced the lead to three, 1-5 to 2-5, before winning a penalty. This was sent wide of both the goalkeeper and post by Ray Wall, but Mooncoin recovered with a point from Ciaran Walsh after good work by Stephen Wall, along with a similar score from play (1-7 to 2-5).  When referee David Hughes showed a red card to a Mooncoin player on twenty minutes, it looked like Mooncoin might lose the initiative.  They didn't however, soon afterwards winning a second penalty, and this time Ray Wall made no mistake.  At the interval Mooncoin led 2-7 to 2-5.

Cloneen used defender Aidan Barry as an extra defender in the new half, but cleverly Mooncoin played the wings, and overcame this numerical disadvantage of 14 v 15.  Liam Hogan got a few early scores from play, and a pointed free, at the start of the second half, and while Cloneen kept the margin close, they could not regain control as they had in those opening minutes.  Ryan Croke, Liam Hogan and an energetic Ray Wall kept Mooncoin in the ascendancy, and Cloneen were always chasing the game.  A feature of the game was also a few fine saves from both 'keepers, Niall O'Hanlon (M) and Conor Byrne (C).  By the finish at 8.50pm the light was fading, as was Cloneen's chances, as Mooncoin recorded the game's final two scores , points from Ryan Croke and Adam Walsh.

On receiving the cup from Junior Board Chairman Pat Cooney, the Mooncoin captain thanked selectors Sean Sutton, Eoin Crowley, Michael Grace, Mark Sullivan and Paddy Kinsella on the work put in with this impressive Junior C combination this season to date.  Cloneen can still feature in 2023, via the loser's section of the championship.

Mooncoin team & scorers – Niall O'Hanlon, Robert Finn, Sean Wall (0-1), Jackie Ryan, Alan Walsh, Padraig Murphy, Ryan Croke (0-1), Paddy Kinsella, Liam Hogan (0-2, 0-1 free), Stephen Wall, Mark Fitzgerald (0-2), Ciaran Walsh, Ray Wall (1-7, 0-4 frees, 1-0 pen), James Delahunty (1-0), Ciaran Dillon Dunphy (0-2).

Rest of Panel – Liam Walsh, Jack Conway, Pauric Delahunty, Kevin Doyle, Mark Finn, Ger Hilton, Aaron McLaughlin, Darragh Murphy, Chris Norris, Adrian O'Keeffe, Ian O'Keeffe, JP Purcell, Luke Ramasami, Mikey Ryan, Padraig Walsh, Kevin Connolly, Kieran Falange, Chris O'Hanlon, Adam Walsh (0-1).

Cloneen team & scorers – Conor Byrne, John Kelly, Dara Delaney (0-1), Enda Gannon, Adam Buggy (0-1), Conor Delaney, Aidan Barry, Michael Doyle (0-5, 4 frees), Kieran Whelan (0-1), Padraig Cooney, Ciaran Cooney, Breanainn Buggy (captain, 0-1) Cathal Barry, Michael O'Keeffe (2-0), Ronan Walsh (0-1).

Rest of Panel – Paul O'Neill, Gearoid O'Neill, Chris Phelan, Tom Buggy, Malachy Flaherty, Michael Buggy, Brian Allen, Sean O'Neill, Philip Roche, Shane Buggy, Kevin Delaney, Brian McDonald, Brian Mahon.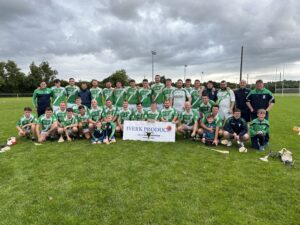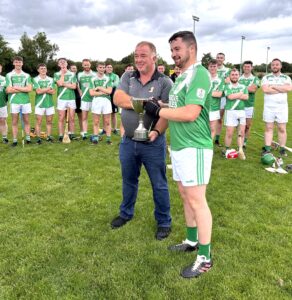 JJ Kavanagh & Sons Junior E Hurling League Final

Played Tue, 11 July, Venue MW Hire TC, Dunmore, Erins Own (Castlecomer) 1-27; Piltown 1-10

Erin's Own, Castlecomer, recorded a comfortable seventeen point victory over Southern side Piltown, in the JJ Kavanagh & Sons, Junior Hurling League E Final at MW Hire TC, Dunmore.  Comer played with the advantage of a strong wind in the opening half, were 0-5 to 0-1 clear after fifteen minutes, and had extended their advantage to six points (1-12 to 1-6) by the interval.  Michael Brennan scored the Comer goal after 20 minutes, with a good catch and point when Jamie Maher followed with a good point shortly afterwards, thus would leave Comer 1-7 to 0-4 ahead.  Shane Kinsella did reply to this with a goal from a ground shot, to reduce the lead to three points, but over the next 40 minutes, such was the Castlecomer dominance, that they outscored Piltown twenty points to six!

Conor Clarke and Michael Brennan got Comer up and running after half time, though Piltown got a point back from Shane Kinsella (1-14 to 1-7), the Northerners were already playing just as well without wind advantage. Two Brennan frees, and two Peader Boran scores from wide angles set them towards the finish line (1-18 to 1-7).  In fairness Piltown did have a run of three unanswered points from Edward Brennan and two Philip Kenny frees, to narrow the margin to eight points after 48 minutes. However they would not score again, as Comer recorded nine more unanswered points, and coasted to victory. Castlecomer had the games outstanding player in corner forward Michael Brennan, a 19-year-old who could not be contained all evening, and will surely platy at a higher level later in 2023. 

Post match, Erin's Own captain, Martin Walsh, accepted the trophy from Junior Board chairman Pat Cooney.

Erin's Own squad & scorers – Cathal Murphy, Aaron Fanning, James Kenny, Joey Ryan, Michael Whelan, Damien Fogarty (0-1), Conor Normoyle, Conor Clarke (0-4), Shane Rice, Martin Walsh (captain, 0-1), James Mullins (0-2), Darragh Normoyle (0-1), Michael Brennan (1-12, 5 frees, 2 "65's"), Peader Boran (0-3), Jimmy Comerford 0-2), Eóin Nolan. Sean Dwyer, John Kenny, Shane Nolan, Jamie Maher (0-1), Ewan Connery, Caoimhin Dunne, Darragh O'Rourke.

Piltown squad & scorers – David Burchill, Martin Kirby, Kieran Kinsella, Francis O'Brien, Conor Nugent, David Kinsella, Aidan Nugent, Philip Kenny (captain, 0-8, 6 frees), Andrew Norris, Vincent Long, Shane Kinsella (1-1), Darragh Anthony, Fiona Gleeson, Paul Kirby, Adam Murphy, Conor Power. Eóin Morgan, Emmett Flynn, Ben Moriarty, Eoin Reid, Shane Ahern, Kieran Flynn, Kevin White, Eoin Fitzgerald, Fiachra Twohig, Dylan Wall, Edward Brennan (0-1), Darragh Dowd, Luke Falconer (injured).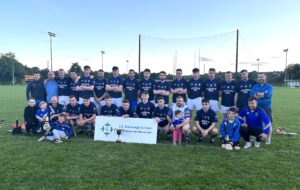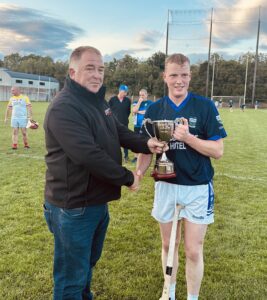 JJ Kavanagh and Sons Junior F Hurling League Final
Played Tue, 11 July, Venue:  James Stephens – St. Lachtain's 1-22 Windgap 0-11

The county Junior F final saw St. Lachtain's and Windgap, who after five games topped their respective league groups, and had semi-final wins over Dicksboro and Kilmacow respectively, compete in perfect conditions at the Kells Road venue on Tuesday evening.  Played in front of a large crowd, the game saw St. Lachtain's appearing in their third successive final having gone down to Tullogher Rosbercon at the penultimate stage a year ago.  

After St. Lachtain's opened the scoring with points by Matthew Durnan and Conor Donnelly the sides were quickly tied when James Purcell landed two Windgap frees. The northern side followed with four scores by separate players to move ahead and lead 0-6 to 0-2 as Windgap created a number of half goal chances. Following a Windgap rally that left the scores at 0-7 to 0-5 after eighteen minutes, the Freshford men continued to make the best use of an equal amount of scoring chances to lead by 0-13 to 0-7 at the break.

The resumption of the game saw two exchanges of points before a slick interchange of passes set Cian Leahy up for the game's only goal as he scored at the near post at the clubrooms end. With the score at 1-15 to 0-9 in favour of St. Lachtain's entering the final quarter, Windgap kept up the pressure through Matthew Enright who was now at full forward.  With the black and amber clad defence holding strong and getting fast ball up to their forwards they wrapped the game up with a flow of scores culminating with two late frees by Josh McCarthy that were intersected by a Ronan O'Brien point for Windgap. The result saw them run out winners by 1-22 to 0-11 before the Junior Board secretary Pat Dunphy presented the trophy to the St. Lachtain's captain Shea Burke.

Best for a young and skilful St. Lachtain's side that had seven players contributing on the scoreboard were Conor Donnelly, Cathal Hickey, Cian Leahy and John Bowden. For Windgap Craig Lonergan and Peter Landy led a hard trying defence where Adrian Landy, Darren Walsh, Paidí Bacon and both goalkeepers Matthew Enright and Alan Hearne played well, with James Purcell contributing well from  frees.
St. Lachtain's team & scorers – Robbie Dowling, Cathal Bowden, Mark Nolan, Jimmy Cantwell, Jack Hickey, John Bowden, Conor Donnelly 0-2, Jerry Bergin 0-2, Josh McCarthy 0-2, (0-2) frees, Shea Burke 0-2, Cathal Hickey 0-9 (0-7) frees Declan Killeen, Matthew Durnan 0-1, Ben Dermody 0-1, Cian Leahy 1-3.
Subs; Barry Hughes, David Burke, Sean Kennedy. Mark, Kavanagh, John Campion, Kevin Dalton, James O'Connor, Jack Whitty, Patrick Maher, Luke Phelan, Conor Dalton, Tryston Keane Caillin McCabe, and Darragh Quinn.

Windgap team & scorers – Matthew Enright, Craig Lonergan, Darren Walsh, Paidí Bacon, Killian Doyle, Peter Landy, Adrian Landy, James Purcell 0-9 (0-8) frees, Ronan O Brien 0-2 (0-1) frees, Jack O'Shea, Conor Lonergan, Mark McCoy, Tommy Fleming, Luke Ward, Noah O'Shea.
Subs James Vaughan, Alan Hearne, Tommy Lonergan, Vinny Purcell, Gary Lyons. Niall O'Brien, Ger Purcell, Shane Lomax, Eoin O'Brien. Jamie Joy, Stephen Purcell, Pa Moore and Eoin Freaney.

Referee Richard Holland.