JOHN WEST FEILE PEILE na nOG 2023
Region 6 – St Paricks GAA Club, Ballyragget, Co. Kilkenny
01/07/23
Saturday July 1st was the day the ''Big Ball'' took centre stage across the Country as the John West Feile Peile took place in numerous locations throughout Ireland. While John Lockes  and Kilmacow represented their Clubs and County further afield Kilkenny hosted the Region 6 games in Ballyragget thanks to the generosity of the local St. Patricks Club.
The format of the day was 8 team competing which consisted of two groups of 4 teams. Each team played 3 games in their respective groups and were then placed either 1st, 2nd, 3rd or 4th with 1st & 2nd going forward to the Cup competition and 3rd & 4th going to the Shield competition.
Group 1                                                   Group 2
St. Patricks(Wexford)                               Rockwell Rovers (Tipperary)
Baltinglass (Wicklow)                               Barrow Rangers (Kilkenny)
Cois Bhride(Waterford)                            Lancashire (UK)
Erin's Own (Kilkenny)                                Inny Shamrocks(Westmeath)
In Group 1 the local side from just over the hill in Castlecomer showed some early good form and looked strong throughout the group games to finish in 1st place. St Patricks & Cois Bhride  finished in 2nd & 3rd respectively while Baltinglass took 4th place.
In Group 2 Inny Shamrocks finished in 1st spot winning their 3 games, Rockwell were 2nd with 4 points, Barrow Rangers 3rd with 2 points and Lancshire propping up the table in 4th spot.
Cup Semi Finals 
Erin Own V Rockwell
Inny Shamrocks v St Patricks
Cup Final   
Erins Own v Inny Shamrocks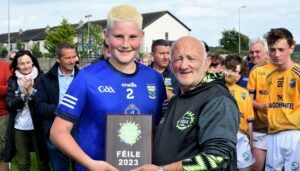 Cup Champions Erins Own
Shield Semi Final
Barrow Rangers v Baltinglass
Cois Bhride v Lancashire
Shield Final
Baltinglass v Lancashire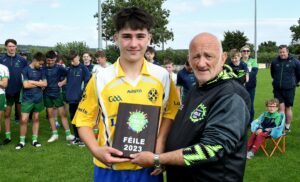 Shield Champions Lancashire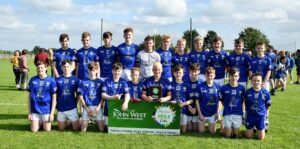 Erins Own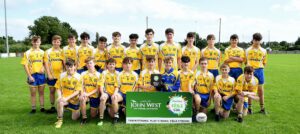 Lancashire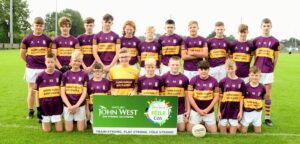 St. Patricks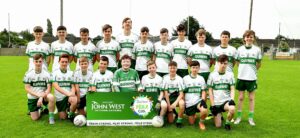 Baltinglass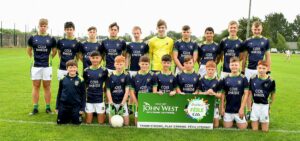 Cois Bhride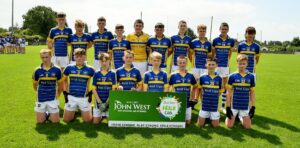 Rockwell Rovers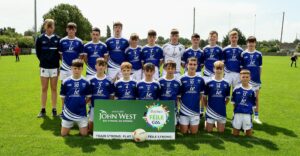 Barrow Rangers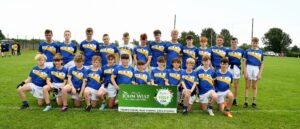 Inny Shamrocks
Massive congratulations to Erin's Own who won the Cup Final on the day and an equally massive congratulations to Lancashire on winning the Shield Final on the day.
Thank you to all that made the day a success, to the players, mentors, Clubs and the parents who contributed on the day and everyday a big thanks to ye. To the referees' on the day we have to say a thank you. Finally to the host Club St. Patrick's who provided their excellent facilities for the day we have to say a huge Thank You. Both pitches were in excellent condition for the day and the welcome was exceptional for all. Thank you for the stewarding, match officials and all the catering folk.