We are now down to the semi finals of each of these championship after some really competitive action in the various grades. Below is an update on the six grades as of Sunday 27th August, 2023, along with three semi final match reports.
Junior A (sponsored by JJ Kavanagh & Sons)
O'Loughlin Gaels 2-16; Graigue Ballycallan 0-14 
Dicksboro v St. Patrick's Ballyragget playing on Wednesday 30/8
Junior B (sponsored by JJ Kavanagh & Sons)
Tullogher Rosbercon 1-18; Conahy Shamrocks 1-11
Barrow Rangers 3-12; Glenmore 1-17
Junior C (sponsored by Iverk Produce)
Mooncoin 1-17; Kilmacow 0-17
Threecastles v Cloneen playing on Monday 28/8
Junior D (sponsored by Country Style Foods)
Rower Inistioge 1-17; Graignamanagh 0-8
Lisdowney 1-19; Clara 2-10
Junior E (sponsored by JJ Kavanagh & Sons)
Erin's Own 7-16;  O'Loughlin Gaels 3-10
Danesfort v Conahy Shamrocks playing on Tuesday 29/8
Junior F (sponsored by JJ Kavanagh & Sons)
Mullinavat 2-11; Tullaroan 1-3
St Lachtains 1-15; Windgap 2-10
MATCH REPORTS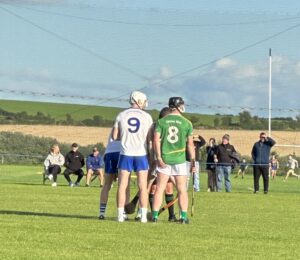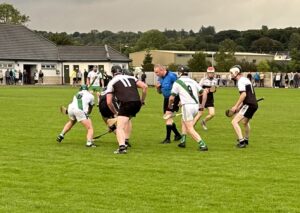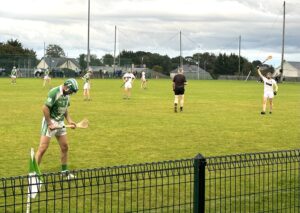 JJ Kavanagh & Sons Junior B Hurling Championship Semi Final Barrow Rangers 3-12(21); Glenmore 1-17(20)
Barrow Rangers (Paulstown) held on for a tense one point victory over Glenmore, in a highly competitive, JJ Kavanagh & Sons Junior B hurling semi final at Glenmore on 27/8/2023.
Helped by a goal in the opening minute of both halves, the Paulstown side also defended bravely throughout, and just about held out, in an encounter that had the large following engaged right through nine added minutes of injury time.
As mentioned, Barrow Rangers got a goal in the opening minute, when a Brian Kelly delivery landed short of goal, but was finished by Conor Hanlon.
Glenmore settled with points from senior player Cathal Beirne, Dean Croke (free), Aron O'Neill and a Croke score from distance, (0-4 to 1-0).
Cathal Purcell equalised from a free, but Glenmore regained the lead with points from Beirne and O'Neill. 
Two frees from Cathal Purcell, and a fine score from Noah Scully, left Barrow Rangers ahead at the break, 1-7 to 0-8.
It was another dream start to the new half from Rangers. Brian Kelly worked his way goalwards, and laid the sliotair of to the effective Noah Scully, who goaled. This left them 2-7 to 0-8 clear.
Glenmore now had their best spell of the game, with five unanswered points to equalise. Four were Dean Croke frees, and the other a point by William Treacy, when a goal was beckoning.
A Purcell free for Paulstown from 80 yards was replied to with a Croke free. A fine Rangers score from Keith Flavin was equalled by an unmarked Cathal Beirne equaliser (0-15 to 2-9).
Jimmy Kane put Rangers ahead again, and it was between the 50th and 55th minute that Barrow Rangers halted at least two Glenmore goal chances.
Eventually the Glensmen raised a green flag through substitute Robbie Fitzgerald on 56 minutes (1-15 to 2-9).
The game was now end to end, with vocal support from both sides. Rangers swept forward, referee Colin Tobin deemed an infringement was in the square, and Conor Hanlon buried the resulting penalty. By the finish two further Cathal Purcell frees were replied to with scores from play by Darragh Hartley and Charlie Phelan, as Paulstown again defended doggedly throughout those nine added minutes.
Barrow Rangers had a solid defence, an accurate free taker in Cathal Purcell, and the likes of Keith Flavin, Conor Hanlon and Noah Scully often looked dangerous in the forward zone.
On another day Glenmore could have got those extra scores to edge this contest. Their midfield pair of Roche and Treacy performed well, while further upfield Croke and Beirne was the pick of the forwards.
Barrow Rangers will now meet Tullogher-Rosbercon in the upcoming Junior B county final.
Glenmore team & scorers – 
Mikey Kirwan, PJ Roche, Ciaran Vereker, Tomas Mullally, Darragh Hartley (0-1), Brian O'Donoghue, Jack Ryan, Colm Roche, William Treacy (0-1), Padraig Cody (0-1), Dean Croke (0-8, 7 frees), Charlie Phelan (0-1), Cathal Sheehan, Cathal Beirne (0-3), Aron O'Neill (0-2).
Subs – Stephen Cody, Robbie Fitzgerald (1-0), Emmett Vereker, Davy Aylward, Cian Connolly, James Aylward, Niall Dunne, Sean Phelan.
Barrow Rangers team & scorers – 
Richie Doyle, Paul Delaney, Eóin Ryan, James Hogan, Niall Doheny, Timmy Brennan, Michael Ryan, Cathal Purcell (0-8, all frees), Brian Kelly (0-1), Mickey Doyle, Jimmy Kane (0-1), Paddy Hennessy, Keith Flavin (0-1), Conor Hanlon (2-0, 1 penalty), Noah Scully (1-1).
Subs- Conor Brennan, Paul Delaney, Jack Doyle, Liam Healy, Joey McEvoy, Killian Rudkins.
Referee – Colin Tobin.
Iverk Product Junior C Hurling Championship Semi Final – Mooncoin 1-17; Kilmacow 0-17
Mooncoin qualified for the Iverk Produce Junior C Championship Final, following a three point victory over neighbours Kilmacow, 1-17 to 0-17, in a well contested semi final at Mooncoin on 23/8/2023.
The winners led for most of the evening, played the better organised hurling, and mainly thanks to out scoring Kilmacow 0-7 to 0-2 in the final 20 minutes of normal time, clinched a final spot.
Mooncoin led by two points at the interval, 1-9 to 0-10, the goal scored by the nippy corner forward,  Kieran Dillon Dunphy after 13 minutes.
Quick second half points for Kilmacow, by Keith Butler (free) and Shane Gaule, levelled the match, but slowly but surely Mooncoin get the upper hand, and it took brave Kilmacow defensive work to deprived them of three second half goal chances.
Kilmacow did keep going to the finish, including two late injury time points by Keith Butler and effective forwards James O'Neill, but a goal was required, and the dominant Mooncoin defensive unit did not allow shots at their goal all evening!
Mooncoin had very solid back-line performances from Ryan, Wall and Finn, who all did well. Hogan and Kinsella dominated in midfield, while upfront Kieron Dillon Dunphy and the free taking ability of Sean Wall were vital.
For the losers, they conceded several technical fouls in both halves that were punished by Ray Wall, and collectively this made their task extremely challenging. Goalie Paddy O'Keefe made some good saves, while Jackie Ryan, Sean Wall, Keith Butler and Oisin O'Dwyer gave their all.
Mooncoin team & scorers – Niall O'Hanlon, Jackie Ryan, Sean Wall, Robert Finn, Lucas Ramasawmy, Pauric Murphy, Ryan Croke (0-1), Patrick Kinsella (0-1), Liam Hogan (0-3, 1 free), Ciara Walsh (0-1), Stephen Wall (0-1), Mark Fitzgerald, Kieran Dillon Dunphy (1-3), James Delahunty (Polerone)(0-2), Ray Wall (0-5, frees).
Kilmacow team & scorers – Paddy O'Keeffe (0-3, 2 frees, 1 "65"), Paddy Regan, Dev Lowe, Donnacha Williams, Conor Dowling (0-1), Dean Power, Lorca Suffin, Sean Blanchfield, Sean Dowling (0-3), Keith Butler (0-4, 3 frees), Oisin O'Dwyer, Shane Gaule (0-1), James O'Neill (0-3), Brian O'Meara (0-1), Calum Reagan (0-1).
Referee Paul Whelan (Mullinavat).
JJ Kavanagh & Sons Junior F Hurling Championship Semi Final – Mullinavat 2-11; Tullaroan 1-3
Mullinavat recorded a comfortable eleven point victory over Tullaroan in this Junior F semi final at Mulllinavat on Saturday 26/8/2023, on a score of 2-11 to 1-3.
On another one of those showery evenings we have got so used to this Summer, the home side dominated a second half, in which the visitors failed to register a score. Despite the final score, Tullaroan battled hard throughout and found the last quarter particularly tough after one of their players was red carded.
Mullinavat made the better start with two pointed Cormac McEvoy frees, sandwiching a good goal by left half forward Jack Shelton. Tullaroan pointed from a "65" to open their account, this replied to by another McEvoy free (1-3 to 0-1).
McEvoy added another Mullinavat point, but Tullaroan got back into the game when James Whelton batted a Billy Keoghan pass to the net (1-4 to 1-1). Jamie Dungan got another Mullinavat point, replied to by a Tullaroan free. McEvoy and Tullaroan's Keoghan exchanged points before the interval.
Half time – Mullinavat 1-6; Tullaroan 1-3.
Two Cormac McEvoy frees extended the Mullinavat lead, before we had that Tullaroan sending off. When that incident was followed by a McEvoy goal direct from a mishit free, caused mainly by the deteriorating weather, it looked a big ask for the Northerners (2-8 to 1-3).
Mullinavat were to record two further points from play by Billy Delahunty, and another McEvoy free by the finish. Mullinavat will now hope to go one step further than 2022, being back in the Final having lost last season's equivalent to Conahy Shamrocks.
Full time – Mullinavat 2-11; Tullaroan 1-3.
Mullinavat team & scorers – James O'Keeffe, James Brennan, Declan Duggan, Sean Brennan, Tommy Lanigan, Luke Byrne Doyle, Daniel Holden, Jamie Dungan (0-1), Jake Morrissey, Cormac McEvoy (1-8, 1-6 frees), Pat Mulhearne, Jack Whelton(1-0), Billy Delahunty (0-2) , Jack Byrne Doyle, Brian Kenneally.
Subs John Reade for Jack Byrne Doyle, Aaron Tynan for Brian Kenneally, Killian Dungan for Sean Brennan, Michael Holden for Billy Delahunty, John Fitzpatrick for Cormac McEvoy.
Tullaroan team & scorers – Joey Walsh, Matthew Mulligan, Sean Glennon, Kevin Maher, Jack Cleere, Padraig O'Mahoney, Billy Rowe, Adam Russell, Mark Walsh, Billy Keoghan (0-3, 2 frees), James Cash, Liam Ealsh, James Walton (1-0), Jack Holmes, Shane Hennessy.
Referee- Richard Dowling (Kilmacow).