Country Style Foods Junior D Hurling Championship Final Replay
Lisdowney 1-27; Rower Inistioge 1-21 (after extra time)
Lisdowney emerged victorious at the second time of asking, having again finished level after 60 minutes, and it was only in extra time, that they sealed the Junior D title. Darkness stopped this game going to extra time last weekend, and throughout this replay at UPMC Nowlan Park, it was clear there was again very little between the sides, with the issue in doubt throughout.
Lisdowney were recording a third victory in what was formerly known as "Special Junior" grades, having won at B in 2010 and A in 2020. They had also been beaten in last years D Final.
Eddie Hickey opened the Lisdowney account with a pointed sideline cut. Tom O'Callaghan and Caomhin Perriot commenced the Rower Inistioge scoring with points on 2 and 3 minutes.
The next six points were all for the Northern club, with a point by Dean Brophy, three pointed scores by Rory Hickey (two from play) along with two fine scores from Gary O'Sullivan (0-7 to 0-2). 
From the 22nd to 28th minute, Rower Inistioge went two points ahead after adding 1-4. First the ball broke inside the Lisdowney defence and Fiachra Farell snapped the chance up and goaled. Further points were added by David Prendergast (two frees); Patrick Prendergast and William Ashe Doyle from midfield. 
By the interval it was all square, Lisdowney recorded three points, one from Joe Bergin, and two from Rory Hickey (one free), these replied to by free by the Rower Inistioge goalie Dan Mulholland. Rower Inistioge lost a player to a straight red card in this period, and so would have to play the second half a player short.
Half-time Lisdowney 0-10; Rower Inistioge 1-7.
There was a 13 minute spell at the start of the second half when both sides lost their scoring pedigrees, only two points being added, David Prendergast from a Rower Inistioge free, replied to by a Rory Hickey free for Lisdowney.
Prendergast recorded two further Rower frees, replied to by a Gary O'Sullivan solo run and point. Prendergast (free) and Howard McDonnell pushed Rower Inistioge three points clear, 1-12 to 0-12.
On 45 minutes Hickey (free) and McDonnell swapped points. Hickey added another pointed free for Lisdowney and then, in the 50th minute, a vital Lisdowney goal from Paddy Bowden to take the lead (1-14 to 1-13). Perriot (RI) and O'Sullivan (L) exchanged points, but in the next two minutes the Rower had retaken the lead with pointed frees from Prendergast and goalkeeper Mulholland. The scores ebbed and flowed at this stage, and two Rory Hickey points, the first a free, left them 1-17 to 1-16 ahead again. We were now playing five plus added minutes and when Michael McDonald caught a ball and pointed along with another distance free from the Rower keeper, it looked like the Rower Inistioge boys were destined for victory, 1-18 to 1-17. However in the 67th minute Lisdowney were awarded a free, Rory Hickey pointed, and we headed for extra time. This week, with the throw in time earlier, it would be played.
Full Time Lisdowney 1-18; Rower Inistioge 1-18.
A feature of the extra time was dominated by cramping players, understandable as both were playing a second County Final in six days. The 20 minutes extra time took 33 minutes as a result, and it became apparent that despite being back to 15-a-side, Lisdowney were now dominating possession. 
In the opening ten minutes Lisdowney outscored the Rower 0-4 to 0-1. Lisdowney scores from Niall Mackey, two from Rory Hickey (one free) and Peter Hickey. Tom O'Callaghan got the Rower's only point from midfield (1-22 to 1-19).
In the second extra time period, four Lisdowney Rory Hickey frees, along with a Gary O'Sullivan point, were replied to by Rower Inistioge points by Fiacre Farrell and a fourth pointed free by goalkeeper Dan Mulholland. Lisdowney would finally lift the Country Style Foods Junior D crown on a final score of 1-27 to 1-21, after two excellent contests at this grade.
Both defences performed well in this game, but it was the free takers who really stole the show, Rory Hickey recording 0-16 for the winners (13 frees), whilst Dan Mulholland from distance strikes, and David Prendergast were almost flawless with placed balls by the Rower Inistioge.
Lisdowney team & scorers – Niall Grogan, Jack McGree, Ray Fitzpatrick, Jack O'Sullivan, Brandon Brophy, Ciaran Mackey (vice captain), Joe Bergin (0-1), Niall Mackey (0-1), Dean Brophy (0-1), Eoin Delahunty, Eddie Hickey (0-2, 1 sideline, captain), Niall Kenny, Darragh Mackey (0-1), Rory Hickey (0-16, 13 frees), Gary O'Sullivan (0-4).
Subs – Paddy Bowden (1-0) for Dean Brophy, Peter O'Sullivan (0-1) for Niall Kenny, Jimmy Delaney for Darragh Mackey, Conor Taliss for Eoin Delahunty, Darragh Mackey for Niall Mackey (extra time), Eoin Delahunty for Brandon Brophy (extra time), Paul Murphy, Jimmy Delaney, Conor O'Gorman, Tadhg Blanchfield, Ruadhan Downey, Brian Campion Matthew Banville, Lee McCann.
Rower Inistioge team & scorers – Dan Mulholland (0-4, frees), David Prendergast (0-6, frees) , James Doyle (captain), Richard Ryan, Kieran Meaney, Harry Murphy (0-1), William Ashe Doyle (0-1), Tom Cullen, Patrick Prendergast (0–1) , Howard McDonald (0-2), Caomhin Perriot (0-2), David Lyng, Fiachra Farrell (1-1), Conor Lyng Tom O'Callaghan (0-2).
Subs – John Grace for Richard Ryan, Michael Moffat for Howard MacDonald, Michael McDonald (0-1) for Conor Lyng, Ciaran Keher Murtagh for Caomhin Perriot (extra time), Darragh Mackey for Niall Mackey (extra time), EoinDelahunty for Brandon Brophy (extra time), Mark Flood, Evan Gilsenan, Jack Fitzpatrick, Oisin Whelan, Tiernan Morrissey, Jack Morrissey, Cathal Langton, Liam Bolger Hynes, Michael Chapman, Jack Malone, Cian Murphy
Referee – Eddie Crowley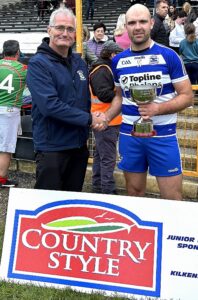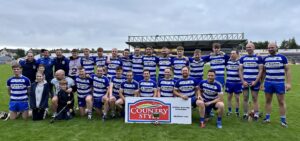 JJ Kavanagh Junior E Hurling Championship Final
Erin's Own 3-19; Danesfort 1-10
Erin's Own, Castlecomer have been the stand out team in Junior E all year, and they completed a league and championship double, with a comprehensive 18 point victory over Danesfort at UPMC Nowlan Park on Saturday.
Castlecomer played with a significant breeze in the opening half, led by six points at the interval, and were never in danger, even when playing into the wind in the second half.
Castlecomer got off the mark with two early points from Michael Brennan (free) and James Mullins. Harry Lanigan opened Danesfort scoring with a third minute point.
Erin's Own then recorded 1-4 without reply thanks to two Michael Brennan points (one free), Conor Clarke, a Peader Boran goal after being set up by John Kenny, and a 50 metre score by the same player. 
Jamie Phelan (free) got 'forts second point, replied to by Comer captain Martin Walsh.
Dion Fitzpatrick got Danesfort third point, replied to by two Brennan scores for Castlecomer, the second a free (1-9 to 0-3).
Harry Lanigan recorded two Danesfort points, and Phelan another from a free, to reduce the lead to six points, 0-6 to 1-9.
Brennan (EO) and Phelan (D) exchanged points. By the interval Brennan pointed two Comer frees and Shane Rice also pointed, to leave the half-time score, Comer leading 1-13 to 0-7.
Two Michael Brennan frees in the opening three minutes added to the Erin's Own lead in the new half. Danesfort recorded an unanswered 1-2 with a goal from Anthony Ireland Wall, and two frees from Lanigan and Ireland Wall, a player recently returned from travelling.
On 47 minutes John Kenny got a Comer goal that effectively ended any hope of a Danesfort comeback, 2-15 to 1-9.
Anthony Ireland Wall recorded a Danesfort free on 19 minutes, but this was to be their last score of the afternoon.
By the finish, as in the opening half, Erins Own recorded another unanswered 1-4 with four Michael Brennan points (two "65s", one free, one play) along with a John Kenny goal, following a Brennan strike dropping down off the post.
Erin's Own were very impressive throughout. James Kenny, Damien Fogarty, Conor Clarke, Martin Walsh, John Kenny, Peter Boran, and Man of the Match Michael Brennan, a player surely destined to play at a much higher level in adult hurling, were top performers.
Best for Danesfort, who had a youngish side on duty, were Jim Phelan, Harry Lanigan and Anthony Ireland Wall.
Erin's Own team & scorers – Cathal Murphy, Darragh O'Rourke, James Kenny, Joey Ryan, Shane Rice (0-1), Damien Fogarty, Conor Mormoyle, Conor Clarke (0-1), Martin Walsh (0-1, captain), Darragh Normoyle, James Mullins (0-1), John Kenny (2-0), Michael Brennan (0-12, 6 freees, 2 "65s"), Peader Boran (1-2), Jimmy Comerford (0-1).
Subs – Eoin Nolan, Shane Holden, Ewan Connery, Aaron Fanning, Michael Whelan, Eoin Brennan
Danesfort team & scorers – Timmy Murphy, Joe Cowhig (captain), Jim Phelan, Michael Moylan, Evan Srouji, Gavin O'Keeffe, Kieran Walsh, Mark Srouji, Mark Fitzpatrick, Stephen O'Keeffe, Jamie Phelan (0-3, frees), John Davis, Harry Lanigan (0-4, 1 free), John Doheny, Dion Fitzpatrick (0-1). 
Subs – Conor Byrne, Tom Sheehan, Leon Browne, Jack Doyle, Finn Drennan, Niall Farrell, Ronan Hackett, Tommy Ryan, Martin McMahon, Anthony Ireland Wall (1-2, 2 frees), Liam Phelan, Jack Tynan, Tony Woodcock, Rob O'Keeffe.
Referee Brandon Power (Mooncoin)