Match Reports from a busy weekend of hurling action at UPMC Nowlan Park. Congrats to Threecastles, Barrow Rangers and Dicksboro and a replay is necessary between Rower Inistioge and Lisdowney.
JJ Kavanagh & Sons Junior Hurling A Championship Final
Dicksboro 1-18; O'Loughlins 0-18.
Dicksboro were crowned J.J. Kavanagh & Sons Kilkenny Junior 'A' Hurling Champions for 2023 following victory over O'Loughlin Gaels by 1-18 to 0-18 in a high quality encounter played at UPMC Nowlan Park on Saturday evening. This was the 'Boros second victory in this grade, the previous success was back in 1994.
It may have been 'Junior A' but this was a top notch contest between the city rivals.
Jack Sheridan opened the scoring for O'Loughlins with a pointed free, replied to by a placed ball score from Billy Fitzpatrick. O'Loughlins went 0-4 to 0-1 clear by the ninth minute, with scores from Tervine Wallace, Fitzpatrick (free) and Mark Holohan. 
Boro had levelled things by the twelfth minute with a score from play by Sheridan, along with two distance frees from Fitzpatrick. Paddy Cantwell (OL) and Fitzpatrick from play traded scores, as did Holohan (OL) and Matthew Kelleher, to leave it all square, 0-6 each, at the water break.
Eoin Dalton put Dicksboro in front with a fine score following a fine solo in from the wing. An individual catch and turn score by Sheridan levelled matters. Eoin Dalton put Boro ahead with a good point, and on 21 minutes we had the games only, and ultimately decisive goal. Kevin Moore played a long ball in towards the O'Loughlins goal, and man of the match Tom McPhillips was there to raise a green flag. Boro now led 1-8 to 0-7.
Sheridan(OL) and Fitzpatrick traded pointed frees to leave the halftime score :-
Dicksboro 1-9; O'Loughlins 0-8.
Corner forward Kevin Murphy cut inside and pointed for O'Loughlins to reduce the margin to three in the new half. Nick Doheny and McPhillips recorded Boro points from play, replied to by two O'Loughlin scores from Finn Hogan and Jack Sheridan (0-11 to 1-11).
Kelleher (D) and John McNamara both traded fine points from play by the 38th minute. In the next five minutes Boro added two further points, Fitzpatrick (free) and Nick Doheny, to stretch their lead to five, 1-14 to 0-12. By the 45th minute water break O'Loughlins, with minor scores from Holohan and McNamara, had the lead back to a goal.
O'Loughlins followed with two further points by Sheridan and Kevin Murphy, but Boro points by Fitzpatrick and Doheny on 50 and 51 minutes, made it 1-16 to 0-16. 
The game was now end to end and entertained what remained of the 1400 crowd which attended Saturday's three Junior finals. Sheridan recorded points from first a free and then open play, 0-18 to 1-16.
But Dicksboro did not panic and injury time scores from McPhillips and Moore saw them victorious by three, 1-18 to 0-18.
Dicksboro fully deserved this second Junior A title, the likes of Tom McPhillips, Mick Carroll, Matthew Kelleher, Billy Fitzpatrick, Nick Doheny and goalie Tom O'Neill starred.
O'Loughlins gave their all in this final, John McNamara, Mark Holohan and Kevin Murphy were amongst those to impress.
Dicksboro team & scorers – Tom O'Neill, Mick Carroll, David Conway, Daire Maher, Kevin Nolan, Tom Carroll (captain), Tom McPhillips (1-2), Evan Clarke, Kevin Moore (0-1), Matthew Kelleher (0-2), Jim Dollard , Billy Fitzpatrick (0-7, 6 frees), Eoin Dalton (0-2), Marco Ruessman, Nick Doheny (0-4).
Subs – Colm O'Hara for Daire Maher, Shane O'Brien for Marco Ruessman, Sean Keenan for Eoin Dalton.
O'Loughlins team & scorers – Jamie Malone, Kevin O'Brien (captain), Gary Bryan, Alex Molloy, Padraig Meany, John McNamara (0-2), Ben Kinchella, Gavin Mahony, Pady Cantwell (0-1), Tervine Wallace (0-1), Eddie Kearns, Mark Holohan (0-3), Michael Henebry, Cathal O'Leary, Jack Sheridan (0-8, 4 frees).
Subs – Ruaidhri Galway for Ben Kinchella, Finn Hogan (0-1) for Kevin Moore, Lee Hehir for Cathal O'Leary. Kevin Murphy (0-2).
Referee – Vivienne Holmes.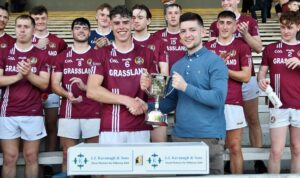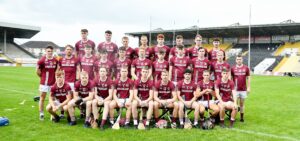 JJ Kavanagh & Sons Junior Hurling B Championship Final
Barrow Rangers 1-16; Tullogher Rosbercon 1-13
Barrow Rangers (Paulstown/ Goresbridge) won their second JJ Kavanagh & Sons Junior B hurling title with a three point victory over Tullogher Rosbercon in Saturday's  final at UPMC Nowlan Park.
This was a close contest, with the result in doubt throughout, and it was only a 57th minute goal from Ciaran Doyle, when he doubled on a high ball into the square from a long range free, that ultimately proved decisive.
That score made it 1-14 to 1-12 for Barrow Rangers. Keith Flavin followed up with a point two minutes later to take the margin out to three. Tullogher Rosbercon got their final score with a free on 34 minutes. This was replied to with the games final score from Cathal Purcell, and a late but deserved win for the Paulstown / Goresbridge outfit.
Tulogher Rosbercon were quick out of the blocks with a pointed free from Brian Walsh, and a Jason Shiely point. Jimmy Kane got Rangers off the mark on five minutes. Two Tullogher points from Ryan Murphy and Brian Walsh (free) left them 0-4 to 0-1 ahead. Two points from Cathal Purcell from frees, sandwiched a Conor Hanlon long range free, to level things at 0-4 each.
Tullogher Rosbercon went three clear again with scores from Pat Hartley (free), Davy Walsh and a Walsh (free). Noah Scully reduced the lead to two points by half time :-
Tullogher Rosbercon 0-7; Barrow Rangers 0-5.
Cathal Purcell and Brian Walsh (free) exchanged scores in the first three minutes of the new half. Rangers were starting to take control of the game in the Summer heat, and in a three minute spell recorded points from Jimmy Kane, Brian Kelly and Noah Scully (0-9 to 0-8). Tullogher Rosbercon equalised from a Marty Murphy point , but Cathal Purcell had the Paulstown/ Goresbridge men one up again on 40 minutes. Then, in the eleventh minute, Tullogher Rosbercon got a goal, finished by Murphy from close range. They now led 1-9 to 0-10 and when this was followed by a further score from a placed ball, 1-10 to 0-10, it looked like the cup was heading to South Kilkenny.
Barrow Rangers were not finished however, and three pointed scores to one from Murphy (T- R), replied by Purcell, Kane and Hanlon for Paulstown meant the contest was far from over. Tom Brennan (BR) and Shiely (free) exchanged scores, 1-12 to 0-14. By the finish Barrow Rangers added 1-2 to Tullogher Rosbercon 0-2 and clinched the Junior B crown for 2023.
The previous Barrow Rangers win was in 2015 and this victory, thanks to those late scores, will be widely celebrated in both Paulstown and Goresbridge.
Barrow Rangers team & scorers – Richie Doyle, Paul Delaney, Evan Rudy, James Hogan, Killian Rudkins, Timmy Brennan, Noel Doheny, Cathal Purcell (0-6, 4 frees), Conor Hanlon (0-2, 1 free), Mikey Doyle (captain), Jimmy Kane (0-3), Paddy Hennessy, Keith Flavin (0-1), Brian Kelly (0-1), Noah Scully (0-2).
Subs: Tom Brennan (0-1) for Paddy Hennessy, Mikey Ryan for Killian Rudkins, Ciarán Doyle (1-0) for Mickey Doyle, Joey McEvoy for Noah Scully, Dylan Hunston for Jimmy Kane.
Tullogher Rosbercon team & scorers – Eoin Ryan, Tony Conway, Richie Gill, JJ Ryan, Jamie Lyng, Pat Hartley (0-1), Cathal Mooney, Billy Ryan, Brian O'Shea, Jason Shiely (captain, 0-2), Michael Handrick (0-1), Niall Mooney, Ryan Murphy (0-1), Davy Walsh (0-1), Brian Walsh (0-5).
Subs – Marty Murphy (1-2).
Referee- Andy Stafeckis (O'Loughlin Gaels).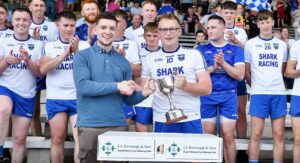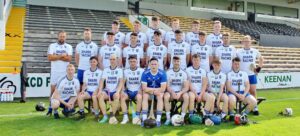 Iverk Produce Junior Hurling C Championship Final
Threecastles 2-16; Mooncoin 0-15
History was made at Nowlan Park on Saturday when Threecastles, a club that makes up one fifth of Freshford parish, won a first adult county title in 83 years. 
Their supporters celebrated to a man, woman and child at headquarters following this fully deserved seven point victory over Mooncoin, 2-16 to 0-15. This was actually a battle between two of the original four GAA clubs in Kilkenny, (for the record the other two were Confederation from Kilkenny City and Tullaroan).
To the game itself – Cormac Rafter opened Threecastles account, a score which was replied to by Mooncoin's Stephen Wall.
Eamonn Hennessy (T) and Cormac Walsh (M) exchanged scores from play. Threecastles were  setting into the game better in the early stages, and in the fourth minute Eamonn Hennessy cut inside from the new stand side of Nowlan Park and goaled (1-2 to 0-2).
Stephen Wall (M) and Eamonn Hennessy from a free traded scores, as did Ray Wall (M) from a free and Jack Boland. In the tenth minute Threecastles recorded a second goal. A shot from Kyle Maher was well saved by Mooncoin goalkeeper Niall O'Hanlon, but the other corner forward Mark Cleere followed up, and raised the green flag. 
A Ray Wall free from Mooncoin was responded to by Threecastles points by full forward Cian Franey from midfield,  and a Hennessy free, to leave the Northern side seven points to the good, 2-6 to 0-5, at the first half water break.
An excellent sideline cut by Johnny Minogue (T) made it 2-7 to 0-5 and it looked like a one sided contest might ensue. Mooncoin were having none of it, and by half time they were to record six points to their opponents one. Three Ray Wall frees, two Liam Hogan points, and an individual score from James Delahunty reduced the lead to 0-11 to 2-7.  A free from Hennessy left the half-time score Threecastles 2-8; Mooncoin 0-11.
The third quarter was tight with only three points scored, Kieran Dillon Dunphy from 60 metres and Liam Hogan for Mooncoin, these replied to by a Hennessy free for Threecastles (2-9 to 0-13).
At the final quarter opening, Hennessy got a Threecastles point from a "65" after a good save by the Mooncoin keeper, to which Ray Wall (free) replied.
Threecastles could sense history beckoning for one of the county's smallest clubs, and went on to record five unanswered points. This sequence started with a Hennessy free, Mark Cleere from 30 metres, Jack Boland after a lay off from Hennessy, a huge score from distance by centre back Jack Cleere and finally, from beyond midfield, a Hennessy point from play. It was now 2-15 to 0-14 with only two minutes plus injury time remaining. By the finish, Ryan Croke (M) and Cormac Rafter also traded scores. 
The whistle sounded from Richard Holland, and a new name was going on the Iverk Produce Junior C trophy, a competition started in 2018. 
All credit to Threecastles on their victory. This was a team performance with players such as goalkeeper Conrad Cooper, Cian Lyng, David and Jack Cleere, Nick O'Shea, Cormac Rafter, Jack Boland, Eamonn Hennessy and Mark Cleere the most prominent.
Mooncoin had been promoted from D to C grade after last year's victory, and just happened to meet a better side on the day. Niall O'Hanlon, Liam Hogan and their accurate free taker Ray Wall were the Suirsiders best performers.
For the Junior A,B,C and D grades it was appreciated by all eight clubs, that these finals were played at Kilkenny GAA headquarters, and the historic outcome of this game in particular, was an excellent promotion of these lesser recognised Kilkenny GAA grades.
Threecastles team & scorers – Conrad Cooper, Frank Keoghan, Cian Lyng, David Cleere, Vincent O'Donnell, Jack Cleere (0-1), Nick O'Shea, Johnny Minogue (0-1, sideline), Darragh Walsh (captain), Cormac Rafter (0-2), Jack Boland (0-2), Eamonn Hennessy (1-8, 5 frees, 1 "65"), Kyle Maher, Cian Franey (0-1), Mark Cleere (1-1).
Subs – Cian Russell for Kyle Maher, Joe Lacey for Mark Cleere, Tommy Rafter for Jack Boland.
Mooncoin team & scores –  Niall O'Hanlon, Robbie Finn, Sean Wall, Jackie Ryan, Luke Ranasawmy, Padraig Murphy, Ryan Croke (0-1), Paddy Kinsella, Liam Hogan (0-3), Ciaran Walsh (0-1, captain), Mark Fitzgerald, Stephen Wall (0-2), Kieran Dillon Dunphy (0-1), James Delahunty (0-1), Ray Wall (0-6, frees).
Subs – Alan Walsh for Ciaran Walsh, Darryl Murphy for Paddy Kinsella.
Referee – Richard Holland.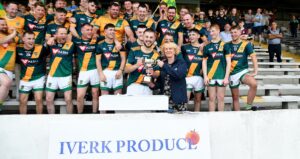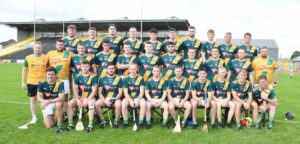 Country Style Foods Junior D Hurling Championship Final
Lisdowney 3-16; Rower Inistioge 3-16
Rower Inistioge and Lisdowney played out an exciting draw in Sunday's Country Style Foods Junior D Hurling Final at UPMC Nowlan Park. This game was to have gone to extra time, but a case of "light into darkness" prevented this, as the 6-o-clock throw in had brilliant sunshine, but an hour later visibility had become an issue. The game will now go to a replay and all present will surely come again, to see these two evenly matched sides, renew acquaintances.
Rower Inistioge opened the scoring on Sunday with a 30 metre from play by Caomhin Perriott. Peter O' Sullivan replied for Lisdowney with a distance point in the fourth minute.
From the puck out Joe Mulholland soloed through and netted for the Rower Inistioge to go 1-1 to 0-1 ahead.
Rory Hickey pointed a free for Lisdowney, replied to by a placed ball from Mulholland. A Darragh Mackey (L) point from play was answered by another Mulholland free. Rower pointed with a nice strike from David Lyng to go 1-4 to 0-3 clear.
The next two scores were for Lisdowney to level matters, a Rory Hickey free and a goal by the same player, after forward colleague Paddy Bowden did well to keep a wayward strike in play.
Rower replied with a Mulholland free, along with a kicked goal from Conor Lyng after a shot from Howard MacDonald was kept in play, and a Mulholland point from play (2-6 to 1-4).
The nature of this contest was that both sides took turns in scoring, and Lisdowney next recorded 1-1, through a Hickey free and a Gary O'Sullivan goal.
Harry Murphy ended the half with a monster Rower Inistioge point from 100 metres plus, leaving the half-time score :- Rower Inistioge 2-7; Lisdowney 2-5.
Rory Hickey (L) and Fiachra Farrell (RI) traded minor scores early in the new half.
Two fine Lisdowney points from Gary O'Sullivan and Niall Kenny levelled things up at 2-7 each.
In the 36th minute Farrell and Hickey traded scores from play.
Soon after Conor Lyng put the Rower in front with a fine catch and point. The next three points were all from the Northerners, Rory Hickey (free), Darragh Mackey with a solo and a further point and captain Eddie Hickey (2-12 to 2-10). William Ashe Doyle (RI) and Rory Hickey (L) exchanged points.
The Rower Inistioge regained the lead by the 47th minute with a Tom O'Callaghan pointed free and a goal by Michael McDonald after an unfortunate fumble by the Lisdowney keeper (3-12 to 2-13).
Two Lisdowney scores, a goal by Niall Kenny, followed by a Darragh Mackey point put their side back in front, 3-14 to 3-12.
Between the 53rd and 59th minute the Rower had taken back control with four unanswered points, three from frees and the other from David Prendergast (3-16 to 3-14).
The referee Anthony Batcoe signalled five added minutes as darkness set at headquarters. To their credit Lisdowney showed resilience, and two Rory Hickey points, from open play and a free, meant both sides live to fight another day.
This was the fourth of six Junior Finals to be scheduled, four of which were  held at Nowlan Park over the weekend and all provided great entertainment. In this one Rower Inistioge had stand out performances from Harry Murphy, William Ashe Doyle Joe Mulholland, Conor Lyng Fiacre Farrell and Caomhin Perriott.
For Lisdowney the three Hickey's, Niall Kenny and Darragh Mackey were influential at stages. 
Lisdowney team & scorers – Niall Grogan, Jack McGree, Ray Fitzpatrick, Jack O'Sullivan, Peter O'Sullivan (0-1), Ciaran Mackey (vc), Joe Bergin, Niall Mackey, Dean Brophy, Eoin Delahunty, Eddie Hickey (0-1, VC), Niall Kenny (1-1), Darragh Mackey (0-3), Rory Hickey (1-9, 5 frees), Paddy Bowden.
Subs – Gary O'Sullivan (1-1) for Dean Brophy (24 min), Brandon Brophy for Peter O'Sullivan (28 min), Jimmy Delaney for Darragh Mackey (62 min), Jimmy Delaney for Rory Hickey (blood sub), Conor Taliss for Eoin Delahunty (62 min).
Rower Inistioge – team & scorers Dan Mulholland, David Prendergast (0-1) , James Doyle (captain), Richard Ryan, Kieran Meaney, Harry Murphy (0-1), William Ashe Doyle (0-1), Joe Mulholland (1-4, 3 frees), Michael Moffat, Howard McDonald, Caomhin Perriot (0-1), David Lyng (0-1), Fiachra Farrell (0-2), Conor Lyng (1-1), Robbie Walsh.
Subs – Michael McDonald (1-0) for Michael Moffitt (37 min), Tom O'Callaghan (0-4, frees)for Howard McDonald (45 min), Ewan Gilsenan for Richard Ryan (56 min), Tom Cullen for Fiachra Farrell ( 60 min), John Grace for Conor Lyng (62 minutes).
Referee – Anthony Barcoe.