The 2021 & 2022 MacNamee Awards are being presented by Uachtarán CLG Larry McCarthy at a special ceremony at Croke Park this evening.  Congratulations to all the winners, in particular:
"2021 Hall of Fame – Enda McEvoy, Kilkenny
A proud son of Kilkenny's Marble City, it should come as no surprise that Enda McEvoy was drawn to chronicling the exploits of hurling – something that he has done with distinction for more than 30 years in a succession of publications ranging from the London Times to the Irish Press, Sunday Independent and Sunday Tribune.
Educated at St Kieran's College in Kilkenny, Enda wrote an acclaimed book on the legendary Fr Tommy Maher: The Godfather of Modern Hurling who shaped generations of Kilkenny teams from within the walls of St Kieran's and also Nowlan Park. Enda also chronicled the history of great St Kieran's teams through the book Fennessy's Field and also worked on the hurling story of star player Charlie Carter.  With Enda, what should be a hurling piece can have rock music, tv and film or even Shakespeare as a muse. Witty, razor sharp scene setting flows effortlessly into cultured critiques of games and players and McEvoy's unique style has made him a firm favourite with hurling fans for generations. He is a permanent fixture in the match programme previews of big matches at provincial and national level, which match his analysis column in the Irish Examiner newspaper and website."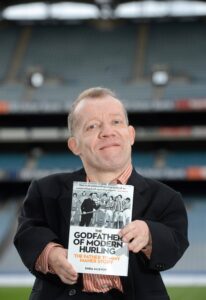 "2022 Best GAA Related Radio Programme – "The First Puck" by Derek Dooley, Kilkenny Community Radio
 The First Puck is a radio play documenting the foundation of Danesfort club in 1922. This play was aired on Community Radio Kilkenny City.
That a small rural club would have the courage and foresight to celebrate their centenary in the form of a radio-play is in itself an indication of fortitude and imagination. But to carry it off with aplomb is an achievement that needs to be recognised. Like many others Danesfort GAA Club came into being in the middle of the political divisions of the Civil War. In this production it is the descendants of the founding members enact their historic beginnings in a production featuring a first class script, acting and direction."
"2021 Best Photograph – "Flying Tackle" by Piarsias Ó Mídheach, Sportsfile
It's images such as this magnificent moment in time captured by Piaras Ó Mídheach which help illustrate the pace and frenzy of inter-county championship hurling. Kilkenny star forward Eoin Cody gives a new definition of heads up hurling and has his eyes on goal and not even the presence of a flying hurley will distract him. If you didn't know better, you'd think he was trying to balance a hurley on the top of his head. This blink and you'd miss it moment was preserved by an expert with a keen eye for the beauty that occurs amidst the chaos."
"2022 Best GAA Club Publication – "A History of Dunhill" by Senan Cooke
A History of Dunhill GAA 1882-2022 is a thoroughly comprehensive account of the club through the years.
It charts the activities of the club across GAA , Camogie and Ladies Football and key moments in the club such as the 'hurling resurgence in the 1930's.
It is clear a great deal of research has gone into delivering this book, and it serves as a testament to the pride members have in Dunhill GAA and their parish."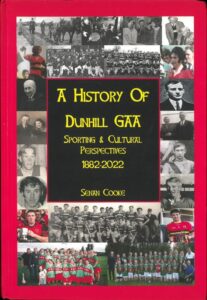 Extracts above per GAA Media Release, 13th September 2023