JJ Kavanagh & Sons Under 21 Hurling Championship Update
Roinn A
We have reached the semi-final stage in Roinn A with the fixtures as follows: –
Dunnamaggin v Dicksboro on Sunday November 26 at Dunnamaggin.
Thomastown v James Stephens on Saturday December 2 at James Stephens pitch, Kells Road.
Roinn B
St. Martins qualified for the Roinn B final with a 3-1 penalties victory over Galmoy/Windgap, after a 2-15 to 1-18 draw.
The second semi-final fixture is: –
Young Irelands v Rower Inistioge on Saturday November 25 at Gowran.
Roinn C
It's an all-Southern Roinn C Final on Sunday next, November 26th, venue to be confirmed.
Semi Final results:
Kilmacow 3-15; Danesfort 4-7.
Glenmore 2-5; Tullogher Rosbercon 1-5.
Roinn D
It's an all Northern Final on Saturday November 25th, venue to be confirmed.
Semi Final results,
Tullaroan 3-12; St. Patrick's 3-10
Fenians 2-23; Conahy Shamrock 1-10.
MATCH REPORTS
JJ Kavanagh & sons Under 21 Roinn C Hurling Semi- Final

Kilmacow 3-15; Danesfort 4-7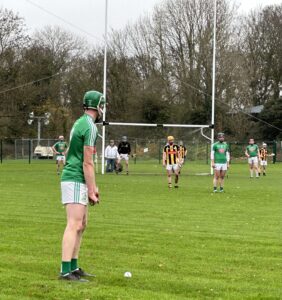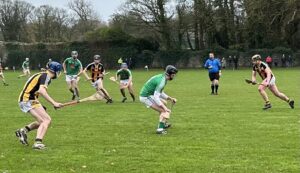 Kilmacow advanced to the JJ Kavanagh & Sons under 21 Roinn C Hurling final, with a five-point victory over Danesfort, at Kilmacow on Saturday.
The first half was dominated by Kilmacow, they led by twelve points at the interval, and successfully withstood a strong second half challenge from Danesfort.
The home side made a flying start and led 1-3 to 0-0 after just seven minutes. Jack O'Neill recorded an early point, a long delivery into the square was finished to the net by Feargal Suffin, Callum Regan pointed soon afterwards, and a Sean Dowling distance score from midfield were the other contributors.
Danesfort did get two of the games next three points, by Matthew Cowley and Cathal Kearney (free), sandwiching a Sean Dowling Kilmacow free (1-4 to 0-2).
Kilmacow were a more physically stronger team, and totally took over in the second quarter. In this period 1-7 was added, with no reply from the visitors. At times in this period Danesfort were actually struggling to get into the Kilmacow half.
The Kilmacow dominance began with points from Jack O'Neill, Tom Butler and a Sean Dowling free, before Jack O'Neill goaled, when getting possession after a long inbound delivery. Three more frees by Dowling, and a James Walsh free, completed their first half total. Before the break, Danesfort got a fortuitous goal from a 50-metre free, to give them a glimmer of home before the interval.
Half-time Kilmacow 2-11; Danesfort 1-2.
When Kilmacow got a first minute goal by Jack O'Neill in the opening minute of the new half it appeared the floodgates could open, but to their credit Danesfort upped their efforts and by the 55th minute had reduced the lead to a single score, 4-7 to 3-13.
Cillian Norton and Ben Whitty started the comeback, to which Tom Reddy (K) replied.
In the eight-minute Eanna O'Casaide caught a ball close in and raised a green flag. A Sean Dowling Kilmacow free made it 3-14 to 2-4 after 40 minutes, but it was in the next fifteen minutes that Danesfort took control. An unanswered 2-3 had the home support anxiously looking at their watches, hoping they would hold out. The 'fort goals were scored by Matthew Cowley and substitute Darragh Coverdale. The points were recorded by Cillian Norton from a '65', and two 100 yard frees by Ben Whitty.
Two late points by Sean Dowling from a free and substitute Fionn Blanch, along with impressive late defensive efforts, saw  Kilmacow back into the Roinn C final, and hoping to go one better than last year's final loss to Mullinavat.
Donnacha Williams, Liam Lacey, Butler and Dowling in midfield, along with the strong and impressive James Walsh, and corner forward Jack O'Neill starred for Kilmacow.
Danesfort lined out without star player Anthony Ireland Wall and left themselves with too much to do after a poor opening period. Cathal Kearney, Ben Whitty and small in stature forwards Éanna O'Casaide and Cillian Norton, tried hard and even forced late frees, to which the home side just about curtailed.
Kilmacow team & scorers – 
Kieran Dowling, Lorca Suffin, Donnacha Williams, Billy Phelan, Tadhg Connolly, Liam Lacey, Paddy Regan, Tom Butler (0-1), Sean Dowling (0-8, 7 frees), Tom Reddy (0-1), James Walsh (0-1), Fergal Suffin (1-0), Calum Regan (0-1),Ted Doyle, Jack O'Neill (2-2).
Subs – Fionn Blanch (0-1), Dev Lowe, Stephen Moore, Caoilin Kelly, Fionn Walsh, Jack Murphy, Darragh Kelly, Conor Walsh, Ben Doyle, Ciaran Murray, Eoin Walsh,
Danesfort team & scorers –
Joe Cowhig, Cian O'Reilly, Stephen Doheny, Cathal Norton, Louis Jamison, Adam Byrne, Mark Fitzpatrick, Cathal Kearney (0-1, free), Sam Hayes, Matthew Cowley (1-1), Ben Whitty (1-3, 1-2 frees), Mark Sruoji, John Davis, Éanna O'Casaide (1-0), Cillian Norton (0-2, one free, one '65').
Subs – Darragh Coverdale (1-0), Jack Doyle, Eugeen Sinnott, Evan Sruoji, Paddy Kelly, Darragh Coverdale, Brian McDonald, Harry Lanigan, Ronan Hackett, Eugeen Sinnott.
Referee – Gavin Quilty (Slieverue).
JJ Kavanagh & sons Under 21 Roinn C Hurling Semi- Final
Glenmore 2-5; Tullogher Rosbercon 1-5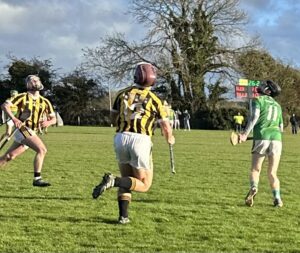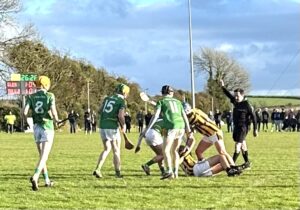 Despite being reduced to fourteen men in the final quarter, Glenmore advanced to the JJ Kavanagh & Sons Under 21 final of 2023, with a hard earned 2-5 to 1-5 victory over neighbours Tullogher Rosbercon at Glenmore on Sunday afternoon.
In a contest where a sweeping cross field wind made scoring difficult, both sides gave their all, before an extremely large crowd at Pairc na Ratha. They now go on to meet another Southern side, Kilmacow, in the Roinn C county hurling final.
The trend of the game was set in the opening minutes with both sides missing chances, this was going to be a day where scoring would prove extremely difficult. Colm Roche got Glenmore's opening point on five minutes, replied to with a Tullogher Rosbercon goal by Colman O'Sullivan, this after a good passing interchange.
Five minutes later Glenmore got a goal of their own, to regain the lead, 1-1 to 1-0, Padraic Cody finishing from close range after an Ian Byrne effort was stopped on the line. Cathal Beirne from 50 metres added to the Glenmore lead soon afterwards.
Brian Walsh (T-R) reduced the lead to a point from a free, but on 21- and 23-minutes Ian Byrne recorded two Glenmore pointed frees, 1-4 to 1-1.
Brian Walsh from a free pointed for Tullogher Rosbercon right on half time.
Half-time Glenmore 1-4; Tullogher Rosbercon 1-2.
Star forward Danny Glennon was introduced to the Tullogher Rosbercon full forward line in the new half, but this was a day where defences dominated. Five minutes into the new half Glenmore got the games crucial score with a well worked goal. Paul Murphy stormed through from midfield, and laid the sliotair off to Cathal Beirne, who finished to the net.
Colman O'Sullivan (T-R) from a free, reduced the lead to four points, 1-3 to 2-4, and when the Glenmore player was sent off on 40 minutes, it looked like that lead might not be enough. However, Glenmore had players blooded in the 2023 Kilkenny Senior Hurling Championship and showed their experience in seeing the game out. Ian Byrne (free) got Glenmore back five points ahead on 43 minutes, and though this was their final score of the game, the defence and work rate saw them home.
In a game where they recorded a double-digit wide count, all Tullogher-Rosbercon could muster was two Danny Glennon frees in the 20 minutes (including four added minutes) that followed.
Glenmore had strong performances throughout their defence, while further upfield Cathal Beirne, Padraic Cody and Ian Byrne all shone.
For Tullogher Rosbercon, Cathal Mooney, Larry Murphy and Colman O'Sullivan were amongst their strongest performers. The Tullogher club will now continue in their Leinster Junior campaign, while Glenmore can cap a fine season with an under 21 victory.
Glenmore team & scorers – 
Mikey Kirwan, Shane Duhig, Ciaran Vereker, Darragh Vereker, Jack Ryan, Billy Reid, Jack Cody, Thomas Mullally (Weatherstown), Cathal Sheehan, Evan Halligan, Colm Roche (0-1), Cathal Beirne (1-1), Padraic Cody (1-0), Ian Byrne (0-3, frees), Paul Murphy.
Subs – Paul Brophy, Charlie Phelan, Cian Conick Meenaghan, James Hendrick, Patrick O'Conor (Foristalstown), Dominic Roche, Jack Dollard, James Reid, Jason Cody, Oisin Mullally, David Walsh.
Tullogher-Rosbercon team & scorers – 
Eoin Kennedy, David Kennedy, Peter Ryan, Andrew Murphy, Peter Ryan, Cathal Mooney, Brian O'Shea, Larry Murphy, Niall Mooney, Colman O'Sullivan (1-1, 0-1 frees), Jamie Lyng, Marty Murphy, Michael Hendrick, Ryan Murphy, Kevin Aylward, Danny Glennon (0-2, frees), Brian Walsh (0-2, frees).
Subs – Simon Kennedy for Andrew Murphy, Dan Kennedy for Brian Walsh, Padraig Dooley, Fergal O'Shea, Sean Ryan, Joe Malone, Dara Murray, Aidan Lawlor, Pat Doyle, Conor Ryan, Brian O'Shea,
Referee – Michael O'Sullivan (Shamrocks Ballyhale).