Junior Board – Revise.ie Under 19 Season 2023
Despite the poor Autumn weather and condensed season the Junior Board have completed the championship  more or less on schedule, with only one of the league finals outstanding.
Revise.ie Under 19 Roinn A Hurling Championship Final 13/9/2023
Dicksboro 1-17 James Stephens 1-12
Revise.ie Under 19 Roinn B Hurling Championship Final 21/10/2023
Young Irelands 2-14; St. Martins 1-10 (at Gowran)
Revise.ie Under 19 Roinn C Hurling Championship Final 13/9/2023
Glenmore 2-16 Graignamanagh 1-16
Revise.ie Under 19 Roinn D Hurling Championship Final 22/10/2023
Emeralds 3-14; Fenians 2-8 (at Ballyragget)
MATCH SUMMARIES.
Revise.ie Under 19 Roinn A Hurling Final 13/9/2023
Dicksboro 1-17 James Stephens 1-12 (at MW Hire Dunmore)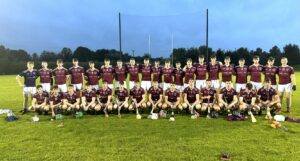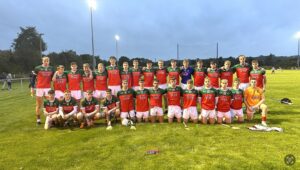 More silverware is on the way to Palmerstown after Dicksboro overcame James Stephens to take the spoils in the under-19 Roinn A hurling championship final.
The victory is the 'Boro's third successive crown at this age grade. With the club also winning a number of minor and under-21 titles in that spell, they really do have a talented crop of youngsters at their disposal. The final was a repeat of last year's fixture and while the Village did start brightly, once Dicksboro got going there was no stopping them.
The winners started the final without the injured Harry Shine and when Stephen Manogue and Jack Kelly knocked over early scores to give James Stephens a 0-2 to 0-1 lead, they looked like they were in for a stiff examination. Another Village score from Oisin Bateman kept the challengers in front, but Dicksboro's attack looked the more fluid and points from Cillian Hackett, Tom McPhillips and Sean Keenan came a little easier than for their opponents.
Helped by Billy Fitzpatrick's brilliance from placed balls, as well as a lovely point from play by county minor star Mikey Stynes, Dicksboro began to get on top with a flicked effort from Ed McDermott the only James Stephens response as the winners led 0-8 to 0-4 approaching half-time. Fellow free takers Manogue and Billy Fitzpatrick then added to their tallies before referee Gay Rafter called time on a half that was played in miserable conditions.
The tide looked to be turning at the start of the second period when Manogue, Jack Kelly and Sean Casey all found the range for the Village but this seemed to be the wake-up call that Dicksboro required. Goal chances went amiss at both ends before the 'Boro scored 1-5 without reply between the 40th and 52nd minutes. Quick fire points from Tom McPhillips and second half substitute and noted handball star Anthony Clifford extended the lead to four points before Sean Keenan found the net for the game's opening goal a couple of minutes later.
A long ball that dropped in around the square eventually found its way to Keenan. While the wing forward didn't get the cleanest strike away, he still did enough to force the ball past Daniel Power in the James Stephens goal. Further points from Fitzpatrick, Mikey Stynes and Brian Moore soon followed as the 'Boro raced into a 10 point lead (1-15 to 0-8). To their credit James Stephens kept plugging away and after points from Stephen Manogue and Daniel Ring, they were then rewarded with a penalty when Sean Bergin was brought down in the square. Full-forward Ed McDermott stepped up to the mark but he couldn't get the better of Tom O'Neill, who saved the day when he pushed the ball over the crossbar. The Village still had time to get their deserved goal when Noah Manogue volleyed home from a Stephen Manogue pass, but it didn't affect the outcome as Dicksboro celebrated a fully merited five point victory.
Dicksboro team & scorers:-
Tom O'Neill; Mick Carroll, Evan Murphy, Johnny Keane; Donncha Hennessy, Kevin Moore, James Brennan Smyth; Cillian Hackett (0-1), Tom McPhillips (0-2); Billy Fitzpatrick (0-9, 0-7 frees, 0-1 "65"), Matthew Kelleher, Sean Keenan (1-1); Patrick Lacey, Mikey Stynes (0-2), Brian Moore (0-1).
Subs: Anthony Clifford (0-1) for Lacey, 40 mins.
James Stephens team & scorers:-
Daniel Power; Stephen Power Kellet, Noah Manogue (1-0), Sean Bergin; James Bergin, Sam McEvoy, Sean Deely; Oisin Bateman (0-1), Eoin Deely; Stephen Manogue (0-5, frees), Jack Kelly (0-2), Bill McDermott; Jacob Breslin, Ed McDermott (0-2), Sean Casey (0-1).
Subs: Daniel Ring (0-1) for E Deely, 43 mins.
Referee: Gay Rafter (Threecastles)
Revise.ie Under 19 Roinn B Hurling Championship Final 21/10/2023
Young Irelands 2-14; St. Martins 1-10 (at Gowran)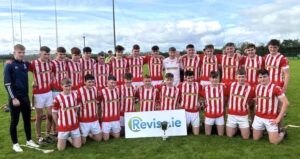 Young Irelands (Gowran) took their second Under 19 Roinn B championship with a home victory over St Martins (Muckalee/Ballyfoyle Rangers). They had also won the same title in its inaugural year of 2018, when they beat Lisdowney. The game was switched from Nowlan Park to Gowran due to the bad weather in October.
Kilkenny People (report Michael O'Leary).
A determined performance from Young Irelands of Gowran saw them rewarded for their progression at underage over the past few years, as they won the u-19 Roinn B Hurling County Final against St Martin's on Saturday 21/10/2023.
A brace of goals in the first-half in quick succession by Mikey Keating sent them on their way, as they always held a clear advantage on the scoreboard afterwards. Young Irelands were quick out of the blocks and they led 0-3 to 0- 0 after just three minutes, with Jake Byrne opening the scoring with a long range effort within seconds of the throw-in, while Killian Carey(free) and the tireless working Jim Conlon were also on target during those opening few minutes.
Micheal Keane kept the scoreboard ticking over for St Martin's throughout, and he opened the scoring with a point from a '65 in the 8th minute. 0-3 to 0-1.
Killian Carey pointed a free from 65 metres in the 10th minute, before a well taken goal by Jamie Morrissey in the 12th minute for St. Martins brought them level. 0-4 to 1-1.
Micheal Keane added another free in the 14th minute to give St Martin's the lead for the only time, as Young Irelands responded quickly and emphatically with Mikey Keating's golden brace.
First, a long puckout by Tim Brennan found Jim Conlon racing forward with a clear path through on goal. Jim's shot was saved by Niall Shore, before Mikey Keating followed up displaying great predatory instincts to dispatch the sliotar to the net (1-4 to 1-2), before applying the finishing touch with a superb strike moments later following an inch perfect diagonal ball into open space. 2-4 to 1-2. Young Irelands maintained their dominance throughout the second quarter as they outscored St Martin's 0-5 to 0-4 to lead 2-9 to 1-6 at half-time.
Points from a Micheal Keane free and Sean Hunt from play in the 33rd and 37th minutes respectively narrowed the deficit to just four points (2-9 to 1-8), before Young Irelands steadied themselves with pointed frees in quick succession from placed balls by both Killian Carey and Paddy Langton – a long distance free from 90 yards – in the 44th and 45th minutes respectively as they restored their six point half-time lead, 2-11 to 1-8. Micheal Keane added points from play in the 46th and 53rd minutes, and they were sandwiched in between by another long distance free by Paddy Langton in the 49th minute. 2-12 to 1-10. Further points down the home stretch were added by Ben Phelan in the 54th minute, before Killian Carey concluded the scoring with a point from play in the 63rd minute.
Young Irelands team & scorers:-
Tim Brennan, Charlie Brennan, Bobbie Brennan, Charlie Fitzgerald, Jake Byrne (0-1), Patrick Langton (0-2, frees), David Langton, Luke Phelan, Diarmuid Langton, Ben Phelan (0-2),Padraig Naddy, Jim Conlon (0-2), Cian Phelan, Killian Carey 0-6, 4 frees), Mikey Keating (2-1).
Subs  – Thomas Langton for Charlie Brennan (half-time), Kieran Timmins for Luke Phelan (58 minutes), Eoin O'Neill, Rory Farrell, Shane Simpson, Sam Brennan, Richard Nolan, Eoghan Phelan, Luke O'Donnell, CJ Delaney, Daniel Manning.
St Martins team & scorers:-
Niall Shore, Ewan Buggy, Ciaran Nolan, Cormac Quirke, Colin Hayes, Cathal Keegan, Matthew Bolger, Aaron Farrell, Michael Keane (0-8 (5 frees, one '65'), Ross Dowling (captain), Jamie Morrissey (1-0), Conor Dooley (0-1), Sean Hunt (0-1), Jack Coogan, James O'Neill.
Subs – Luke Cahill, Adam Morrissey, Donal Kealy, Jack Dooley, Michael Ruane, Tadhg Power, Patrick Coughlan, Christopher Kealy, Thomas Shore, Tadhg Gill.
Revise.ie Under 19 Roinn C Hurling Championship Final 13/9/2023
Glenmore 2-16 Graignamanagh 1-16 aet (at Inistioge)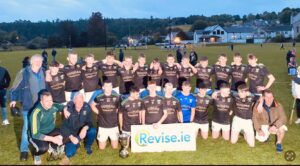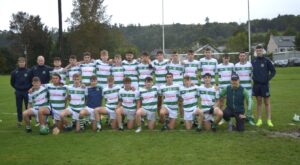 The Under 19 C Hurling Championship Final produced  a really hard fought battle on a murky evening in Inistioge. in a very close encounter it was Glenmore who eventually lifted the Roinn C U19 Championship. It was all square at the interval, Graiguenamanagh 0-08 to Glenmore 1-05.
The teams still couldn't be separated at full time as it finished 1-12 each.
Glenmore outscored the Graig boys 1-1 to 0-2 in the first extra time period, and finishing the stronger tacked on a further 0-3 to 0-2, to clinch this championship. The Glenmore side had to withstand sustained pressure towards the finish with an equalising goal eluding the Graig men.
Glenmore Squad:-
Paul Brophy, Shane Duhig, Ciaran Vereker, Jack Dollard, Padraic Cody, Tomas Mullally (captain), Darragh Vereker, Cathal Sheehan, James Reid, Patrick O'Connor, Colm Roche, Jason Cody, Oisin Mullally, David Walsh, James Connolly.
Subs – Sean Atkins, Christopher Hennessy, Daniel Connolly, David Fitzgerald, Rohan Halligan, Robbie Doherty.
Graignamanagh Squad:-
Colm Bolger, Gavin Kielthy, Fintan Gahan, Ivan Bolger, Abhainn Flood, Martin Barton, Devon Kielthy, Ted Dunne (captain), Nicky Ryan, Cian O'Shea, Colin Hamilton, Sean Hamilton, Stephen Kinsella, Conor Byrne, TJ Caulfield.
Subs – Bill O'Shea, Conor Murphy, Zac Barron, Eoin O'Brien, Conor Houlihan, Jack Connolly, Keenan Gahan, Eddie Doyle, Stephen Cosgrave.
Revise.ie Under 19 Roinn D Hurling Championship Final 22/10/2023
Emeralds 3-14; Fenians 2-8 (at Ballyragget)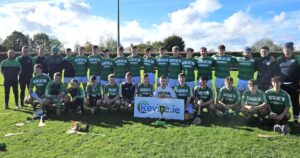 Emeralds followed up on under 19 Roinn D League victory over John Lockes last season, with this Roinn D championship victory in 2023. In the 2023 Final they started the game better versus  Fenians and assisted by goals in the first and tenth minute built up an early 2-1 to 0-3 lead. Darragh McCormack pulled a goal back for the Johnstown men on the half hour, and the half time score was, Emeralds 2-8(14), Fenians. 1-7(10).
A third Emeralds goal eight minutes into the new half left them ten points clear, 3-11 to 1-7. The game was more or less decided at this stage, but to their credit Fenians kept batting and in the final minutes Regan Downey goaled from a free, but Emeralds emerged nine point winners.
Emeralds Squad:-
Brendan Cleere (captain), Kacper Woloczko, Tom Cussen, Craig Barnaville, Oisin Quinlan, Kieran Cleere (VC), Michael Ahern, Killian Doyle, Oisin Deegan, Johnny Cleere, Callum Lawlor, Declan Ivers, Alex Burke, Rory Hyde, Sonny Tobin.
Subs – Diarmuid Burke, Cormac Burke,  Conor Kavanagh, Darragh Queally, Conor Holohan, Paddy Cussen, Cian Hickey, Conor Gibbons, Cathal O'Dwyer, Nathan Barnaville, Simon Zhang.
Fenians Squad:-
Billy Garrett, Niall Mackey, Jerry Henderson, SammMurphy, Evan Ryan, Podge O'Grady (captain), Rory Garrett, Darragh O'Grady, Paddy Cullen, Eoghan Sumner, Darragh McCormack, Regab Downey, Jack Walsh, Cathal Phelan, Tomas Sharkey.
Subs – Craig Bowe, Donagh Maher, Cillian Purcell.
_____________________________________________________________________________
Three of the four Revise.ie Under 19 Hurling League Finals have now been completed, with congratulations to O'Loughlin Gaels, Glenmore, and Fenians on their League successes.
Revise.ie Under 19 Roinn A Hurling League Final (played on 5/11/2023 at Castlecomer)
O'Loughlin Gaels 0-16; Erin's Own 0-13
Revise.ie Under 19 Roinn B Hurling League Final (To Be Arranged)
Bennetsbridge v Young Irelands
Revise.ie Under 19 Roinn C Hurling League Final (played on 7/10/2023 at MW Hire, Dunmore)
Glenmore 2-24 (30) Tullaroan 4-15 (27)
Revise.ie Under 19 Roinn D Hurling League Final (played on 4/11/2023 at Johnstown)
Fenians 2-13 (19); St. Patrick's Ballyraggett 3-8 (17)
MATCH SUMMARY.
Revise.ie U19 Roinn A Hurling League Final
O'Loughlin Gaels 0-16; Erin's Own, Castlecomer 0-13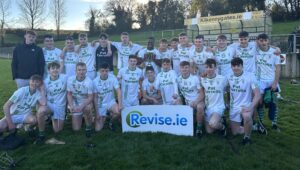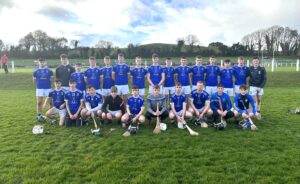 Another Sunday, another trophy for the O'Loughlin Gaels club in Kilkenny City!
Last week it was a fifth Kilkenny Senior Hurling Title, this week a Revise.ie Under 19 Roinn A Hurling League victory.
Just as with their seniors the previous week, again here the opposition hung on right to the death, and were only beaten by a single score, 0-16 to 0-13.
Eleven points from O'Loughlin Gaels, Man of the Match, full forward Alex Sheridan was vital, 3 from play and 8 frees.  Castlecomer had a star of their own in Michael Brennan, grandson of former Kilkenny star of the seventies "Cloney." Brennan, who recorded 0-9, 2 from play and 7 frees. The City side were aided by the breeze in the opening half,  and led by 0-13 to 0-7 at the interval.
Jake Cooney opened the scoring for Castlecomer after two minutes, replied to by Mark Houlihan.
Michael Brennan put Comer back in front from a free, this one answered by an Alex Sheridan free. Soon afterwards Brennan put Comer back in front from a free , but then O'Loughlins took over with five unanswered points, these all coming from the outstanding Alex Sheridan, four frees and one from play. Brennan reduced the lead to 0-4 to 0-7, but the next five minutes consisted of four further O'Loughlins points, this time three further Sheridan scores, the first a free, and a point from Josh Kieran Delaney.
Ruari Sweeney, Hynes, Joe Bolger, Tadhg Sean Crowley, Matthew Briers, Luke (0-2)Hanrahan, nippy corner forward Eoghan O'Brien. It was now 0-11 to 0-4 for O'Loughlins.
Comer points from Brennan (free) and a fine score by Connery reduced the lead to five points, but O'Loughlins replies by Eoghan O'Brien and  Alex Sheridan (free) made it 0-13 to 0-6.
Evan Harding for Erin's Own ended the first half scoring with a nice point, after a neat lay-off from Brennan.
Half-Time – O'Loughlin Gaels 0-13; Erin's Own, Castlecomer 0-7.
Comer began the new half with Michael Brennan's fifth point from a free, replied to by a similar score by Alex Sheridan (free).
In the next quarter of an hour Erin's Own got right back into the game with five unanswered points. Three Brennan frees, a sixty metre score from play by the same player, and a shot over the bar from close ranger by substitute John Kenny, left it 0-13 to 0-14.
O' Loughlins realised they needed to go to battle again at this stage , and did so with two fine scores from play by Greg Kelly (0-16 to 0-13).
Castlecomer had chances late on with a goal shot from substitute James Comerford well saved by Daniel McCormack in the City clubs goal, and a few late strikes that ran harmlessly wide.
This was a very good contest between two committed sides in "sticky" conditions at Canon Kearns Park.
Best for O'Loughlins were Ruaidhri Galway, (son of former Irish International rugby star Mick), captain Finn Hogan, Greg Kelly, Eoghan O'Brien and Alex Sheridan.
The Comer second half performance nearly pulled the league title to Castlecomer. They had solid performers in Eoghan Moore, Joey Ryan, Conor Brophy (son of 1988 Kilkenny Minor winning captain Patsy), and Michael Brennan.
O'Loughlins team & scorers:-
Daniel McCormack; Tadhg O'Meara, Ruaidhri Galway, Harry O'Grady; James Holohan, Finn Hogan (captain), Eoghan Bennett; Luke Quiqley, Jeff Tyrell; Greg Kelly (0-2); Mark Holohan (0-1), CJ Poyntz; Eoghan O'Brien (0-2); Alex Sheridan (0-11, 8 frees), Fionn Lawlor.
Subs – Michael Bourke Lambert, Jack Aylmer, Michael Butler, Vonor Murphy, CJ McChancheu, Harry Roberts, Frank Noukou, Josh Owen's,
Erin's Own team & scorers:-
Conor O'Sullivan; Alec Kerr, Eoghan Moore (captain), Jack Comerford; Bobby Brennan, Joey Ryan, Conor Brophy; Robert Coogan, Cathal Dunny; Jake Connery (0-2), Michael Brennan (0-9, 7 frees), James Coogan; John Kenny, Evan Harding (0-1), Jack Coogan.
Subs – Mark Kennedy, James Kenny (0-1) , Darragh Normoyle, Aaron Fanning, Eoin Nolan, James Comerford, Ewan Connery.
Referee – Paul Hunston.