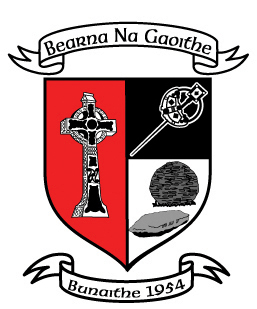 Hi, my name is Eoin and I play for Windgap GAA club. I am the goalkeeper for our under 15 team at the moment but I also like to play half forward. My favourite county player is Eoin Murphy.
We are a small rural club so we are joined with Galmoy GAA club from under 13 up to under 21 so that we can play in county championships. Galmoy is at the other side of the county but we meet up in St. Kierans College to train together. This is my third year playing with the Galmoy lads and we have become good friends in that time. Last year we got to the shield semi-finals in the Lisdowney Sevens together. Hopefully we will get a chance to lift a cup together soon.I miss meeting up with all of my friends for training and matches. We were training really hard in our new Community Hall with our trainer Matthew before the coronavirus restrictions. He organised a couple of Windgap players to train us on two nights. The training was tough but it was good to have some junior players training us and talking to us about playing for Windgap.I love playing for my club and running out onto the pitch in the red and white colours. We have a lot of great people in the club who train the teams and look after the pitch. There is a great community spirit in Windgap and we always get great support at our matches, no matter what the weather is like, or what age group is playing.I love going to hurling matches with my Grandad Joe. He has the pensioner's pass so he gets in for free! We go to loads of matches together, whether it's to club matches around the county or to see Kilkenny playing, but our favourite is always going to see Windgap, from Junior all the way down to under 7. I Iove listening to Grandad talking to his friends Bobby and Nicky about the matches, recent ones as well as the old classics. My uncle Ken lives next door and he does a training session for us every day, now that we are stuck at home. We call it Bootcamp. I am wrecked tired after it! We have to pay attention to Ken as he used to play for Kilkenny!
I can't wait until I get back training with my team mates again and get back playing matches in the red and white colours of Windgap GAA club.